Research into my Green ancestors ground to a halt in 2004 and lay becalmed for more than five years. I was frustrated as I didn't know for certain the details of my greatx3 grandfather, John Green's, baptism and as a result his parentage could not be established - and 'Green' is a common name!
However, in 2010, due to two remarkably fortunate discoveries, I was able to trace a further three generations of Greens. Whilst at the London Guildhall Library, I noticed a 'Vincent Green - boat builder' in trade directories at Rotherhithe in 1801. My forefather, John Green, had given two sons this unusual Christian name and, as he was also a boat builder from Rotherhithe, it seemed a worthwhile trail to pursue. Thankfully for his genealogist descendent, Vincent left a will, which made it easy to trace his children and by painstakingly searching parish registers in the area, I was able to confirm a positive link between Vincent's son, John and my ancestor, John Green.
Armed with this new information, I visited Southwark Local History Library and again, quite by chance, I referred to a book listing details of ship builders' apprentices (as Vincent Green had been so described in an early parish register). Imagine my delight when I not only found information about Vincent's apprenticeship, but also his father's name, Isaac Green. Still further delight followed as it was noted that Isaac lived at Tisbury in Wiltshire. Without this prime evidence, probably it would have been impossible to forge a link between the Greens of the Thames area and Wiltshire.
Another happy coincidence was that, about this time, the Family Search web site launched details of many more parish records. In an idle moment, I typed Vincent's details into the Search Box and found his baptism, this time in Hampshire - the county that was home to so many of my other forefathers! Who knows where this trail will end, but at the time of writing, it is not cold.......
Isaac Green - my greatx6 grandfather
What follows now although conjecture, is based on parish records. When researching Isaac, it is an advantage that his is another relatively uncommon Christian name. Among the sources I have consulted are: the International Genealogical Index (IGI), the British Vital Records Index (BVRI), the National Burial Index, Hampshire baptisms, marriages and burials and records of the Wiltshire and Swindon History Centre.
A John and Hester Green baptised Isaac Green on 16 March 1717/18 at Brixton Deverill, Wiltshire - a village situated about seven miles north of Tisbury. (See right, Brixton Deverill church, photographed by Martin Addison)
Being excessively pedantic perhaps, I should also mention that a birth is also recorded of an Isaac Green, aka Painter, at Swindon, Wilts in 1710. There is also a marriage of Isaac Green in Swindon, on 24 December 1739. However, I feel he is less likely to be my ancestor as Swindon is 37 miles from Tisbury and the marriage took place shortly after my forefather, Vincent, was baptised.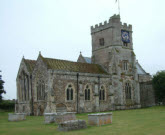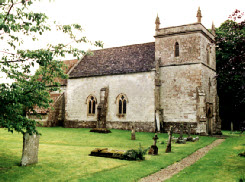 Vincent Green - my greatx5 grandfather
Vincent Green, the son of Isaac Green, was baptised on
7 September 1739 at Fordingbridge, Hampshire.
In 1756, Vincent was an apprentice ship builder in the service of William Mitchell of Rotherhithe.
Vincent married (Bland) Dinah Blackett in July 1765 at St Mary's, Rotherhithe. The couple had eleven children, two of whom died in infancy. They were all baptised and buried at St Mary's (shown, right).
It is satisfying that the parish records survive as their details tell the story of where the family were living and the varying occupations of Vincent.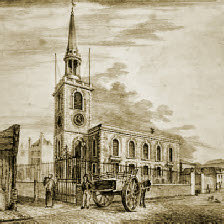 Vincent Green
bapt 7 Sept 1739
bur 23 Sept 1807
(Bland) Dinah Blackett
m July 1765
Dinah Green
bn 21 Aug 1766
bapt 31 Aug 1766
James Green
bn 30 March 1769
bapt 3 April 1769
bur 2 Jan 1820
Phoebe Green
bn 13 March 1773
bapt 21 Mar 1773
bur 30 May 1773
John Green
bapt 12 Feb 1777
bur 11 Oct 1832
Mary Ann Green
bn 12 Nov 1779
bapt 8 Dec 1779
Sarah Green
bn 19 Mar 1782
bapt 17 Apr 1782
Elizabeth Dinah Green
bn 31 March 1784
bapt 18 April 1784
Phoebe Green
bn 13 Aug 1886
bapt 10 Sept 1886
Now, a few observations about Vincent and Dinah's children. Apparently none were named after Vincent's father, Isaac.This may indicate a strained relationship between Vincent and his father, especially as their first child was named after her mother. Their naming pattern could well have been to baprise the first son with the name Isaac. Also, it seems that Vincent and Dinah were diligent; having their children baptised promptly. This perhaps indicates a religious bent and/or a desire to live their lives in an orderly fashion.
Mary Green
bn 31 Nov 1770
bapt 8 Dec 1770
Joseph Green
bn 14 July 1774
bapt 7 Aug 1774
In 1767, Vincent was working as a shipwright and living at Hanover Street, Rotherhithe (see map below * ). Six years later, in 1773, he was a victualler at Kings Mill, Rotherhithe. This doesn't necessarily mean that he temporarily stopped building boats as many licensees installed someone to manage the public house (a family member, for example) while they continued in their main work. The London Directory of 1793-98 shows Vincent as a boat builder at Rotherhithe Wall; another directory has him at Fountain Stairs, Rotherhithe Wall. When he died, Vincent was living at Rotherhithe Street, near The Bulls Head - possibly with his spinster daughters.



(Note: The first section of the map above is about half a mile down-river from the second section)
In 1801, Vincent Green appears in the Poor Rate Assessment for St Mary Magdelen parish. He is shown as living at 'The Wall - house and wharf'. The rateable value of his property was £26 10/- and his rates were £7 19/-

The extent of Vincent's property can be judged by comparing rateable values of other local properties. For example, the rates for houses in nearby Marygold Street varied between £3 - 5. A wharf (that did not include a house) that was adjacent to Vincent's home had a rateable value of £12. So, his property was quite extensive. He probably needed this space as by 1807, his son James Green evidently had taken on the property and for insurance purposes was described as a 'barge and boat builder'. One might reasonably conclude that he was following in his father's footsteps and that their wharf frontage was used to build and store boats and barges.
In view of these details, we can pinpoint Vincent's property with certainty - especially as immediately after his entry, the rate book continues with the west side of Marygold Street. His home and business premises were just to the east of Fountain Stairs as shown on the above map (top).
Vincent Green's house and wharf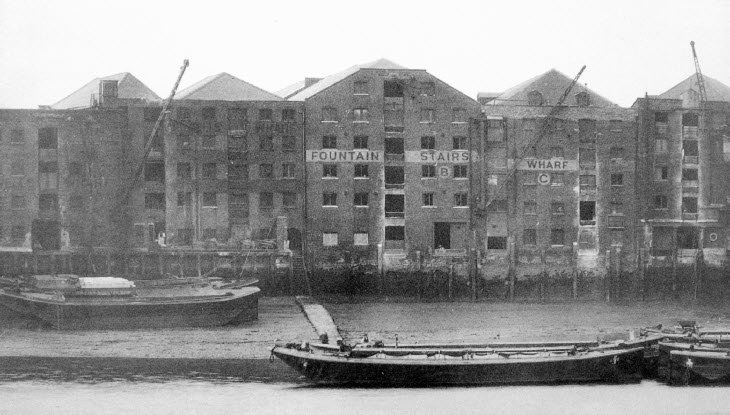 A twentieth-century view of Fountain Stairs and Wharf. These buildings were constructed in the nineteenth century, but they convey a sense of the area. Fountain Stairs can be clearly seen (left of centre)
Vincent died in September 1807, aged 68, and was buried at St Mary's, Rotherhithe on the twenty-third. His will provides considerable genealogical information and a hint of controversy. The following, is an epitome:
Vincent's will was dated 7 September 1807. After the payment of his debts, all his 'worldly property' was to pass to his wife, Bland Dinah Green (sic). After her death, it was to be sold by auction and equally divided between his sons and daughters, namely: James Green of East Lane; John Green of Salisbury Street; Ann Pratt (wife of Thomas) of Salisbury Street; Sarah Tisdell (wife of Thomas) of Salisbury Street; and Elizabeth and Phoebe Green both of Rotherhithe Street. Vincent's executors were his wife, Dinah, and Thomas Pratt. His will was proved 25 November 1807.
But, before it was proved, it was deemed necessary to confirm Vincent's signature and therefore the authenticity of the will. A widow, Mary Worley of Lower Queen Street, 'made oath that she knew and was well acquainted' with Vincent for several years,had 'frequently seen him write and subscribe his name to writings' and was well acquainted with his handwriting and 'subscription' or signature. She then signed the affadavit ratifying that the signature on the will was that of Vincent Green.
This is Vincent's signature from another document dated 1798:

The impression given from this wrangle is that James (Vincent's male first born and therefore logical heir) was unhappy with the terms of his father's will and sought to contest its terms.
Vincent and Dinah's death and his will
Dinah died in December 1824 (aged 79) at Princes Street and was buried on the fifteenth of the month at St Mary's, Rotherhithe. The Church register notes the burial of Elizabeth Blandina Green, widow. Now the denarius drops - Dinah was a contraction of Blandina! This explains why 'Blan(d) appears in so many documents!
It is only now that I have discovered this burial - and the useful information that Dinah/Elizabeth/Blandina was aged 79 and therefore born in around 1845. It means that her baptism and parentage can be found and the quest to find my ancestors can continue along a new branch. Blandina Elizabeth Blackett was born to John (a labourer living at Bradf(ord)s cow yard, Rotherhithe) and Mary Blackett on 23 November 1745 and was baptised on the 30 November at St Mary's, Rotherhithe. A further twig on my ancestral tree. Firstly, these details that have been collected from a prime source can be stated with total confidence: Isaac Green was a cutler who lived for a time at Tisbury, Wiltshire.
He had a son, Vincent Green, who was baptised at Fordingbridge, Hampshire on 7 September 1739. The small towns of Tisbury and Fordingbridge are about 15 miles apart. (See right, the church at Fordingbridge, photographed by Stuart Buchan.)
John and Hester Green had two other children who were baptised at Brixton Deverall, namely Shadrach (born 27 March 1721; bapt. 2 April 1721; burial, 1735) and Meshach (bapt. 27 September 1724). The three Christian names of their children may indicate a certain piety. I have found no record of Hester Green's burial and feel that a search for John Green's burial would be inconclusive for obvious reasons.
We know that Isaac Green was a cutler - a craftsman who in those days fashioned knives, scissors, shears and sickles - probably in a small workshop. Sheffield was the hub of the cutlery industry, but there were provincial centres such as Salisbury (13 miles to the west of Tilsbury), whose cutlery manufacture benefited from its exceptionally clean river water. Both Tilsbury and Fordingbridge are also situated on rivers (the Nadder and Avon, respectively) Perhaps this is why Isaac lived in those communities.
An Isaac Green features in three other parish records that may refer to our man: a burial of Isaac Green at Tisbury (21 March 1742); and two baptisms of children at Deverill Hill (little more than a mile from Brixton Deverall) in 1751 and 1758 to Isaac Green. I also note a burial of an Abraham Green at Tilsbury in 1742 among nine other Green burials there in the 1740s. Unfortunately, it is impossible to establish any relationship between these Greens.
On the basis of what has been discovered, as outlined above, it is tempting to see Isaac marrying as a young man and moving with his wife from Fordingbridge to Tilsbury and thence to Deverill Hill having children born along the way - but this is purely speculation.

John and Lucy (nee Saunders, born 1777c) Green were my 4xgreat grandparents.
They married at St Giles,Camberwell , Southwark on 9 July 1796. Both signed the certificate and their witnesses were James Green (John's brother) and Samuel Corkerton.

During their married life, John and Lucy lived on the east side of Salisbury Street, Bermondsey (see map above).
John was a shipwright who probably continued his father, Vincent's, business - when he died, John was described as being of Rotherithe Wall.
The couple had five children, all of whom were baptised at St Mary Magdalene, Bermondsey (shown below)










bapt 12 Feb 1777
bur 11 Oct 1832
Dinah Elizabeth Green
bn 19 Apr 1798
bapt 11 May 1798
John Green
bn 8 Oct 1800
bapt 2 Nov 1800
Lucy Green
bn 24 June1803
bapt 17 July 1803
Vincent Green
bn 27 Nov 1805
bapt 22 Dec 1805
James Richard Green
bn 9 Dec 1810
bapt 10 Feb 1811
Lucy died in 1821, aged 44 and John, in 1832, aged 55. Both were buried at St Mary Magdalen, Bermondsey.