John Green, my 3xgreat grandfather was a skilled craftsman. All his life he lived near the River Thames, building boats.
John Green was born on 8 October 1800 at Salisbury Street, Bermondsey, Surrey and baptised at St Mary Magdalene, Bermondsey on 2 November 1800 - near the south bank of the River Thames.
John was apprenticed to Thomas Tisdell (a beneficiary of his grandfathers will) on
22 September 1815 for seven years as a shipwright. (Hover cursor on image, right, to read)
His wife was Jane Houghton. (Link: Houghtons) She was born around 1799 in the same district at Horsley Down. The couple married at St Clements Dane, Westminster on Christmas Day 1828 - the church where Jane's parents had also married.
Judging by his beautifully written and correctly spelt record of their children's births in Pilgrim's Progress (see below), John was well educated. He also had a precise mind, recording the exact time of each child's arrival, by whom they were registered and the registrar's address.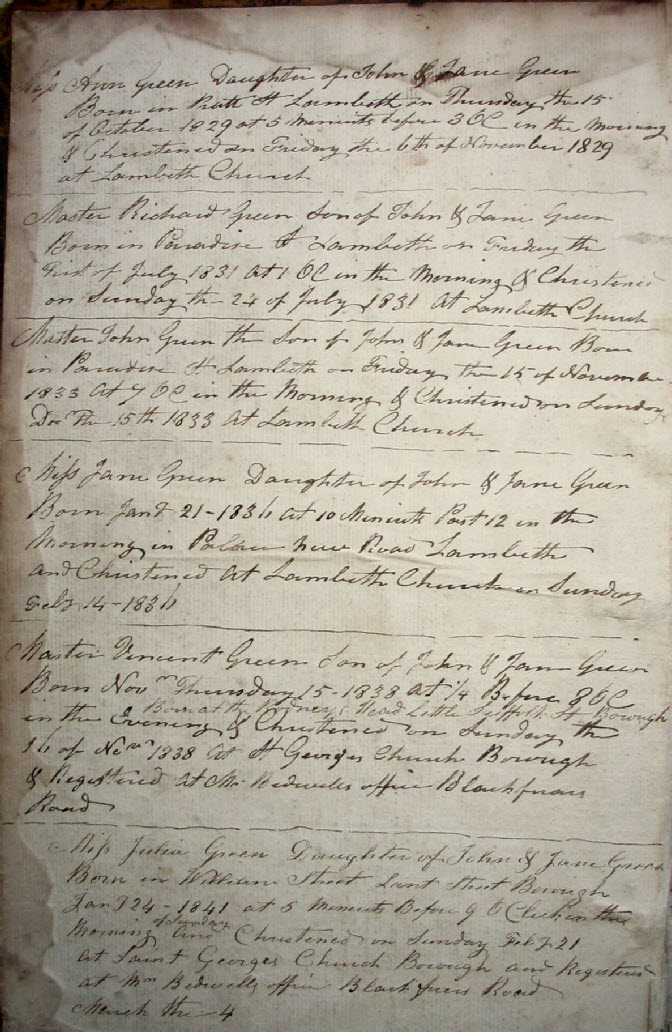 By 1829, John and Jane had settled at Pratt Street, Lambeth - just a short distance from the Thames and Lambeth Palace. Two years later, they were even nearer the river at Paradise Row. In 1836, their home was at Palace New Road, Lambeth which is yards (boat yards?) from the Thames. Directly opposite were the Houses of Parliament. The following year, the family was living in Bishops Walk.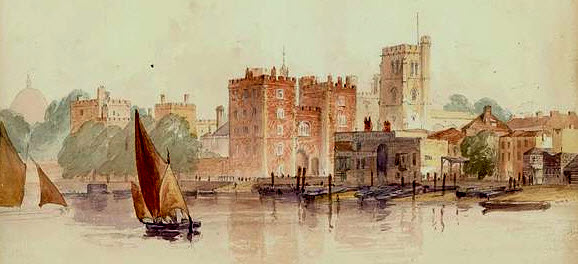 Lambeth Palace and St Mary's Church seen from the Thames
Their first four children were baptised at St Mary's, Lambeth. The family then moved towards Blackfriars where Vincent was born. Although he died two years later, his sister, Julia was born in Borough during 1841.
Soon afterwards, the family moved north of the river to the Lea Bridge Road area of Clapton. This was to be their home for the rest of their lives. Here, Julia died in the summer of 1842 and their last two children were born: Emily (1844) and Vincent (1845).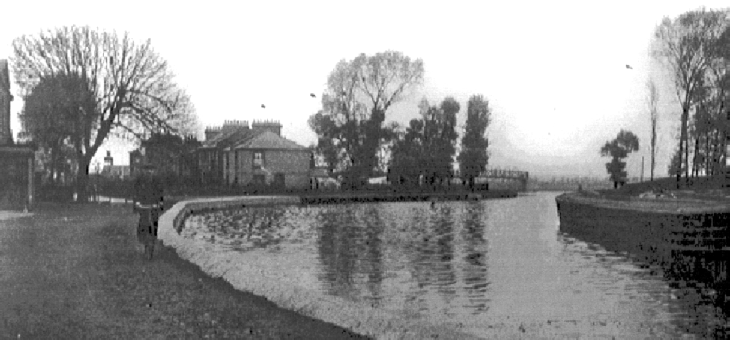 On 30 October 1847, John bought a twenty-one year lease to a house, boat builders workshop and garden to the north of the Jolly Anglers public house on a bend of the River Lea. The plot included a 'piece of land on the east side, with right of way' and occupied almost a thousand square yards. The lessor was John Hammond, who was the Kings Head beerhouse keeper, boat proprietor and also owned several other cottages in the area. His daughter, Sarah was to marry John Green's son, Vincent. The annual rent was £25.56 and Green was barred from opening a public tea room on the land (which was next door to Hammond's tea gardens)
On 20 September 1872, John leased this property for thirty-five years to his son, John jnr., who built two cottages there (1 and 2 Pleasant Cottages) which later became known as 'Green's Cottages'.
Jane (nee Houghton) (1799 - 1871)





Vincent Green
(1838 - 1840)
Julia Green
(1841 - 1843)
Vincent Green
(1845 - 1885)



Lambeth Palace and
St Mary's Church



John Green jnr's home is the one at the end of the row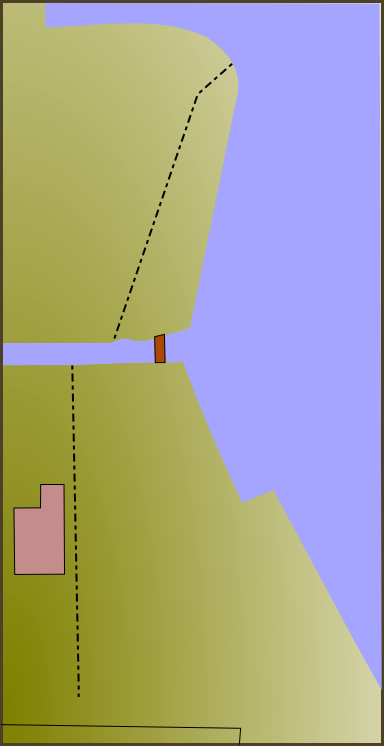 To Tottenham Public Footpath

Land at present
In the occupation of John Green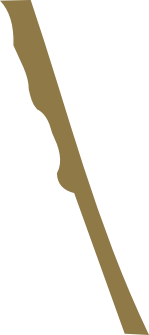 Plan of John Green's leased land.
Boat builders were skilled craftsmen who served an apprenticeship of several years.
The design of boats might be carried in the tradesman's head, augmented by thumbnail sketches and specifications of more complex details. Often this information was passed down from father to son.
Boat builders required a large working area in which to work - sufficient not just for the construction of a boat, but also to store seasoning timber.
Boats have curved, almost sensual lines and to achieve these timber must be steamed for it to become pliable. So, a purpose built steam room is essential which is large enough to hold the longest planks. It is fed by a boiler and is sealed to hold steam under pressure.
Another obvious requirement is that the boat yard is near water for the launch. As can be seen from the plan of John Green's home and land, their location fitted all these requirements.
Boats are built by 'laying down' a skeleton of prow, stern, keel and ribs to which planks are secured. The main components are sculptured from selected pieces of timber - usually oak - from a design often carried in the mind's eye. For this the boat builder uses specialist tools such as an adze which is like an axe with a blade. This is wielded to carve a shape in the timber but has to be used deftly as a downward blow which slips could cause a serious injury.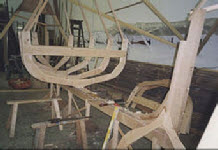 When the framework is assembled, then the steamed, malleable planks are secured and the boat takes shape. The joints are filled using oakum which is plant fibres mixed with tar. The oakum is hammered into the seams using a mallet and a caulking iron - a wide bladed chisel with a grove to hold the oakum in place. If the joints are too tight, they are prized apart by an opening iron.
The bottom of the boat is usually made from planks of unseasoned elm as this resists decay when permanently immersed in water. The finishing touches of planing, sanding, coats of varnish and fittings complete the vessel.

The families of John Green and John Hammond were intertwined. Both men were boat builders/proprietors near the River Lea and John Green lived in Hammond's Cottages. His son, Vincent, married Hammond's daughter, Sarah. 'The boat builders and boat owners made comfortable incomes in these times'.
John Green was not only a boat builder, based on a bank of the River Lea, but he also hired out boats. The Lea was a popular playground: 'a great many persons come daily from London to take exercise by rowing'. The Victorian Londoner was anxious for some restorative recreation on Sundays after a week spent working in town and flocked to places like the Lea. Boats were hired 'at all hours on Sunday' – including during the time of divine service.
An incident involving John Green jnr.
John Green jnr. was aged 32 and employed by his father when, on a Saturday night in September 1876, between 19.00 and 20.00, he was directing a regatta by signals on the River Lea. He was 'well known to amateur oarsmen of the Thames'.
John was holding a large horse pistol in his hand when his attention was distracted by someone asking about hiring a boat. As he turned to speak, the pistol discharged and Henry Milgrove (a 'fine youth and the son of the landlord of the Mermaid public house') was wounded in the stomach. He told a police sergeant, 'This was an accident. Pray for me. I am dying. It was an accident'. His wound was caused by a large piece of rag used as wadding and was between his navel and stomach: his entrails were protruding. He died at about 20.00.
John was beside himself – 'it would be difficult to express the painful feelings with which the prisoner contemplated the act of which he had been unwittingly the perpetrator'. He knew Milgrove - he had been a pupil and was training for a rowing match under John's supervision. John 'wept bitterly during the evidence'.
Poignantly, when Milgrove's father came on the scene, not knowing the identity of the victim and seeing John's distress, tried to console him – he was not to blame, it was an accident; he had nothing to fear. When he entered Green's house and realised that it was his son who was lying there, dead, 'he became almost bewildered'.
Verdict: homicide by misadventure.
The life of boat builders on the River Lea

The deteriorating condition of the River Lea
The area where John Green lived was occasionally flooded - an occupational hazard for many who live near a waterway. In January 1877, it was reported that, 'the lands lining the river bank are for many miles on both sides quite submerged and many of the cottages and fishing houses are from two to four feet deep in water. In some instances the inhabitants are living in the upper storeys; the necessities of life being conveyed to them by boat.'
Another menace to life in and on the Lea appeared in the early 1870s. Upstream, Tottenham grew as a residential area, reaching a population of 60,000 and the local authority decided to dump the increasing sewage into the Lea, after first treating it with chemicals. Before this, 'between 1860 and 1870, the river continued to be in good condition and every day during the summer seasons especially on Saturdays and Sundays it was gay with boating parties. The boat builders and boat owners made comfortable incomes in those times.'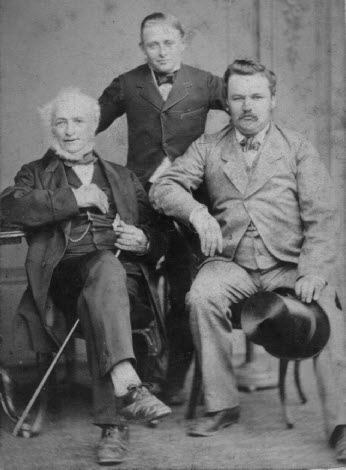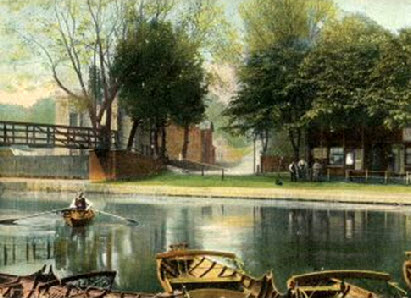 A view of the Lea upstream at Springhill
John Green, probably with his surviving sons:
John jnr and Vincent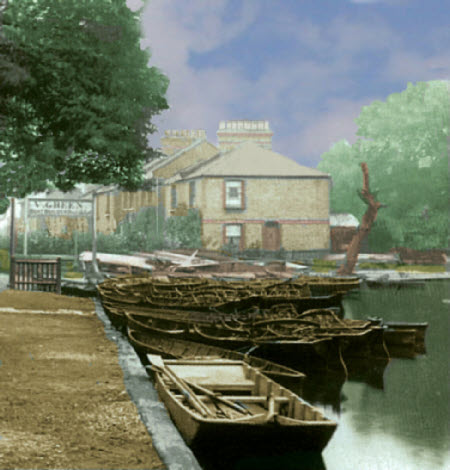 The 'last days' of John and Jane Green at Lea Bridge and John's will
Perhaps as a result of their environment, John and Jane died in the early 1870s - Jane, on 29 November 1871, from broncho-pneumonia from which she had suffered for three weeks and John, on 20 November 1874, from bronchitis which had lingered for five weeks. John also had senile decay. They were aged 72 and 74 respectively.
John's will answered and raised some questions. His address was given as 'The Boat House', Lea Bridge. John's will was dated 8 November 1869 and a codicil was added later, on 30 August 1870. They were proved on the 10 December 1874. This is an epitome:
His debts and funeral expenses were to be paid 'as soon as possible' after his death.
He appointed his wife Jane, son John and son-in-law, William Sidney Dear, of Pleasant Cottage, jeweller, as his executors.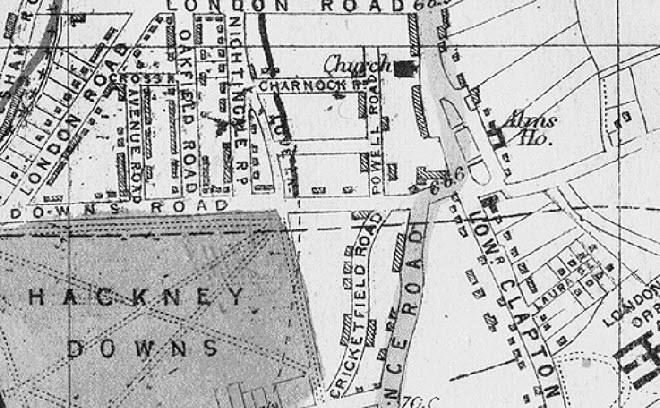 Of John Green, junior and Vincent Green
John Green jnr. was aged 32 when, on a Saturday night in September 1876, between 19.00 and 20.00, he was directing a regatta by signals on the River Lea. He was 'well known to amateur oarsmen of the Thames'.

John was holding a large horse pistol in his hand when his attention was distracted by someone asking about hiring a boat. As he turned to speak, the pistol discharged and Henry Milgrove (a 'fine youth and the son of the landlord of the Mermaid public house') was wounded in the stomach. He told a police sergeant, 'This was an accident. Pray for me. I am dying. It was an accident'. His wound was caused by a large piece of rag used as wadding and was between his navel and stomach: his entrails were protruding. He died at about 20.00.

At the ensuing inquest, John was beside himself – 'it would be difficult to express the painful feelings with which the prisoner contemplated the act of which he had been unwittingly the perpetrator'. He knew Milgrove - he had been a pupil and was training for a rowing match under John's supervision. John 'wept bitterly during the evidence'.

Poignantly, when Milgrove's father came on the scene, not knowing the identity of the victim and seeing John's distress, tried to console him – he was not to blame, it was an accident; he had nothing to fear. When he entered Green's house and realised that it was his son who was lying there, dead, 'he became almost bewildered'.

Verdict of the inquest: homicide by misadventure."
John jnr and Vincent didn't make 'old bones'. John married Sarah Elizabeth Carter (the daughter of a bargeman) at Hackney during the June Quarter of 1881. He was living at 167 Powerscroft Road. Shortly afterwards, he died in early 1882, aged 48. His widow lived with John's sister, Emily Green at 20 Cranbrook Road, Tottenham (probably to her death which was perhaps in 1922 - Emily was alone in the electoral register in 1930). Sarah Elizabeth and Emily Green kept in contact with the Dears and the Dees - they were at the wedding of Gertie Dee and were remembered by my mother. Emily Green died on 3 July 1931 when living at 20 Cranbrook Road, Tottenham - her home for more than forty years. She left an estate of £611 5s 5d which was administered by John Dear.
Vincent took on the family business and lived with his wife, Sarah nee Hammond, at 'The Boathouse'. However, on 20 February 1885, aged 39, he too died after suffering from TB of the lungs for two years. It is hard to escape the nagging feeling that the river which provided the livelihood of the two Green brothers also contributed to their deaths.
Vincent's simple will was administered by my two great grandfathers, William Sidney Dear (now of 152 Powerscroft Road, Clapton) and George James Dee of 138 Powerscroft Road. Sworn on the 11 February 1885, Vincent left the whole of his estate (which had a gross value of £547 12s 6d) to his widow, Sarah.
In 1901, Vincent's widow, Sarah was still living near the Lea with her widowed mother, Charlotte Hammond, at 11 Lea Hall Road, Lea Bridge, Leyton which was just over a mile north-east of Lea Bridge. Sarah Green (nee Hammond) possibly died in the June Quarter of 1903, aged 55.
(I am grateful to Brian Gumm for allowing me to use the photographs of John Green and the page from Pilgrims Progress and to Pennie Hammond for supplying background information - see her Hammond blog at this link: http://leabridgehammonds.blogspot.com/ - and for her research as she unpicked the stories of the two Sarah Green widows)
Maps of London reproduced with the kind permission of Mark Annand. The Greenwood map of London (1827) can be found at this Link: Greenwoods map of London.




Below, John Green's home and workshop (shown in orange) - to the north of the Jolly Anglers public house.
Right, the house John Green jnr built.
Illustrating how popular a spot this was, in 1872, John Hammond was summonsed for opening his house for the sale of liquor before one o'clock on Sunday, 25 August. It was stated that 'the place was resorted to on Sundays by thousands of persons who go rowing on the Lea' and that 'the defendants house was very much frequented' and was 'often open from nine o'clock in the morning'. On the day in question, at 11.45, the doors were 'wide open' and four men (some had walked for twelve miles; others, for five miles) were in front of the bar. Hammond was fined £3 and his customers, ten shillings with two shillings costs.
But the River Lea was treacherous and many pleasure-seekers, who fell into its depths, drowned.
Some of the drownings in the River Lea, near Lea Bridge
In October 1839, a young man, a pilot, had just married at St John's, Hackney. The wedding party went to the Ferry House Tavern and after dinner the bride and groom engaged a boat for a short trip along the Lea. Almost at once, the bride was alarmed by the sudden swell caused by a passing barge and asked to be put ashore. During this manoeuvre, the groom overbalanced and disappeared under the boat. Although he was pulled out within ten minutes, his bride was now a widow.
On a Thursday night at about 17.00 in September 1844, a man and woman hired a boat at the Jolly Anglers. The couple rowed up stream towards Tottenham: 'the gentleman appeared to understand the management of the boat and to row well'. At about 19.00 on a foggy, dark night, a waterman hear a cry, 'Boat ahoy' from a point 200 yard s from the Jolly Anglers and jumping into a boat, he rowed to the spot. He found the gentleman clinging to an up-turned boat. When asked where his lady was, he kept repeating, 'I have left her behind alright'. He was concerned about his clothes - his coat and waist-coat were floating on the river and were recovered by the waterman – and he asked, 'Where is my hat?'. 'Mr Green will bring your hat'. After landing the gentleman, the waterman was implored by a bystander, 'For God's sake, go back and look for the lady'. He dragged the area for half an hour, but could not find her body. Trying again, he found the corpse.
Mr Green witnessed the rescue of the gentleman and asked him if there had been anyone else in the boat. He replied, 'It's all right, there was no-one but myself'. Green helped with dragging for the body. It transpired that the lady was a barmaid who expected to marry by next Christmas. She had taken a portrait of her father to show her betrothed.
Also, in 1844, eleven people were drowned on the Lea, just north of Lea Bridge. At 16.00 on a Sunday afternoon, six lads aged between twelve and fourteen, hired a large, pink boat (similar in design to a common Thames wherry) from Mr Wicks of the Jolly Anglers public house. Further upstream, they overloaded the boat when they were joined by four more boys 'to save expense'. (They were all brick-makers boys who were working in the field to the west of the Jolly Anglers.) At 18.00, another party, comprising three young men, a nineteen-year-old girl and a lad, hired a smaller craft from Wicks and rowed upstream. At the bottom of Hammond's pleasure gardens by the King's Head, the river was thirty yards wide. As the smaller craft navigated a bend in the river, it was run down by the larger boat. Swamped with water, its five occupants were thrown into the water with a 'great scream'. To save themselves, the people grabbed the other boat - which immediately capsized. All fifteen were now in the water, clinging to the overturned boats which rolled around, rising and sinking. Wick's brother, seeing the accident, launched a skiff and rowed to the spot and said he got seven of the parties out of the river within three minutes, using a boat hook. None survived. Mr Hammond jnr of the Kings Head also recovered three bodies and his waiter fished out another. Two of the boys swan ashore and two were rescued by a passing barge. All of the boys could swim and often bathed in the Lea at the spot where the accident happened. Although the collision happened within five yards of the shore, eleven people died. All the bodies were laid in the parlour of the Kings Head.
Two medical students, aged twenty-one and twenty-four, drowned in the Lea in March 1849. A man and a woman hired a small boat from Hammond's boat-house and were later joined by a second man. Some onlookers on the bank cautioned the occupants that it was too small to hold three people and that it was dangerous to remain in her. Their comments fell on deaf ears. Soon, the rower complained of being tired and as the two men exchanged places, the boat heeled over, filled and turned keel upwards. A bargeman hearing 'violent screaming' rescued the woman but the bodies of the men were not recovered until half an hour later.
John Green hired out a boat to two young men at 20.00 in August 1851. As they were making their way back to the boat-house they changed position near the Ferry House. The boat turned on one side and water rushed in. One of the men put his foot on the other side of the wherry and the boat instantly filled with water. One of the men drowned.
On a Sunday in September 1869, two gentlemen and a lady hired a boat from Hammond's boat-yard and rowed to Tottenham. The water was rough, whipped up by a gusty wind. They retraced their route to Spring Hill when the rower asked his companion to relieve him at the oars. As the young man stood to take off his coat, the boat lurched and shipped some water. The young woman shifted her position to right the skiff and then jumped up in fright. The stern of the boat went under the water and the boat turned keel over and all three were thrown into the water. Twenty minutes later their bodies were recovered.
These are a few of the fatal incidents on the Lea. One news report described the river as the 'scene of another of those painful accidents for which it has gained such an unfortunate notoriety'. A coroner commented, 'Boats are frequently upset on the Lea, particularly on Saturdays and Sundays'.
It may be that this stretch of the Lea was particularly treacherous or even toxic – an expert witness, with thirty years of local experience, declared that 'he had never known a person that has been resuscitated after having been submerged in its waters for the space of even one minute'. Police patrolled the banks of the river to prevent persons bathing and to hinder boat accidents.
The worthiness of boats on the River Lea
There was an ongoing controversy about the part played by the boat-builders and proprietors in these tragedies – were the boats 'fit for purpose' or perhaps too flimsy for the use to which they were put? Thus, following the accident in August 1851, when one of John Green's boats sank, the coroner observed that 'boats on the River Lea were of very light construction and required great care in managing'.
During the inquest on the eleven who drowned in 1844 using boats hired out by Wicks of the Jolly Angler, a distraught father said that he hoped that the jury would do something to prevent the letting of such dangerous boats on the Lea. Another bereaved parent, who had been a seafaring man for twenty years, affirmed that he would not trust himself to cross the Thames in one of the Lea boats. A County magistrate added that 'they were too light and long and narrow and not fit for the water unless manned by skilful rowers'. After inspecting the boats involved, the Coroner also remarked that the smaller boat was evidently too small to be used indiscriminately on the waters of the Lea.
Following the death of the two medical students in 1849, the inquest was told by a juryman that there was a 'frequent and appalling sacrifice of life owing to the misconduct of boat-builders on the Lea which led to much talking without producing the slightest practical public benefit'. He had seen the boat involved in the tragedy and it was 'not an inch out of the water'. He alluded to the 'fierce rivalry that existed in the construction of light boats and hence the frequent calamities'. A long and animated discussion ensued. Another magistrate declared that, 'he had long been of the opinion that (the boats) were extremely dangerous'.
Specifically, the design of boats was criticized: they should have 'less shelving about the heads; as a result it would not be so easy to press them down at the stern, thus causing the bows to be lifted which might then run over other boats'.
It may be that Green and Hammond's boats were perfectly river-worthy, but it appears that the builders/proprietors limited themselves by looking at the general practices along the river. Thus, when it was suggested that the boat-proprietor, Wicks, should be more discriminate in those to whom he hired boats, he retorted that, 'unless other boat builders discontinued in letting out such boats, there would be no use in his doing so'.
There were so many accidents on the Lea that people living near the banks considered it a nuisance, 'so frequently were they been called upon to take in drowned persons and to afford succour to those that had been partially so'.
In an incident not related above, following the death of a seventeen-year-old rower who had hired a boat at High Hill Ferry House, it was found that the boat was leaking at the bottom. It quickly filled with water and sank. The boat was rotten and old. As it had been hired out by the proprietor's wife, her husband, Henry Youngerman, was committed for trial on a charge of manslaughter.
As a consequence of the fatal accident in 1869 (see above), John Hammond (described as a beer-house keeper and boat proprietor) was charged with assaulting and beating Richard Vernon who was also a boat proprietor at Spring Hill. He had recovered two of the bodies and a few weeks earlier he had pulled out another body after an accident involving the same boat.
On 21 September, Vernon was walking along the river bank with another man. Hammond approached him and demanded to know what he had meant by speaking against his boats. Vernon denied doing this. Hammond responded saying that this was a lie and that Vernon was 'a liar, a rogue and a thief'. Hammond then struck him a blow to the mouth and, seizing him by the coat collar, kicked him behind.
Hammond admitted the charge, adding 'I would not tell a lie for £5 or £50'. He expressed no regret but said that he had offered to settle the matter by giving £2 for the benefit of the widows of the drowned men, if the complaint was withdrawn – which it wasn't. Summing up, the Magistrate said that Hammond's assault was unprovoked and that he had shown himself to be a 'very violent man. He appeared to take no shame to himself for what he had done but seemed rather to have an opinion that he had committed a very plucky action'. Hammond was fined £5 with costs or he could go to prison for two months hard labour.
One of the major contributing factors to the accidents was the overcrowding of boats – there were often too many passengers on board for safety and the slightest shift in weight made the wherries unstable. However, it was a common ploy for someone to hire a boat and then, to save paying fares, they might stop along the river bank to take on more of their friends - 'a common and reprehensible practice on the Lea'. Of course, the boat proprietors would be unaware of this dangerous subterfuge. Two of the incidents related above involved people who had joined boats without the knowledge of the boat proprietors.
After the death of the eleven, the Coroner referred to the Waterman's Act whereby there was a penalty of 40 shillings or loss of franchise for two months if boats carried more people than were permitted by law. However, it was found that Wicks' boatman had been given no instructions concerning the avoidance of overcrowding of boats.
Another issue was the hiring out of boats to inexperienced, unpractised people including lads and those who were intoxicated. (Although it was avowed that boats were not let out to people who appeared drunk and people were not permitted to take liquor with them on boats). Indeed, magistrates condemned the indiscriminate letting of boats to all comers, boys or adults, on the River Lea.'.
John Green and John Hammond summonsed
In August 1871, Green and Hammond (together with two other boat proprietors, Robert Serjeant of the Jolly Anglers and Caleb Day, Prince of Wales) were summonsed for keeping pleasure boats for hire without being licensed (re: the Act of Parliament, 1868) and not declaring how many boats they each kept.
For each boat registered, a fee of ten shillings was due with a further annual fee (which was not to exceed twenty shillings) for each boat. As some of the defendants owned fifty boats (worth about £10 each), one can understand their tardiness in registering their boats. They were clearly awaiting a test case when the byelaws could be challenged.
Their defence was that the byelaws were bad; that they exceeded the powers granted by the Act and that the wording of the law was ambiguous. The case was lost and each proprietor was fined two pounds and costs.
However, in August 1871, a letter to the Daily News advised that all those rowing from Lea Bridge to Tottenham would be in no mood to return. 'The stench near the railway bridge...is really horrible and...is quite enough to cause revulsion in the strongest stomach...The blades of our oars came from the water quite black and my companion was quite prostrated by the obnoxious effluvia. During the fine weather, thousands of people visit the Lea for boating purposes and as many are mere boys, it is impossible to tell what danger may arise...'.
By 1885, the Lea was so polluted that it was dangerous to swim in its waters. A visitor to Lea Bridge described the stench from the river as being worse than the 'waste tank of a gas factory ...or the remains of a dead camel'. When he tried to hire a boat he was met with disbelief 'the smell on the river is so bad, it may make you ill'. The proprietor was near ruin: from keeping 78 boats, hiring 20 to 30 before breakfast and taking £11 on a fine Saturday, he had now earned only 8/6d during the previous week.
The visitor described the Lea as 'black as ink: black with a glossy surface like oil'. The taste left in the mouth was like 'sucking a penny'. Local residents kept carbolic acid in their rooms as a disinfectant to offset the odour.
Jane was to continue to occupy 'The Boat House' and was to receive the rents and profits from his estate.
His freehold house at 1 Victoria Cottages, The Avenue Road, Clapton was to be held in trust for his daughter, Anne Dear, wife of William. Upon her death it was to be dealt with according to her will or held in trust for her children.
John's freehold house, 2 Victoria Cottages, Clapton was to be held in trust for his spinster daughter, Emily Green. After her death, the property was to be disposed according to her will or held in trust for her child(ren) if any.
The house at Lea Bridge and the goodwill generated by his business were left to his wife, Jane. After her death, it was to be divided between his three sons, Richard, John and Vincent provided Richard was resident in England at the time of his wife's death. If Richard was not living in England then, the property and goodwill were to be held in trust for John and Vincent until five years elapsed after Jane's death. If Richard returned, his interest in his father's estate was only to date from the time of his return. John, jnr was to be allowed to live in 'The Boat House' after the death of Jane.
The picture, 'Queen leaving Kingston Harbour', was left to his daughter, Emily Green; the picture of the 'London Rowing Club,, to his son, Richard; the print called 'Richard Green from Australia' and the rowing pictures, to his son, Vincent; the painting of 'The House', to his son, John; the portraits of 'myself and wife', John and Jane Green, and Richard Houghton (Jane's father), to his daughter, Ann Dear.
John's household furniture after the death of Jane was to pass to his children, John and Emily as long as they remained unmarried. If Emily married first, the furniture was to be John's. If John married first, the furniture was to be divided equally between them. If both remained single, the survivor was to inherit everything.
The following gifts were made: six silver tea spoons marked 'RAH' (Richard A Houghton?), to Emily Green; a pair of silver table spoons to John Green and another pair to Vincent Green; four silver tea spoons, two salt spoons, one mustard spoon and a pair of sugar tongs to Ann Dear.
The residue of John's estate was to be divided equally between his five children (including Richard).
The codicil directed that all rates, taxes and outgoings payable with respect to his house and business should be paid out of his business. The value of the effects of John's estate was less than £600.
John's will explains what happened to his son Richard - he emigrated to Australia, which explains his absence from censuses. The references to paintings is both interesting and frustrating -a 'large portrait of John Green' hung in George and Annie Dee's home, but the whereabouts of the other pictures and prints is unknown to me. There even existed a portrait of my greatx4 grandfather, Richard Houghton.
Clearly John's business was lucrative as he owned two freehold houses at Avenue Road, Hackney (see below). These were situated about a mile and a half from his home. William and Ann Dear were living at 1 Avenue Road in 1891 - evidently, Ann's inherited home. They had moved to 17 Oakfield Road (an adjacent street) by 1901.

Charles Dickens commented on another aspect of the boat builders' environment. In Great Expectations he wrote, 'Eight o'clock had struck before I got into the air that was scented, not disagreeably, by the chips and shavings of the long shore boat builders'.
To succeed in his craft and with his craft, John Green would have been industrious and creative; trained and dextrous; educated and literate as well as an organiser of his team. He passed on his skills to his sons, John and Vincent who served apprenticeships under him.