The parish registers provide birth and baptismal dates for my 3xgreat grandfather, James, the second son of George and Mary Pafford. He was born on 6 April 1793 and christened at Holy Trinity, Gosport on 23 June 1793.
After ten years of research, I discovered that James joined the Royal Navy as a volunteer 'Boy' third rate on 14 July 1805, when he was 12¼ years old.
James Pafford as a teenager and young man
Once any hue and cry for him diminished, James rejoined the Royal Navy on around 28 August 1807 as a Standing Ordinary Seaman. He was now known as James Pafford and was attached to Robust (3rd Rate, 74-guns) which was moored 'in ordinary' at Portsmouth Harbour. He was part of a twelve-man skeleton crew who were maintaining the fifty-year-old ship. He was paid £1 8s 6d for the first month and two days work, which is about 5/3d a week (26p). He was then assigned to Royal William until 30 June 1809 and then Ildefonso (the ship captured by Defence at Trafalgar) until 19 July 1814. James (now an Able-bodied Seaman) was transferred to Blake (3rd Rate, 74-guns) in the harbour on 21 July 1814 as part of a ten-man crew. He received £5 10/- for thirteen weeks work - about 8/- a week - which was on a par with agricultural workers earnings in the countryside. Then, James was assigned to Edinburgh (74 guns) on 1 January 1815.
Between 1 June 1812 and 19 July 1814, James arranged for 11/8d to be deducted from his wages each month and given to his mother, Mary - an act of filial support for his mother.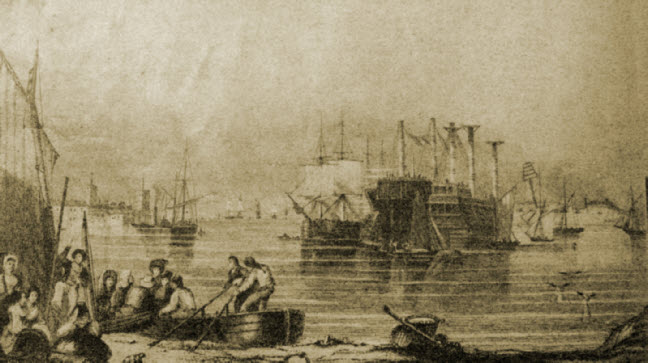 James Pafford - boy sailor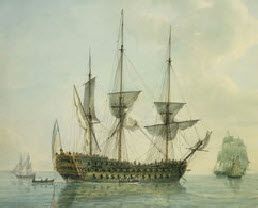 One can only wonder at James' emotions as his home receeded from view until it was hidden by the loom of the Isle of Wight.
A typical third-rate ship of the period
HMS Defence was a 74-gun, third-rate ship of the line, launched on 31 March 1763 at Plymouth Dockyard. She was one of the most famous ships of the period, fighting at the battles of Cape St Vincent, the 'Glorious First of June' in 1794 and the Nile in 1798. She had a crew of around 700 people.
Ship's boys were generally put to all the dirty and trivial work of the ship such as cleaning out the pigsties, the hen-coops and the 'head' or toilets. They were often bullied by sailors who loved 'to find the opportunity to act the superior over someone'.
When ships weighed anchor, they assisted by 'holding on and carrying forward nippers' which led to them being called, 'nippers'. Some were made servants of midshipmen, boatswains or warrant and wardroom officers.A boy was allowed half the ship's allowance of rum (half a gill) and wine (a quarter of a pint) and pay for the half he didn't draw. On this, it was possible to get drunk and be flogged with the boatswain's cane.Boys were generally berthed apart from the other sailors, for good reason, and slung their hammocks in the sheet-anchor cable tiers or on one of the upper gun decks.
In action, boys were stationed at a gun with orders to supply it with cartridges from the magazine. The cartridges were carried using a lidded, wooden cartridge case into which the cylindrical flannel bag fitted. Being short, boys were protected behind the ship's gunwale, out of sight of enemy sharp-shooters. If they tried to run away from the magazine into the shelter of the orlop deck, the midshipman stationed at the hatchway might shoot them or beat them back with a pistol butt. My uncle, Patrick Mills, had told me that his ancestor was a 'powder monkey (depicted above) with Nelson'.
When James signed on, he was noted as 'Jas Purford'. This is possibly an indication of how the surname was pronounced - go on, say it, 'Purford'! - and it was recorded as it sounded.

In 1805, Napoleon embarked on his Grand Plan to invade England. For this to happen, he needed the umbrella of a large, combined Franco-Spanish fleet. It took months to assemble the ships, by which time matters in the Southern Europe had taken a turn for the worse. Napoleon therefore ordered his Admiral Villeneuve to sail with his fleet for Naples to land army reinforcements.
Early in the morning of 19 October 1805, the signal was hoisted, and repeated by several ships including Defence, 'The enemy is coming out'.
The English fleet consisted of 33 ships, crewed by 18,000 men. James was one of the youngest cogs in this huge war machine. Imagine his feelings when he saw the forest of masts of the 41 enemy ships that dominated the horizon! The crews cheered and 'rushed up the hatchways to get a glimpse of the hostile fleet. The delight manifested exceeded anything I ever witnessed'.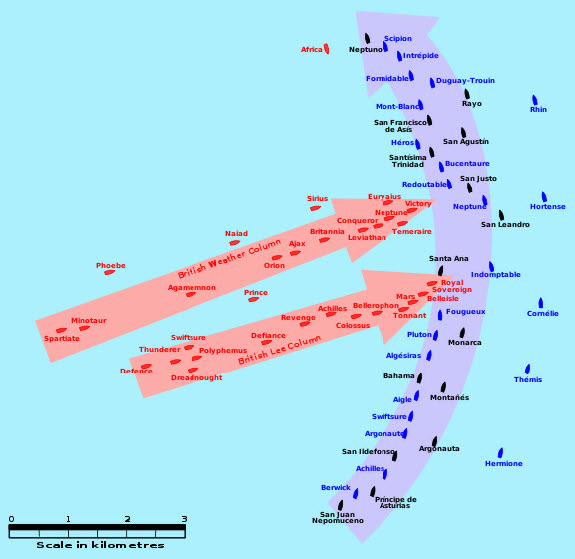 Defence was stationed at the end of Collingwood's line. This meant its crew spent a long time waiting and thinking of the furore to come, while watching the great battle unfold. At one stage, the ship was given a 'hurry-up' call, 'Make all sail possible with safety to the masts'. Forty-six minutes later came Nelson's rallying call, 'England expects that every man will do his duty'.This signal was 'received throughout the fleet with a shout of answering acclamation, made sublime by the spirit which it breathed and the feeling which it expressed'. When it was communicated through the decks, 'it was received with enthusiastic cheers and each bosom glowed with ardour at this appeal to individual valour'.Eventually, Defence was able to engage with the enemy. She was evenly matched with the 74-gun Berwick which she dismasted, leaving her to be captured by Achilles. Defence then fought the Spanish ship, San Idefonso, which she captured. Defence lost seven men killed, while twenty-nine were wounded. (Below: Defence [demasted] and San Ildefonso in the battle - and riding out the storm)
During the din of battle, James would have run to and fro over the bloody and splinter-scattered deck carrying the cartridge cases from the magazine to his allotted cannon while braving enemy fire and the snipers in the opposing ship's rigging. (see above, right). Eventually, the battle ceased to rage, but the ships were faced with a new threat - a storm. The ships were signalled to 'Anchor'. Many captains responded that they couldn't comply as they had lost their anchors or their cables had been severed. Defence was one of the few that was able to ride out the gale at anchor with her prize, San Idefonso. Defence put in to Gibraltar Bay on 3 November and came home to Spithead on 2 December 1805, anchoring there for four days - a wonderful homecoming for James and his family who now knew that he had survived possibly the most famous sea battle ever fought. However, the Captain's Log makes no mention of men being allowed ashore and after four days, they received the signal, 'Prepare for sea'. On 6 December, Defence set sail again, bound for Chatham.
James was then paid a total of £1 15s 6d for more than five months work. On 24 December 1805, the Captain's Log notes, 'Sent draft of men on board the (HMS) Thames'. Included among this party was James. He had a new home for Christmas and he was destined for colder climes.
James Pafford and HMS Thames
Thames was a brand new 32-gun fifth rate (similar in size to the ship shown right) that had been built at Chatham. But compared with Defence, she may well have been claustrophobic for James. She together with Phoebe and Blanche were dispatched to the Arctic to deal with a French squadron which was reported to be destroying British and Russian fishing and merchant vessels. On 10 July 1806, they were at Spitzbergen, 600 miles north of the northernmost tip of Norway, but thankfully by late September Thames was patrolling the straits of Dover.
After this tour of duty, on 13 February 1807, Thames anchored at Spithead.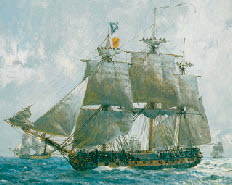 James now made a decision about his future life as a sailor. In the Muster Book beside his name is an 'R'. This stands for 'Ran'. James deserted from the Royal Navy at Portsmouth on 28 February 1807, forsaking pay that was due. Life at sea was no longer for this fourteen-year-old. Did he desert because he was treated harshly - or simply because he yearned to see his family? He had joined as a volunteer and although within a short distance of his home on two occasions, he had been denied leave of his ship.


It was while he was on Edinburgh that he and two other able-bodied seamen, John Buttin (sic) and John Akins, were dismissed from the Navy on 11 December 1815 for 'neglect of duty'. What they did, or didn't do to deserve this penalty is not known. However, if their duties are considered, a clue may emerge. The small crew checked the level of water in the ship's well; inspected the mooring ropes; ensured that the magazine was clean and dry; prevented unauthorised entry on board ship as watch keepers and stayed awake at night, answering the shouts of the Duty Officer as he rowed his rounds.
What was James to do? He was twenty-two and knew only a life at sea. As he married a year later, there may have been additional pressure on him to secure employment. His response to his predicament was simply to enlist in the navy again, using a different name - arise, James Mills. He probably chose Mills because it was a surname in his family tree. His sister was Charlotte Mills Pafford which prompts the thought that her and James' mother's maiden name was Mills.
To sign on again under these circumstances was not unusual. John Crump of Portsmouth Dockyard Museum writes, '...I am in no doubt that a man could have re-enlisted under another assumed name; this probably happened frequently'. Naval historian, Paul Benyon adds, 'it wouldn't surprise me...as long as the offence wasn't too serious. The Navy appears to have been surprisingly forgiving'.
So, James joined Prince on 22 June 1816 retaining his rating as an able-bodied seaman. When he married later in the year, on Christmas Day, he was earning £5 8s 10d for thirteen week's work.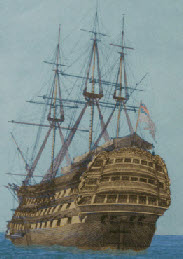 Hulks laid-up 'in ordinary' at Portsmouth Harbour c1836
The early married life of James and Mary Pafford/Mills
James was still attached to the hulk, Prince, in 1818 when their first child, George Thomas Pafford, was born and baptised (For naval records, James might now be registered as James Mills, but when his first children were christened - and buried - he clung to his surname Pafford.)
Where did James and Mary live? According to the parish record of the baptism of George Thomas, at the end of May 1818, the family were at Dock Row, Portsea, which was near the Dockyard, as the name implies. By the summer of 1819, according to the Pay Books of HMS Sapphire, James and Mary had moved to the enclave known as Portsea Dockyard 'New Buildings', (specifically to Sharps Buildings) where their second child, James was born. (This area and its environment are described at this link: New Buildings.) In 1820 and 1824, the family were still anchored at New Buildings but when Thomas, was baptised, they had relocated to Strong's Buildings, which were situated almost on the shore line of Portsmouth Harbour.
Just above the baptismal entry for Thomas Manly Pafford in the parish register, another child with the given names,Thomas Manly, is recorded. One might think that this is an erroneous double entry, but in fact it is the note of the christening of Mary Pafford's nephew's baptism. Thomas Manly Hambley's parents, James and Maria, were also living in New Buildings, at Gravel Lane.
The 1841 census shows the family as living at East Street, Portsmouth Point. But this information was a little clouded as the family were recorded as Miles. However, there were sufficient signs (for example the proximity of Mary's sister and husband, John and Susanna Lemmon) that this was an error. The confirmation that these were indeed my ancestors was the death of Mary Ann Pafford Mills two days after the census was taken as her residence was noted on the death certificate as East Street - she was shown as Mary Miles (6) in the census.
Mary Ann died of inflamation of the bowel. This was probably caused by either ulcerative colitis or Crohn's disease. The symptoms include abdominal pain and diarrhoea. The informant of the death was Susanna Lemmon.
By 1841, James was no longer a mariner but a labourer - probably a dock labourer. Perhaps their move from New Buildings was prompted by Mary's desire to be near her sister, Susanna, and the opportunities for work around the Camber harbour. Ships' cargos were constantly being loaded and off-loaded here. However, this work could be dangerous. Bulky, heavy goods were swung about and man-handled. In 1864, a dock labourer, John Williams was working on board the Hannah Childs which was moored at Town Quay. He died after falling down into the vessel's hold. Even boarding boats was hazardous: planks, only 18 inches wide, spanned the gap between the quayside and the vessels which required 'perfect equilibrium' to cross. A fisherman, Henry Lingward, died in 1964 simply because he fell off a plank. Factor in a weighty load, and a crossing became even more unsafe.
James Mills - Camber Bridge Keeper in 1851
In 1851, James and family were still living at East Street. The census details suggest that next door, or maybe in the same building, were John and Susanna Lemmon. James was now the Camber Bridge Keeper. With a flourish the enumerator added that he was also a pensioner and that his was a civic appointment.
The Bridge connected the sea-end of East Street and the Town Quay. Although more than eighty feet in length, the bridge spanned a gap of 54 feet and was in two halves which swung up and down to allow vessels access to and from the Inner Camber. It was surfaced with three-inch planking and carried a carriageway that was 9½ feet wide and footways, 3 feet 4 inches wide.
The Bridge was opened on 14 June 1843 as part of the improvements to the Camber. Its purpose was to provide a short cut between the areas of Portsea, Landport and Portsmouth Point with its ferries to Gosport and the Isle of Wight. Now, workers in the Dockyard who lived at Point did not have to follow the shore line to get to work. In 1860, it was noted that 'the bridge was in a great thoroughfare and had immense traffic over it'. As well as horses and carts, oxen and other livestock were driven over the bridge.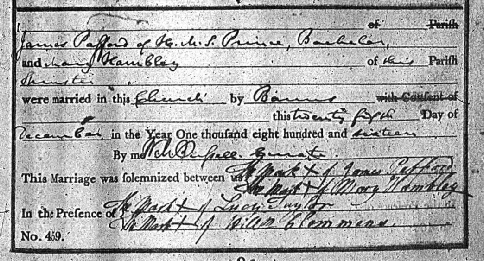 James and Mary's marriage certificate - Xmas Day 1816 at St Mary's, Portsea. Witnesses, Lucy Taylor and William Clemmans. All marked rather than sign. Noted that James was on HMS Prince (above right).
The children of James and Mary Pafford/Mills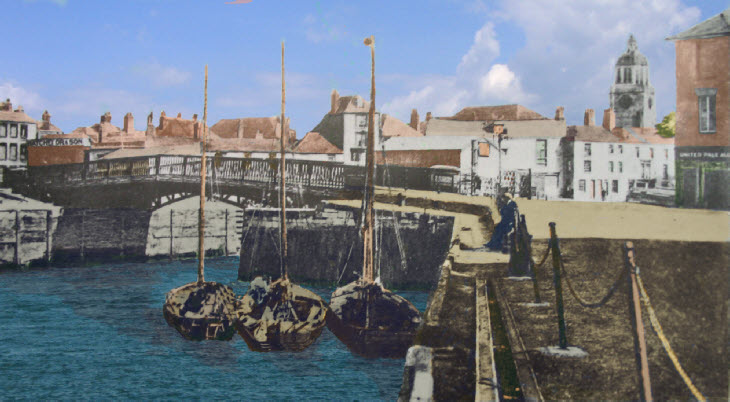 The duties of the Bridge Keeper were to open the bridge and monitor the traffic that crossed over it. But, the bridge was also a focal point for trouble and disturbance. In October 1848, the Hampshire Telegraph directed 'the attention of the police to the nuisance committed by the boys and crews of the potato vessels in the Camber who are in the constant habit of throwing potatoes at the passengers on the bridge...'. In January 1851, four boys were charged with pelting an agent's clerk with 'sprate and scud' from the bridge as he passed underneath in a boat.
Then, in September 1854, two men were charged with assaulting John Wood who was engaged at the Camber Bridge. He was opening it when the defendants, who were labourers on colliers, knocked off his hat six times, hustled him and jumped down on him. All the while there was a crowd throwing stones and 'otherwise annoying' Wood. The Chamberlain added that these disturbances were continually being created on the Town Quay.
James worked at the Camber Bridge until the summer before his death in 1879. Even then he was able to do a little work for which he received half pay.
James and Mary: 1861 - 1879
In 1861, James and Mary were at 2 Beals Yard, Portsmouth Point, which was just off East Street. Almost predictably, next door, at No.1, were John and Susanna Lemmon. The families were apparently inseparable.
Ten years later, in 1871, James (now 78 years old) and Mary were still in the same immediate area at Point alongside the Inner Camber Quay. James was a (naval) pensioner. When Mary died on 11 December 1873, her address was given as 42 East Street, Point. (James and Mary may well have not moved since 1871 as many of the house along East Street actually backed onto the Inner Camber, see below).
By a happy stroke of serendipity, it is now possible to not only pinpoint where James and Mary were living, but also to provide a photograph of their home. This is how it came about: I was generally researching my family in 2009, when I saw some documents detailing improvements to the Inner Camber. These included a map which showed the dwellings around the south side of East Street. The houses were numbered and a key provided of who was living in each one. At No. 63 was James Mills and next door (No. 62) was John Lemmon. Their location may well explain why they were described as being at the Inner Camber Quay in the census of 1871. The map made it a simple task to now identify these houses from photographs. I think it likely that James and Mary died in this house.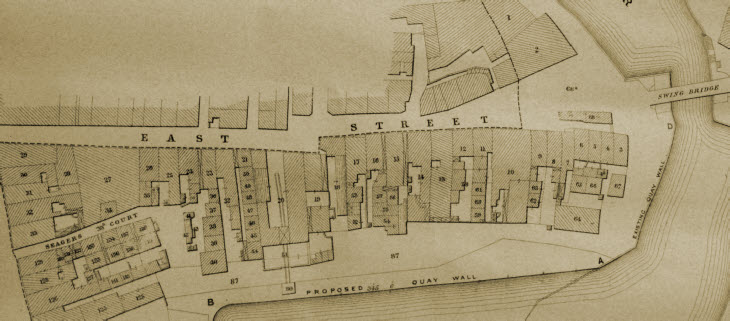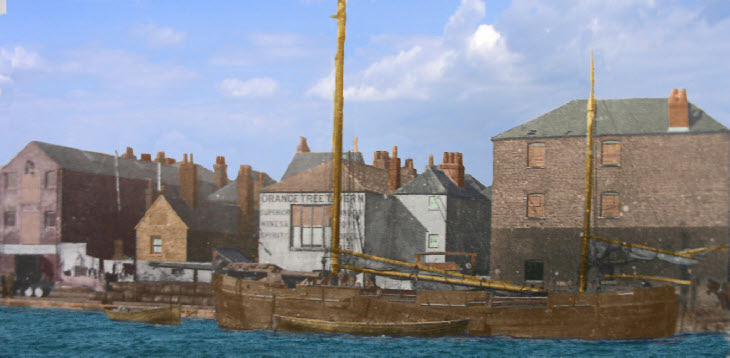 Above: the rear of East Street, Inner Camber. The photograph is easily compared with the map above.
The Pafford/Mills home is set back to the right of the Orange Tree Tavern
When Mary died, James went out of his way to highlight the change in their surname by submitting two identical announcements in the Hampshire Telegraph of her passing: as Mary Mills and Mary Pafford (see below). She was 77 years old and died of 'senectus' or plain old age. She and James were living at 23, East Street and James was described as a 'wharf labourer'. The informant of her death was Harriet Mills, Mary's daughter-in-law, of 21 East Street who was present at the death.

James (naval pensioner - ticket No. 826) died on 24 January 1879 from exhaustion brought on by the 'chronic enlargement of the prostate gland'. He was living at 46, East Street and his age was given as 89 years old. Interestingly, the newspaper death notice described him as James Pafford and the death certificate was registered in this name, not Mills.
James' death was announced in the Hampshire Observer. It was this discovery that confirmed after ten years that Uncle Pat had been correct - James had been with Nelson.
But, I was not totally convinced at first that this death was of my ancestor. Yes, the name and address (46 East Street) seemed feasible, but his age was recorded as eighty-nine when he was actually eighty-five and there were two other James Paffords baptised in 1789-90 in Portsmouth/Gosport (so much for Pafford being an uncommon name!). There was another stumbling block: the informant of James' death was a 'niece', Harriet Seal, of 15, Havant Street, Portsea. I had no idea who she was!
After some detective work, I found Harriet Seal - a widow (aged 36, born Portsea) at Havant Street in 1881 . I then looked in vain at first for her marriage and therefore her maiden name. Then, the denarius dropped: although she was only thirty-six years old, poor Harriet had lost two husbands. She had first married Reuben Smith in 1865 and then Henry James Seal in 1871. Harriet's maiden name was Gillett - which rang a bell. Gillett's had been living with Richard Lemmon of 3, St Mary's Street, Portsea in previous censuses. I could now put it all together. Richard's daughter, Elizabeth Lemmon married Richard Gillett in 1829 at Alverstoke. The couple had five children, including Harriet.
The connection with the Pafford/ Mills family was a little tenuous, however. Elizabeth Lemmon's brother, John married Susannah Hambley. Susannah was Mary Pafford/ Mills sister and 'neice' is a catch-all description for a loose family relationship.
A by-product of this trail was that it provides fairly convincing proof that John Lemmon had descended from Richard - an ancestry I had gone to some pains to rubbish with my Lemmon cousins when we met up a few years ago. Now, on the basis of the information provided by a name on one death certificate, I believe that my greatx4 grandfather was Richard Lemmon and will write his story elsewhere. Link: Richard Lemmon
His possible reasons for enlisting are worth a muse. His father, George Pafford, had served briefly as a mere 'Ordinary Seaman' on board ships mothballed 'in ordinary' at Portsmouth Harbour - possibly there was not a strong naval tradition in the Pafford family. Had George died, so that James had to fend for himself? A naval historian has noted that most 'Boys' had 'either been turned out of their homes or had run away'. Does James' enlistment hint at an unhappy home life, or did he have a love of adventure?
Whatever his motives, on that Sunday in the summer of 1805 (a 'moderate and cloudy' day) young Jim was rowed out to join HMS Defence which was moored at Spithead, between Portsmouth and the Isle of Wight. Almost immediately, Defence set sail for Cawsand Bay, off Plymouth.
This is a typical example of how the search for ancestors can be hampered - by surnames being misspelt. There are two lists of men who fought at Trafalgar on the internet. I had looked at these in the past but they transcribe James' names as 'James Purford' and 'John Patford'.
We left James at Cawsand Bay, off Plymouth. He had an early introduction to the rigours of naval life. On 19 July, a sailor died and on 3 August three seaman were given twelve lashes each for disobeying orders and neglect of duty.On 27 July 1805, Defence joined the fleet blockading Cadiz, Spain.
After leaving Prince, by 1822 James was on board the 36-gun Lacedemonian (launched; 1812, disposed of; 1822) as one of its seven-man crew. His pay had decreased slightly to £5 2s 11d a quarter. When this ship was taken out of commission, James was transferred to what was to be his last ship, the 74-gun, 3rd Rate Pembroke. He served on her until 27 March 1836 when she was 'in dock' with a four-man crew. He remained an Able-bodied Seaman. Thereafter, the crews of ships in Portsmouth Ordinary are listed by the vessels on which they served, not in 'Portsmouth Ordinary' ledgers. I have not found James listed after 1836 and as shown in the census of 1841, he was no longer a mariner, but a labourer.
James' occupation in 1824 was described as an, 'Extra Master'. This created some confusion. I was told that this term specifically referred to a highly qualified mariner who had passed examinations and had the ear of a ship's captain when working the ship. This information did not sit well with what I knew about James, who was probably illiterate - marking not signing when he married six years earlier. Indeed, in 1822, as his wage of little more than £5 a quarter, when compared to the gunner's wage on the same ship (£12 10s), it is clear that his was not an exalted rating. Possibly, the expression, 'Extra Master' in his case, refers to his position on board a ship 'in ordinary' in contrast to a vessel that was under command.
The total number of sailors (officers and seamen) who fought with Nelson at Trafalgar has been estimated as more than 15,000. They included 274 boys aged between 10 and 14 years - although the youngest boy was actually just nine years old.
As James Pafford was born on 6 April 1793, he was one of the youngest to serve at Trafalgar. And since he was eighty-five-years-old when he died on 24 January 1879 (not ninety, as several newspapers reported), he was one of a fast-dwindling handful of surviving veterans. The last British Trafalgar veteran to pass away, Joseph Sutherland (who, like James, was a powder monkey at the battle), was born at Sheerness in April 1789 and died on 12 March 1890 at Seaford, Sussex, aged 101. Browsing the newspaper archives, more than fifty papers reported Sutherland's funeral - testament to Britain's interest in the greatest sea battle ever fought and the men who took part.
As early as the 1860s there was a countdown of Trafalgar veteran survivors - although inevitably the spotlight was focused on men who later became high-ranking officers despite the fact that most were midshipmen or first-class volunteers in 1805. It was as though a victory bell tolled as each funeral was reported. In October 1864, this news item was syndicated among several newspapers: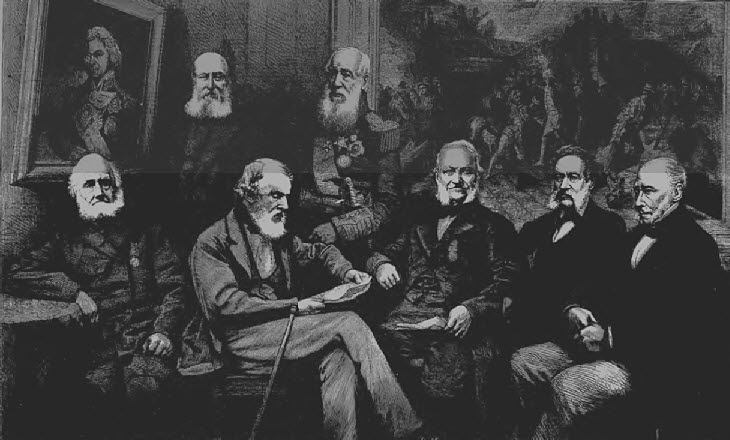 Numerous newspapers reported the passing of these veteran officers (most of whom were now admirals): Sartorius (45 reports found - he was Admiral of the Fleet after all), Johnson (25), Harris (18), Patten (17 - he died at Fareham, a small town near Portsmouth), Fynmore (12) and Smyth (9), Vickery (3 - he died at Portsmouth). It may be surprising that the death of the mere seaman, James Mills, was reported in no fewer than twenty-two newspapers - those based at Bristol, Dundee, Angus, Preston, Northampton, Alnwick, Edinburgh, Guernsey, Sheffield, Coventry, Durham, Huddersfield, Darlington, Birmingham, Hull and St Peter Port as well as Reynolds Paper London, The Illustrated Police News, Pall Mall Gazette, Hampshire Telegraph, Portsmouth Evening News, Hampshire Advertiser. The reason for this high-saturation coverage must be because of the 'local angle' - James having being born at and living at Portsmouth at his death and because of the details about him attending the festivities on board Victory on Trafalgar Day.
It has been an established custom for the veteran pensioners residing in or near Portsmouth, who fought under Nelson on 'Trafalgar Day' to repair on board the Victory, where they were received with all due honours. This band has gradually dwindled away. Last year it was represented by three persons, and on Friday only one was present.
Likely the 'one' pensioner was James Mills.
Trafalgar Day evolved its own set of unique traditions. During the nineteenth century, Victory was moored in Portsmouth Harbour. Dawn of 21 October revealed Victory decked out (as shown below) with its mastheads, missen mast, ensign staff and yardarms topped with wreaths of laurel. Sprigs was placed on the vent holes of each gun and the entrance ports were also decorated. Flags flew with the epic message, 'England expects every man to do his duty'.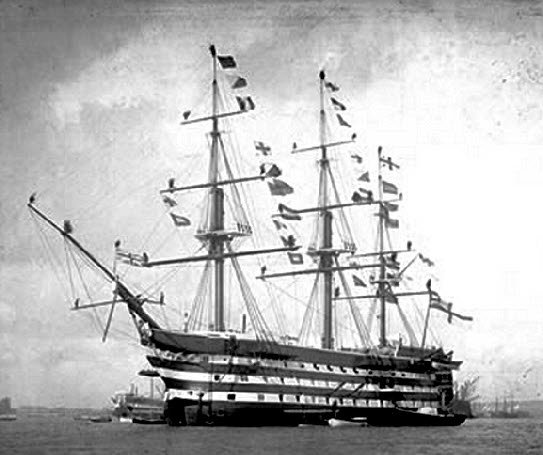 As time passed, other news stories of ebbing numbers of Trafalgar veterans were printed. The picture below is of members of the Royal Naval Club at their 'customary dinner' at Willis' Rooms, King Street, London. It appeared after the seventy-third anniversary of Trafalgar in 1878 - a few months before James' death: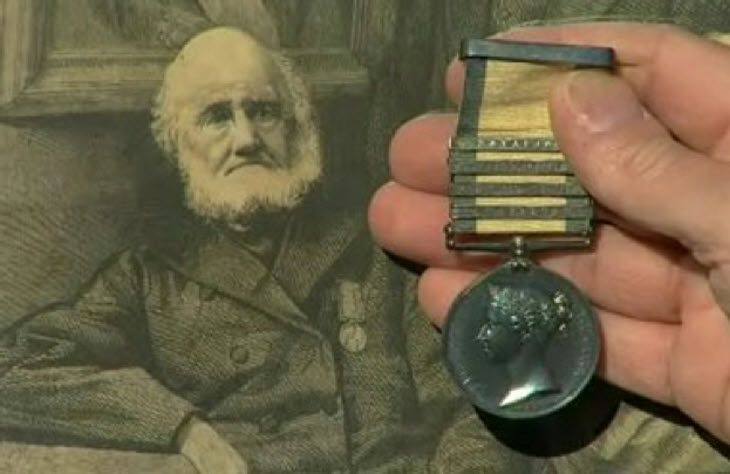 This section has been written to demonstrate that James' death created a ripple in the ocean of naval history. Today, James' medal is owned by someone with a Mills connection living in Gloucestershire.
Death of a veteran.
The list of the few remaining survivors of the Battle of Trafalgar was further diminished on Friday at East Street, Point when the death took place at the advanced age of ninety of James Mills. The deceased joined the service when fourteen years of age and was on board 'Defence' on the day of Nelson's memorable fight. and on every anniversary of that day a ship's boat was sent ashore for him to join in the customary festivities on board the 'Victory' in Portsmouth Harbour - returning with him when the festivities were over. Mills was very proud of wearing the medal which he was awarded and never tired of recording his experiences of the fight at Trafalgar.
For many years he had been in the employ of the Corporation and used to work the machinery by which the Camber swing bridge was revolved. He was a hale old man until the end of last summer when his health began to break and he has not been able to do much work. The corporation had no power to pension him, so his wages were reduced to half - 8s a week - and he worked a little when he was able.
What follows is a composite of the news reports of James Mills' death:
The picture was captioned, The Surviving Officers of the Battle of Trafalgar. From left to right, the seven were: Admiral Spencer Smyth (died April 1879), Commander William Vickery (died may 1882), Admiral WW Percival Johnson (died December 1880), Admiral Sir G Rose Sartorius (died April 1885), Admiral Francis Harris (died July 1883), Lieut-Colonel James Fynmore (died April 1887) and Admiral Robert Patton (died September 1883). Clearly these notables were on their last legs when this image was recorded.
The scene shows three of the notables wearing their 'Trafalgar medals'. This description is in inverted commas because no government medal was issued immediately after the battle. It was only in 1848 that a Naval General Service Medal was minted to which ribbon a clasp was attached with the name of the battle in which the recipient was involved. Thus, more than one clasp might be attached - the highest number awarded to an individual was seven! The medal depicted Queen Victoria and the ribbon was white with royal blue edges. Medal claimants had until 1 May 1851 to stake a claim. Many because of illiteracy or limited publicity did not claim. There is a list of recipients at Genuki 'Men of Trafalgar Medal Rolls' which lists only 1636 Trafalgar clasps being issued. One was to John Patford or John Radford (sic), a Boy on Defence - who is clearly James Pafford.
A story can be told which relates to this and also serves to introduce a picture of the medal and clasp. In 2010, on BBC's Antique Roadshow, the greatx3 grandson of Spencer Smyth (shown wearing the medal, above left) took along his ancestor's medal and the picture.
Reasons to conclude James Pafford and James Mills were the same person
James gave his name as 'Pafford of HMS Prince' when he married in 1816. The short list of men on the hulk Prince for that quarter does not include the name Pafford. James Mills is listed, however.
The death certificate of James' daughter who died in 1841 noted her as Mary Ann Pafford Mills, the daughter of James Mills.
The double death notice entry (shown above) for Mary Mills and Mary Pafford indicates that they were one and the same person.
The closeness between the Lemmon and the Mills families – Susannah Lemmon and Mary Mills were sisters (nee Hambley). As the marriage certificate above shows, Mary Hambley married James Pafford.
When James Mills died, the news reports after 24 January 1879 noted that he served on Defence at Trafalgar. There is no record of a sailor with that name on any Trafalgar lists or the records of Defence at The National Archives. Furthermore, James' death certificate described him as James Pafford (not Mills) who died on 24 January 1879.
'Pafford' was deliberately kept alive as a middle name in the Mills family. His five grandchildren were named 'Pafford', as were two of his great grandchildren
Oral tradition: the greatx2 grandson of James said that his surname had changed 'to Gifford' (sic) 'because he deserted from the navy'.