Although Portsmouth Point was a temporary, transitory home for many folk, it did have its core, established families whose surnames regularly crop up in censuses and rate books like old friends.
This page will describe those families at Portsmouth Point with whom my people intermarried.
This will add spice to my heritage from 'Spice Island'.



From the late eighteenth century, some of the Coote men (noted below) were licensed pilots. Most lived at Point and Old Portsmouth. Some Cootes married settled Point sons and daughters from the
Beale, Main, Taw and Gawn dynasties. Elizabeth Pamela (Daisy) Tuck (daughter of my great grand nephew, William TW Tuck) married James' son, William Henry Coote. Link: Tucks
John Crockford Coote
(1789c -1872)



John Coote jnr
(1814 -1903)
George Coote
(1832 -1903)
William Coote
(1821 - 1890)

James John Coote
(1848 -1928)

John Crockford Coote was a pilot and married the Beale sisters, Ann and Sophia. They lived at Point in East Street (1841) and Seagers Court (1851 and 1861).
His three sons were also pilots: John Coote jnr married Elizabeth Main and then Elizabeth Gawn. He lived at Bathing Lane, Point in 1851. George Coote, lived with his family at Point in Broad Street, (1861 and 1901), Seagers Court (1871 and 1891) and East Street (1881). William Coote lived with his family at Ryde.
James John Coote (right) lived for at least forty years at St Thomas Street, Old Portsmouth. When he died, he was probably the oldest of the Trinity House pilots in Portsmouth.
Although he retired at sixty, when World War I began he rejoined and was on examination duty at Spithead. He was a member of the Temperance Lodge of Freemasons and of the Hospital Saturday Committee. When he died he was living at 49 St Thomas Street - a street from which he married.

A full Coote tree can be found at this link: Coote tree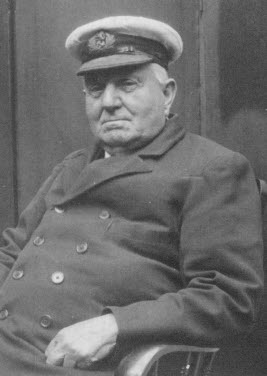 News stories featuring the Coote family in the nineteenth century
May 1832. John Coote was involved in a case when a wherryman, James Foster, was imprisoned for three weeks for failing to pay a 20/- penalty. Foster had led a collier, Scythe, into Portsmouth Harbour by tacking exactly where the collier should tack. The collier had previously been boarded by John Coote, a licensed pilot, whose services were refused on the grounds that he was not required. Foster's services were engaged
May 1857, Henry Barron, a waterman, threatened John Coote, a pilot in Portsmouth Harbour and was discharged after agreeing to keep the peace for three months. however, although not a pilot. His actions were to the 'injury of a useful and laborious body of men'.
March 1860. Richard Hayman, master of the schooner Cambria, coasting vessel and as such exempt from compulsory pilotage, was charged by George Coote with having an unlicensed pilot when sailing from Motherbank to Portsmouth Harbour and continuing to do so despite Coote offering his services. He was fined twice the pilotage charge.
October 1866. George Coote summoned Thomas Howland, master of the brigantine, Conqueror with refusing to pay his fees for bringing the ship into Portsmouth Harbour. Coote had made a signal and boarded the vessel five miles from the Nab Light. The master refused to pay him saying he was not bound to take a pilot. The Court disagreed and fined him £4 0s 6d.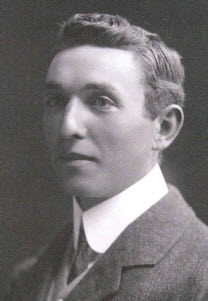 The Cottrells grew to be a large family at Point. Several of the men were watermen, ferrymen and
fishermen at Point and nearby streets. Others were mariners.Two Cottrell sisters married Mills brothers (Link: Mills and Cottrells) in the late nineteenth century. There is a Cottrell family tree at this link:
Cottrell tree. It is not definitive - please contact me with any amendments or extra information. There
are also notes about many of those on the tree: where they lived at Point and their occupations at this link: Individuals on Cottrell tree.
As so many were watermen, the family is introduced with notes about the life of watermen at
Portsmouth Point.

(Above) James John Coote's son, William Henry (born 1885) (Middle) my great grand nephew, William Thomas Wright Tuck. (Right) Elizabeth Pamela (Daisy) Coote (nee Tuck).
Daisy Coote and her husband hospitably allowed my grandparents, Charlie and Edith Mills, to lodge with them after World War I until they found a new home. I remember her well - visiting her home at Playfair Road, Southsea and enjoying Gales honey sandwiches, She visited my mother at Northern Parade in the 1950s bringing a bundle of several weeks back-copies of the boys magazines: Hotspur, Wizard, Adventure and Rover.The stories of Roy of the Rovers, 'Tug' Wilson (the athlete who trained on fish and chips) and V for Vengeance occupied my reading under the sheets with a torch for many days.

Above: (Back row, l to r) Lance Tillett, William Tuck, Hilda Tuck and William Henry Coote.
Bottom row, l to r) Doris Tuck, William T W Tuck, Ernest Tuck, Elizabeth Tuck, Joan Tuck and Daisy Tuck.

Above: (Top row, l to r) Millie's father, William Coote, Hilda Tuck, William J Tuck, Ernest Tuck, Lance Tillett, William and Elizabeth Tuck. (Bottom row, l to r) Millie's mother, Doris Tuck, Millie Joan Coote and ?

The watermen of Point - 'One more and over'
As they were so experienced, when press gangs roamed the ports at the beginning of the nineteenth century, watermen were a prized catch. In March 1803, a 'hot press' seized 500 men at Portsmouth. At 20.00, a ship's captain gathered a party of marines at Monkton Fort, Gosport who pretended to quell a riot with as much noise as possible. An intrigued crowd of onlookers grew, attracted by the commotion, but as they returned home from the false alarm, watermen and seamen were ambushed and pressed. Later, watermen became a protected species, being exempt from the press in 1814.
From 1808, they were regulated: their craft were numbered. In 1812, three water bailiffs were appointed who earned £30 a year. Every year, watermen applied for a licence (which cost 8/- in 1872) and boats were inspected for seaworthiness. But, the licenses were granted only to those who had served an apprenticeship or had been at sea for a minimum of three years. Sails had a number painted in the middle on both sides, six inches long - black numbers on white sails and white on dark sails. If it was a rowed boat, then the numbers and the waterman's name were painted in two places on the hull. Should men operate without a licence, they were liable for a fine of 20/- with 7/6d costs. However, if their boats were moored at another location and they were engaged for hire, they frequently took out boats that were licensed in another's name.

Passengers joined boats at Point Beach (right), The Sally Port and The Hard. The watermen were allowed to wait at the quay side for ten minutes to complete their quota of eight passengers - hence the familiar, incessant cries of, 'One more and over' as they drummed up trade.
A waterman served an apprenticeship of between five and seven years and often fathers taught their sons their expertise. They had to be qualified, able and skilled. William Cottrell was able to battle tides and currents to row from Portsmouth around the Isle of Wight and back to the Victoria Pier, Southsea!
Any activity at sea is potentially hazardous and watermen died as they worked. In the Solent where the 'wherrymen did such a busy trade, boating accidents were neither few nor far between'. 'Many a wherry went dancing out of Portsmouth Harbour...laden with jovial company only to be taken aback with the sad news that she had run athwart a hawser or upset at Spithead and that some, if not all, her customers had drowned'.
In October 1848, battling a gale, two men (Samuel Lock and Henry Laishley) took five women visiting a fiancé, son and husbands to the newly-returned Grampus which was anchored at Spithead.
In 1808, there were almost 1,200 watermen around Portsmouth Harbour. In The Chronicles of Portsmouth (1828), a ferry service between Portsmouth and Gosport is mentioned. However, the recommendation of the writer, Henry Slight, was 'better to take the boats at trifling expense and thus avoid trouble, importunity and delay... boats are excellent and the seamen, very expert' In 1841, there were 36 at Point alone. But, their numbers dwindled: 1865 - 'about 500'; 1872 - 240; 1888 – 160 - 'a decaying profession'.
December 1864. The body of a young man, Joseph Crocker (47), was found in the Camber. Four men named Cottrell and Taw were directed to 'creep' the Camber after a floating hat had been found by a young boy. After an hour and a half they brought up the body just above the bridge in the Inner Camber. At the inquest, George Cottrell, waterman, confirmed the finding of the body.
September 1866. William Cottrell accused James Prior (aged about 17) of operating as a waterman without a license. Cottrell, a waterman licensed both within and outside the harbour, said he had seen Prior take a note in a small skiff to the mud vessel at Spithead and return with a gentleman, for which he was paid 1/6d. When he remonstrated with Prior before he set off, Prior retorted, 'Never mind what he can do,.
November 1868. An inquest opened on the body of William Bull, (36) a cab driver of Havant Street. At 20.40 on Wednesday, he was hired to take two people from The Hard to Portsmouth in his hansom cab. When they were in Ordnance Row, a waterman named Cottrell saw him suddenly fall off the box to the ground. He went to help Bull, but he died within a few minutes.
April 1873. Jeremiah Taw and William Cottrell were witnesses in a case of extensive smuggling of tobacco. Charles Burnett, a waterman, was charged with unshipping 119 lbs of tobacco. At 06.30 a customs officer saw Burnett pass under the Camber Bridge and haul his boat onto mud opposite the Baltic Wharf. With difficulty, he tumbled a package into a boat belonging to Jeremiah Taw. After taking Burnett to the Customs House and retrieving the tobacco, Taw's boat was found at Bath Square with its bottom covered in mud. The officer was asked if he knew William Cottrell. He replied he knew several Cottrells. William, a waterman of Penny Street, was called and he said that he passed Burnett by the bridge at 06.30 that morning and must have been seen by the customs officer. Burnett was found guilty and fined £100. If this was not paid, he was to spend six months in gaol.
February 1877. Four men including Samuel Kitchener, were accused of stealing coal. They had been trimming the Royal Sovereign with ballast from a barge. Thomas Cottrell ( who was discharged from custody to give evidence) said that the coal was loaded into the barge. As the coal could not be identified and the only evidence was provided by an accomplice, the case was thrown out.
October 1875. The Princess Alice was lying under the crane by the Gunwharf. Her boilers were raised. The decayed woodwork of the crane caused it to give way, but a seaman, Alfred Cottrell, gave the alarm having had his suspicions aroused otherwise the consequences would have been serious.
August 1878. Thomas Cottrell, labourer, was charged with being drunk and disorderly in Broad Street, Point and fined 15s including costs.
February 1880. Henry Page was killed when there was a collision between a steam packet, Princess Alice, and a wherry near Victoria Pier. Henry Cottrell of Harpers Yard, East Street testified that he was the master of the yacht, Royal Oak. At about 08.00, he went to Victoria Pier to catch the first Cowes boat when he saw the masts of the wherry by the side of the pier. The steamer approached the pier, but Cottrell did not recall the pier's bell being rung. The wherry was full of about thirty sailors. He shouted to them once to warn of the steamer's approach but no-one replied. If he had been in charge of the wherry, he would consider it his duty to have looked for the steamer. There was great confusion and talking in the wherry as she attempted to push off and one of the oars was hanging in the pier so that the boat was stopped. When Princess Alice rounded the Round Tower (which was 148 yards from the pier), she was travelling at about four or five knots. Her paddles stopped but she struck the wherry which was now about twelve yards from the pier. It was his opinion that the steamer was attempting to pass between the wherry and the pier but the boat was stopped by the hanging up of the scull. The steamer put down ropes and launched a boat within five minutes. Cottrell said he had between twelve an fourteen years experience as a mate and though the steamer could have avoided the collision by stopping its engines after passing the Tower. But also, had he been on the wherry, he would have held onto the steps of the pier until the steamer had passed. Alternatively, the steamer might have avoided the wherry by porting her helm. In saying this, Cottrell was given credit for his straightforwardness. He said everything had been done on the pier to save life and he saw lifebuoys in the water.
March 1880. An inquest was held on three month old Charles James Cottrell, the son of James Beach Cottrell, mariner of 49 Penny Street. Charles had been found after being taken to bed with his parents and found dead beside his mother in the morning. His mother said he had been ill after a vaccination. The surgeon said that death followed convulsions.
September 1880. There had been a collision off Ryde Pier of The Alexandra, a paddle steamer, and The Albert Edward which ferried passengers from Portsmouth to The Needles. Alfred Cottrell was a mate on the Alexandra who was at the wheel of the vessel. He was threading his way through several yachts at the Ryde Regatta. Then, he saw the Albert Edward leave the pier and was 150 to 200 yards away from her when he had the order to 'Port'. They were 'hard a port' when the collision occurred. The Albert Edward's port paddle-box took the bridge of the Alexandra on the port side. The main damage was a piece of timber being forced up through the Alexandra's paddle box. No one was hurt in the accident.
Spetember 1883. The Portsea and Gosport Ferry Commissioners granted permission to George Cottrell to take his son as an apprentice.
September 1884. A cyclist riding a tricycle was turning from Broad Street to board the floating bridge when a stone got under his guiding front wheel. The bicycle ran twenty yards into the sea. The cyclist was unable to swim and was in considerable danger when Cottrell, a young waterman, and two others jumped into the water. Cottrell reached him first but was clasped around the neck and dragged into the water. His father went to his assistance and between them and a passing boat the cyclist and tricycle were rescued. Later, 'An Eye Witness' wrote to the Hampshire Telegraph: 'A most alarming accident which at one stage appeared fatal occurred off Point Beach at 10 am....I saw (the cyclist) sink twice when a boy about sixteen, named Cottrell, swam to his assistance and caught him as he was sinking for a third time. Surely, sir, a brave deed such as this deserves the recognition of the Royal Humane Society?'
June 1885. Jessie Shugrua attempted to commit suicide by drowning herself off Point. She was rescued by a young waterman named Cottrell although she was insensible for twenty minutes.
June 1885. William Cottrell, a licensed waterman and captain of the launch Victor, was awarded a medal for rescuing a drunken marine who had jumped overboard from the launch at 21.00. There was a strong tide running and Cottrell ran a great risk. When the medal was awarded, the presenter said he had known the Cottrell's family for many years and always found them most respectable.
July 1885. Watermen protested about granting watermen and licensed boatmen with joint licences which would increase competition for their services. W and J Cottrell were involved in the protest.
October 1885. Ellen Knighton of 6 Parsons Court, St Mary's Street was charged with assaulting Ellen Fletcher of 32 St Mary's Street. A witness was Alice Cottrell of Oyster Street.
January 1886. Alice Pearce lodging at the Cross Keys, St Mary's Street, was charged with stealing bed-clothing from her lodgings. She had been cohabiting with a man named Cottrell who was admonished for his conduct as it seemed he had not given the girl money to keep him and her and was therefore the cause of her position.
September 1886. John Appleton(17), a boy on the merchant steamer, Firefly, attempted to commit suicide in the Inner Camber at 16.00. He was rescued from twelve feet of water by George William Cottrell. After recovering, he again attempted to run to the water.
.November 1886. At an inquest on John Henry Cottrell (58) unmarried waterman of 1 White Hart Road, his cousin Thomas Cottrell said he had retired with John (who looked ill) at 22.15 the deceased complained of coldness at midnight and when Thomas awoke between 06.30 and 07.00, he found John dead. John had been to Spithead that day and had been worried because he lost a half sovereign. The surgeon testified that he had died from cardiac syncope.
February 1888. Alfred Harper (35) was charged with stealing a box of bloaters from a fish monger of Broad Street. A lad in the shopkeeper's employ, Richard Cottrell of 2 Harbins Court saw a man leaving the shop with a box of bloaters under his arm walking toward the floating bridge. He told his employer who intercepted Harper.
April 1889. An inquest was held on John Alfred Fowler (39) a porter at Portsmouth Harbour Station. After drinking two quarts of ale with two friends, Fowler was seen to fall from a piece of wood between the pontoon and the pier which was used to keep the piles together. It was dark and although several lights were shone, Fowler couldn't be seen. Alfred Cottrell, mate on board one of the Railway Companies Steamers, recovered Fowler's body at 20.20. It was found floating in three feet of water with no mud on the clothing. Verdict: accidental death.
June 1890. The fish market was a subject at a meeting of the Portsmouth Ratepayers Association. The local feeling was that it should be built on rather than be used by three or four fish traders. Cottrell, a fisherman from Point condemned the scheme as taking away trade from the area.
October 1891. A constable heard a woman's screams and a cry of 'Man overboard' from the direction of the Camber. He ran to the Camber Bridge and saw a man drifting out with the tide under the bridge. He called for help and Henry Mills and Simeon Cottrell jumped into a boat but couldn't find the man but locate him and carried him unconscious to the quay. He was James Mc Donald, a private of the Royal Inniskilling Fusiliers who had accidentally fallen into the water.
May 1892. Two men were accused of assaulting a woman, wife of one of the men, on the yacht Petrel. She had engaged two boatmen to take her out to the yacht which was cruising in the Solent. William Cottrell, boatman of 60 white Hart Road, gave evidence that he and his son had taken the woman to the Petrel. After she had struggled with the men and was in danger of falling overboard, she was caught by his son, William Cottrell jnr, and he put her back on board.
December 1892. Sarah Cottrell (17) was charged with assaulting Harriet Wilcox at 20.15. Sarah went to the Three Horseshoes Tavern at West Street where she struck Wilcox two blows to the face. She had been drinking on and off for twelve months and was then not only intoxicated but using very bad language.
August 1893. Margaret Cottrell, charwoman of 11 Seagers Court, was charged with assaulting Reuben David Main, a hairdresser. She accused him of talking about her and struck him in the eye. She and her mother then went for him, tearing his hair and trying to tear his coat off his back. Margaret said Reuben had attacked her first and was bound over to keep the peace for three months.
July 1894. Albert Cottrell of 12 Seagers Court was charged with using abusive language to Alice Taw also of the court, the wife of a seaman. There had been a disturbance but it was 'six of one and half a dozen of the other'. A similar case against Margaret Cotterell, the mother of Albert was also dismissed.
July 1894. Albert Cottrell was back in court charged with plying for hire without a license. Two watermen proved the case.
September 1894. Harriet Jane Williams was charged with assaulting George Cottrell, fisherman of Seagers Court. Cottrell was at the beach when he saw Williams and the man with whom she was living. She began to abuse Cottrell, whereupon he asked her why she had struck his brother with a boot and split his eye open. Her companion grabbed and shook him and Williams went indoors and emerged with a bottle with which she struck Cottrell. He had a scalp wound 1 ½ inches long on his forehead and a cut on his left ear and fainted three times when he was being treated. Williams was sentenced to a month's hard labour.
August 1899. Montague A Holbeim, a London long distance swimmer swam forty miles in twelve hours from Southsea round the Isle of Wight via Bembridge finishing four miles east of Yarmouth at 19.40. He was piloted by William Cottrell, a local waterman. Cottrell considered it a marvellous swim and that Holbein did not seem fatigued at the end – in fact he wanted to do another twelve hours. It was impossible to gauge the distance as his course was continually altering due to the tides. Cottrell passed him hard-boiled eggs and other refreshments. Holbeim wanted to continue for another three hours but Cottrell was frightened of steamers in Southampton Water and it was getting dark. He rowed Holbeim back to Victoria Pier, Portsmouth arriving at 01.00.
Charles Pound(s) married Ann Cottrell (b 1839). In April 1895. James Beale (66), a fisherman who was lodging with John Gawn at 17 Crown Street fell into the Camber and died four days later from pneumonia. He was not in good health and had been in hospital for lengthy periods. Beale had been leaning against a stanchion on the edge of the quay when he suddenly threw up his hands and fell face downwards into the water. Pounds, a fisherman of 13 Bath Square saw his head under the water, removed his hat and coat and, 'without a thought for himself 'jumped into sixteen feet of water to rescue Beale. He was able to hold his head above water and both were picked up by boats about a minute later. Pound was complimented on his 'promptitude' and pluck. Verdict: accidental death.
It emerged that Beale was the third person Pounds had rescued. In 1891, he had saved Frank Brooker, a lad who got into difficulties while swimming out of his depth near The Round Tower. Two years later, he rescued Frank McCarthy from the Camber.
On 22 June 1895, there was an article in the Hampshire Telegraph headed, 'A Portsmouth Hero'. It described the awarding of a medal to Pounds from the Royal Humane Society for his gallantry.
However, Pounds had something of a chequered past. In March 1869, he (described as a waterman) was involved in an argument at Point with a labourer, John Knighton over who was to take some iron from a ship. They exchanged words and blows and Knighton was fined 10/- including costs. In July 1873, he together with another waterman, Thomas Jenkins and a cabman, John Lillywhite, were charged with smuggling 209 lbs of unmanufactured tobacco and 40lbs of tobacco stalks. A police constable saw a cab draw up at the Sally Port and two men with a bag. When they saw him , they put the bag into the cab and ran off towards High Street. He discovered that the bag contained leaf tobacco. He also found three other bags five paces from the landing stage. When charged, Pound said he was 'scrapping' or straightening his boat that night around 21.30. The charge against Lillywhite was dismissed. The two other defendant were fined £100 and ordered to be imprisoned until the fine was paid. The magistrates believed that there were others involved behind the scenes.
There are an astonishing thirty-three news stories featuring Cottrells and their spouses. They paint a picture of the waterman's life at Point - of how they were closely involved with life and death. They also hint at the overall character of the family.
Many Cottrells were clearly viewed as masters of their trade and were jealous of their hard-earned occupation as licensed watermen. There appears to have been an unwritten law that they would help those in difficulties in the water, with little thought to their own safety - such actions being occasionally heroic.
However, some were not above stealing goods in order to support their families, especially when times became grim for watermen, faced with escalating rivalry from the team launches.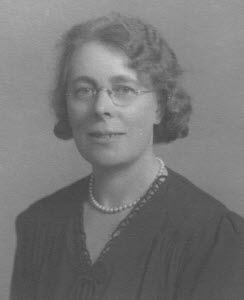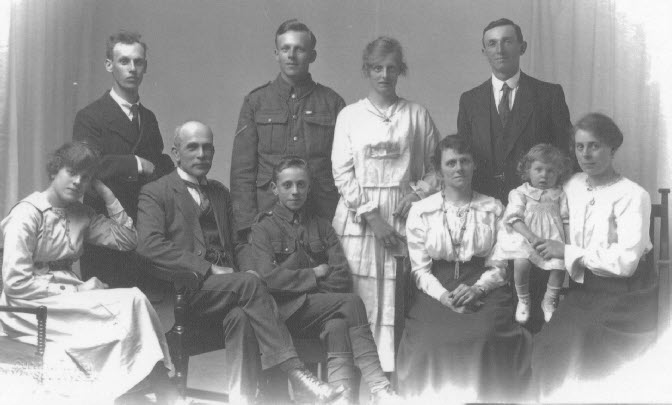 Watermen operated the water taxis of the era. Using both sailing and rowed wherries, they ferried people, goods and livestock around Portsmouth Harbour, along the South coast and to the Isle of Wight. The short 'voyage' from Portsmouth to Gosport shaved hours off the time taken travelling around the coast. Theirs was a rough life which bred rough folk. (Right, rivals for custom)
There was a published table of fares which varied according to the weather conditions – in foul weather (when a flag was raised), the charges were doubled. There was also a fee if they were required to wait for passengers. These are some fair weather charges set in 1809: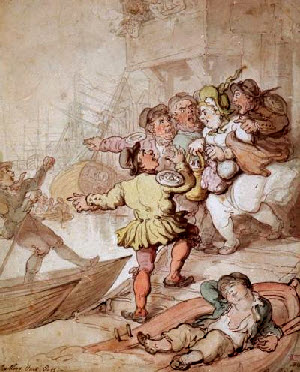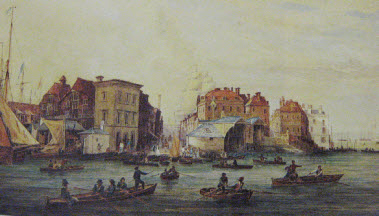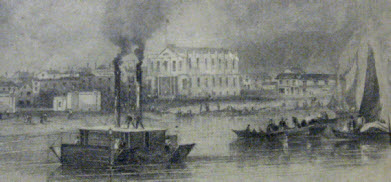 Above, the first floating bridge and, right, a steam launch

To and from Gosport, Portsmouth and Portsea -
6d a passenger, but if eight were carried, the fare was 1d
Hire of a wherry to a ship in harbour -1/6d
To Fareham – 4/-
From Point to The Hard for one passenger -6d
To ships at Spithead, one passenger - 3/-
From Portsmouth to Ryde – 5/-
Horses, mules and bullocks transported in the harbour –
2/- each; calves, sheep and hogs – 3d each.
The barrister for the accused said that the ship had been piloted until there was a period of calm and then the pilot left. Coote was 'watching his little game' and when Marshall had anchored for four days, becalmed, then Coote boarded his vessel. Marshall had not evaded pilot dues as these had been paid to the first pilot. This was confirmed by the pilot Richard Craft was said he was paid £3 10/-. He had been given permission by Marshall to leave his ship as it was calm and had seen Coote board Little Dorritt. Craft then went back on board and asked if Marshall required him any more – 'No'. The Court found for Coote and fined Marshall £5 10/-, half of which was given to Coote for his pilotage dues.
December 1888. Annie Coote of 4 Seagers Court, Point (daughter of George [1832 -1903] and Jane) was accused with thirteen others of causing an obstruction in St Mary's Street for twenty minutes. They were part of a Salvation Army unit that had been active in the area, with short addresses and singing but no band, and flour, ashes and other things were being thrown from windows and feelings were running high. The Army was advised to move away and as marines and sailors were around in high numbers, a police sergeant began to take the names of the Army. There was no riot, but the street was only 19 feet wide and people were surging about and no-one could get through without elbowing their way through. A witness said that the Army had spent about half an hour in the street for the last four or five months and some residents did not like their Sunday afternoons being disturbed. After arguing that Englishmen had the right to hold open-air meetings, agreement was made to use different spots in future. The defendants were fined 1s and 3s costs. All but two refused to pay and were threatened with two days in gaol.
February 1889, James Coote was involved in an accident to the Camber Bridge. The Bruges, a screw collier of 660 tons had landed its cargo of coal in the Inner Camber. At 06.00 she was manoevering to the Outer Camber under her own steam, before returning to Sunderland. Coote was the pilot on board. The harbour master ordered a sailing barge should move from the Custom House Wharf to give Bruges a clear passage. The Bruge did not wait and as the tide receded, the vessel heeled slightly and struck the east end of the Camber Bridge. As a result, two large fissures were made in the plates of the bridge, the machinery which turned the bridge became strained and part of the stonework foundation of the bridge was also damaged. The vessel was stuck fast until the tide rose when at 11.30 she was taken safely out of the Camber.
In February 1874, John Marshall, a master mariner of the schooner Little Dorritt which was in the Outer Camber, was charged with assaulting James Coote. On the fourteenth, James went to Mr Vandenberg's office in Bath Square to draw money for pilotage fees incurred when the schooner left Portsmouth on 27 December 1873. Marshall happened to be there and when he was asked for the money, he retorted that 'he would fight it out' and seized Coote by the throat, pushing him against a banister. Coote accused Marshall of insulting him in the execution of his duty. The issue was not about the quality of the pilotage but whether Marshall assaulted Coote. James' father, John Coote and George Gill, both pilots, gave further testimony. A clerk said he had never seen anything like the confrontation before. It was alleged that another pilot was discharged from Little Dorritt a short distance from the Needles. The vessel then became becalmed and Coote had boarded her, said no other pilot was on board, produced his licence and stayed on board. Marshall said he had already paid one pilot and was not about to pay another. The Court did not consider it to be a bad case and fined Marshall twenty shillings. However, this was not the end of the matter. Two months later, the pair were before Gosport's Police Court. The case was considered to be of importance as a precedent might be set. Coote stated that he and two other pilots were on his cutter when they saw Little Dorritt leave Portsmouth Harbour. She was towed by a steam tug as far as Spithead when she resumed her passage under sail. A signal was raised by Coote and he went on board the schooner from his boat. Marshall was asked whither he was bound: 'Plymouth'. If that was true, Coote had no right to board the boat, but he asked Marshall if in fact he was sailing to Corunna, not Plymouth. 'And what if I am', was the reply. (Coote later discovered in the Custom House that indeed Little Dorritt was heading for Corunna.) Marshall ordered Coote to leave his vessel. Coote responded by showing Marshall his pilot's certificate and asking to be employed as no pilot was on board and it was a pilot's responsibility to take a vessel to the utmost extent of the limits – in this case, as the schooner was going to foreign waters,beyond the Needles. Coote's father, John (who had been a pilot for 35 years) confirmed that it was a pilot's duty to care for a ship until it was beyond the district for which he was a pilot but would not say that he had not left a vessel before it reached the limit of his district.
May 1871, John Coote was involved in a rescue effort when the Dutch ship, William III, was lost. The vessel, a 3,000 ton iron-screw steamer, caught fire 'at the back of the Wight' with 80 passengers, 125 soldiers and a crew of about 90. The alarm was raised and preparations made to abandon ship. John was on the cutter, Mary, at the Owers light station when he saw distress signals eight miles away. He steered for the source of the signals but as the wind was light, the cutter made little progress until she was towed by a boat with two men at the oars. After almost an hour, they saw a large ship burning furiously from stem to stern. Around the ship were several small boats bearing lanterns and Mary immediately took on board the occupants of four of the boats. Coote directed the remainder of the survivors to another vessel which was approaching the scene. He was told that eight barrels of powder or ammunition had been dumped overboard and, although still fearful of an explosion, he remained close by to see if more life could be saved. Further ships joined the rescue operation and the burning vessel was towed between Spithead and Portsmouth Harbour, where she was scuttled. Mary landed her survivors – 114 persons (partly dressed) including 48 soldiers, 20 ladies and 10 children. £18,000 was recovered from the wreck which was viewed by 'large numbers of persons lining Southsea beach'. Steam launches and wherries took sightseers around the smouldering ship at 3d and 6d a head.
When the tide race was at its peak in the harbour and a gale was blowing, it took two men forty-five minutes to row from Portsmouth to Gosport.
Whilst tacking, the boat took on water which frightened the women who rushed to one side and the boat capsized. They were in the sea for about twenty minutes before being rescued. One waterman and four women drowned.
There were also opportunities for illicit activities for watermen. Indeed, a system of licensing was introduced in London in 1555, because they spoiled or stole goods, drowned passengers or used boats in poor repair. In the early nineteenth century, the Post Office constantly warned that watermen at Portsmouth were liable for a £5 fine and costs if they carried letters. James Clark and William Garnett were convicted of smuggling 65 lbs of tobacco in 1848. Twenty-five years later, Charles Pounds and two others were charged with smuggling 209 lbs of unmanufactured tobacco and 40lbs of tobacco stalks. James Smith and Charles Moore were also charged with conveying half a pint of rum to the Egmont at Spithead.
A gruesome aspect of their work was the frequent discovery of floating bodies in the Solent which they towed to land – reminiscent of the Thames waterman, 'Gaffer', in Our Mutual Friend. In 1876, watermen named Butcher and Smith found a decomposed seaman's body at Spithead and dragged it to Southsea beach.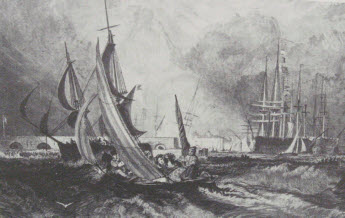 Competition grows for watermen's services
As video killed the radio star, so competition from the Floating Bridge (which operated between Portsmouth Point and Gosport Hard from May, 1840) and steam launches (which were introduced in the late 1860s) sounded the death knell for watermen – but they didn't succumb without a struggle which rumbled on for years. The 'Bridge' carried livestock and carriages between Portsmouth and Gosport as well as people. The speedy launches crammed aboard far more than the eight allowed on watermen's wherries. A round trip from Portsmouth to Gosport by the 'Bridge' took one and a half hours, whereas a steam launch took just half an hour.
As competition for their services became fiercer, the watermen were challenged to find ingenious ways of earning their fares. They charged double after 22.00 when the steam launches stopped running. However, it became their practice to unlawfully refuse fares, saying that they were 'engaged', before that time in order to earn the extra fee when ten o'clock struck. In 1856, Thomas Dixon lost his license for four months for refusing a fare at 21.30.
To put bread in their mouths, they put out in conditions which prevented the steam launches from operating. There was a dense fog in the Solent in January 1888, so that the steamers from Ryde to Gosport and Portsmouth were unable to work. Watermen, however, continued to trade, asking for more than double their fares. One commercial traveller hired two men at Ryde to take him to Portsmouth. After two or three hours of 'heavy rowing' in the thick murk, they beached, not at Portsmouth , but at Hook, near Warsash, ten miles from Portsmouth near the Hamble River.
Waterman also took advantage of conditions such as the flooding of Broad Street. In March 1876, 'it was an ill wind that blew nobody any good' when a gale breached Point flood defences yet again and they earned 'not a few shillings and half crowns' for ferrying passengers to the tramway stables at Broad Street.
The competition between the watermen and the launches to attract fares caused congestion at popular landing points like Point Beach and The Hard. Here, 'ribaldry, blasphemy and obscenity' were heard throughout the day and the footpath was blocked by 'sailors, watermen, prostitutes and loiterers'. Some watermen went to The Hard simply to cause a row – 'they were quick with their repartee and their fists.' They lay in wait, sometimes three to a customer and as many as sixty or seventy passengers were ferried in a half hour. There was a great deal of chaff as to whose boat was the best.
Fights were of 'no unfrequent occurrence' and ladies had to leave the pavement to 'avoid drunken men and filthy women'. In 1860, there was a large-scale melee at The Hard involving soldiers, police and the watermen. There was a crowd of between two and three hundred people including fifty watermen to whom the police called for help. Some wives, including Elizabeth Montague, also pitched in.
Hostilites between the watermen and launchmen continued to fester. In 1870, there was a token fight arranged at Stubbington Lane, Browndown , near Gosport between representatives of both sides for a prize of £5. The brawl lasted more than two and a half hours. On another occasion, when a launch sank at her moorings, it was at first thought erroneously that she had been holed by watermen. Then, a waterman brought proceedings against the steam launch company before the High court in 1883, contending that their operation was illegal, but the case was thrown out.
Despite their ingenuity in finding ways of earning their fares later in the nineteenth century, watermen were often described as 'poor' and then as 'distressed'. In 1870, it was alleged that in their 'precarious occupation', watermen were earning 5/- a week. Frequent items in the newspaper described the charity which was dispensed to 'distressed watermen' as 'undoubtedly the prosperous days of the watermen at this port were long gone by'. They were forced to pawn their gear and were given food hand-outs.
However, there was some light relief for them as they starred in the eagerly anticipated Southsea/Point Regattas which were held annually towards the end of September from 1821. Some events were for watermen alone to contest their skills against each other.