William Dear's birth and childhood





William Frederick Dear
(1858 - 1858)



William Dear
(1867 - 1953)
Sydney Dear
(1869 - 1882)
John 'Jack' Dear
(1870 - 1953)
Charles Dear
(1873 - 1850)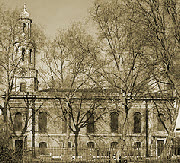 My great grandfather, William Sidney Dear, was born at Shoreditch in London on 19 January 1831. He was the second of six children born to Frederick John and Emma (nee Brown) Dear.
William's grandfather, John Dear had served an apprenticeship as a silver engraver and piercer and his father, Frederick Dear, was a silver plate maker.
Three years after his birth, William was baptised together with his siblings, Frederick and Amelia, at St John's Baptist Church, Shoreditch. At the time, he and his family were living at Bacchus Walk, Shoreditch (off Hoxton Street).
For ten years, the Dears moved around the Kingsland/Clerkenwell area of North London between, probably living above the business premises from which Frederick traded. From 1837 to 1839 they were at 30 Phillips Street, Kingsland Road; 1840-1841, 3 Whitmore Row, Hoxton Fields; 1843, 8 Union Square, Chapel St, Pentonville; 1844, 3 Kings Square, Goswell Street Road.
It was at Kings Square, shortly after their Christmas celebrations, that William's father succumbed to phthisis pulmonalis (TB) on 27 December 1844. William was just fourteen years old and it fell to him to inform the registrar of his father's death. His mother, Emma, was left to care for four children under ten.
Emma began to trade as a silversmith in her own right from 48 (Great) James Street, Hoxton (1845) and 4 St James' Walk, Clerkenwell (1846), which were likely also William's homes.
When he was seventeen, on 4 October 1848, William signed an apprenticeship agreement with William Smiley, silversmith, of 5, Finsbury Place South.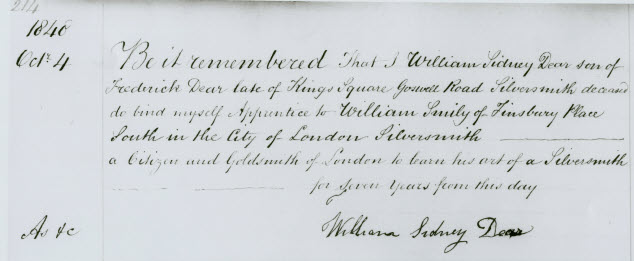 William Smiley (1792-1865) worked for the prestigious firm of AB Savory and Co. and became their works manager. So, William Dear learnt his trade at a manufactory – a noisy, frenetic building crammed with high windows and filled with the sounds of filing, hammering and scraping. 5 Finsbury Place was a large Georgian town house with cast iron railings and steps up to the front door. The outbuildings at the rear probably housed the workshop. Smiley's success as a silversmith may be gauged from his estate which was valued at between £5,000 and £6,000.
Of a death and inheritance
William Brown was a builder and perhaps he erected the house to the south of the pond - Pond Cottage. His daughter, Emma Dear, and her children, including William, were living at Pond Cottage when the census was taken in 1851.
By that time the area around the Lea Bridge house had evidently been transformed into a laundry as on 15 March 1851, the executors of William Brown's estate, James Brown (who was living at the Lea Road property) and Sarah Stimson (nee Brown) sold the lease for £42 pa on the house, laundry premises and drying grounds (see plan below) to the grocer George Byer Yates.
A snapshot is given of the Lea Bridge house. It had two front bedrooms, the left with a Romford stove and large press; the right with an elliptical stove and wash-stand. There was also a back room on the upper floor with a Romford stove. On the ground floor, there were both a large and a small parlor with a 34 inch and a Romford stove, respectively; an entrance hall, kitchen (with a 39 inch range, oven, ironing board and a long dresser with drawers and shelves over hat rails), a wash-house, pantry, tool-house, stable and manger
Emma Dear and her children, including William were living at Pond Cottage in 1851.
1856 was a momentous year for William. On 2 July, he finished his apprenticeship, presented a piece of his work at Goldsmiths Hall and received his freedom to trade. He worked mainly as a silver plate worker.
Now that he was not bound by the terms of his apprenticeship that prevented his marrying, on 1 November 1856, William married Anne Green at Stoke Newington Parish Church. The witnesses were their siblings, Matilda Dear and John Green.
Anne (right) was the daughter of boat builder and hirer, John and Jane Green - born 15 October 1829 at Lambeth before the family moved north across the River Thames to Lea Bridge. Link: Greens
The newly-weds were living at Homerton Road, Homerton in 1858 but had moved to William's grandfather's house near Lea Bridge Road by 1861.
William marries Anne Green - and their children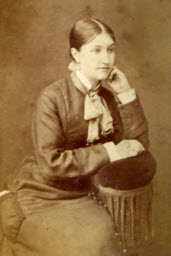 Now is as good a time as any to look at William and Anne's children. It was only when the 1911 census was published (with its notes of the number of children born to couples) that I realized how many children William and Anne produced. If any children are born and die between censuses, they may be missed by the researcher and regrettably this was the case with three of Dear infants.
William and Anne had nine children. Three of their first five progeny died young – William Frederick after six days from insmus; Kate after six months from dental convulsions over three weeks and Clara after eleven months with hydrocephalus or 'water on the brain'. As well as these tragedies, another son, Sydney died in 1882 when he was fourteen. The death certificate mentions an inquest and that the cause of death was 'violent strangulation, accidental'. There is a legend in the family that a young Dear was strangled by a continuous towel roller.






His mother, Emma's, death in 1866 provided a further windfall for William. She died intestate, so he benefited from an interest in her estate.
At some point, William met Charles Mayston. In 1861, Charles was unmarried and a servant to the 'fund-holder', Henry Valentine Lynes. Lynes died on 30 July 1864 leaving an estate of under £60,000. In 1871, Charles Mayston was a 'gentleman with property'.
Both men, William and Charles, clearly had some capital for on 23 September 1869, they bought from John Hammond of the Kings Head public house, a 38½ year lease at £3 pa for six new houses and shops at Middlesex Wharf, Lea Bridge, opposite the Kings Head public house. These are shown on the three maps/diagrams below.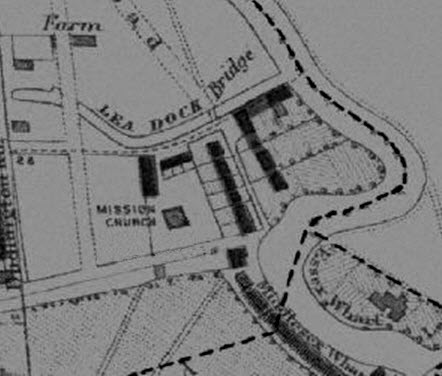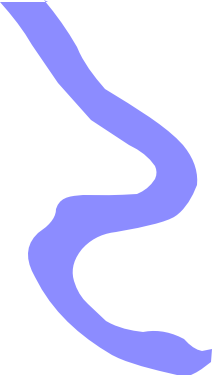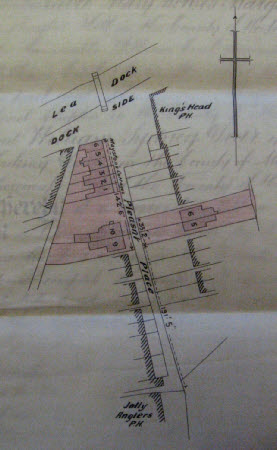 On 27 November 1869, Mayston, in his own right, bought the lease for 37½ years to 9 & 10 Hammond Cottages from
John Hammond.
In 1864 and 1871, William and his family were still living at their Lea Bridge home – though it was known as 1 Alexander Terrace.
The following year, 1872, William's lot in life improved still further. His uncle, James Brown, had left an interest in two properties firstly to his sister, Sarah and thence to Emma Dear, William's mother. However, both beneficiaries predeceased him and so their interest passed to James' widow, Mary Ann Brown as part of the estate.
She generously assigned this to Emma Dear's children in equal shares stating that she was, 'desirous of giving effect to what she believed to have been the wish and intention' of her husband. The properties included the lease on the Lea Bridge house and land.
That same year, 16 March 1872, William and Charles Mayston bought another lease, this time to a strip of land measuring 33 feet by 145 feet at Lea Bridge on which William and Charles built 5 & 6 Pleasant Cottages (see plan left above). The homes were known as Dear's Cottages. The lease was for 38½ years at £3 pa. To the south of this plot was a house occupied by John Green, son of my greatx3 Grandfather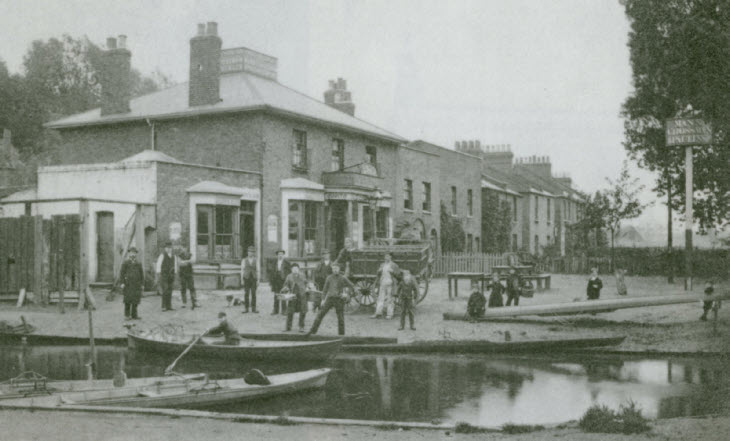 (Above) The row of houses viewed from Lea Dock and the Kings Head.
Dear and Mayston's properties are marked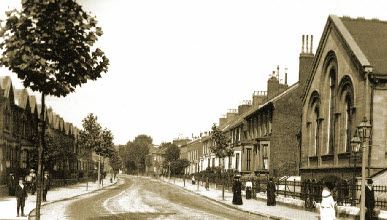 In 1881, William and Anne were living at
152 Powerscroft Road, Clapton (right).
Ten years later, William and his family had moved to the property Anne had been bequeathed at
1 The Avenue Road. William was sixty years old and his daughter had married George Dee in 1882.
George had opened a shop by 1891 and perhaps encouraged by this and making provision for himself and his sons, William (aged about 68) opened a corn chandlers business at 78 Upper Clapton Road during the late 1890s (see below).
William becomes a corn dealer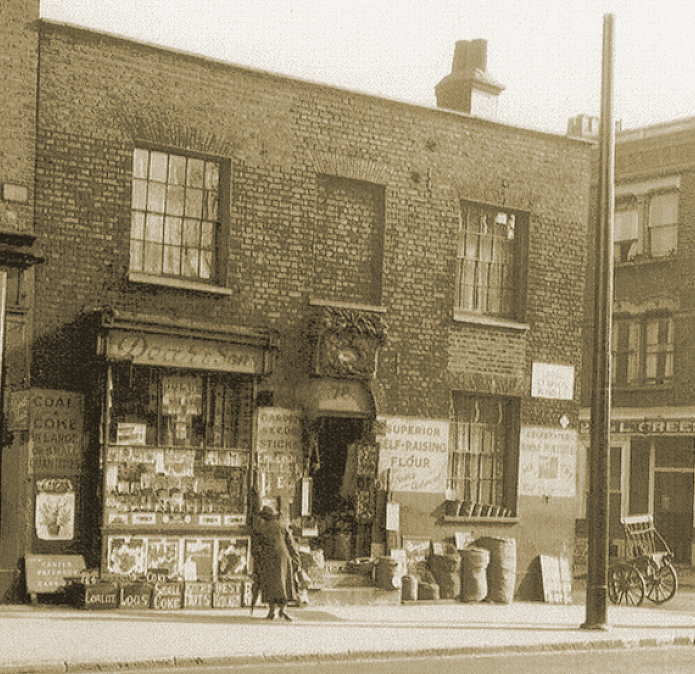 Dear and Sons sold an odd mix of products - corn, flour and coke, coal and logs.
Charles Mayston died on 23 September 1892 and left an estate of £3448 3s 4d which was administered by Matilda Mayston and her brother, William Dear.
He and Matilda continued to have business links, renewing leases to their Lea Bridge properties in 1907 and carrying out repairs.
In 1901, William had moved yet again to 17 Oakfield Road (shown above, right).
During the next ten years, three more shops selling the same goods were opened at 219 Lower Clapton Road (see below), 97 Shackleton Lane and 31a Rendelsham Road.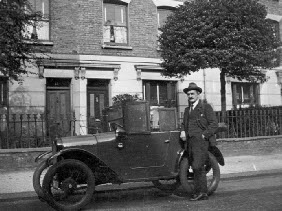 The photograph shown left was taken in around 1890. Standing from right to left are William Sidney Dear (with pipe) and his sons,Will and Charles.
Seated from right to left are Annie Dee (nee Dear), Gertie Dee, Anne Dear and Edith Dee.
Below is John Dear outside 17 Oakfield Road, Clapton.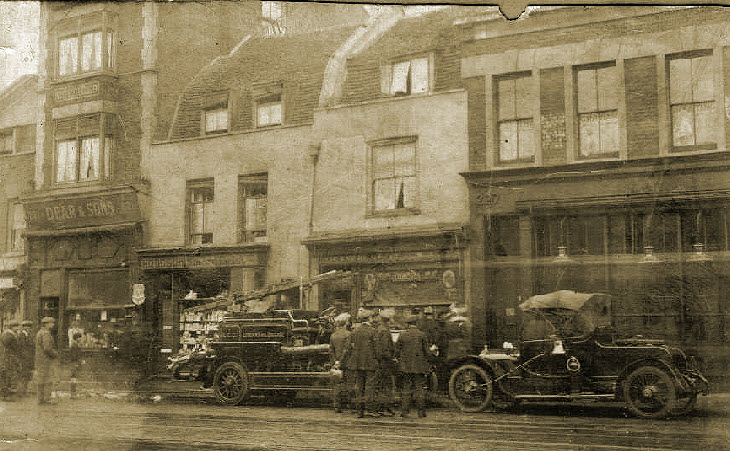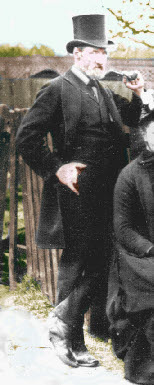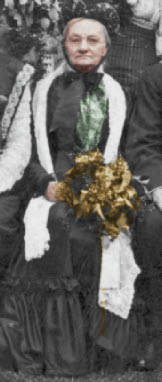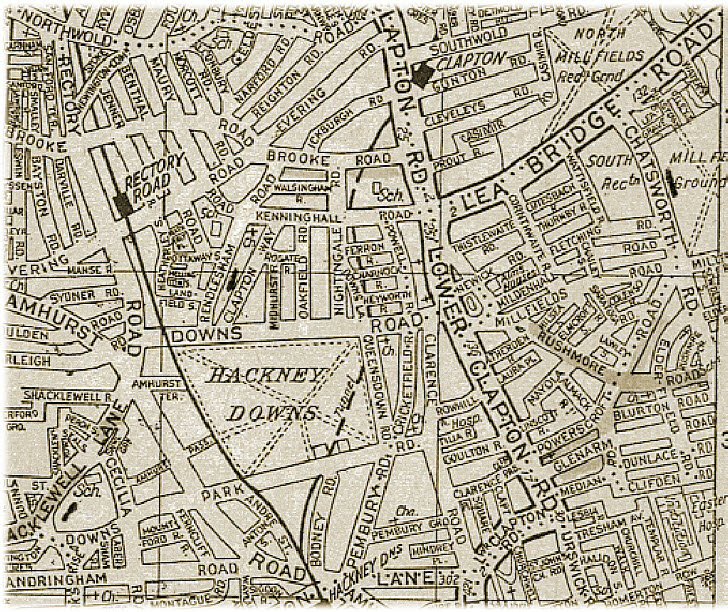 17 Rendlesham Road
Dear & Sons Stores
78 Upper Clapton Road
Dear & Sons Stores
152 Powerscroft Rd
William's home in 1881
75 Lea Bridge Road
William's home from 1860
97 Shackleton Lane
Dear & Sons Stores
1 Avenue Road
(now Midhurst Road
William's home in 1891
17 Oakfield Road
William's home from 1901
221 Lower Clapton Road
Dear & Sons Stores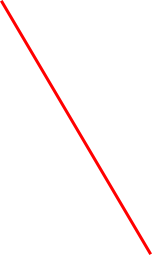 William died on 24 November 1912, aged eighty-one. The causes of death were abdominal carcinoma and senility and his death was registered by his son, Charles. He was buried four days later at Abney Park Cemetery.
His will was proved by his son John. William left a gross estate of £290 10/-. His monies and leasehold house at 17 Oakfield Road were left to his wife with the provision that after her death, all property was to be sold and divided equally between his children.
Anne died less than five years later on 26 January 1917 aged 87, from senile decay and bronchitis. Her death was registered by her son, John Dear. She also was buried at Abney Park on 1 February. She left a gross estate of £358 1/- which was proved by John. It included the houses at 17 Oakfield Road and 1 The Avenue Road.
William and Anne Dear in 1909 at my grandparents wedding. Between them is George Dee



(Acknowledgements: I am grateful to Brian Gumm and Christopher Dear for providing the information and photographs that illuminate this account)
A year after William started his apprenticeship, his grandfather, William Brown, died on 18 August 1849. His bequests were to have a bearing on William Dear's life, as we will see.
On 30 August 1833, Brown had bought a fifty-seven-year lease from Mr Trigg for a newly-built house with coach house and stables together with land set back from Lea Bridge Road, Clapton (see plan below). Included was land belonging to Triggs and a pond. The front garden was sixty-seven feet (20m) wide. The house frontage was forty feet long (12m) and it extended back twenty-three feet (7m). The annual rent was £38 which was paid quarterly.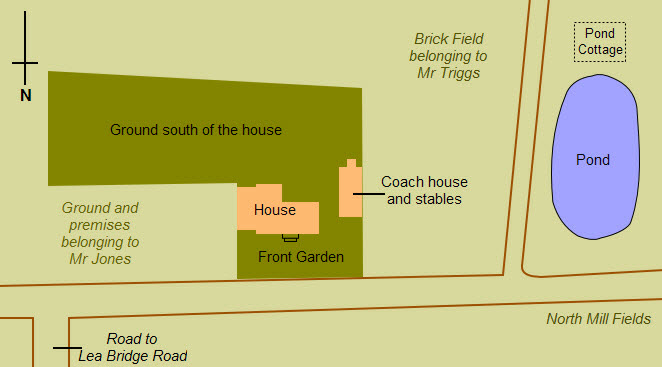 The house was just off Lea Bridge Road. Lea Bridge was 200m to the south-east and the busy junction of Lea Bridge Road, Upper and Lower Clapton Roads was 600m to the north-west.
William and his family probably moved from their Lea Bridge home (with its sad memories - for here three children died) in 1871/72. (Though in 1869, when he was appointed to be one of John Green's executors, he was said to be living at Pleasant Place). William is among the tenants of Pleasant Place in 1872.
One reason for this was that on 12 June 1872, he and his sister-in-law, Sarah Stimson, sold the lease for 14 years on the Lea Bridge property and surrounding land at £84 pa to Isaac Livermore who owned the adjacent india rubber factory.
Meanwhile, away from all the business deals, romance was in the air. In the autumn, Charles Mayston (47) married William's sister, Matilda Dear, who was seriously on the shelf being aged thirty-six. The ceremony was held at St Peter's, West Hackney on 13 September 1873. Curiously, none of Matilda's family signed the register, but the vicar did! This may suggest a low-key wedding.
Meanwhile, William's father-in-law, John Green, died on 20 November 1874. By his will, he left a freehold house at 1 Victoria Cottages, The Avenue Road, Clapton to his daughter, Anne Dear.
The final piece of business that William and Charles transacted on 19 March 1879 was to lease out for twenty-one years, a house and shop (which were formerly Nos. 4, 5 & 6 Pleasant Place) to John Marvel, a grocer and general dealer. The rent was £44 pa.
In summary, William was garnering half shares of leases that amounted to £64 pa, a half share of rents of five cottages and his outlay was £3 pa. Anne Dear also now owned a house.