My greatx3 grandfather, Thomas Barnaby, was born around 1801 in Suffolk. By 1825, he had moved across the county border into Norfolk where he met and married Mary Ann Calf at St Nicholas Church, Great Yarmouth on 28 September 1825. Their witnesses were William Ball and Mary Ann Marshall. There was a certain amount of haste in arranging this wedding as their first child, Sarah Ann was born less than two months later and baptised at St Nicholas, Great Yarmouth on 21 November 1825. Thomas and Mary Ann had nine children between 1825 and 1846.
Now follows a brief description of Thomas and Mary Ann's home town of Great Yarmouth. Three thousand years ago, the town simply did not exist. There was a bay on the coast of the North Sea between Norfolk and Suffolk into which four rivers emptied their silt– the Rivers Bure, Yare, Waveney and Chet.
Along the coast, notably at Happisburgh, cliffs were being eroded and regularly tumbled into the sea. The result of this natural re-distribution of materials was a sand bank in the mouth of the estuary which gradually stretched north-south for eight miles.
Fisherman found the sandbank to be a convenient base for their operations and built homes there. This attracted traders to serve the burgeoning community.
Fish, in particular the herring, was the life-blood of the town. They were special as in the days before canning and refrigeration, herrings could be cured and kept. Huge shoals of the 'silver darlings' followed the southward movement of warm maritime currents, passing the East Anglian coast in early autumn. Because of its handy position at the mouth of rivers which were navigable by wherries, Great Yarmouth became a focus for trade as coal and other commodities were brought in by ship. And so the township continued to grow.
Within newly-erected town walls, Great Yarmouth was gradually set out. Three main streets ran north-south following the contours of the land. Then, running east-west at right-angles to the main streets, the 'Rows' were built - 145 of them. They were narrow alleyways, so closely packed together that a bye-law was passed prohibiting front doors from opening outwards. Specially designed carts, 'trolls', measuring twelve feet long by three feet wide were constructed to negotiate the cramped passages.
Household Words (of which Dickens was editor) described the Rows thus: 'A row is a long narrow lane or alley, quite straight or as nearly so as may be, with houses on each side, both of which you can sometimes touch at once with the finger tips of each hand, by stretching out your arms to their full extent. Now and then the houses overhang and even join above your head, converting the row, so far, into a sort of tunnel or tubular passage. Many and many a picturesque old bit of domestic architecture is to be hunted up amongst the rows. In some rows there is little more than a blank wall for the double boundary. In others, the houses retreat into tiny courts where washing and clear starching are done....'.
Many of the Rows were named after local people or features. The siting of the Rows allowed the prevailing easterly winds to funnel away smoke and stale air while accumulated rainwater drained away to the sea. The congested nature of the Rows, together with inadequate provisions to drain away sewage, provided ideal conditions for breeding deadly diseases – smallpox, cholera and tuberculosis.
Thomas and Sarah Ann's home at Row 30 - 'Barnaby the Baker's Row'
At Row 30, Thomas and Mary Ann began a bakery business – the Row became known as 'Barnaby the Baker's Row'. Their home consisted of the shop and baking office, a living room and kitchen/wash-house. Above were two chambers or bedrooms.
Join me on a guided tour of their home in 1839. The shop had the paraphernalia associated with baking – an oven, counter, desk, shelving and a large flour bin. Conveniently placed were two pairs of scales, five baskets and two mixing troughs. There were forty-eight loaf tins and ten paddles which were used to insert the tins into the oven. Sacks of flour were stored here together with baked bread and biscuits.
Moving into the living room, there was a buffet or sideboard with twelve pieces of china and forty plates, dishes, cups and saucers. On display were the prized possessions of a tea tray and caddie. Decorating the chimney were nine ornaments and the fire was surrounded by a guard, fire irons and a fender. Four pictures hung on the walls and there were six wooden-bottomed chairs, a dining table and a clock. A bird in a cage and two ostrich eggs had pride of place. To one side of the fire-place was a winding staircase to the upstairs chambers.
Barnaby- the bankrupt baker
The affairs of Mr Barnaby being embarrassed, attending and advising him thereon when he offered to
make an assignment of his property for the benefit of his creditors.
Attending on you being the two largest creditors to ascertain if you would be the assignees
Drawing and engrossing Release of Freehold and assignment of personal estate from Mr/Mrs Barnaby
Lease for a year
Stamps and parchment
Journey to Burgh to Mr Barnaby with deeds for him to execute
Horse hire and expenses
Attending on you for execution of same
Attending on Mrs Barnaby for her signature, afterward with her on the Deputy Recorder to
acknowledge same
Town clerk for ? Same
Attending on Mr Fill requesting him to list the household furniture and sell the pony and cart
Attending on you when you instructed me to write to the principal creditors requesting their attendance
at my office tomorrow
Letters to the several creditors
Attending upon Mr Barnaby for his books and requesting his attendance to meet the creditors
Attending meeting of the creditors when it was resolved that the houses belonging to Barnaby should be sold and that if any friend of his would come forward and make a fair offer for the furniture, he should be allowed to go on again and that the debts should forthwith be called in.
Letter to Mr Robert Tooke for payment of £17 ) (Plus item below)
Borough Court writ against him
Making out list of small debts
Attending upon Mr Richard Hammond to ascertain who had the deeds relating to the baking office and premises which were mortgaged to Mr Riches. When Mr Hammond informed us that Mr Davy of Norwich was the executor. At the same time promised to see Mr W H Barnby who held the deeds relating to the other part of the property as security for £30.
Letter to Mr Coates for payment of £2 18 7d
Paid for summons against Mark Pleasants
Letter to Mr Watlings for balance of account
Attended Mr WH Barnby for deeds who promised to take 15/- in the pound but would see Mr Thomas Hammond first
Attending on Mr Hammond when he promised to see Mr Barnby
Attended you when you instructed me to sell the houses at the Star Tavern on 8 May
Attending Mr Fill the auctioneer thereon
Draw up handbill
Attended printer: ordering 200 to be printed
Examined proof with copy
Paid printer
Drawing conditions of sale specially
Making four copies thereof
Paid posting bills
Attending sale when Lot 1 was sold to Mr Larke for £116 and Lot 2 to Mr Bales for £64
Paid for room
As to Mr Larkes purchase
Letter to agent in Norwich to pay off this mortgage to Mr Riches executors and to send me the deeds
Postage of letter
Paid principal and interest thereon, agent attending on Messrs Chapman and Hansell making
appointment for discharging mortgage
Attending at the bank to receive money and afterwards attending Messrs C & H by appointment, going through deeds, paying the money, taking the deeds and giving receipts therefore
Letter to Yarmouth therewith
Drawing and engrossing Abstract of the Title of the premises purchased by Mr Larke for Mr Ramsey's perusal (13 13 sheets)
Paid Land Tax
Attending Mr Ramsey with Abstract and fixing him for examining deeds
Attending Mr Ramsey examining Abstract with deeds
Mr Ramsey having made several observations and requisitions on the Title, attending him when it was arranged that he should have a copy of the will of Mr Riches and an attested copy of the lease and
release from Mr Barnaby and wife to his creditors
Perusing and settling draft conveyance to Mr Larke on the behalf of the assignees
Making copy to keep
Letter to Messrs C & H with draft for their perusal on behalf of the executors of Mr Riches
Carriage of parcel therewith
Carriage of parcel with draft as approved from Messrs. C & H
Attending on Mr Ramsey therewith
Making fair copy of lease for Mr Ramsey and stamp
Ditto - release and stamps
Examining same with deeds
Attended Mr Ramsey who required the deed to be perused by Mr Waters on Mr Barber's behalf which
I refused and also as to Mr Barber's being a party if at any expense to the estate
Examining engrossment with draft
Letter to Messrs C & H with deed for them to get executed by the executors of Mr Riches
Carriage of parcel
Attending on Mr and Mrs Barnaby and afterwards on you for your signatures
Letter to Messrs C & H therewith as executed by all parties
Carriage of parcel
Not having received deed from Messrs C & H attending on them therefore
Paid them their bill
Horse hire and expenses to Norwich
Attending on Mr Ramsey with deed fixing the day for settling the purchase
Letter to Mr Kitson for copy of the will of Mr Riches
Paid therefore
Carriage of parcel
Paid Mr Ramsey for assignment of term
Attending execution and receiving purchase money
As to Mr Bales purchase
Attending on Mr W H Barnby for deeds who refused to deliver them unless paid the debt and interest due thereon
Attending on you when you instructed me to make the the best terms I could
Attending on Mr Barnby who at last agreed to take £28 in full
Drawing check therefore and giving receipt for same, examining deeds to see if I had received them all
Drawing and engrossing Abstract of Title ( 8 13 sheets)
Copy of lease and release from Mr Barnaby and wife to his creditors for Mr Bales
Examining same with deeds
Stamps and paper
There being an outstanding term in Mr Samuel Bell attending on Mr Charles Bell for his father's consent
to assign same which he agreed should be done
Attending Mr Chas Bell with draft for his perusal
Attending him with engrossment for his father to exercise
Drawing and engrossing assignment of term to Mr Bales
Paid Mr Bell his charges
Attending execution of deeds and receiving purchase money
Drawing request to Messrs Hammond and Fence to pay the debts due to Messrs Brock and Nichols
to Mr Barnaby's estate
Attending Messrs B & N for their signatures
Attending on Mr Hammond therewith
2 Mar
4
6
7
8
9
11
13
14
21
26 April
£ s d
3 4
6 8
2 12 6
1 1 0
3 14 6
13 4
10 6
6 8
6 8
1 1 2
3 4
6 8
10 6
3 4
1 1 0
1 5
10 0




















Thomas Barnaby (1)
bn 1801c
died 1846 Yarmouth
Mary Ann Calf
bn 1804 Yarmouth
m (1) 1825 Yarmouth
m (2) 1857 Yarmouth
died 1877 Yarmouth
Henry Valentine
Browne (2)
Sarah Ann
Barnaby
bn 1825 Yarmouth
Mary Ann
Barnaby
bn 1826c Yarmouth
Thomas Francis Calf
Barnaby
1829 -1829 Yarmouth
Thomas Francis
Barnaby
bap 1830 Yarmouth
William Henry
Barnaby
bn 1831c Yarmouth
John
Barnaby
bn 1836c Yarmouth
Samuel
Barnaby
1839 -1839 Yarmouth
Ann Elizabeth
Barnaby
1842 -1843 Yarmouth
George David
Barnaby
1845 -1852 Yarmouth
BARNABY'S DEBTORS and ACCOUNTS
8 May
16
7 June
13
13 July
19
26
8 Aug
3 4
3 4
1 1 0
1 5 0
6 8
7 0
6 8
3 4
53 16 8




By the end of 1838, Thomas was living at his bakery at Row 30, Great Yarmouth. He and Mary Ann also owned a house at Row 18, about which I will now comment. Mary Ann's grandmother was Midsummer Calf. She owned at least five houses clustered around a common yard, pump and toilet at Great Yarmouth near Says Corner, South Row. This was at Row 18. By her will, Midsummer left her houses to her surviving children and a grandson, Richard Francis Calf (Mary Ann's father). A joint executor was the spirits merchant, William Henry Barnby (father of a future mayor of Great Yarmouth, John Eager Barnby). Presumably Mary Ann brought this property to the marriage.
Then, in early 1839, Thomas became bankrupt.
(Sources: Norfolk Record Office - Catalogue reference, MC 664; Victorian Insolvency – V Markham Lester; Bread and the British Economy c1770-1870 – Christian Petersen; The Rows and the Old Town of Great Yarmouth – Colin Tooke)
3 6
1 6
3 6
3 4
3 4
6 8
3 4
5 0
3 4
3 4
10 0
1 1 0
1 0 0
2 6
1 1 0
1 2 6
3 6
6
6 8
13 4
3 6
6 10 0
6 0
3 4
6 8
6 8
15 0
15 0
3 6
8
8
3 4
5 0
17 6
6 8
3 4
6 8
3 6
8
13 4
3 6
8
13 4
2 3 4
1 5 0
3 4
3 6
9 0
8
1 1 0
6 8
3 4
6 8
13 4
4 0 0
15 0
6 8
7 6


The story of Thomas Barnaby was featured in an article of the magazine Family History Monthly (Jan 2010).
To read article, click on the pages below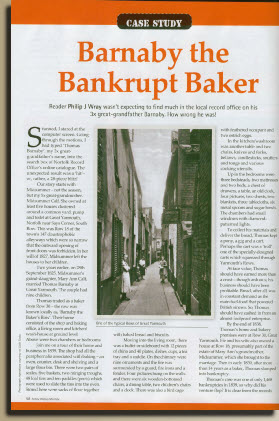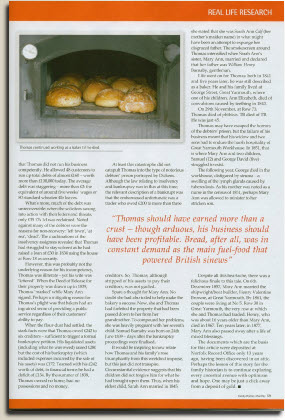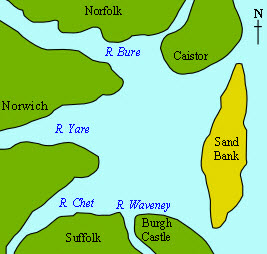 Baking was a back-breaking slog – one of the hardest of high-street trades. The baker's day began around four in the morning when the dough was made in a trough from flour, salt, warm water and the raising agent – 'barm'. The baker rested his stomach over the trough and clawed at it to mix the ingredients and then turned and kneaded the dough. This process was thirty minutes of painful exertion as his back, shoulders and stomach took the strain. Because of this gruelling regime, many bakers did not 'make old bones', dying in their forties.
The dough was left in a bowl to rise for about forty-five minutes when it punched and then kneaded again before the mixture was weighed and cut. The lumps of dough were placed in the 1lb, 2lb and 4lb tins. Again, the dough was left to rise until it 'bloomed' over the edge of the tin at which point the tin was pushed into the oven using a peel – a long wooden paddle. The temperature of the oven would have been pre-tested, perhaps by the baker placing his hand or elbow inside the furnace and watching the hairs of his arm shrivel.
At least this catastrophe did not catapult Thomas into the sort of notorious debtors prison described by Dickens and Thackery. Although the law relating to insolvency and bankruptcy was in flux at this time, the relevant description of a bankrupt was that the embarrassed unfortunate was a trader who owed £200 to more than three creditors. The logic behind this was that traders were deemed more likely to suffer a misfortune which was outside their control, such as a merchant's ship foundering. So, Thomas, although stripped of his assets to pay their creditors, was not gaoled.
Astonishingly, there is a large holding of original documents at Norwich Record Office which describe exactly what happened to Thomas. It comprises: a detailed list of debtors and creditors; the fastidiously-described actions of the solicitors who managed the case; an inventory of Thomas' home and business and the legal documents relating to the sale of Thomas' properties.
Thomas case was one of only 1,468 English bankruptcies in 1839, so why did his venture flop? At face value, Thomas should have earned more than a crust. Though arduous, his business should have been profitable. Bread, after all, was in constant demand as the main fuel-food that powered sinews. As well as having a never-ending repeat business, bakers had been virtually guaranteed a profit by Act of Parliament from 1266 which decreed that the price of a loaf should be calculated by adding a specific amount (which covered the baker's expenses and his profit) to the price of every quarter (320 lbs) of flour. This bread assize operated until 1815 in London and was gradually phased out in the provinces until its abolition in 1836. Even then, price evidence suggests that bakers kept to the allowances granted under the assize. So, Thomas should have cashed-in from an almost foolproof enterprise.
It is clear from the records that Thomas did not manage his business well. There was a list of 49 customers who owed him almost £160. In today's values, Thomas was owed more than £100,000. The average debt was more than £3 – more than four week's wages – which equated to an amazing number of loaves. The price of bread fluctuated wildly at this time - resulting in the repeal of the Corn Laws in 1845. The weekly ration of bread for a family of, say, two adults and three children was reckoned to be six 4lb loaves which would have cost in total 3/6 to 5/-.Thus, on average, the equivalent of 150 to 190 loaves was owed by each debtor. What is more, much of the debt was unrecoverable. When the solicitors swung into action with their letters and threats, only £35 17s 1d was reclaimed. Against many of the debtors, the reasons for non-recovery were noted: 'left town', 'at sea', 'dead'.
Spare a thought for Mary Ann. No doubt she had also toiled to help make the bakery a success. Now, she and Thomas had forfeited the property that had been passed down to her from her mother. To compound her problems, she was heavily pregnant with her seventh child - Samuel Barnaby was born on 24 June 1839 - days after the bankruptcy proceedings were finalized.
It would be wonderful to now describe how Thomas and his family's rose triumphantly from this sorry impasse, but this just did not happen. Circumstantial evidence indicates that his family did not forgive him for what he had brought upon them. When his eldest child, Sarah Ann married on 20 December 1845 she described and signed herself as Sarah Ann Calf (her mother's maiden name) in what might have been an attempt to expunge her disgraced father. (There is no doubt that she was Sarah Ann Barnaby as her father is noted as Thomas Calf, baker).
When another daughter (Mary Ann) married, she gave her father as William Henry Barnaby, gentleman. It also seems that Thomas and Mary Ann were living apart during the bankruptcy proceedings as separate journeys were made by the solicitors to obtain their signatures to documents.
Both in 1841 and five years later, Thomas was described as a baker in official documents. In 1841 he was living with his family at George Street, Great Yarmouth.
Thomas died of phthisis at Row 73, Great Yarmouth on the 29 November 1846. TB died of TB. He was just forty-five. The informant was not his wife, nor any of his children but Amelia Barnaby, about whom I can find no information. It may be that Thomas moved in with a relative, perhaps a brother, as three years later, in 1849, a John Barnaby (59) also died of phthisis at Row 73. Notification of his death was made by Mary (not Ann) Barnaby.
Thomas may have escaped the horrors of the debtors' prison, but due to the failure of his business his widow and two sons endured the harsh hospitality of Great Yarmouth Workhouse. In 1851, that is where Mary Ann and two children, Samuel (12) and George David (5) struggled to exist. The following year, George died in the Workhouse, disfigured by struma – a swelling of the lymph glands caused by tuberculosis. As his mother was noted as a nurse in the census of 1851, perhaps Mary Ann was allowed to minister to her stricken son.
Yet there was a felicitous finale to this tale. On 6 December 1857, Mary Ann married the shipwright/boat builder, Henry Valentine Browne at St Nicholas, Great Yarmouth. Both gave their address as Row 36 and Samuel Barnaby was a witness.
Even on this occasion Mary Ann possibly sought to raise a smokescreen over her unhappy past as she deliberately affirmed that her father was William Henry Carr, mariner. In fact, her father was Richard Francis CALF - although her son, who was a master mariner, was William Henry.
In 1861, the couple were living at No 5, Row 30 in Great Yarmouth, the very row in which she and Thomas had been so embarrassed. Henry, who was about sixteen years older than Mary Ann, died in 1867.
Ten years later, in 1877, Mary Ann also passed away after a life of mixed blessings.
(Postscript: The documents which are the basis for this article were deposited at Norfolk Record Office only thirteen years ago, having been discovered in an attic. Perhaps the lesson of this story for the family historian is to continue exploring every ancestral avenue with optimism and hope.)
Although this was probably not the underlying reason for his incompetency, Thomas was illiterate – although his wife was 'lettered'. Both 'marked' their marriage certificate (Mary Ann possibly doing this so as not to embarrass her new husband). But when the Deed of Release for their property was drawn up in 1839, Thomas again 'marked' while Mary Ann signed.
When the flour-dust settled, the stark facts were that Thomas owed £242. His assets (including what he was owed) when liquidated raised £280 but the cost of his bankruptcy, including expenses incurred by the sale of his assets, was £172. In financial terms, he had a deficit of £134. The machinations of the insolvency assignees revealed that Thomas had struggled to stay solvent as he raised a loan of £30 in 1834 from William Henry Barnby (Midsummer's joint executor, see above) using the house at Row 18 as security.
In the summer of 1839, Thomas owned no home, had no possessions and no money. To compound his problems, another son was born about this time.
In the kitchen/washroom there was another table and two chairs, knives and forks, bellows, candlesticks, snuffers and various cooking utensils.
Up in the bedrooms were three bedsteads, two mattresses and two beds (there were two adults, two girls aged 14 and 13, and three boys of 9, 8 and 3 in the household at the time), a chest of drawers, a table, an old clock, four pictures, two chests, two blankets, three table cloths, six metal spoons and a sugar bowl. The bedrooms had small windows with diamond-patterned lights.
To collect his materials and deliver the bread, Thomas had a pony, a gig and a cart - perhaps a 'troll'.
Baking was a juggling act as when one process was completed, so a new one began so that there was a constant stream of loaves waiting to be baked – first the white, then the brown. Finally, the steaming loaves were turned out onto trays and displayed in the shop or delivered to customers.
By about 3.30 pm the baker would begin to close down. The flour for the next day was measured and the bread tins, scales, weights, counters and tables were cleaned in readiness for the morrow.
As the oven was rarely allowed to burn right out, the baker might allow his neighbours to cook their stews and meat in his oven overnight, charging a penny for the service.