I begin with an account of my quest to discover more about my god-mother.
What did I know of her? I eventually recalled (after much memory flexing) that her name was Edith Dunne; she had produced a slim book of verse (a copy of which was thrown out after my mother's death); she lived near Crosby, Liverpool (I remembered a Post Office Savings Bank Account book, opened for me by her at Crosby, which contained the deposit of a princely £1 – evidence that my god-mother took her spiritual duties seriously?) and that she was alive in the mid-1950s (we spent a week's holiday at her home around that time). This was for now sufficient information with which to begin a search, but I didn't know if she had married or was a spinster.
There were two obvious lines of enquiry to follow: I spent £10 employing a researcher at Liverpool to trawl the street directories of Liverpool in 1955, 1965 and 1975 for Edith Dunne. While awaiting the results, I searched the catalogues of the British Library – did they have a record of her book of poems? I felt this was a long-shot, believing that her volume was probably a 'vanity-run'.
To my surprise, the British Library search produced a hit: 'Dunne, Edith M - Poems 1945'. The inclusion of a middle initial would also help to identify my godmother. I optimistically ordered the book using the Inter Library Loan Scheme, but doubted that the book would arrive.
On 13 September 2008, the researcher sent an e-mail which listed only three Edith Dunn(e)s at Liverpool in 1955. One was fried fish dealer – possibly an unlikely occupation for a poet. The most likely candidate (the only one who spelt her name with an 'e' - Dunne) was living at 62 Victoria Road, Crosby, Liverpool. All three ladies had married.
Three days later, the researcher (who had truly gone the extra mile) sent a follow-up e-mail. Gold! He had found a cutting in the library's biography file for an Edith Dunne who was living at Victoria Road, Crosby and there was a copy of her poems dated 1949 in an old shelf catalogue . The cutting was from the Liverpool Echo dated 26 April 1961. It gave the biographical information that Edith was 81 years old, her husband had died in 1942, and they had no children.
The search for my godmother
Edith's parents and early life
Edith's father, William Freeman was born at Portsmouth in about 1857. He married a local girl, Elizabeth Putman, at Portsmouth in late 1878. William was a jeweller and watchmaker and in 1888 and 1901 he was trading from 147 High Street, Old Portsmouth. This was situated near the Sally Port and close to the homes of my mother's family (the Mills) who had lived in the notorious Old Portsmouth for a century.
Edith was born in 1880 at Portsmouth, the oldest child of three. When young, her parents encouraged both an interest in travel (she and her father travelled abroad when she was a school-girl) and religion (she began attending church at the age of four). Edith was involved with Sunday school work as a teenager and was also a keen chess player. By 1901, she was studying at Whitelands Teacher Training College at Chelsea.
Back in Portsmouth, she had a baptism roll of 365 at St Saviour's Church, Twyford Avenue, Portsmouth. This church was near the address at which she was living when she married -12 North End Grove. Edith married Hubert Elsmere Dunne (who was living at London, WC1) at St Mark's Church , North End, Portsmouth. Hubert was seven years older than his bride (who was aged 44). He was Irish and had been Justice of the Peace for County Down.
Edith indulged her love of travel with her husband. In 1961, she said, 'I didn't want to sit down and be waited on for the rest of my life after I was forty, so I decided to see the world'. The couple visited Egypt (where she rode a camel), Syria and Palestine in 1928, returning to Plymouth from Port Said on 7 September aboard the Majala. They were then living at 35 Marlow Road, Cambridgeshire.
By 1935, Edith and Hubert had moved to Liverpool. Twice they disembarked there from the Nova Scotia: on 3 October 1935, returning from Boston, Massachusetts, USA and again on 30 October 1937 after voyaging from St John's Newfoundland, Canada.
World War II curtailed their adventures and Hubert died at Liverpool in the late spring of 1942. The widowed Edith visited Halifax in Canada returning on the SS Aquitania (shown above)on 3 June 1947. She was living then at 62 Victoria Road, Great Crosby which was to be her home for about twenty years As this address was where her father-in-law, John H. Dunne (a wine merchant/agent born in Ireland), was living in 1901, it is possible that Hubert inherited his father's home.
In 1948 Emily travelled to Africa, returning from Mombasa on the Bloemfontain.
We visit Edith at Crosby, Liverpool
It was in about 1954 that my mother took my sister and I to spend a week with Edith at Victoria Road, Liverpool. Unusually, I have clear memories of this visit. We used the rumbling Docklands Overhead Railway; travelled by tram; enjoyed a coach trip into Wales; went to the sands of Southport; drove through the Mersey Tunnel and saw jellyfish in the Mersey. I recall that Edith's home was detached with an enclosed high, brick wall and that there were two staircases which we loved to explore. I can 'see' Edith at the breakfast table as we ate boiled eggs and can recall some essential 'spiritual and moral guidance' that she gave me (her god-son) to 'always chew each mouthful of food at least thirty times'.
Edith again visited Canada in 1955, returning from Montreal to Liverpool on the Empress of India. While there, she called at the editor of a newspaper in St John's, New Brunswick with a poem and was 'persuaded to leave him fifty-two poems – one for every week of the year'.
Up in the air - aged eighty-one
By 1962, Edith was again living in Cambridgeshire. She made her first flight in a glider in June, aged 81 (see above). This is how it happened: she was interviewed by a local reporter. She told him, 'All my life I have wished I had a pair of wings'. John Hulme, a Cambridge University gliding instructor read the news story and offered a flight in a glider (a moment of 'wonderful elation') which was accepted 'without hesitation'. She was undaunted by a two-hour delay to the flight due to a fault and Mr Hulme said that she was 'one of the most relaxed and confident passengers he ever had'. The glider reached 2,000 feet and Edith showed 'no trace of fear or apprehension'. This was a typical comment about a woman whose philosophy was: 'If I trust, I need not fear; if I fear then I do not trust'.
In Liverpool, Edith again she threw herself into church work being closely connected with St Luke's and St Saviour's Churches at Great Crosby and St John's Church, Waterloo. For a time she was a representative of St John's Church on the Liverpool Diocesan Council – the first woman to be so appointed. She was involved with Sunday school activity for twenty years.
Edith was also a poet: 'her main interest in life was writing'. She began writing at the age of fifteen and was a member of the Writer's Circle - attending one of their summer schools in 1957. Edith wrote to inspire and give solace to others. Many of her poems had a religious or moral message. She was a regular contributor of verse to the Liverpool Herald and was often contacted by strangers who wrote that they had found comfort from her poems
Edith's articles, stories and poems were published in newspapers and magazines. She also corresponded with more than a hundred people in Britain and the rest of the world.
Many of her poems were collected into a book (below) which was dedicated to her mother. In the forward, Edith wrote: 'It is with diffidence that I send forth these verses, but if a single line can help one individual, I shall be glad that I ventured; having no children to give to the world, in these I humbly offer the best of my spirit, heart and brain. Most of the work, I feel, is not really 'mine', it just 'came' to me in the night, or early morning, in the street or while doing household duties, so that during many years, the verses accumulated and some of them are now printed in this book'. Probably, it was an injustice to describe her book earlier as a 'vanity-run' – the blue-covered book supplied by the British Library was a different edition compared with the black book which my mother kept.
Edith died in March 1965 at Flat 6, 5 Victoria Street, Malvern after a short illness.
Canon Paul Nichols ('one of her many friends') came out of retirement to conduct her funeral service at St Luke's Church, Crosby. Edith was interred with her husband in St Luke's Churchyard.
Towards the end of her life, Edith declared, ' I have enjoyed all the things I have done during my life because one of the most pleasant things in life is meeting and talking to people'.
Edith left a net estate of £9,057 and the terms of her will (dated 10 December 1960) reflected her friendships, generosity and interests. These were her bequests:
To: Rose Freeman, sister-in-law, of 4 Glenthorne Avenue, Addistone, Surrey - £500
To: Agneta Freeman of 172 Havant Road, Cosham, Hants. - £500
To: Annie Frances Gertrude Hulme of 8 The Ness, Hackington, Canterbury, Kent - £100
To: Monica Rowsell, c/o The Vicarage, Ely - £100
To: Grace Wray (my mother) of 86 Northern Parade, Portsmouth - £100
To: Barbara Chubb and Barrie Larde of 204 Sandringham Road, Perry Barr, Birmingham - £100 each
(Note: originally the last five beneficiaries were bequeathed £500 each, but the will was amended.)
To: Ethel Freda Eccles of 39 Pickwick Road, Dulwich, London (in memory of October 1948) - £100
To: Muriel Lowry of 78 Upper Rathmines Road, Dublin - £100
To: The British and Foreign Bible Society in memory of the Rev. Thomas Charles of Bala, Wales - £100
To: St Dunstan's Institute for the Blind - £100
To: Dr Barnado's Homes - £100
To: Church of England Children's Society - £100
To: National Institute for the Blind - £100
To: Daisy Coote of 5 Playfair Road, Southsea, Hants - £100
To: Joan Lilley - £20
To: Ann Lilley - £20 (Both the above of 'Bank House', 372 Green Lanes, Palmers Green, London. Joan Lilley was Daisy Coote's daughter and Ann was Daisy's grand-daughter. Ann told me that she had been 'put through college' by the generosity of Edith)
To: Marjorie Gorrie c/o 62 Victoria Road, Great Crosby - £100
To: Wilhemina Steven of 124 Berryhowwes Road, Cardonald, Glasgow - £100
To: St Saviour's Church, Twyford Avenue, Portsmouth - £75
To: St Luke's Church, Great Crosby, Liverpool - £75
To: St Saviour's Church, Great Crosby, Liverpool - £75
To: St John's Church, Waterloo, Liverpool - £75
(I wish to record my grateful thanks to all Churches attended since I was four years of age.)
To: Rita Peel - £50
To: Beatrice Jennings -£50
To: Kathleen O'Hare - £50
To: Eileen O'Hare - £50 (The last four of 33a Clarendon Road, Southsea.)
To: John Bishop Rowsell jnr. Of St Mark's Clergy House Connaught Road, Reading - £50
To: James Herbert Rowsell of Flat 4, 'Southleigh', Kirkstall Lane, Leeds - £50
To: Christopher Yelverton Dawbarn - £20 (as a small token of the happiness of past years)
To: Laurence Mansfield Curtiss Vine - £20 (my friend).
To: Elizabeth Mary Freeman (my niece) – the residue (£5,877).
To: Those who may owe money to me, the debt (was bequeathed) including any outstanding interest.
I was pleasantly surprised that my mother figured so early in the list of legatees. Clearly Edith intended to leave her £500 until the list was totted-up and some legacies were reduced presumably to increase the amount left as the residue. Why was my mother so regarded by Edith and why did Mum ask Edith to be my god-mother?
After so many facts, we now enter the misty world of conjecture. A first thought is that, when I was born, my mother, a committed and enthusiastic Anglican, would have seen Edith as a most suitable lady to be a godmother.
Both Edith and my maternal family lived in Portsmouth. However, as Edith and Mum were born in 1880 and 1912 respectively, there was a thirty-two year gap between their ages. Edith was of the same generation as my grandparents who were born in 1880 and 1884. Perhaps, here is the link. When I asked my uncle about Edith, he said, 'She was my (and Grace's) mother's friend'.
My grandparents were living at Ophir Road, Portsmouth which is a turning off North End Grove, Edith's home in 1925. Was this proximity the reason that a friendship was forged?
Daisy Coote and her daughter and grand-daughter, Joan and Ann Lilley are also mentioned in Edith's will. There is a definite link between my grandparents and Daisy. She and my grandfather were cousins. They were also close – Daisy allowed my grandparents to stay with her at Playfair Road, Southsea when my grandfather was demobbed. She also regularly visited my mother in the 1950s. But, unless it was through my grandparents (which is quite possible) how did Edith and Daisy's paths cross?
The final part of the conundrum is that my mother lived in London and Hertfordshire from 1930 to 1946 and yet Mum asked Edith to be my god-mother! As we visited her in the 1950s, clearly there was a fond relationship.

This remarkable woman was my god-mother!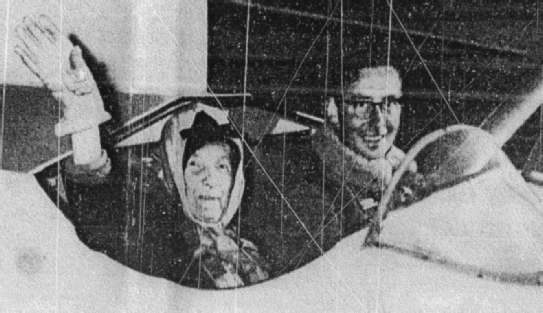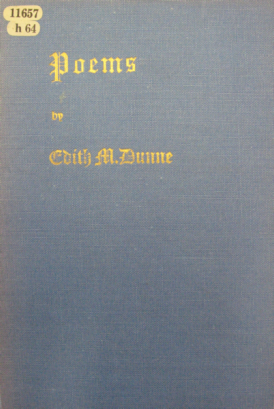 Armed with these facts, it was time to sift the Births, Marriages and Deaths Indexes. I first searched for the death of Edith M. Dunne after 1961. The most likely candidate died in the March quarter of 1965, aged 86 – but she had passed away at Malvern in Worcestershire, which is some distance from Liverpool.
I then found a marriage of an Edith M Freeman to Hubert E. Dunne in the June quarter of 1925. An indication that this was my god-mother's marriage was that it took place at Portsmouth – my mother's home town. I sent for the marriage certificate.
My researcher e-mailed again. He had found two more cuttings about Edith Dunne at Crosby library which he would send. They included a report of her death – at Malvern. I immediately visited Cardiff Probate Registry where I found details of and ordered her will. Although she died in Malvern, her will was proved at Liverpool. It also revealed her middle name, which was Mary.
When Edith's marriage certificate arrived, it showed that she married on 5 June 1925 at St Mark's Church, North End, Portsmouth (where my mother also married). She was living at 12 North End Grove, Portsmouth and her father (who was deceased), was the jeweller, William Freeman.
With the accumulated data, it was now possible to locate Edith and her family in the census returns. The final piece in the jigsaw was the news that her book of poems was waiting to be read at a local library.
It was time to write the story of Edith's life.
Then, in 1958, she realised an ambition to journey to India. Edith spent four months there and rode an elephant for the first time. She returned on the RMS Circassia from Bombay, travelling first-class.
Canada again was Edith's destination in 1962. She spent more than two weeks travelling by ship and train to Victoria, British Columbia where she stayed for three months with a married cousin from Eastbourne.
Incredibly, Edith was now eighty-one years old. No wonder that the Liverpool Herald described her as an 'Ageless Globe Trotter' in a front page headline.
As well as the trips which are documented, she also visited Iceland and Spain. She 'delighted in showing her many treasures collected on her travels to her friends and visitors, telling them many stories of her exploits'.