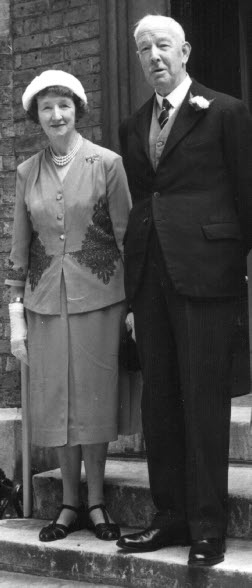 Harold Saunders was an exceptional philanthropist and had an impressive career
which culminated in a knighthood.
However, Harold and Gertie's two children were scarred by their ordeals during World War II - experiences which blighted the whole family.
Silversmiths left their hallmark on the first twenty-five years of Harold's life. Several of his ancestors were smiths; Goldsmiths Hall paid for his further education and there is a strong likelihood that silversmiths were the avenue whereby he met his wife.
Harold Leonard Saunders was born on 22 September 1886 at Dalston near Hackney, London. His parents were Alfred Francis Saunders and Maria Mary (nee Jaggers). They had three sons; Frederick Nicholas (b1883), Harold (b1886) and Sydney (b1890).
Harold's great grandfather, Joseph Saunders, was a cow-keeper at St Pancras, London. His grandfather, William, was a watchmaker and watchcase maker in his early adult life before becoming a milkman and a laundry man. He then retired to the charitable accommodation of the Clock and Watchmakers Asylum at East Barnet, Herts at the end of the nineteenth century.
Harold's father, Alfred, was also a watchcase maker in 1881 and in the following year he was appointed to Goldsmiths Hall as an Assay Official Assistant. In 1902 his annual salary was £190 which increased in 1917 to £300 when he was promoted to the position of foreman.
On Harold's maternal side, his great grandfather, Richard Jaggers, and his grandfather, Joseph, were silversmiths as were two of his brothers-in-law, Joseph and Alfred Jaggers in 1901.
Background of the Saunders family
Harold's childhood and schooldays
The Saunders lived at 105 Graham Road, Dalston from 1891-1901. At the turn of the century, it was designated a middle class, well-to-do area.
Harold was educated at Bancroft School, Woodford Green, Essex which was eight miles north east from his home. He left his mark on the school. He was remembered as being 'severely practical' and for his athletic talent, being an 'unusually clever' cricketer and footballer and captaining the school teams. He once scored ten goals in a football match and also hit a century playing cricket.
At Bancroft's, Harold won a three-year scholarship in 1903 to the Central Technical College, later to be known as the City and Guilds Engineering College. He was sent there at the expense of Goldsmith's Hall which often cared financially for their members' families. He trained at the college as an electrical engineer and received a BSC degree from London University.
On 2 September 1907, Harold joined the Patent Office as an Assistant Patent Examiner. His initial salary was £150 a year. (This increased in annual increments of £15 until 1924 when he received £390 and an allowance of £50.)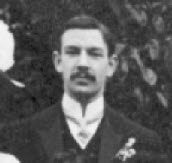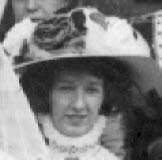 In 1909, Harold, aged 23, was a guest at my grandparents, Charles Mills and Edith Dee's, marriage. Although he was a peripheral figure in the wedding photograph, his presence was undoubtedly due to a growing attraction toward Edith's sister, 'Gertie'.
Gertrude Florence Dee was born at 136 Powerscroft Road, Clapton on 5 April 1887 at 6.55 pm. She was the second of four daughters born to George James Dee and Annie (nee Dear).
Harold and Gertie married at the parish church of St Mary, Stoke Newington, London on 15 July 1911. Their wedding was reported at some length in the local newspaper which included a list of 98 guests (including the Mayor of Stoke Newington) and their presents. This exceptional coverage was not only because of the bride's father's position in the local community but also because Harold was 'particularly well known' in his local parish.
The bride wore a 'charming dress of white silk with a veil surmounting the wreath of orange blossom upon her hair and her bouquet was composed of lilies and roses. She had six bridesmaids: her sisters, Dora and Marjorie Dee; cousins Ethel Dee, Violet Jamieson and Elsie Dear and Chrissie Walden. They were 'gowned in cream voile with large hats trimmed with pink roses. They carried bouquets of pink roses and wore gold brooches set with pearls and turquoises' which were Harold's gift. His best man was his brother, Sydney.
The reception, with around eighty guests, was held at Edith's parents home, 'Brooklyn', Fairholt Road, Stoke Newington. Harold and Gertie left for their honeymoon in Bournmouth, Gertie wore 'a travelling costume of navy blue and a Tuscan hat trimmed with velvet and cherries'. Later, the guests played bowls and croquet on the lawn and the evening ended with dancing and an impromptu concert.
The guest list reads like a convention of silversmiths. The Jaggers and the Saunders were present as well as Edith's grandfather, William Dear (who was also from a family of silversmiths) and his sons who were silversmith freemen. It seems likely that the Dears were the link which was instrumental in the couple meeting. In addition, six members of the Jamieson family were invited. James Jamieson also worked at Goldsmith's Hall as an Assay Official and he and a brother married Dears. One might imagine that the fourteen wedding gifts of silverware - such as the cake basket, pepper castor and rose bowl - were given a critical and knowing appraisal by many of the guests. (Click: Wedding List to see guests and presents)
Of their children, Joyce and John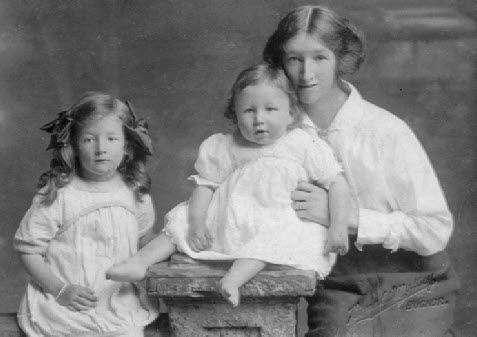 Despite the report in Who's Who (which omits John) Harold and Gertie had two children: Joyce Gertrude (born 9 July 1912) and John Harold (3 March 1915).
The family lived initially at 88 Burford Gardens, Palmers Green and then at 92 Bethune Road, Stoke Newington.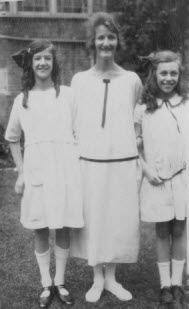 Left: Joyce aged fourteen and John aged about seven.
Right (from l to r): Joyce, Marjorie Dee and my mother, Grace Mills photographed circa 1924. Joyce and Grace were born within a fortnight of each other)
Harold Saunders and World War I
During World War One, Harold continued to receive a salary from the Patent Office. He joined the Royal Flying Corp (the forerunner of the RAF) with the rank of Lieutenant and, later, was promoted to Captain.
He attended the RFC wireless school at Brooklands for eighteen months and then served in Egypt at Alexandria and Cairo. He was mentioned in dispatches and was demobbed 19 March 1919.
It was during this period, on 24 October 1917, that Harold, presumably concerned with the potential dangers of war, made his will. Perhaps this was prompted by the death of his brother, Frederick, four days earlier as he served in the Royal Field Artillery. It was witnessed by George and Annie Dee (one can almost hear their words of encouragement) and his entire estate was bequeathed to Gertie.
Following the declaration of peace, in 1919, Harold resumed his duties in the Patent Office. He also read law and in 1923 he was called to the bar by the Middle Temple. On 1 January 1925 he was promoted to the position of Patent Examiner with a salary of £460. This increased with each succeeding year by £20. He and his family moved back to Palmers Green to a semi-detached house at 22 Lakeside Gardens.
The Exhibition and Loan Fund
During this time Harold had been a member of the Old Bancroftian Association and in 1925 he was elected as President. It was then that he floated an ambitious idea to help worthy boys who had not achieved a high academic standard to find a worthwhile and satisfying career. His vision led to the inauguration of the Exhibition and Loan Fund which is still in place today (2009).
In the early days there were serious misgivings that the demand for assistance might easily outstrip the contributions from the 500-600 former pupils in the Association. However, Harold and his supporters canvassed other Old Boys, twisted a few arms, and a stream of donations and annual subscriptions swelled the Fund. Probably Harold was driven to some extent by his own gratitude for the financial help donated by Goldsmiths Hall for his education. Harold dealt personally with boys, parents and Head Masters and handled the correspondence between them and the Fund Committee.
Over the years, many have enjoyed the patronage of the Fund - accountants, stockbrokers, solicitors, engineers, teachers, civil servants, surgeons and business people. By 1952, the Fund had expended around £5,000 helping more than 60 'exhibitors'.
A continuing interest in sport
Harold's interest in the Old Boys Association also extended to the sports field. He was Secretary of the Football Club and, typically, transformed a small, unsuccessful group of nomads into a thriving club with three teams and its own home ground. In the summer he played cricket for the Old Boys. His final game was on 23 September 1951 - when he was 65 (not out?).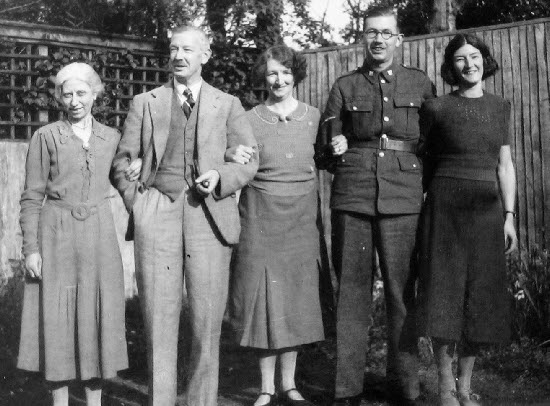 From l to r: Maria Saunders (Harolds's mother), Harold, Gertie, John and Joyce
Harold's career and knighthood
Towards the end of his career, Harold was rapidly promoted: Senior Examiner (1937), Superintending Examiner (1938-40), Assistant Comptroller (1941-4), Comptroller (1945-6). His speciality was electric arc lamps. His salary rose correspondingly from £827 in 1937 to £1750 in 1946. An executive of the Patent Office has commented on why Harold spent his first twenty-eight years in relatively junior positions. The Patent Office was 'allowed to employ a fixed number only so that he had to wait' until a senior person retired before promotion could be given.
In 1946, Harold was the chairman of the International Conference on the treatment of German Patents. The following year, he was the British delegate at the Neuchatel Conference of the International Union for the Protection of Industrial Property. In 1948, he was again the British delegate at the Brussels Conference for the revision of the Berne Copyright Convention. For the next five years he sat on the Monopolies and Restrictive Practices Commission.
In recognition of this prestigious work, particularly relating to German patents, Harold was knighted in 1946. The Dee family was understandably very proud of this honour. Gertie's mother, Annie Dee, wrote to a teenaged grandson on Wednesday, 31 July, 'Uncle Harold went to Buckingham Palace last Tuesday to be finally knighted by the King, and Aunt and John were invited too. Harold had to walk to a platform where the King was and bow to him, then kneel on a velvet cushion and the King laid his sword on each shoulder. (Harold) then stood up and again bowed and the King shook hands with him and said a few cheering words. Then, Harold had to walk backwards away from the King and another took his place...we're very proud to have a knight in our family especially as he worked his way up and deserved the honour for the work he had done. Aren't you pleased to have Sir and Lady Saunders as your uncle and aunt?'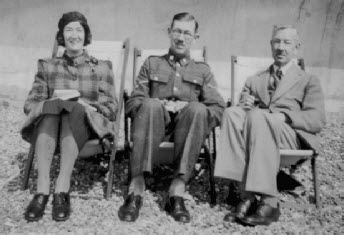 Unfortunately, in stark contrast to his successful career and philanthropic endeavours, Harold's family life was blighted - as a direct result of the Second World War.
His son, John, had also been educated at Bancrofts. He trained to be an actuary and became a chartered accountant. Like his father, he was a keen cricketer. He enlisted in the army and served as a Major in the Royal Artillery on the Burma battlefield from where he was demobbed in 1946.
While he was in Assam he had an operation for appendicitis which did not heal well and a second operation was needed. He also appears to have contracted an 'eastern disease' which resulted in his blood having a severe deficiency of sugar.

L to r: Joyce, John and Harold Saunders
On his return, he was emaciated and weak. He was treated for this condition in hospital. Perhaps he was also concerned about how to catch up on the years of work he had lost while in the army. On April 6, 1948, he went to a hotel at Brighton to recuperate.
After his break, John did not return to his home at Palmers Green as expected, so Harold traveled to Brighton. The hotel told him that his son's belongings were still there. Harold contacted the police and later, on 15 April, John's body was found at the bottom of the notorious cliffs of Beachy Head in Sussex.
At the inquest, the Coroner ruled that as John had no financial worries and in the absence of evidence that he wanted to take his own life, he 'must return an open verdict'.
John's room was kept as a memorial - nothing was moved. But he was rarely mentioned after his death. He doesn't feature in Harold's entry in, Who's Who or in Harold's newspaper obituary.

Joyce was also touched by the fallout of war. She had joined the WAAF and one of her duties as a Section Officer was to plot the progress of bombing raids.
Perhaps she became too involved with her subjects. When the war finished, she apparently returned home in a disturbed state which worsened.
So many families had to deal with the psychological after- effects of the trauma of war.
L: Joyce circa1940, r: circa 1960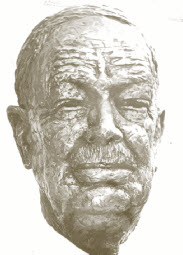 Harold died from a ruptured heart in late 1965 in the bathroom at his home - possibly following a previous heart attack.
His gross estate, which was left entirely to Gertie, was valued at £19,293 on which estate duty of £2,297 was paid.
As well as his outstanding civil service career, he is especially remembered for his enthusiatic philanthropic activities. His school, Bancrofts, commissioned a bronze bust of Harold which held pride of place on the school's main staircase. The inscription read, 'Secretary for over 40 years to the O.B. Exhibition Fund which he helped to found'.
Family members describe Harold as 'an affable old boy' and 'a very kind, approachable uncle'.
Following his knighthood, he and Gertie were often invited to dinners and social functions around London. He was knick-named, 'The Gay Knight', because of his rapid and boisterous style of dancing with Gertie.
Harold's bust at
Bancroft's School.
There is a hint that he might have felt some antipathy towards the Dee family as he seems reluctant that they should benefit from his estate. Indeed, Gertie's will did not include any of her own family among the bequests. It has also been suggested that there was a rift between him and his mother-in-law, Annie Dee - although she was happy to use his services by Power of Attorney during World War Two to manage and sell the houses she owned. She complained in frustration, 'He never got on with things'.
Gertie, now aged 78, was left with the problem of how to deal with Joyce. Gertie insisted that Joyce should continue living at home and became somewhat of a recluse, afraid that Joyce might be 'institutionalised'.
Eventually Joyce died at home on 25 August 1972. The cause of death was given as acute intestinal obstruction and volvulus (a twisting of the bowel). The informant was Mary Doreen Saunders who was described as an aunt. There was a post mortem but no inquest.
The problem of caring for Joyce then and in the future was resolved.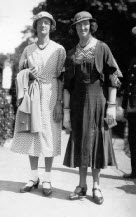 Three months after Joyce died, on 12 November 1972, Gertie also passed away as a result of a neoplasm (or tumour). Her gross estate, which was administered by Barclays Bank, amounted to £55,710. It was left in equal shares to Reginald Saunders (Harold's cousin), Mrs William Young of Shipham and Mrs Clive Walter of Redbourn, Herts. The latter two, I believe, were Harold's relatives. Her last will was made on 24 October 1972: two months after Joyce's death - which suggests that an earlier will would have provided for Joyce's well-being.
Gertie, by common consensus, was 'slightly eccentric' and 'a little weird'. For example, her lounge furniture was habitually covered by dust sheets and she needed notice before a visit so that the sheets could be whisked away. In her position as Lady Saunders she was often invited to perform official duties such as opening fetes which, for a modest lady, was somewhat incongruous and amused her family. She certainly had no airs and graces.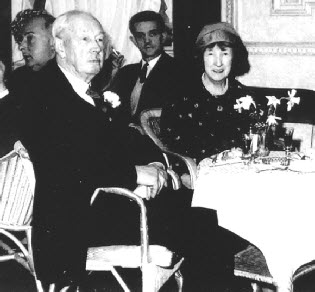 I remember meeting Gertie and Joyce. The last occasion was when they visited us in Portsmouth. How Mum must have cringed to receive them in our small home. I am ashamed to say that after a 'high' tea, I made my weak excuses and dashed out to play cricket. I can still see Gertie and Joyce waving 'goodbye' from the front room window.

(Click: Wedding List for details of who attended Harold and Gertie's wedding and the presents they bought. Gives an insight into the closeness of the family)