'The funeral of Councillor Dee took place yesterday in bright sunshine which was appropriate to the deceased's disposition'. So reported the Hackney Recorder.
At a pivotal moment in her life, George Dee's widow wrote, 'I thank God for giving me such a good husband'.
What had George Dee accomplished during his life to receive such plaudits?
Nine Elms, Surrey, may well conjure a picture of a leafy, suburban idyll near the city of London. In fact, in the middle of the nineteenth century, it was a triangle surrounded by a sprawling railway goods depot, the Gas Works and, to the north, the open sewer of the River Thames. This was home to the Dee family who, like many of their relatives, the Carvers and the Smarts, left their homes in the impoverished Hampshire countryside of Upper Clatford and moved to London to seek 'a better life'.
A new life in London for the Dees
William Dee, George's father, had been an agricultural labourer. The career move in his late twenties, sometime between 1848 and 1851, saw him settled as a brewer's servant at the Nine Elms Brewery and living at Frances Stahl Yard with his wife, Lucy, and first son, William.
The Yard was demolished during the next decade and in 1854 the Dees moved to nearby 4 Nine Elms Lane. William and Lucy's three younger sons, Robert, Thomas and George were all born into this environment. George James Dee was born on 27 March 1858 - although his arrival does not feature in either the parish records or index of births. Three years later, in 1861, the family was ensconced at 14 William Street, Lambeth: an area classified as 'poor' forty years later by Charles Booth. William was a brewer's potman.
More upheaval followed when the family moved north of the Thames to St John's Wood. William worked on the railway as a policeman and a railway inspector. By 1871, William had died (in his forties) and Lucy and George were living at 40 Gee Street (the 'Dees of Gee Street') cheek to jowl with three other families. Lucy was a charwoman and also received an annuity, probably as a result of the death of her husband. George was just twelve years old. Possibly, these experiences helped strengthen George and gave him a determination to improve his lot in life.
Over the next ten years matters had improved somewhat. Mother and son were living at 85 Glenarm Road, Stoke Newington - a middle-class area. Lucy was not working and George was supporting his mother by working as an ostrich feather dyer. (The finished products were fashion accessories for bridal parties and costumes.) Perhaps it is worth noting that of the four sons, it was George who stayed with his mother.
The next road to the north and running parallel to Glenarm Road was Powerscroft Road. Here, Annie Dear was living. She was the first surviving child of silversmith William Dear and his wife, Ann. She was born on 30 September 1859 at Lea Bridge Road, Upper Clapton, Middlesex and spent her childhood in this area.
We don't know how they met - did she buy an ostrich feather, perhaps, or did they meet in the neighbourhood? - but the couple married on 29 July 1882 at St Matthews Church, Upper Clapton.
George was slowly moving upwards socially. His occupation was given as a 'warehouseman' when he married and a witness at the wedding was Lucy Dewar, a professor of music. George described his father (formerly an agricultural labourer) as a 'farmer'.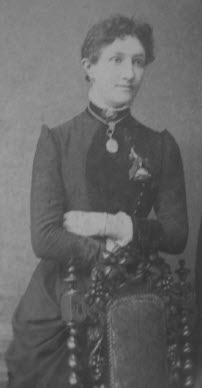 The Dees were living at 30 Glenthorne Road in 1882 and at 121 Almark Street, Lower Clapton in 1883. Between 1884 and 1887, two daughters were born - Edith Annie (Ead or Eadie) and Gertrude Florence (Gertie). But, Lucy Dee, George's mother, died on 7 October 1889 and was buried at Abney Park Cemetery. Between 1892 and 1898, George and Annie had two more daughters, Dora Elsie and Marjorie.
Dee brothers - businessmen
By 1891 George had opened at least one shop at 119 Church Road, Stoke Newington (which is just across the road from Abney Park) and the family, like many Victorian business people, was living above the shop. George was described as an oil and colourman selling what we would call today DIY and hardware materials such as paints and paraffin.
We might now reflect on what we can infer about his family. According to records from 1871 to 1891 George's older brother, William, was an oilman dealing in paint, as was Robert (1872-1891) and Thomas (1877-1881). The conclusion is inescapable that the brothers enjoyed a close relationship - they had a common trade. Also, in 1891, Thomas was living where William had resided in 1871. (See: Addendum)
George's little empire flourished. He was described as having, 'sound common sense and business ability'. He owned at least three shops in Stoke Newington (including 90 and 119 Church Street and 38 Victoria Road), each of which was run by a store manager.




George James Dee
bn 27 Mar 1858 Nine Elms
d 10 Mar 1924
Annie Dear
bn 30 Sept 1859, Upper Clapton
d 1 July 1949, Southsea







Edith Annie Dee
bn 17 June 1884, Clapton
Gertrude Florence Dee
bn 5 April 1887, Clapton
Dora Elsie Dee
bn 22 July 1892,
Stoke Newington
Marjorie Dee
bn 30 Jan 1898 Stoke Newington
In 1919 there was a whiff of controversy in George's political life. He had lost a local election but a few months later he fought back and regained his seat with a sizeable majority. The losing candidate said, 'I am sorry to have to introduce a jarring note but I want to say, with all seriousness, that I do complain most seriously of certain things that have been introduced into the Lordship Ward election.
I have it on evidence that certain canvassers on behalf of the candidate who led the poll went about taking advantage of the fact that I worship my God differently to others in the room...I do protest seriously against the fact that an Englishman born and bred in the neighbourhood cannot stand for election without this being used against him - as I can prove'.
What are we to make of this? Does it show a steely resolve on the part of George to retake his lost seat? Did he instigate the campaign to discredit his opponent because of his religion? It has been suggested that there was an anti-Semitic bias.
Whatever the truth of the matter, George was in high spirits when he was returned as councillor. He proposed that, 'in his opinion they could not find a better (returning officer) if they searched all London over!'.

George was a man of energy and ambition. Not content with having two children and managing shops, like his brother, Thomas Dee, he embarked on a career in local politics which lasted almost thirty years until his death.
In 1894, he was elected as a councillor in the Stoke Newington Vestry as a representative of Church Ward. At a time when the major political parties were Labour, Liberal and Conservative, George successfully stood as an independent municipal reformer.
He was to continue as a councillor (later representing Lordship Ward, Stoke Newington Borough) until his death. He sat on a number of committees being particularly interested in the work of the Highways and General Purposes Committee and was chairman of many at different times. He was reportedly offered the office of mayor on several occasions, but refused this honour due to family and business commitments (as well as, it is rumoured, the financial outlay required).
A pillar of the community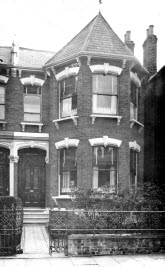 As well as his municipal duties, George had an interest in education being a school manager as well as vice-chairman of the group comprising four local schools. He was also a church worker being a sidesman all his life at the Parish church of St Mary, Stoke Newington and took a prominent part in the work carried on at the Mission Church.
A picture emerges of a man who was a respectable and respected pillar of the community.
Business was booming. By 1892, the Dees had moved from the rooms above the shop to 34 Hawkesley Road and then bought a newly-built, eight-roomed Victorian house (christened 'Brooklyn') at 95 Fairholt Road, Stoke Newington (shown left) in 1887/8 - a far cry from the squalor of Nine Elms slums!
It was a home with a garden large enough for a wedding party of more than sixty guests and for a tennis court! It was this that helped his daughters meet suitors.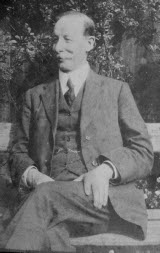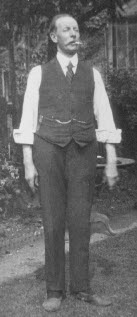 A father's pride in his daughters
Like many middle-class families of this time, George and Annie's daughters attended teacher's training college. When Marjorie was at Avery Hill College in London, she found the rules a little harsh and restrictive. This prompted a fatherly letter from George which provides an insight into his outlook. He wrote, 'there is one thing very certain, the girls must obey the rules until they are altered' and added 'it may be that some of the Rules are not right but try to get them altered without making any bother, for you see you have to please everyone including the Head. I am sure you will be tactful'.
As we have seen, George was proud of his family and put them before his civic duties. Family photographs show them enjoying the seaside airs together and a grandson recalls that the family would gather at 'Brooklyn' over Christmas when George would be 'the patriarch'. His feelings for his daughters can be assessed when in a letter to Marjorie he looks forward to celebrating her twentieth birthday, refers to her as 'my little sunshine' and describes her as a 'thorough English girl…there is nothing better in this world (believe me)'.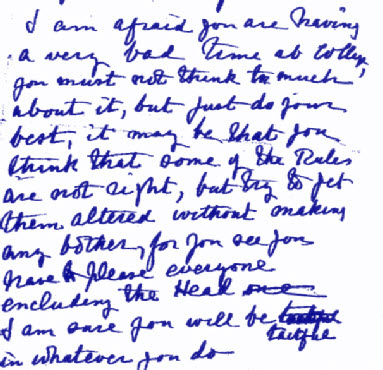 George died on 10 March 1924. He contracted influenza during a virulent epidemic. This developed into bronchitis which affected his heart and he passed away at four o'clock on Monday morning.
His funeral, on Thursday 18 March, was held at St Mary's Church at 2.15 pm and was attended by a large congregation which included local dignatories such as the mayor, the town clerk and several councillors. George was then buried at Abney Park Cemetery which was near two of his shops.
The announcement of his death and reports in the local newspapers impressively occupied several column inches which included many eulogies such as: He was 'a valued and highly respected resident'. George had 'a genial and kindly disposition' which 'gained him the affection and esteem of his colleagues'. He 'rendered yeoman service to the public' and at his funeral there were, 'many signs of respect and affection which he modestly gained'.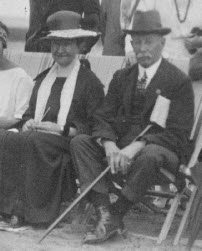 His will of 1919 indicates that he had amassed, 'plate, linen, china, glass, books, prints and furniture'. At his death, his gross estate was £6,110 (net £4,037). Apart from bequests of £25 to his daughters, the residue was left to his wife. It included four freehold and seven leasehold properties around Stoke Newington: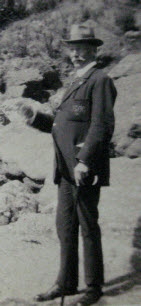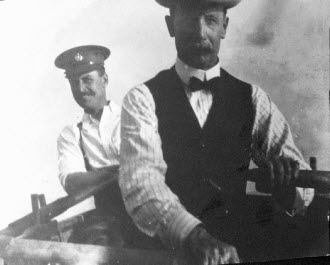 What overall view do we form of George Dee? Like many of this period, he rose rapidly from a humble background to middle class, a status of which he was keenly aware. He was an able businessman who believed in the wise investment in bricks and mortar. George was a hard working and astute local councilor who cared about his community and was also a leader of men.
Perhaps, the only jarring notes are sounded by the possible ruthlessness of which a political opponent accused him (This may be simply sour grapes. However, his brother, Thomas, is remembered as 'ruling with a rod of steel' and this might be partly true of George.) and his likely class-conscious treatment of his future son-in-law, Charlie Mills.
Charlie would cycle from Portsmouth to Stoke Newington to see Edith Dee, a round trip of one hundred and fifty miles, only to be turned away on more than one occasion. Charlie's son suggests that his manner of speech was 'rough and ready' and that he used the occasional expl**tive. George as a cyclist would have known the rigours of traveling such a distance but his dismissal of Charlie gives an indication of the strength of his inclinations although his reaction may have been influenced by his wife who was said to be, 'imperious, brusque and ruled the household'.
He clearly believed in the traditional Victorian virtues of the established church, the need to observe protocol and the importance of a close family life. His business and political life was well balanced by his interest in sport. He was a keen cyclist (see later) and a member of Brownswood Bowling Club.
But also, the impression is given, from talking to people who remember him, that there was an appealingly human side to George. His sense of play is recalled. When serving as a sidesman in church and the plate was being passed around, he would jingle coins in his pocket.
Once, he and his family were dining out at 'Bobbies' at Eastbourne. The table was set under a glass dome which had sprung a leak. In the middle of the restaurant, George opened his umbrella!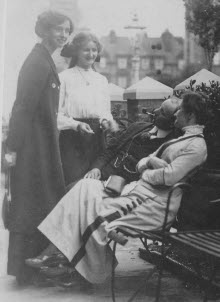 George Dee - Captain of Clapton Wanderers Cycling Club
An insight into George's character is provided by his involvement in cycling as captain of his club. He was voted an 'admirable skipper'.
Cycling was popular in the twenty years from 1870. In 1874, there were seven cycling clubs in the Greater London area. By 1882, the number had mushroomed to one hundred and eighty-four.
It was mainly a pastime enjoyed by the middle classes because of the prohibitive cost of the machines. At the weekend the massed ranks of the clubs would pedal forth into the countryside leaving behind the grind and grime of life in the city. They relished the pleasures of nature while enjoying the benefits of exercise. It was seen as a way of recovering health and expanding the mind after being cooped up in town and of preparing for the stress of the week ahead.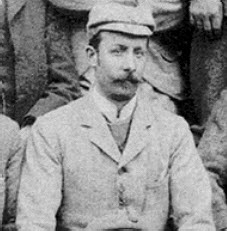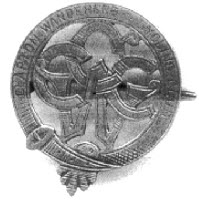 H. G. Wells drew upon the pleasures of cycling in his book, 'The Wheels of Chance' (1896). It features a shop assistant who finds freedom and adventure by using his annual holidays to travel on empty, unspoiled, country roads.
Cycling clubs were social organisations. Members would meet regularly at their headquarters to talk, reminisce, argue, eat and drink. A sense of belonging was provided by the comfortable club uniform which was a symbol of order. As can be seen from the photograph, the members wore a pill box cap, tight knickerbocker trousers, high boots and a jacket without frills and flaps. The crowning touch was the club's unique badge (left) which was usually pinned to the cap.
The fellowship of other riders was important when the team was assaulted, when someone crashed or the unreliable bicycles broke down, found out by the rigours of rough roads. The captain of the club would lead the rides and set the pace as the group glided through lanes and villages.The clubs offered a 'freemasonry of the wheel' but for all that, there was a dash of the bohemian as it was an activity considered vulgar by the upper classes and attacked (sometimes literally) by others.
George evidently was sociable, an organiser and a lover of exercise and nature.
George with his brother-in-law, Charlie Mills 1919c
A sample of George's handwriting
Seated: George and Annie with Gertrude Dee. Back row l to r Dora: Joyce Saunders and Marjorie. The boy is John Saunders
Annie Dee with her daughters, l to r Edith and Gertrude (kneeling), Marjorie and Dora (seated).
An informal scene of George and Annie with their daughters, Marjorie and Dora
Freehold houses:
108 Church Street
65 Spencer Grove
71 Sandbrook Road
4 Yoakley Road
Leasehold houses:
6;34;46;116 Hawksley Road
95 Fairholt Road
119 Church Street
13 Ayrsome Road
Value
£650
£250
£350
£250
£610
£650
£650
£140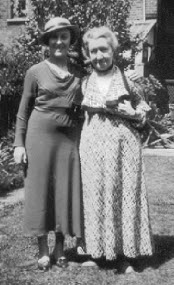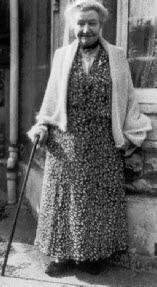 After the death of her husband in 1924, Annie had a number of companions including my mother who stayed with her for some years at Stoke Newington (shown left).
The late thirties heralded some dramatic changes for Annie. She fell down a short flight of stairs and broke her femur. To help her seventy-eight year old bones to knit, she was confined to her bed with her leg securely sandwiched between two sandbags. But the limb didn't set properly and she became an invalid. Miss Payne became her paid companion.
Annie walked with the aid of two silver capped sticks one of which had children's teethmarks in the soft metal. Although her injury was most galling for her, there was one unintentional benefit - one can date when photographs of her were taken by the presence (or not) of a stick.
A second adjustment that Annie had to make was one of scenery. Perhaps as a result of her fall, she sold her family home. About the time of this significant move, on 21 May 1937, she wrote these words to her daughters which give a remarkable insight into her feelings:

"My dear girls,
I feel this afternoon that I would like to write this short note to you all to tell you just what I am thinking about things.
I thank God for giving me such a good husband and children and for all his other mercies to me - my recovery, really good health and a life filled with blessings. Also, an old age with every comfort.
You dear girls have been very good to me and never caused me any anxiety. I have brought you up as well as I could and you are all doing the same with your families. Don't let them get lax but set them an example of a Christian life and sincerity in all things.
I also thank God for giving you such good husbands. I love them all and they are indeed like sons to me and have always shown me help and kindness.
There is very little in the home that will be useful to you but divide it, take what you want and sell the rest.
There is much that I would like to say but don't know how to begin or end.
I am quite ready to go to rest when my time comes and shall welcome it and trust that God will be lenient to all my shortcomings and mistakes. I believe he will.
The best advice and best words I would leave with you are these - and if you and yours remember them, all will be right with you. "Trust in the Lord with all thine heart and lean not unto thine own understanding. In all thy ways acknowledge Him and He shall direct thy paths. Thine ears shall hear a word behind thee saying, "This is the way, walk ye in it". I have found these words so helpful to me.
Your ever loving mother, Annie Dee."
Annie was cared for in turn by her daughters. At the outbreak of war in 1939, she moved to Bexhill with her daughter, Marjorie Ryan. She briefly moved back to Stoke Newington, but in 1942, when the blitz intensified, she and Miss Payne moved to Bath. Her exodus from London was quite an performance as she was conveyed the sixty miles and more by a St John's ambulance. Initially they stayed with her daughter Dora Pillow and then moved (sedately by a taxi, whose driver was commanded not to exceed three mph) to separate accommodation at 16 Forrester Road.
Here Annie and Miss Payne shared a bed sitting room which came to reek with the oily smell of the sea boot stockings she knitted. She would dress, hobble to her armchair and then read, write letters or listen to the 'Little Maestro' wireless which was bought for her by her son-in-law, Sidney Pillow.
At the end of the war, our homeless nomad moved to her daughter, Eadie Mills', home at 86 Northern Parade, Portsmouth. Again, the resources of St John's were mobilised at a cost of around £30.
The household capacity would have been stretched by the arrival of her grand-daughter, Grace and her newly-born grandson, me. Sixty years later it is eerie to read what she thought of the latest addition to her family. She wrote, '...Philip John is very good at night especially but he will have a big temper and, although only five weeks old, kicks and screams if he is hungry'.
It must have been harrowing for Annie to see the lingering decline and death of her eldest daughter, Eadie Mills, in 1948. By now she was being cared for in a nursing home at 20 Clarence Road, Southsea. Her eyesight and handwriting deteriorated, yet she continued to write to her family.
Annie died at the nursing home in Southsea on 1 July 1949 and was buried near her husband at Abney Park Cemetery, Stoke Newington eleven days later. I am sure she would have been gratified by the six column inches which were devoted to her in the local newspaper.
Her will (made on 20 January 1938) was even-handed and indicated no favourites. Her estate of £2,328 was to be divided among her four daughters. Each of her seven grandchildren received a legacy of £20. The will was witnessed by Miss Laura Augusta Mary Payne and Mrs Jessie Kate Colyer (who lived in a flat at the top of 95 Fairholt Road). Her executors were her sons-in-law, Harold Saunders and Sidney Pillow.
There is a decrease in the value of her estate compared with the assets of her husband who had died twenty-four years earlier. No doubt this was due to the cost of rent, her paid companion and the nursing home fees.
Annie's life and character
She is remembered as being a large lady who was 'brusque and short tempered - everyone quailed before her'! Another remarked that she was 'a martinet: someone who demanded strict obedience' and added that she was 'imperious and ruled the Dee household which had a frequent turnover of servants'. But she also was a 'good grandmother who was proud of her husband's achievements and was an interesting person'. After her fall, she enjoyed a glass of stout every day. In later years, she developed a dislike of speed.
Annie was a religious person and was associateded with St Mary's Church, Stoke Newington for fifty years. She was renowned for her work in raising funds to assist the 'Society for the Propagation of the Gospel' which sponsored missionary work for the Anglican Church. At one time she had a black servant boy called 'Toto'. One wonders if his presence was connected to her Missionary interests.
She kept and valued her Daily Prayer Book and Bible and preserved a record of her family in its fly-leaf in addition to the family Bible in which she meticulously noted family details.
Her speech and letters were sprinkled with a middle class vocabulary: 'Good old England'; 'She didn't care a button'; 'Thanks awfully for that ripping card'. She had a strict sense of propriety. Once, her daughter Dora displeased her at the table. In front of others, Annie instructed the maid to 'bring Miss Dora two tea plates for her elbows'.
Great grandmother Annie and I were in the same household when I was a small child. I have a strong impression of walking with a small group which included her along Elm Grove, Southsea. Another memory to be awakened by psycho-hypnosis perhaps?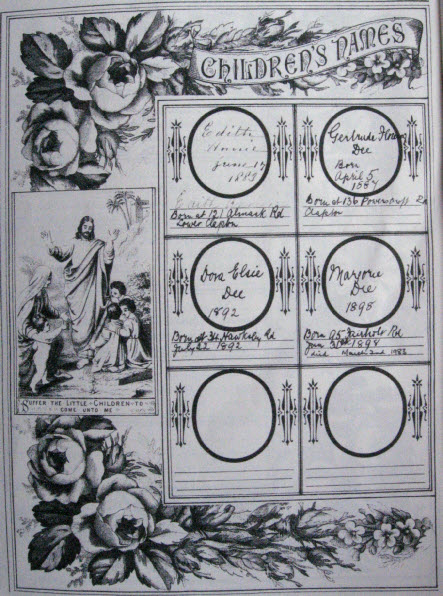 Below: Extracts from the Dee family bible, kept by Annie Dee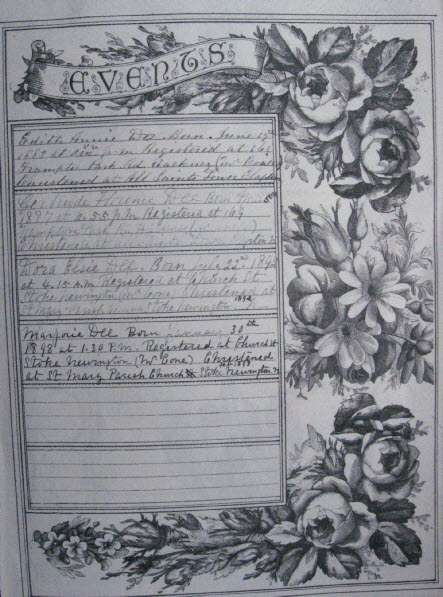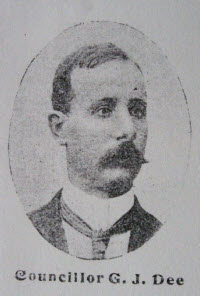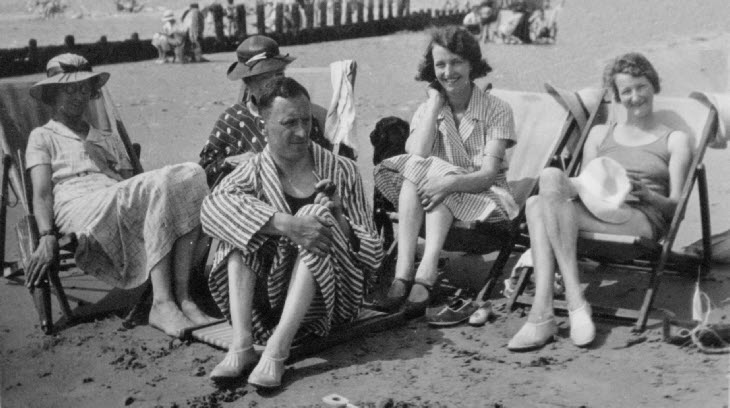 The two photographs shown below show Annie Dee with three of her daughters and their husbands together with three of her grandchildren enjoying the seaside circa 1936.

From left to right: Eadie, Annie Dee, Dora and Marjorie with Arthur Ryan.
From left to right: Arthur Ryan, Eadie, Annie, Charlie Mills, Dora and Sidney Pillow.
The children are Gerald Pillow with Margaret and Ann Ryan (who is sitting on Eadie's lap).
Earlier it was noted concerning the four Dee brothers who traded as oilmen: 'According to records from 1871 to 1891 George's older brother, William, was an oilman dealing in paint, as was Robert (1872-1891) and Thomas (1877-1881). The conclusion is inescapable that the brothers enjoyed a close relationship - they had a common trade.'
It was gratifying to discover the following transaction which confirms that the Dee brothers did indeed work together.
In April 1895, Davies and Evans Ltd announced the issue of 90,000 shares at £1 each. The company had traded in London for almost fifty years as oil and colour merchants. As part of the expansion of their empire, they had bought the businesses owned by W J Dee (on 30 March 1895), G J Dee (30 March 1895) and Thomas Dee
(25 January 1895).
William Dee held what was apparently a warehouse at 6, 10 and 11 Nisbet Place, Homerton (a turning off Homerton High Street in an area described by Charles Booth as 'very poor, chronic want') and eleven stores. As part of the purchase deal, he joined the board of Davies and Evans as a Director.
Most of the purchased shops were leased for twenty-one years or more. The Dees were paid for the leaseholds, fittings, fixtures and good will.
An insight into the oilman trade is provided by the Company Prospectus of Davies and Evans. The shops were mostly sited in busy thoroughfares in densely populated parts of London and were thus well placed to supply the public with 'the staple articles of the oil and colour trade'. The trade was a profitable business as it 'provides the the great mass...at lowest cash prices in small quantities and in the immediate vicinity of their homes, the indispensable articles of their daily household requirements...in the same way that co-operative stores purvey for those of a wealthier class'.
Many of the oilmen's families lived above their shops which were crammed with flammable materials. There were many fires and resulting loss of life reported on these premises.
Remarkably, the sign on the brickwork above George's shop at 119 Church Street, Stoke Newington still exists - more than a century later! Perhaps a testimony to the enduring quality of the paint he sold! The photos below were kindly sent by Sam Roberts who together with Jane Parker is collecting fading 'ghost signs in the area He also conducts local walking tours. Links: www.ghostsigns.co.uk; http://www.ghostsigns.co.uk/about; http://www.ghostsigns.co.uk/tours; www.janeslondon.com.
The sign includes the words, 'OILS SOLD AT DEES STORES' - but some squinting may be necessary....