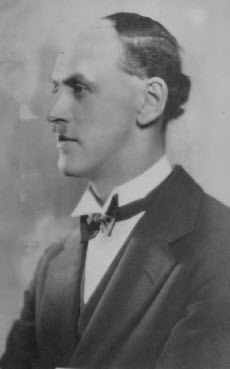 Archibald John Mills, 'Archie', was born 2 November 1882. He was the third son of the Dockyard shipwright, James and Rose Mills. In 1891, the family was living at 7 Great Southsea Street, Portsmouth. Archie passed a Maths exam at the Municipal Technical Institute in 1899 and received a second-class freehand drawing award in 1901. In that year he was also a pupil teacher. The Mills household were living at 51 Lawrence Road, Southsea.
Archie was a teacher all his working life. He trained at Winchester Diocesan Training College and then, like his older brother, Charlie, he learned his profession at St. Lukes School, Southsea where he was an assistant master from 1903-05. He was appointed to the Beneficial School at Kent Street, Portsea 26 August 1907.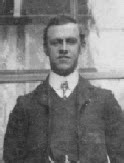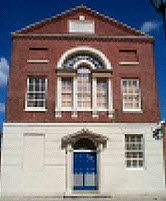 Eight men met in 1754 and formed the Beneficial Society which was a mutual aid organisation devoted to providing free education for the poor children of Portsea. The Beneficial School was built in 1784. It was a red brick building of two stories (see left). The ground floor was one large classroom and the upper storey was the headquarters and meeting room of the Society. The school is remembered affectionately as 'Old Bene'
When the Great War broke out, Archie escaped military service because of his varicose veins. He was appointed Headmaster of the school on 8 March 1917. Two conditions of his appointment were that 'he lived in the District of Portsea and consented to form an Evening Commercial and Dockyard Examination Class'. In view of his father's shipwright trade, this was hardly an imposition.
Archie, seated far left, with a group of students


Archibald John Mills
bn 2 Nov 1882
died 11 Feb 1963
Annie Ellen Oats
bn 1 Aug 1889
m 30 July 1919 Enfield
died 1 Feb 1973






Laurence John Mills
bn I October 1920
died 27 Jan 1994
Chorleywood, Herts
Sylvia Joy Mills
bn Dec Qtr 1925
died 15 Mar 1927

Barbara May Warner
bn 19 May 1922
m Dec Qtr 1944 Spilsby, Lincs
died April 1996 Chorleywood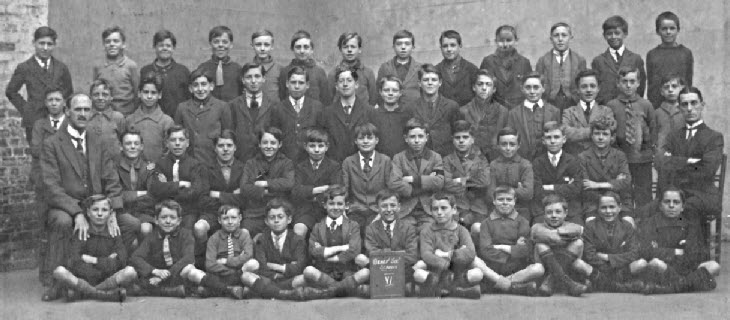 About the Beneficial School, Portsmouth
After browsing to this page, John Stockwell from Brisbane, Australia e-mailed to say that his father, Rupert Smith attended the Beneficial School and that he had a class photograph from 1925 which included Archie Mills, the form master, Mr Lush and Rupert (ringed) which is shown above.
Archie appears to have been a royalist. In 1939 he wrote to Buckingham Palace to have pictures of the King and Queen signed. These were unveiled at the school on 28 July 1939. Also, the school log book, written by Archie notes the following:
During Speech Day in July 1939, Archie was congratulated for the 'excellent work done in the school. After a Governmental inspection, he was said to be 'an alert man'. Archie responded saying that they tried to make to school something more than a place of education - a place to which the boys liked coming'.
A couple of months later, in September after the outbreak of War, Archie wrote to the Portsmouth Evening News to inform parents of how their children (who had been evacuated to Basingstoke) were being cared for. He reported that they were in 'really good homes..in the best part of the town...and are being kindly treated by the people with whom they are staying'. Archie later taught at Binstead Road School, Portsmouth.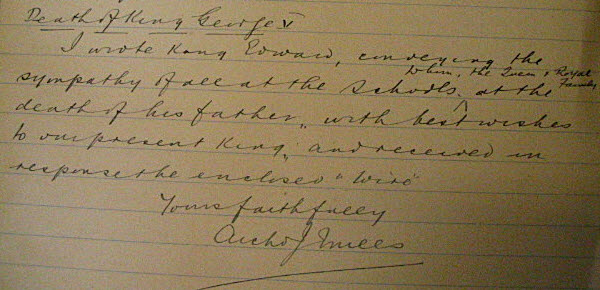 Archie's wife and children
Archie (36), who was then living at 39 Lawrence Road, married Annie Ellen Oates, 'Nellie' (left) in the late summer of 1919 at Edmonton, London.
Nellie was born on 1 August 1889 at Yatton Keynell, which is near Chippenham in Wiltshire. Both of Nellie's parents were schoolteachers.
Archie and Nellie had two children: Laurence John Mills (right) was born 1 October 1920 and Sylvia Joy Mills, born in 1925. She died aged fifteen months on 15 March 1927 and was buried at Highland Road Cemetery, Southsea. A memorial pillar was inscribed, 'Darling Joy'.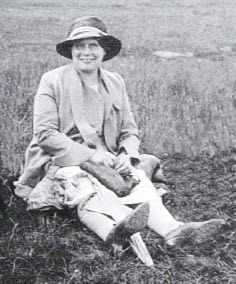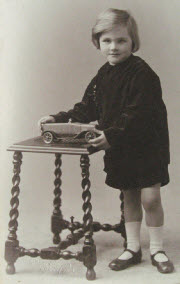 Their home - 64 Lawrence Road, Southsea, Portsmouth
After Archie's mother died, his father moved in from across the road from 51 to 64 Lawrence Road, Southsea.
I sometimes visited my great uncle on my own - but never early in the morning as they were notorious late risers. There was a bell-pull on the door jamb and, when yanked, a jangling bell could be heard deep inside the house.
I remember the house being dark with a peculiar smell. I discovered 'bubble and squeak' when lunching at Uncle Archie's home. Red currant bushes grew in the back garden.
Nellie had lost an arm. She was a philatelist and designed a stamp series which was used by the GPO. She had a valuable stamp collection which included a 'Penny Black' and a rarer, but less famous, 'Tuppenny Blue'. I think Archie and Nellie made me welcome or I wouldn't have visited them alone - nor would I have such clear memories of them.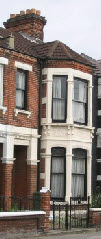 There were tensions in the family. Nellie and my grand-mother, Eadie, 'hated each other'. Archie and his nephew, Patrick Mills didn't 'get along'. Archie was a Freemason (which may have smoothed the way of his appointment as Headmaster) and was a Grand-master of the Lodge*. His brother, Charlie, had no time for masons. Archie was tall, outgoing and made friends easily. He appears autocratic and domineering in photographs while my grandfather, Charlie seems laid back. Patrick, Charlie's son, recalls hearing them talking in another room and being unable to distinguish between their voices.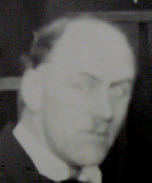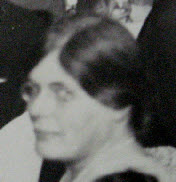 Aged 80, Archie died on 14 February 1963 at St Mary's Hospital, Portsmouth leaving an estate of £3,879. Nellie (83) died on 1 February 1973. Both were buried at Highland Road Cemetery, Southsea.

Laurence was born on 1 October 1920. He was educated at Portsmouth Grammar School. During their Speech Day in 1939, the only student success highlighted was Laurence's scholarship award of £60 pa to take a degree-course in coal-mining at Birmingham University, from which he later graduated with a First Class Honours BSc.
He was an Officer Cadet during WW2 and rose to the rank of Major.
Having already entered the mining industry, a series of promotions ensued culminating in his a full-time appointment to the National Coal Board in 1974. Three years later, Laurence was awarded the CBE. In 1963, he and his family were living at 'Lake View', Measham Road, Ashby-de-la-Zouch in Leicestershire. Laurence died on 27 January 1994 when he was living at 35 Dove Park, Chorleywood, Rickmansworth, Herts. His estate was valued at £170,175.
For more information re: Laurence visit Martin Harrison's medal web site


Archie and Nellie's marriage certificate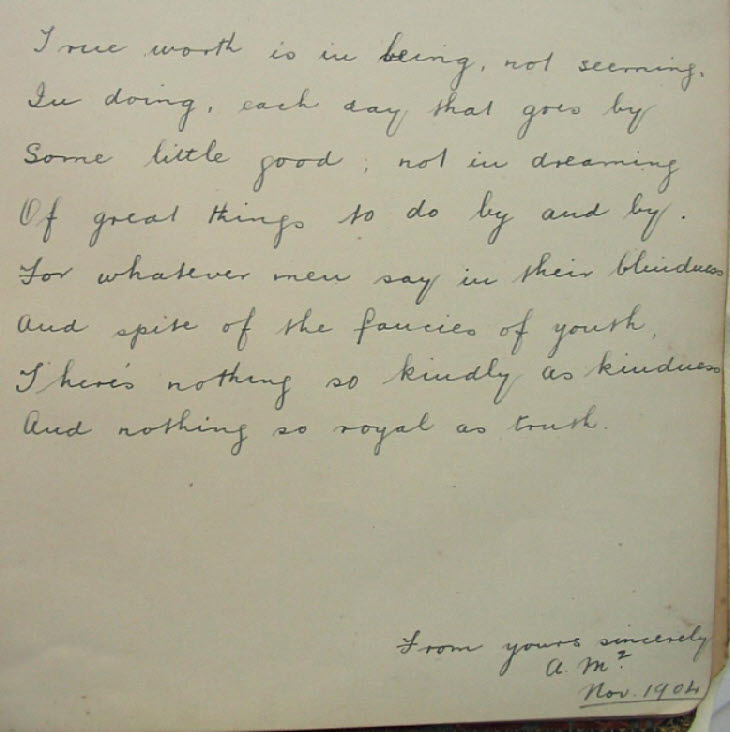 Archie's entry in my grandmother's autograph book (1904)

From 'Nobility' by Alice Cary, an American poet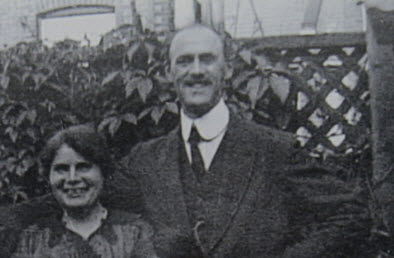 * In October 1926, Archie contributed £3 to the Portsmouth Eye and Ear Hospital on behalf of the Prince Edward Lodge of Freemasons