The Land Tax records for 1782 show that he was renting the farms of Burch, Westgate and Higher Davies in the Stoke Rivers parish of North Devon. He died, ten years later, and the running of the farms fell to his single, twenty-three-year-old son, John. Two years later, in 1794, he married the farmer's daughter, Alice Mogridge, at Stoke Rivers:
My wife, Sue's, greatx4 grandfather, John Courtney was privately baptised on 24 January 1769 and received into the Anglican Church on 21 February. Had his been the only private baptism in this family, I would have suggested that this indicated a problem with the well-being of the mother or child, but his sister was also privately baptised as was John's son, Richard. In view of this, it is more likely that the private baptism was an reflection of the standing of Richard in this small rural farming community.
By 1801, John's name does not appear on the Land Tax records – he was no longer farming at Stoke Rivers. Four, if not all five, of John' s children were baptised at Stoke Rivers. Below is the record of Sue's ancestor, William Courtney who was baptised on 10 May 1804: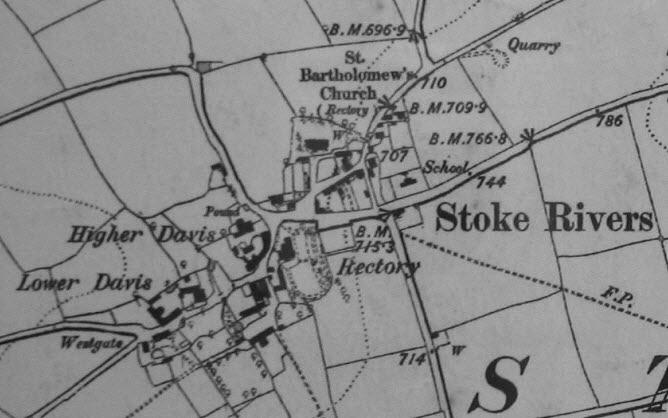 South Molton is thirty-four miles from Exeter; thirty-eight from Taunton and twelve miles south-east of Barnstaple. The town was established because of its nearness to water supplies, its closeness to main highways linking Devon towns and its fertile surrounding countryside - all the necessary ingredients for a market town. In 1801, its population was 2,753; but by 1841, this had almost doubled to 4,274 inhabitants.
A short time later, John and his young family moved eleven miles south-east of Stoke Rivers to South Molton. We will return to the plight of this family after examining details of this small market town.


Note that John was described as a yeoman (ie a farmer who was more prosperous than his peers; was just a husbandman when he married) and that both he and Alice signed the certificate, confidently.
According to the Land Tax records, within two years of his marriage, John, (who already had two children) had relinquished the farms of Burch and Higher Davies and was only renting the smallest holding of Westgate.


John worked as a tailor at South Molton all his life - in the late 1820s at Barnstaple Street; in 1833, at Nadder Lane and from 1836, at East Street.

On 9 January 1834, John was involved in a workshop fire: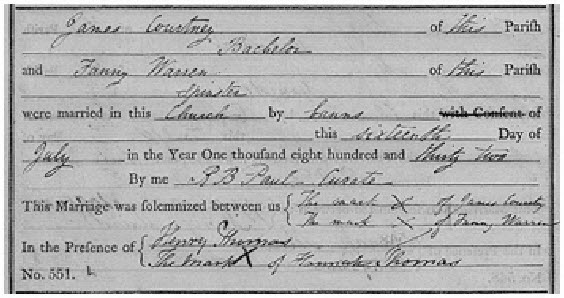 James married Fanny Warren at South Molton on 16 July 1832. They had seven children: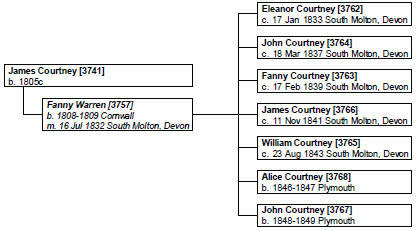 James worked as a mason. The family were at Nadder Lane, South Molton in the 1830s and then Barnstaple Street. They moved to Plymouth in the mid-1840s and Fanny was living at 34 Claremont Street between 1861 and 1881. She described herself as 'formerly a lace flower worker'. She died in the spring of 1890. The date of James death cannot be found with certainty.
William Courtney, Sue's greatx3 grandfather, was born in 1804 and was baptized at Stoke Rivers on 10 May 1804. On 27 March 1825, he married Ann Williams (who was nine years older than William and around six months pregnant) at South Molton Parish Church (shown below). The couple had five children (who were all baptised in the church), one of whom died in infancy.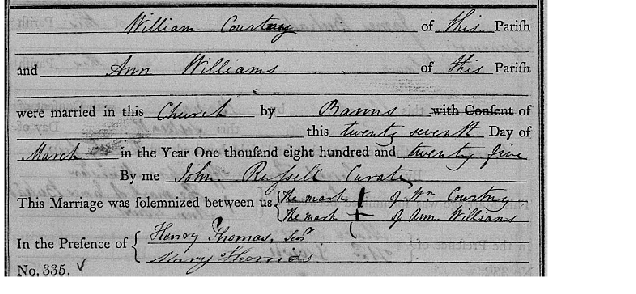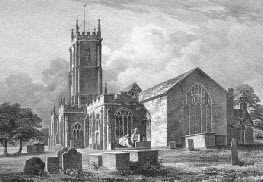 William was a labourer, either on farms or, later in life, making roads. From the following snapshot from the 1871 census, it may be that there was a Courtney gang of road makers/labourers:
Above is the baptism record of William Courtney jnr, Sue's greatx2 grandfather - on Xmas Day, 1826,
C1871 West Street, South Molton
William Courtney Head 66 Stoke Rivers, Devon Road maker or lab
Ann Courtney Wife 74 South Molton
William Courtney Wdwr 44 South Molton Road maker or lab
James Courtney G-son 24 South Molton Road maker or lab
John Courtney G-son 18 South Molton Road maker or lab
Samuel Courtney G-son 8 South Molton
William's immediate family lived their whole life at South Molton - 1825 - 1831 at Gunswell Lane; 1839, Nadder Lane; 1841 West Street, Towns End; 1851 Gunswell Lane; 1861 Towns End 1871 - 1876 (when William died), West Street (see burial record below).

Alice married the cordwainer/shoemaker John Bouchier at South Molton on 21 January 1849. They initially settled at Barnstaple Street in the town, but by 1855, they had relocated to Bridgewater in Somerset. Alice was working as a book binder there in 1861. A decade later and John had changed his occupation to furniture broker.
The local newspapers mention John when occasionally small items were stolen from his shop. But in 1869, there was an inquiry into bribery during the election of Bridgewater's Member of Parliament. John was a witness.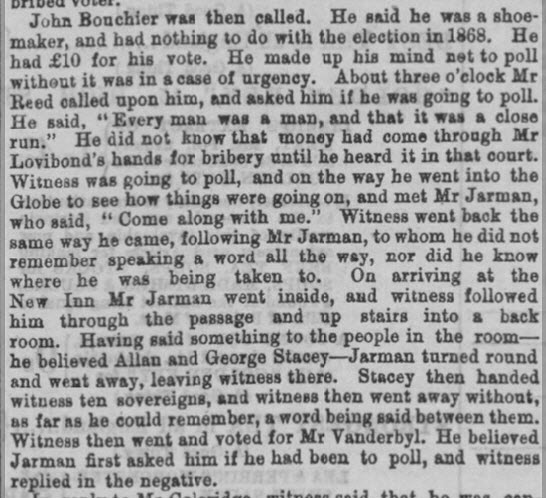 John died on 21 January 1901 leaving a not inconsiderable estate of £4,689. In 1911, Alice (now aged eighty-two and a widow with private means) was still living at Bridgewater (28 Northfield; nine rooms) with her two single daughters, Mary Ann and Alice. She died later that year.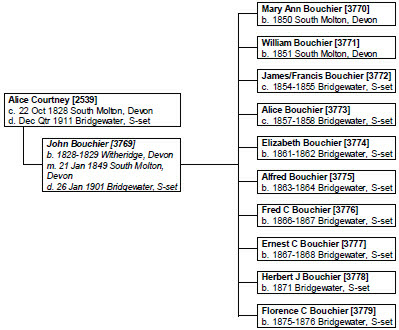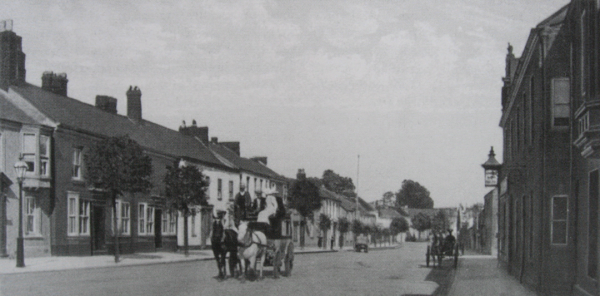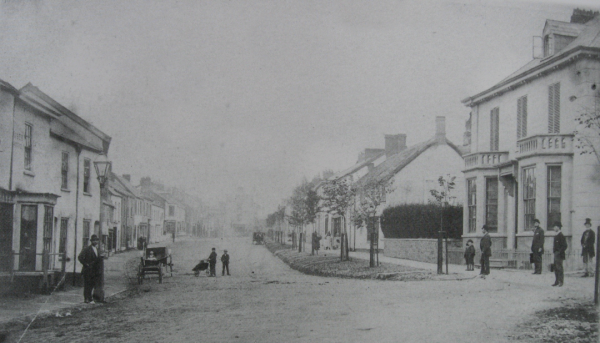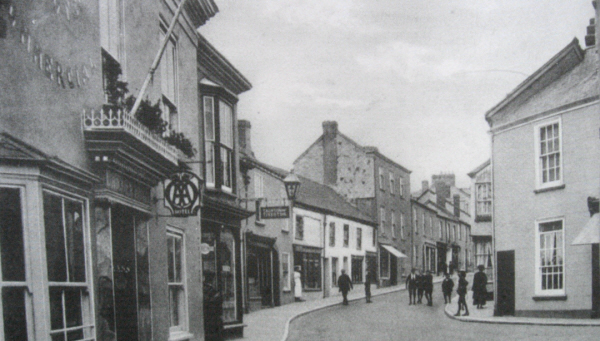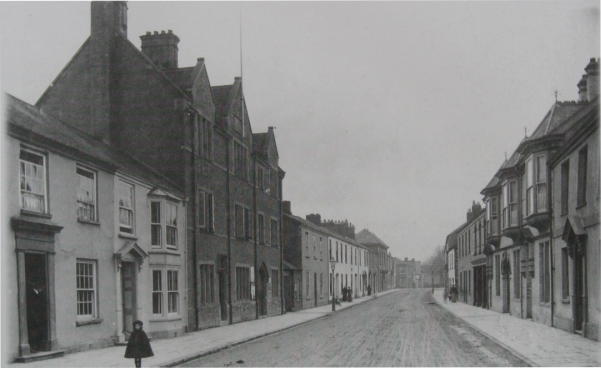 William Courtney and his first wife, Elizabeth (nee Maire), were Sue's greatx2 grandparents. They married at South Molton on 14 April 1846 (when Elizabeth was a little more than three months pregnant) and produced eight children between 1846 and 1843.
The family were living with Elizabeth's school mistress mother, Elizabeth Maire, at Back Lane,South Molton in 1851 and were still in the lane, but without Elizabeth ten years later. Tragedy had thrice struck the Courtney household. Their son, Henry, died in infancy in 1862. Then, after two years of emaciation, debility and coughing, Elizabeth died of TB (phthisis pulmonarilis) at Steppa Lane on 10 July 1865, aged 42. Finally their son George, aged seven, died in the winter of 1865.
1871 found William living with his parents at West Street Molton. He then married the widow, Mary Hobbs, on 26 November 1873. Seven years later, William and his family were living at 23a North Street, South Molton. However Mary died a little more than two years later. William then lived with his son, John Courtney and his family - in 1891 at 25a North Road. He died towards the end on 1896.
William was a stone quarrier all his life - there were quarries just to the north of East Street at South Molton. He was a physically strong, hardworking man – indeed, one son became a blacksmith. He was educated – signing his name clearly. But his life was blighted by the death of two wives and two children.

We can only guess at the reason for this sudden eclipse of the Courtney star. John was young when his father died and had the responsibilities of running of three farms thrust upon him, providing for a wife and five young children. Did he enjoy good health? Was the demon drink a problem - as it was for a later descendent - or did gambling claim another victim? John's good reputation in the area was probably still intact when he married and he could no doubt call upon his father-in-law for farming advice. However, within 10 years of his father's death, John had ceased to farm. Maybe he did not have the robust constitution required for farming. Was it all too much for him?
The occupations of his sons and his daughter's marriage mate further illustrate the fall of the family. Richard (born 1795) married Hannah from South Wales and was a labourer at Woolwich, Kent in 1851. John (born 1798) married a South Molton girl and became a tailor (a non-labouring occupation that is sometimes a sign of infirmity). James (born c1805) married Fanny from Cornwall and was working as a mason at Plymouth in 1851. Elizabeth married a tanner's labourer, Thomas Fook, and settled in South Molton. Also, three of John's children (William, James and Elizabeth) were unable to sign their names when they married - evidence that they had not been given any instruction by teachers or parents.
John was in the Barnstaple Work House when he died on 22 June 1816. He was forty-seven years old. His widow, Alice, threw herself on the mercy of the South Molton Overseers of the Poor and received parish relief from 1824 until 1835. By 1841, Alice's great nephew Charles Smith, a farmer at Bowden Farm East Down, near Barnstaple, had taken her and a grandson, John Courtney, under his roof and she was still there, aged seventy-seven in 1851. In the census she was plaintively described as, 'Pauper, formerly Ag Lab wife'. She died at East Down in 1854, aged eighty.
In 1851, Richard was living at 2 Union Street, Greenwich, Kent with a wife, Harriet, who haled from South Wales. He worked as a labourer.
Elizabeth had an illegitimate child, John Courtney, born on Boxing Day 1824 when she was living at Gunswell Lane, South Molton. She was receiving the grotesquely-named 'Bastard Pay' in 1824/5. Elizabeth later married a tanner's labourer, Thomas Fook, in 1830 and settled in South Molton.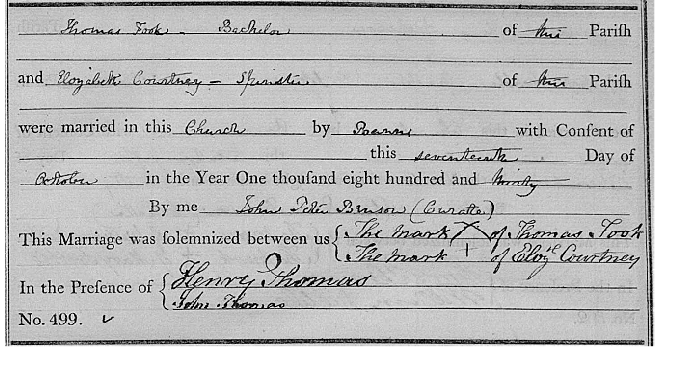 The couple were living in East Street, South Molton when a son, George Fook, was born in 1834 and when the census enumerator called in 1841. He noted three other children: William (born 1832/33), James (1835/36) and Elizabeth (1838/39). In 1851, the family were living in Steppa Lane, South Molton. Thomas continued to work as a tanner's labourer.
By 1871, Thomas and Elizabeth had moved to Pilton, near Barnstaple. Here, Thomas died in the spring of 1875 and Elizabeth died the following winter, aged 81.



John (born 1769) and Alice (nee Mogridge) Courtney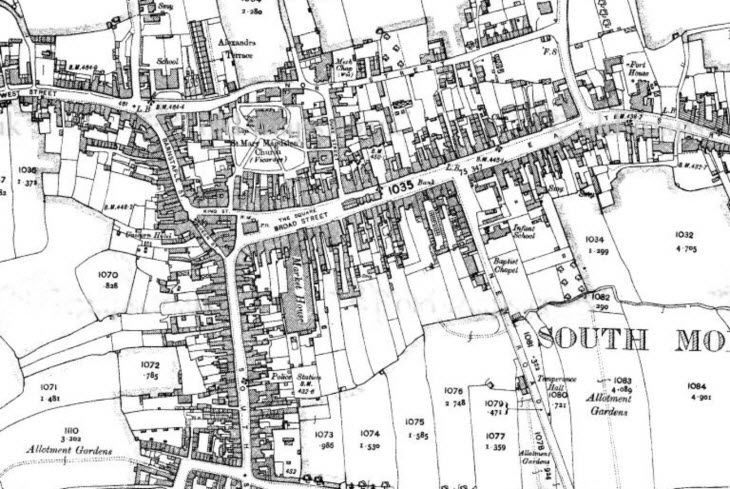 (Above) Two views of East Street, South Molton (Below) Barnstaple Street
(Above) South Street, South Molton

John Courtney - from farmer to pauper

Of the children of John and Alice Courtney

William (born 1804) and Ann (nee Williams) Courtney

About Alice, daughter of William and Ann Courtney

William (born 1826) and Elizabeth (nee Maire) Courtney


John married Mary Snow at South Molton on 7 January 1821. The couple had five children:
In 1881, John and Mary (now in their eighties) were living at 2 Ways Court, South Molton. John died on 26 January 1885 and Mary, in the following year.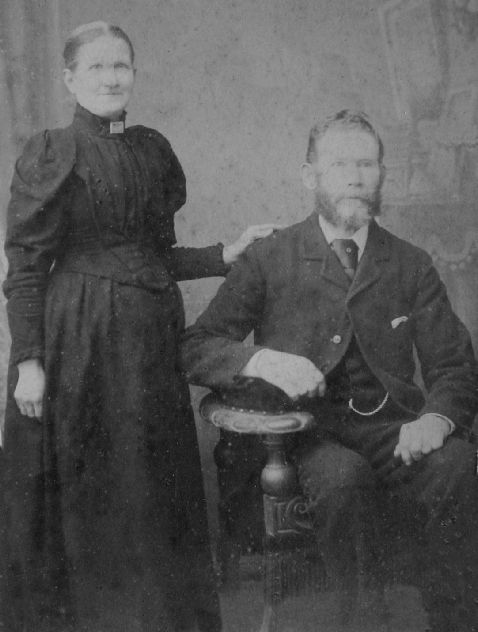 Above are William and probably his second wife, Mary. Indeed, this photograph may have been taken around the time of their marriage.

Selected children of William and Elizabeth Courtney
Said to have travelled to West Africa. He doesn't appear in UK censuses after 1871
Elizabeth Ann was a spinster and in service as a domestic servant at South Molton - 1881, blacksmith Henry Bradford at North Street; 1901, saddler Richard Teppers at 8 Broad Street. In 1911 she was living alone at the three-roomed 2 Tiverton Inn Court, East Street.
A card announcing her death was found among the Courtney papers (see below).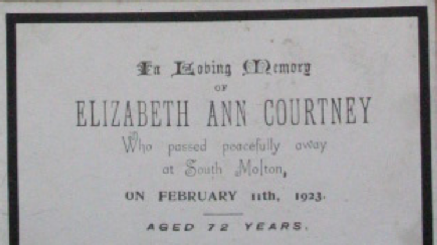 Samuel was described as a blacksmith in 1881. When he married the South Molton girl, Mary Avery, on 10 August 1889 at South Molton Congregational Church, he was 'of Bath'.
Soon after their marriage, Samuel, still a 'smith', was living at William Street, Tiverton. Mary died in January 1895 and six years later widower Samuel was 'a setter in iron' living at 4 Barrington Street, Tiverton. He married again and was with his new wife, Louise Southwood, in the five-roomed, 81 Bampton Street Tiverton in 1911 when he was noted as an engineer/fitter. This description falls short of the mark. Trade directories of Tiverton list him as a scale and weight maker (1906); scale repairer (1912) and weighing machine manufacturer (1914). He moved his business to 28 Castle Street where he was succeeded by his son, Albert W Courtney, until he was bought out by Avery's in 1945.
While visiting his son Sidney (a pastor of Zion Congregational Church Frome) in October 1927, Samuel was found dead in bed, having passed away peacefully in his sleep. His estate was valued at £2,325.

James (born 1846) and Hannah (nee Hayes) Courtney
Sue's ancestry was through James Maire Courtney who was born at South Molton on 28 September 1846. He married Hannah Hayes in South Molton's Independent Congregationalist Chapel. on 7 May 1874. Although Hannah described her father, Christopher Hayes, as a labourer when she married, in 1861, he lived at Busselsmore Farm, East Anstey where he occupied thirty acres.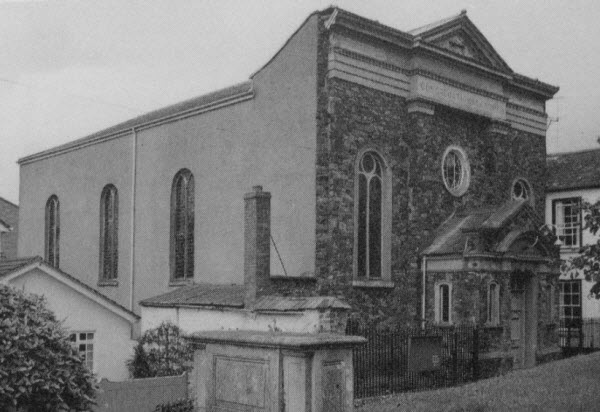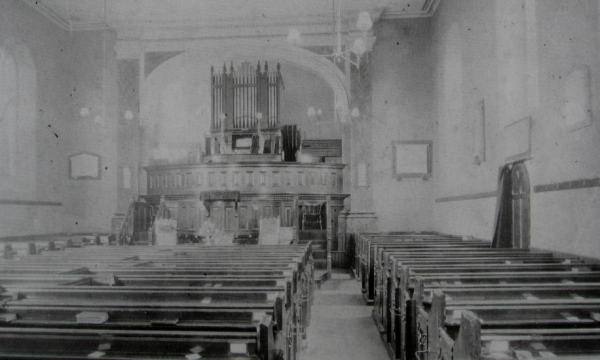 (Above) The Independent Congregational Church at South Molton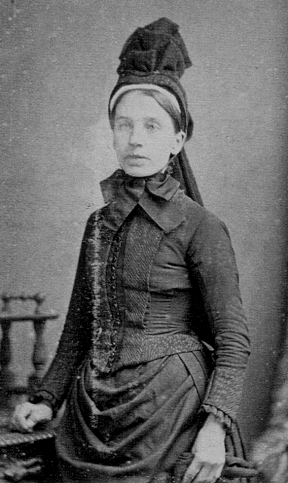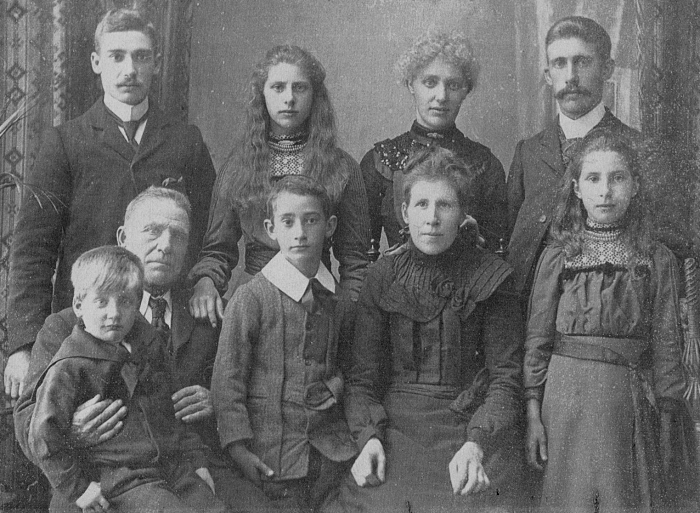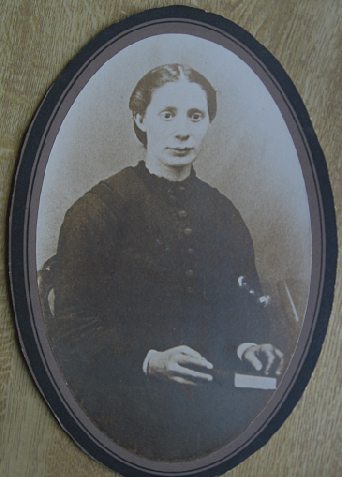 Above, Hannah Courtney (nee Hayes).
(Standing l to r) Hannah, George and James (Jim)
(Seated l to r) Hannah Courtney (nee Hayes) with Mary, Will(iam), James with Sam(uel). Circa 1892.

Above, circa 1903. Hannah has died. (Standing l to r) William, Mary, Hannah and James (Jim)
(Seated l to r) James Courtney with Bill (George's son), John/Jack, Beatrice (George's wife) and Rhoda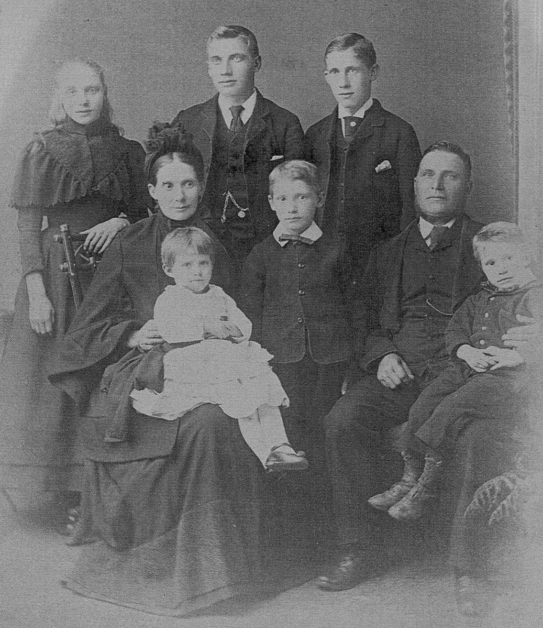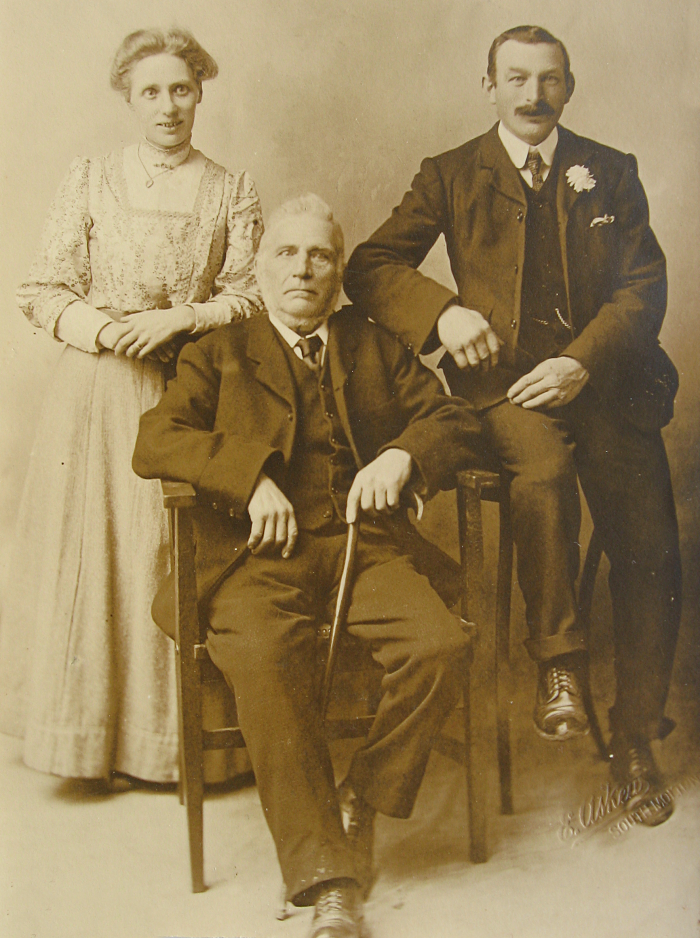 Above, circa 1912. James with Jack and Hannah (nee Courtney) Crossman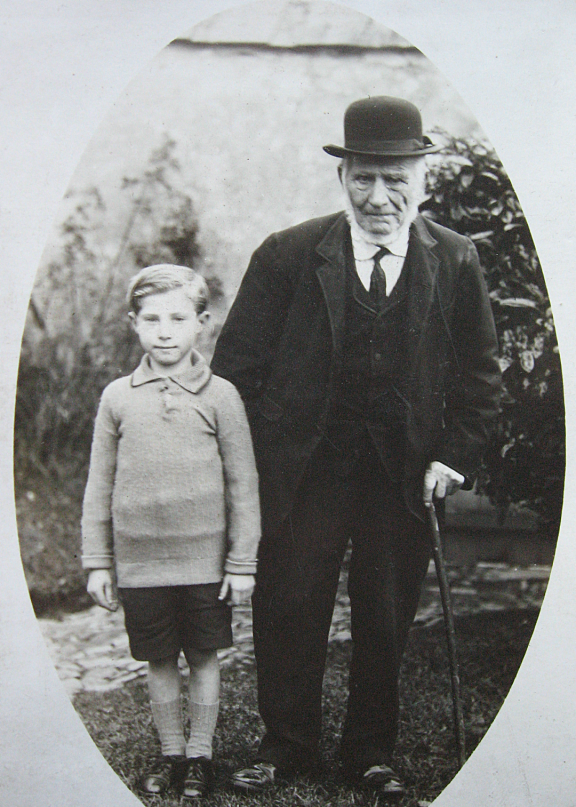 Above, circa 1922 ie shortly before James' death. He is with Jim and Ethel's son, Raymond Courtney
James and Hannah had eleven children, but a daughter died in infancy and two sons died when they were boys. His eldest son George was baptized at the Independent Chapel at South Molton, but all the other children were baptized at the Bible Christians Chapel at East Street. This chapel was built in about 1864 and sat around 200 worshippers. It was an offshoot of the Methodists and recognized women as preachers and ministers. This branch of the Courtney family was showing signs of a religious bent and James' interest in his family can be seen as he kept a family bible
in which details of his siblings and his children were recorded.
James handwriting is firm, legible and educated. He and his household were living at Bishops Nympton in the late 1870s until about 1883. By 1886, they had returned to South Molton and five years later they were living at 25 North Street. John's widowed father, William, was living with the family.
In 1901 James and his household had moved to Lower Woods Cottage, Molland (six miles north-east of South Molton) where he lived until his death. The Grade II listed building is shown right, today.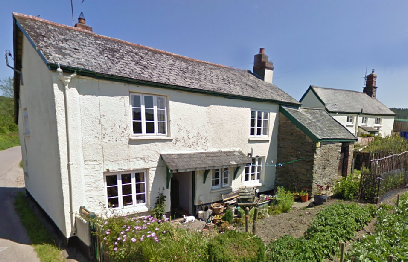 Curiously, James sometimes changed his Christian name. He gave his name as John (1891) and William J. (1901) to the census enumerators. When his son, John, married he stated that his father's name was William James Courtney. Yet there is a note in John's family bible that, 'It is my wish, if it should be agreeable to the rest of my children, that my family bible should be given to James as he is called after me - signed James Courtney.' His son James acknowledged receipt of the Bible on Boxing Day 1948.
The railway arrived at Barnstaple in 1854 – the first line running from Exeter, although the nearest stop was nine miles from South Molton. Later, in 1873, the Taunton to Barnstaple line was opened which incorporated a station at South Molton.. This new form of transport resulted in employment opportunities and from 1881 until 1901 James worked on the railway as a plate layer/packer. He laid the track on ballast, securing it with plates and then maintained the laid track. In 1901 he was a foreman/ganger but a decade later he had retired and was a plate-layer pensioner (having worked for the Great Western Railway) and was living in the four-roomed cottage at Molland with his daughters, Rhoda Courtney and Hannah Crossman with her farm-labouring husband, John.
Several sources have commented that William was a heavy drinker and that as a result his children eschewed alcohol.
Hannah was only 46 when she died at Molland on 16 July 1896. James lived until 13 October 1923. He was aged seventy-seven. Both James and Hannah were buried at South Molton.