The Hambleys were a Dockyard family - firstly at Devonport (aka Plymouth Dock);
then at Portsmouth.
My greatx5 grandmother was the unmarried mother, Elizabeth Hambley.
Two of Elizabeth's granddaughters were my greatx3 grandmothers.
.
We begin with words of explanation. In the early nineteenth century, the area around Plymouth comprised three adjacent towns: Devonport, Plymouth and Stonehouse. The dockyard which was later known as Devonport was originally Plymouth Dock until 1824. Its community lived in the parish of Stoke Damerel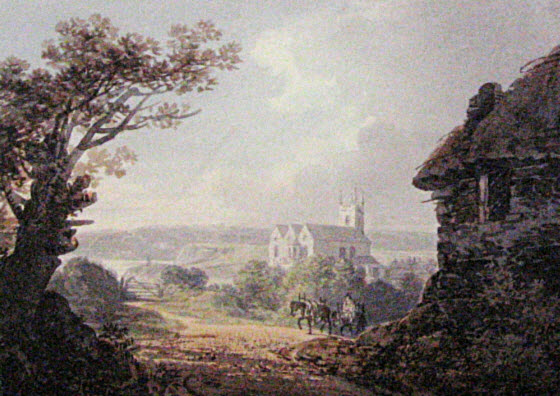 Stoke Damerel Church in 1790 - when my greatx4 grandparernts married there.
The single woman, Elizabeth Hambley had a son, Stephen Hawkins Hambley, who was baptised at Stoke Damerel Church on 23 September 1761. There may be clue as to the identity of Stephen's father in his middle name - Hawkins was a familiar name in the parish. Elizabeth's parents cannot be traced with certainty, nor what became of her - there is a marriage of an Elizabeth Hambley to Joseph Thompson at Stoke Damerel in 1764 and two burials of Elizabeth Hambleys in the same parish after 1761.
Stephen married Frances Manley at Stoke Damerel on 30 April 1790 - their marriage was announced by the peeling of six recast bells which had been installed the previous year. Both partners signed the marriage certificate.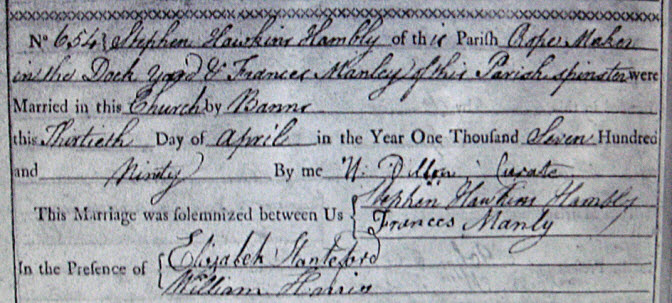 Frances Manley (baptised 13 April 1764 at Stoke Damerel) was the daughter of James and Susanna (nee Hore) Manley who hailed from the Devon village of Honiton on Otter, which was a little less than sixty miles north-east of Devonport. James was a gardener when he married Susanna at Stoke Damerel on 21 October 1762. Both signed the marriage certificate. The couple had four children born at Devonport.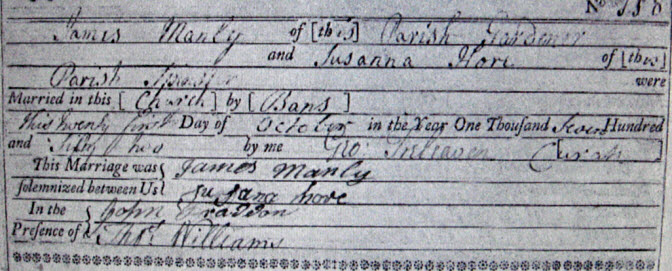 The children of Stephen and Frances Hambley

Rope-making and rope-makers
As noted on Stephen's marriage certificate, he was a rope-maker at Devonport Dockyard - an occupation which was also noted on his death certificate fifty years later. What does the work of a rope-maker entail?
Stated simply, rope is made by braiding strands of material like hemp while keeping materials under tension. But this single sentence sells the art of rope-making short. There are two books describing cordage manufacture from the nineteenth century available for downloading on the internet: The Ancient Art of Laying Rope - Jakob Bohr and (the Bible) A Treatise on Ropemaking (1869) - Robert Chapman.

Two children, Susanna and Thomas Hambley, were baptised on the same day in 1803. The parish register (shown above) helpfully notes their date of birth.

Bohr refers to rope-making in ancient Egypt (see above) and uses geometric formulae to describe how rope is laid. Chapman takes ninety-two pages to describe 'the manufacture, rules tables of weight etc' of cordage. He states that rope-making is an art on which the safety of ships, their crew and passengers, depends - tow-lines, rigging and running gear all contribute to the security of sails, mast and yards. Rope-making can be a complex operation.
Cordage manufacture also calls for brute strength. Naval roperies were more than 1,000 feet long. That's a lot of rope to manoeuvre and twist. Henry Slight in History of Portsmouth describes the 'severity of the work': 'The laying of a cable of twenty-three inches (its circumference) is performed by the simultaneous exertion of one hundred and eighty men and requires an hour of the most strenuous exertion of strength especially on the part of those at the cranks who not infrequently burst a blood vessel by the severity of the continued labour...the work is so labourious (though lightened in every possible way by machinery) that the workmen continue their labour but a few hours in the day'.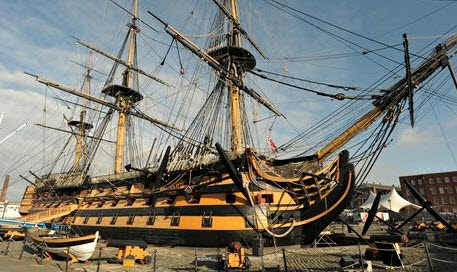 Sailing ships needed an enormous amount of cordage. HMS Victory (seen above) had twenty-seven miles of rigging and twenty-six miles of flax and hemp rope - the largest being the ropes for the anchors which were nineteen inches in circumference. When new ships were built and during times of conflict when ships were constantly repaired, the rope-makers were busy - Portsmouth Dockyard employed 350 rope-makers during the Napoleonic Wars.

Roperies at Devonport and Portsmouth Dockyards
Devonport Dockyard was first constructed by Robert Waters of Portsmouth in the 1690s - the first rope-house there being built in 1698. Roperies are easily identified on Dockyard plans being long, narrow buildings. They were also a fire risk because of the combustible materials used and stored there, such as tar, oil, hemp and turpentine.
In around 1768, the rope-house was either burnt down or badly damaged by fire. A new ropery was built. It was 1,202 feet long (about a quarter of a mile) with rows of cellars underneath. At this dockyard Stephen worked together with almost 24,000 other Dockyard workers in 1800.
At Devonport work was arduous, the pay was small and the hours were long (06.00 to 1800 in winter; sunrise to sunset in summer) - although there was steady, regular work. But wages were paid quarterly and a quarter's wage was kept in hand. Pay was brought by frigate from London to avoid highwaymen. When the ship was sighted, the town and the yard went mad - bells were pealed, people danced in the streets and men hastened to carry the good news from one to another.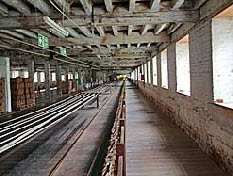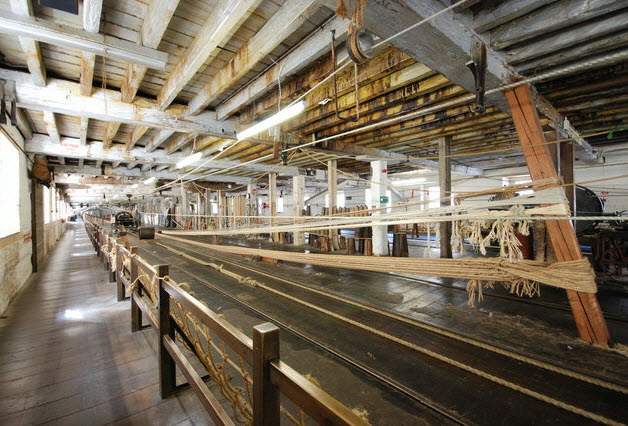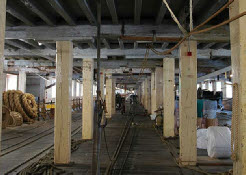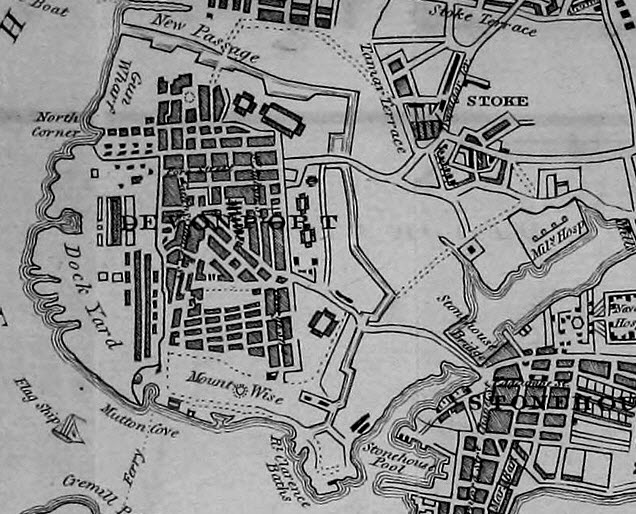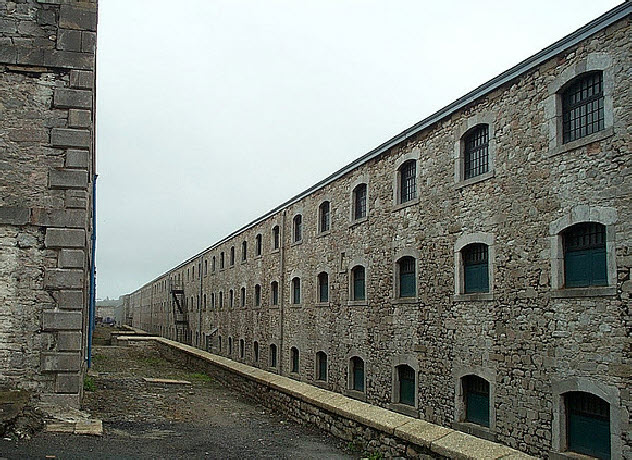 Shown above is a plan of Devonport Dockyard (circa 1837) with the two roperies circled. They were both 1,200 feet long (around a quarter of a mile) and were constructed of limestone. They had two stories - the upper storey was where twine was made and 'beautiful machinery used for spinning yarn' for cables; the ground floor was were the cables were laid or twisted together. The largest cable made was twenty-five inches in circumference, 600 feet long and weighed six tons. The 'fine perspective view from either end being excelled only in this respect by the Louvre in Paris' (see below).

(Above) four views of the ropery at Chatham Dockyard
There was a macabre link between Devonport and Portsmouth Dockyards. The American agitator John Aitken, nick-named Jack the Painter, twice tried abortively to fire the Devonport establishment. Frustrated, he travelled to Portsmouth and succeeded in burning her ropery on December 1776. Found guilty of arson, He was hung on a gibbet at the Dockyard Gates.
The new rope-house at Portsmouth was three stories high, fifty-four feet wide and 1,094 feet long. "The perspective formed by the interior of this edifice has a singular effect: through the long vista, the workmen appear diminished to dwarfs. The building is paved with cast iron and tin to prevent accidents by fire. The preparation of hemp takes place in the upper stories where it is spun into threads; the cables are manufactured on the ground floor'.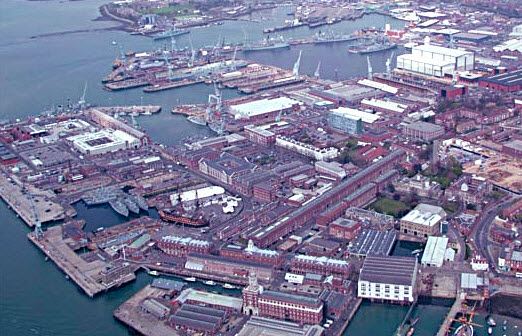 (Above) Portsmouth Dockyard. The ropery should need no indicator

Why did Stephen move dockyards - from Devonport to Portsmouth?
Stephen and Frances' two youngest children were baptised at Devoport in 1803. Their son, James, married at Alverstoke, near Portsmouth on 24 September 1815 [his two surviving sisters were married at St Mary, Portsea (1816) and Alverstoke (1825)]. So, the Hambley family moved to Portsmouth sometime between 1803 and 1815.
What might have triggered such an upheaval in their circumstances? The first factor that could have affected Stephen's employment was the international situation. England was at war with France until 1815 and new ships were being hurriedly built and battle-scarred vessels were being repaired at both ports. In fact, ship-building at Devonport accelerated during this period - one ship was built in 1808, 1811 and 1812, three in 1813 and a further three in 1815. Meanwhile, at Portsmouth in 1815, the Dockyard had quickly reduced its work force of rope-makers and sailmakers - only to re-employ half of those dismissed in April 1815. So, employment prospects were no better for Stephen at Portsmouth than at Devonport.
Did Stephen move to join some of his family at Portsmouth? There were Hambleys there - James Hambley (born 1772c) married at Alverstoke in 1797 and his son, William, was a timber issuer in the Dockyard in 1851. There was also a George Hambley living at Unicorn Street, Portsea in 1831 and at New Buildings in 1839.
Perhaps a worsening in the quality of life at Devonport prompted the family to move away. In 1801, there was a local famine and such commodities as were available soared in price. Overtime stopped. Hardship abounded. There was unrest in the Yard and in the town. The Riot Act was read. 'It was a very long time before anything approaching normality returned again'. In 1801, Stephen had three young children - and there was the possibility of more being born. Did the grass appear greener along the south coast?
Did Stephen also have concerns about a local health scare known as 'Plymouth Dockyard disease' - an irritative scourge that could kill. A book was published which analysed the symptoms and treatment of patients in 1825. And Stephen had lost one and probably a second child in infancy.
But the most persuasive argument as to why the family moved is that there was yet another fire at Pembroke Dock on 8 June 1812. The fire broke out at three places at once in the rope-house and 'raged with great fury for several hours and entirely consumed some of the machinery and the roof'. When the ashes settled, 250 feet of the rope-house had been damaged and the 'valuable machinery for twisting cables is much injured'. The loss was estimated at £25,000. An expert from Portsmouth assessed the problem and provided a blueprint for recovery, but this took several months to complete. Perhaps Stephen himself - or his Dockyard masters - deemed that a transfer to Portsmouth of Devonport's rope-makers was the best way to escape the effects of the fire on the workforce. There was certainly later evidence of the two yards co-operating in an exchange of manpower.
Probably the best way forward to answer the question of why and when the Hambleys made their move is to find the family in Portsmouth Rate Books. This research will come under the heading, "To Do"

The last days of Stephen and Frances Hambley
In 1840, Stephen was living in St Marys Street, Portsmouth Point. He died there on 1 June 1840 of plain old age - he was seventy-nine years old. The informant of his death was his daughter, Susanna Lemmon, who was living at nearby 2 Carvers Court.
John and Susanna Lemmon had moved to Seagers Court, off Broad Street, Point by the spring of 1841 and were caring for Frances Hambley. She died a year or two afterwards (there are deaths of two Frances Hambleys at Portsea - in 1842 and 1844)

Of Stephen and Frances' surviving children
James and Maria were living at New Buildings, near Portsmouth Dockyard in 1824. The census of 1841 revealed that James was a (black)smith (most probably in the Dockyard) and living with his family at Dock Row.
James died in the Spring of 1847 aged only fifty-five years. To eke out an existence, Maria took in washing and in 1851 was living with three of her daughters at Oxford Street - between Commercial Road and Lake Road, near All Saints Church. Ten years later, poor Maria was supported by her sons and living at Lower Wingfield Street - which was close by Oxford Street, near Lake Road. She died shortly afterwards in the summer of 1861, aged sixty-four.
There is some evidence that the Hambleys remained a close family. James and Mary Pafford/Mills and James and Maria Hambley were all living at New Buildings and had sons baptised on the same day who were both christened, Thomas Manly (sic). Also, James was a witness at his sister, Susanna's wedding.

To illustrate the dangers of rope-making, in 1819 Count Hardigg was a member of a party visiting Portsmouth Dockyard and was watching a cable being made. He put his hand on the strands while looking away and his fingers and hand were drawn in by the revolving strands. The machinery was instantly halted 'or his hand and arm would probably have been twisted off'.