My greatx4 grandparents, James and Mary Wright married in 1782 and lived for most of their married life at Happisburgh (pronounced 'Haisbro'). This parish was also home to another branch of my family tree - the Tucks.
Happisburgh lies on the coast of Norfolk, twenty-two miles north-west of Great Yarmouth and fourteen miles south-east of Cromer. The coastline is treacherous and the Parish Registers occasionally recorded the burials
of groups of unknown men who drowned. Today there are two notable landmarks: a lighthouse and St Mary's Church which is on elevated land and stands 150 feet high. In the nineteenth century, there were two
lighthouses which were visible fifteen miles away in clear conditions.
The area frequently features in news reports as yet another chunk of land is swallowed up by the sea. The geology is a layer cake of brown sand, clay and gravel which is pounded by tides and storms. In 250 years to 1850, Happisburgh lost 250 metres of land because of this coastal erosion.
This view of Happisburgh and its lighthouse illustrates the effect of the erosion by the sea.
Several homes are precariously perched near the cliff edge.
I am grateful to Mike Page who has kindly allowed me to use this photograph. Link: M.Page

St Mary's Church, Happisburgh where some of my ancestors were baptised, married and buried.
The parish is flat and dominated by a patchwork quilt of fields with the occasional cluster of homes as can be seen from the photo above. Arthur Young reported that the area "had the finest soil, perhaps, in the county: a rich, deep mellow, friable loam. on a clay loam bottom, some on brick-earth and sand; all good".

East Ruston is mentioned in the Sherlock Holmes' story,
The Adventure of the Dancing Men.
The parish church is St Mary (right) and here more of my kin were baptised and married.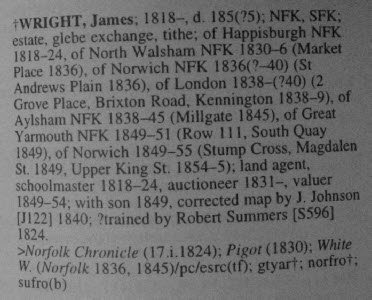 When I investigated the Wrights at Norfolk Archives,
I was looking for James Wright of Happisburgh and found that he had left a will. To my surprise a James Wright had drawn many tithe maps in the area. I dallied with the notion that he was my ancestor, although my forefather's will noted that he was a carpenter (but with this trade, at least James was probably literate). I photographed several of these maps, hoping that they were tangible documents prepared by my ancestor.
During a visit to the National Archives, I found the Directory of Land Surveyors 1530 - 1850 which included the potted history reproduced right. It was obvious that this James was not my ancestor - however, it was intriguing that he was connected to Happisburgh and was born at East Ruston. Was he related to my Wright family?
With the aid of the invaluable Norfolk Transcription Archive on the internet and several helpful 'look-ups' and suggestions by Alison Ring, a pedigree emerged which confirmed that James the cartographer (born 1792) was indeed the nephew of my greatx3 grandfather, James the carpenter (born 1759).

There was a further exciting discovery in store. One of James' maps showed the position of my greatx 3 grandfather's house at Happisburgh.
The children of James and Mary Wright who married in 1755 are deduced from strong circumstantial evidence - despite the fact that they were baptised in two Norfolk parishes, East Ruston and Hoveton St Peter. Mary is noted as living at Hoveton St Peter when she married at East Ruston; the parishes are only about three miles apart; Mary James and John were probably witnesses at their siblings marriages for they are named; if James jnr and John are not the children of James snr and Mary, there is apparently a gap of fourteen years between
the birth of their two daughters, Mary and Elizabeth.
From the circumstantial evidence of where James and Mary's younger children were baptised, the family
moved to Happisburgh in the late 1780s and stayed in the parish until the death of John Wright (born 1783).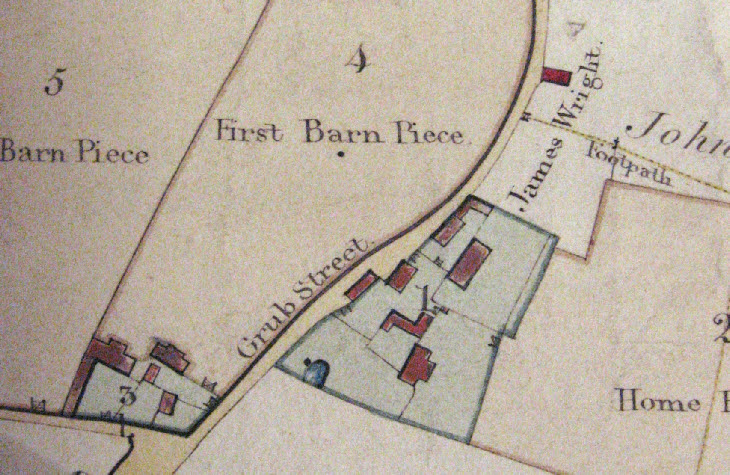 Of course, there was the possibility that the marked map showed James the cartographer's house as he lived in area for a period. Happily the following entry was found in the 1834 Happisburgh Poll Book:

In the 1830s, James the cartographer lived at North Walsham according to his biography shown above. So clearly the bottom entry refers to my ancestor and confirms his address as being at Grub Street (see map)
Although his house no longer stands, the map provides enough information concerning the location of James' house (the footpath still exists) to enable us to see the stunning, panoramic view James and Mary had from their home towards the coast at Happisburgh:

Now, some thoughts about James' (bn 1759) children. His first two sons, John and James jnr, are noted in the Parish Register as twins. As John was favoured in his father's will, he was probably the first born. It appears
that in the late 1780s, James and Mary moved from Witton (where James told a census enumerator he was born), which is near East Ruston to settle at Happisburgh.
James' will, written on 21 October 1844 and proved on 18 March 1847, provides the final insight into his life. He is confirmed as a carpenter - a trade also noted by several entries in Poll Books where he is described as a joiner. His sons, Jeremiah and Josiah Wright, are not mentioned - which probably indicates that they predeceased James, although I cannot find any local burial entries for them. James' effects were valued at less that £100. His house and contents (including stock in trade, plate, linen china and glass) were bequeathed to his son, John. When John died, the house and contents were to be auctioned and the proceeds divided equally between James snr's children; Mary Tuck (my greatx3 grandmother); James Wright jnr; and William Wright (John's son). James' executors were his son, John Wright, and George Vincent (who lived at Happisburgh Hall, to the south of James' home).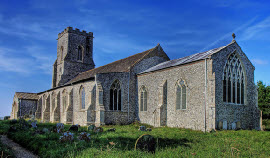 East Ruston is the second parish that features in this account. It lies about three and a half miles south-east of Happisburgh, occupying around 2,500 acres and supporting 845 people in 1851.
John Wright (born 1783). John was at home with his parents in 1841, although the census does not record an occupation for him. As per the terms of his father's will, John evidently remained in the family home after James snr's death in 1847 as he is shown in later local Poll Books as a homeowner.
John is noted as a carpenter at Happisburgh in 1851 but does not appear in the 1861 census. He probably died in 1858. As per the terms of his father's will, the family home was sold in 1865 (see below).
.
The Wright name has figured in several branches of my tree - notably Tuck children, many of whom were baptised as 'Wright Tuck'. Thus, my great grandmother was Rosina Amelia Wright Tuck. There was an enduring family pride attached to this surname.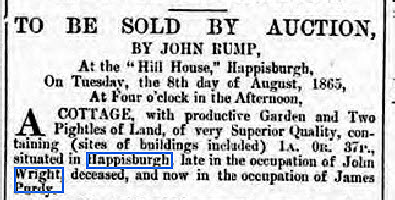 James Wright (born 1783). James was a shoemaker at Happisburgh in 1841 with no other family member at
his home noted by the census enumerator. He was a close neighbour of James Tuck, his future brother-in-law. In 1837 a lot of two cottages and a shoemaker's shop was sold. Its occupants included the two James', Tuck and Wright.
Ten years later, in 1851, he is with a wife, Elizabeth, and is described as a pauper. There is a marriage between James Wright and Elizabeth Burton in the December Qtr of 1844 and Elizabeth's profile fits the information given about her in 1851 (i.e she was born at East Ruston in 1791). An Elizabeth Wright (aged 61) was buried at Happisburgh on 25 July 1852.
In 1861, James was living with his sister, Mary Wright (my direct ancestor), at Great Yarmouth and again
working as a shoemaker. There is a death of a James Wright at Yarmouth in 1862.
In view of this evidence, one wonders if James was perhaps not in the best of health - often shoemaking was
the trade of of a man who was unable to work on the land due to a disability.