This branch of my family is one of the oldest known.
It stretches back to my greatx8 grandfather, Edward Smart, who was born before 1630.
It is also one of the most frustrating scions to research as, apart from the records of baptisms marriages and burials, little has been found about them during the first two centuries.
The small parish of Chute is about seven miles north-west of Andover in Hampshire. It had a population of 389 in 1801 which is the reason that few baptisms, marriages and burials are noted every year. It was decimated by the bubonic plague in the seventeenth century.
A map of Chute resembles a Scottie dog viewed from its right rump. Its south-eastern border divides it from Hampshire so that any research of Chute families should include the counties of Wiltshire and Hampshire. It encompasses several small settlements with 'Chute' in their names such as Chute Forest, Upper and Lower Chute and so on.
The name Chute has the same meaning as the Welsh word, 'coed' - that is, forest. Indeed, the parish was surrounded on its northern, eastern and southern sides by forest. It's topography is of a clay and flint top layer which lies on chalk. There are no streams or rivers coursing through the parish.
The Parish Registers although starting in 1582 are damaged and I suspect they were less than meticulously recorded - sometimes there are no baptisms of children recorded who died in infancy. There are somewhat incomplete Bishops Transcript records which can supply information that has been obliterated in the Parish Registers.
In the Parish Records there is no indication of where the Smarts lived or of their occupations in the seventeenth and eighteenth centuries. The only certain fact is that they were not gentry or farmers as the Parish Records distinguishes these as 'Mr so-and-so'.
Two descendants of the family were woodmen in the nineteenth century and if the preponderance of forests in the area is noted, it may be that earlier Smarts were also woodmen - managing the forests. Having said that, there is a William Smart who died in 1835 and who described himself as a 'yeoman'.
There was but one strand of the family in the parish in the seventeenth century. As they appear to have sired few surviving males, the family did not 'explode'. The unusual Christian name, Alexander appears thrice in the records - which probably links branches that are not otherwise connected by the registers. William Smart (born circ 1726) is therefore shown as a possible son of Edward and Jane Smart. The main difficulty with the Smart family tree is to decide which of three John Smarts who were baptised from 1757-1761 married Elizabeth Phillimore in 1784. Fortunately this puzzle is not part of my line.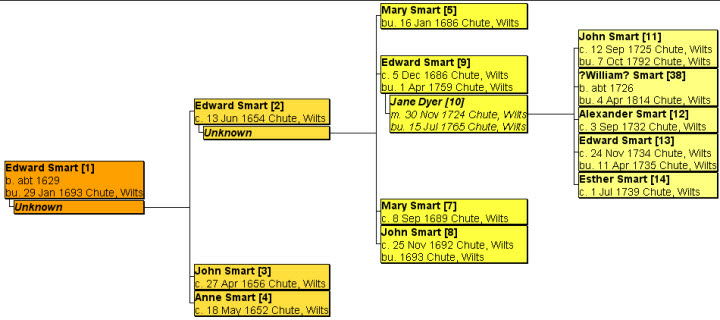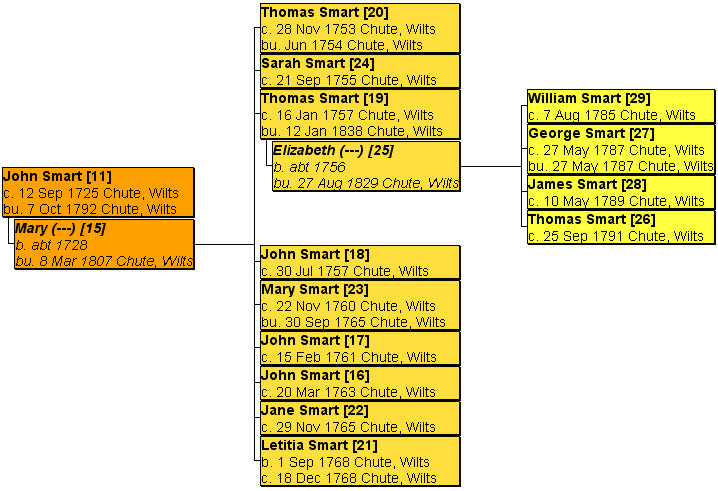 William Smart, baptised in 1785 was my greatx3 grandfather.
Of his surviving brothers, James Smart was a married woodman living at Honey Bottom, Chute in 1851. He died in the March Quarter of 1858. Thomas Smart married, moved to Bristol and worked as a silk dyer. He died in the summer of 1863.
William Smart - my greatx3 grandfather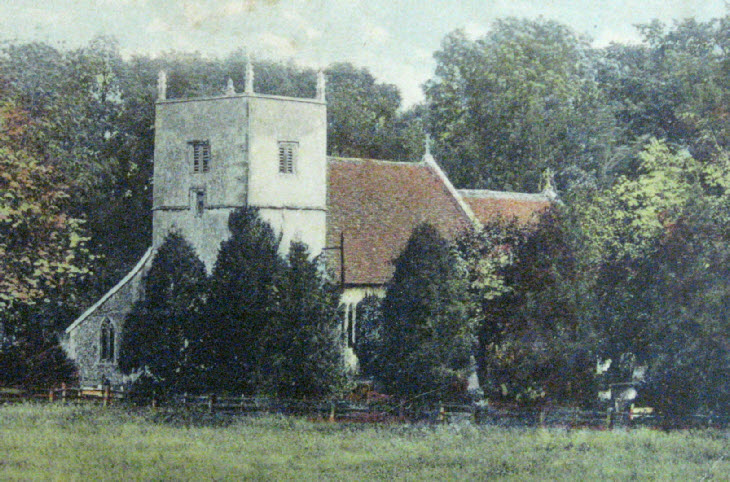 William Smart was the first-born child of Thomas and Elizabeth Smart and was baptised at Chute in Wiltshire.
He evidently crossed the border into Hampshire and lived in the village of Upper Clatford, marrying locally-born girl, Anne Withers on 9 November 1806 at All Saints, Upper Clatford (see below). They were said to be 'of the parish of Upper Clatford' and both marked the marriage register.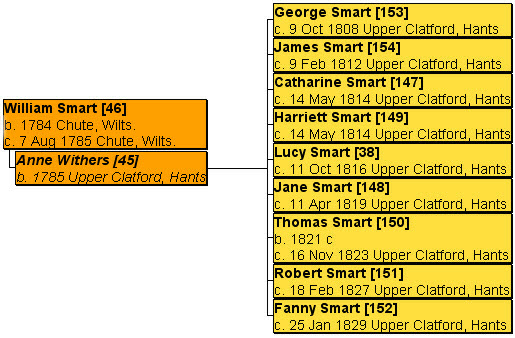 William and Anne had nine children, born between 1808 and 1829. They were all baptised at All Saints, Upper Clatford.

William is consistently described as labourer throughout his life. However, while in 1841, he was an agricultural labourer, in 1851 and 1861 he is noted as a canal labourer and specifically as 'a lock keeper employed by the canal corporation'.
In 1789, the Andover to Southampton canal received the 'green light' of an Act of Parliament and began to operate in 1794. It ran parallel to the River Anton through Upper Clatford. Coal, slates and manure were sent upstream while agricultural products were carried from the countryside. The canal was closed in 1859 as it wasn't making money.
As can be seen from the 1841 map below, in addition to his house and garden, William also occupied a garden (60) near the canal which was owned by William Tasker, a local steel manufacturer who had a wharf beside the canal.
In 1841, William and his family were living in a small semi-detached cottage next door to the 'Crook and Shears' public house. It is noted as 115 on the map below.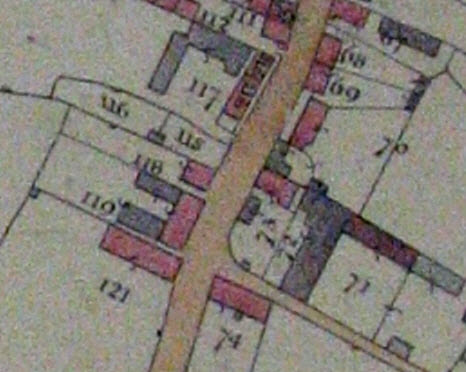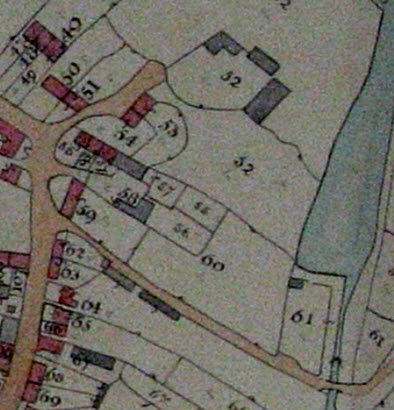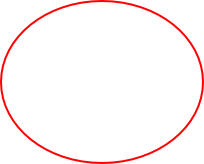 As well as his labouring work, on 20 January 1826, William was deemed a 'fit person' to serve the Parish as Hayward. He was responsible for the hedges and fences and for preventing cattle from straying.
Perhaps it is therefore surprising to learn that in 1837, William was fined 3/- with 2/6 costs for fishing in the canal from the towpath with a net downstream at Goodworth Clatford on 23 May. An irony is that the action was brought by the local landowner, Thomas Dowling. He was a descendant of the Dowling dynasty who also feature in my tree. Ann Dowling married William Dee and their great grandson, William John Dee married William Smart's daughter, Lucy.
It was not unusual for members of the Smart family to poach in the canal. The day after the incident mentioned above, William's son, George Smart, was found by Thomas Dowling in a boat on the Andover canal carrying an eel spear for the purpose of catching eels. Thomas Smart tried to come to George's defence saying that he was with his brother and that the 'eel spear' was in fact a plain boat hook. The Andover magistrates did not believe the brothers and George was fined 3/- with 2/- costs. These two episodes may indicate that the Smarts found it hard to make ends meet.
In late December 1845, William was poacher turned gamekeeper when he testified against George Goodall, Henry Gilmore and John Bundle. He affirmed that he had seen the men fishing at Wherwell during the previous June. From a distance of 100 yards, he saw Goodall get into the water, catch a salmon and throw it to the other two men. As they couldn't/wouldn't pay the fine all three were sentenced to a month's hard labour in gaol.
William's daughter, Lucy married William Dee at Upper Clatford on 10 July 1847. However, there was some acrimony between two of the Smart men and William Dee. In March 1838, William Smart was accused of assaulting William Dee (aged 17). He pleaded 'not guilty' and both were fined 1/6d. Then The Salisbury and Winchester Journal of 4 November 1843 reported that Thomas Smart (22) was fined 7/6d for assaulting William Dee (23).
Anne Smart died aged 62 and was buried at Upper Clatford on 9 June 1847. William was interred there also, on 7 September 1862, when he was aged 77.
The children of William and Anne Smart
George Smart married Sarah Marchment on 9 May 1939 at Upper Clatford. The couple had no children and lived on Upper Clatford's main street. George worked as a farm labourer and died in the summer of 1874. Sarah survived until the spring of 1880.
James Smart married Lucy (from Hemel Hempstead in Hertfordshire) and was a boatman. He was living at Lambeth, Surrey in 1881. The couple had one son.
Catharine Smart married Henry Carver aka Shepherd and Callow (Henry's mother's maiden name was Callow). Henry traded in Andover as a nurseyman/seedsman and in 1861 he employed three men and two boys. They had nine children between 1838 and 1853 including Eliza and Catharine Carver who married the Dee brothers, William and Robert (the sons of William and Lucy Dee). Henry and Catharine died in 1884 and 1885 respectively.
Harriet Smart married the baker and grocer, Joseph Winter who traded at Langley, Andover. They had one son, William Edgar Winter.
Lucy Smart. Link: William and Lucy Dee
Jane Smart married William Fleming on 4 January 1840 - and promptly became untraceable.
Thomas Smart married Mary (Ann Gilmore?). They had one son and moved to Southampton where Thomas worked as a blacksmith.
Robert Smart married three times and worked as a blacksmith in Andover.
Fanny Smart married John Simms/Sims, a farm labourer, in the late autumn of 1850. They had six children and lived near other Sims households on Main Street, Upper Clatford. Fanny died in early 1899.