The genealogical records of Great Yarmouth, Norfolk
My greatx6 grandparents - William and Sarah (nee Leake) Calf

This record of the christening of my greatx5 grandfather on 11 March 1737/38 at Burgh Castle, shows that William was a carpenter. Possibly he died in 1764 (as noted in the Norfolk Archive Transcripts).
The following paragraph is conjecture. There is a will of a Richard Calf who was also a carpenter at Great Yarmouth which was dated 2 September 1761 and proved on 20 August 1763. Was Richard related to William Calf - possibly a brother? Richard marked his will and its only beneficiary was the widow of Great Yarmouth, Susannah Cockerill who was left the house, yard and grounds where Richard lived together with his plate, silver, securities and money.
My greatx5 grandparents - William and Midsummer (nee Brockhall) Calf
William was baptised on 11 March 1737/38 as shown above. He lived in Great Yarmouth, married twice and had eight known children by his two wives. His descendants and corresponding records are shown below.

My greatx6 grandparents married in the parish of Burgh Castle, Norfolk on 8 October 1834.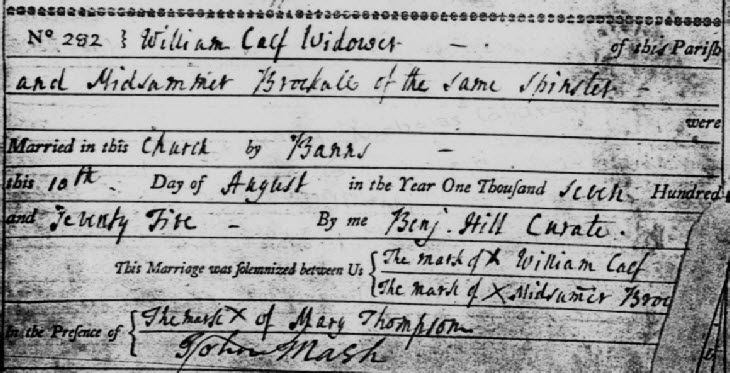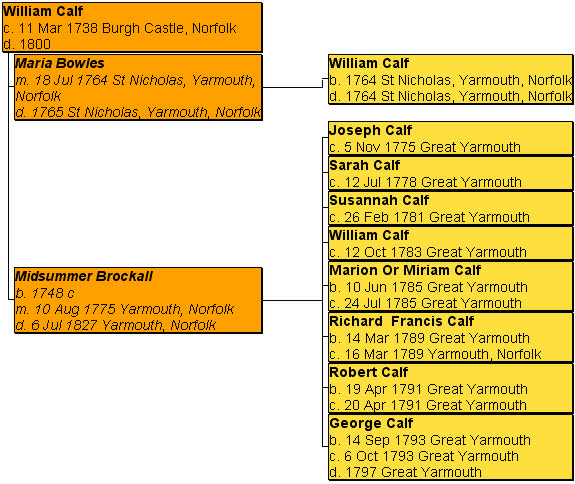 The names of Midsummer's parents are not recorded - although there is a note of burials in the Great Yarmouth Workhouse of a Joseph and a Mary Brockhall in 1781 and 1782 respectively.
Midsummer's will provides some genealogical information (by inference) and somewhat surprisingly shows that she owned several houses near Says Corner, Great Yarmouth - although it is likely that these were left to her by her late husband. She bequeathed four houses to her children and a grandson and mentions 'houses' she sold to John and Sarah Balls.
Midsummer's will (which she marked, not signed) was dated 22 May 1827 and proved on 27 September 1827.
The bequests:
1) To her daughter, Mary Ann Calf, the house she and Mary Ann occupied. It adjoined to the west (near Says Corner, South Row) one of the houses she had sold to John and Sarah Balls (her daughter). She also was to have the use of the common yard 'adjoining to the north of the lavatory and a pump neat to and to the east of the houses' she had sold to John and Sarah Balls. The expenses of repairing the pump and lavatory were to be shared proportionately between her beneficiaries.
2) To her son, Joseph Calf, the house occupied by Garwood which adjoined to the west the house given to Mary Ann.
3) To her grandson, Richard Calf (the son of Richard Francis Calf), the house occupied by Francis which adjoined the house given to Joseph.
4) To her son, Robert Calf, the house occupied by Cooper which adjoined the house given to Richard to the north and adjoined 'the said row'.
Access to the yard, pump, lavatory and the passage to and from was to be allowed by all the new house owners.
5) £2 10/- to her son, Joseph Calf, which was owed to him by Mary Ann Calf.
6) The residue to Mary Ann Calf.
Her executors were to be William Henry Barnby (spirit merchant) and Mary Ann Hall (nee Calf, her daughter). They were each to receive £5 'for their trouble'.
As they are not included in her will, it might be inferred that Midsummer's children: Susannah, William, Richard Francis and George Calf had all died before 1827.
From the descriptions above, it is possible to pinpoint on a map of Great Yarmouth (1819) the location of the houses mentioned in the will which were near Says Corner South Row (aka Row 18).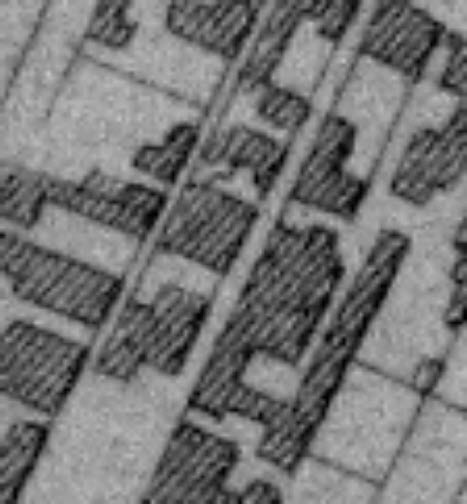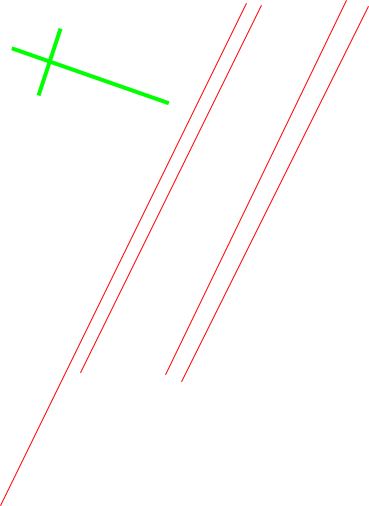 Row 18 (aka Says Corner South Row) ran from Says Corner to George Street. It was a short row.
There is an extant photograph of Says Corner. In the 1841 Census, John and Sarah Balls are shown living in the last house of Row 18 before the inhabitants of Says Corner are noted. Is the house ringed below, their house and one of those owned by Midsummer which she sold to the Balls?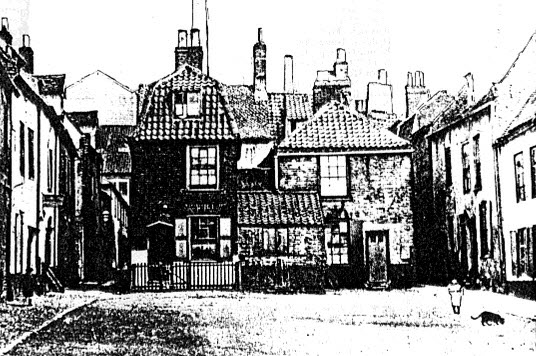 Other property owned by Midsummer Calf
There is an intriguing comment in The Perlustration of Great Yarmouth (C J Palmer; 1875): 'Row, No. 25 (see map above). This row leads from the south-east corner of the Conge to Charlotte Street. It was formerly called Fighting-Cock Row, from the sign of a public house facing the Conge, afterwards called The Coach and Horses, and now the Golden Lion.
In a house adjoining (the public house?) lived a man (sic) with the strange name of Midsummer Calf.
In The Rows and the Old Town of Great Yarmouth (Colin Tooke), there is a note regarding Row 25, 'At the southwest corner were extensive maltings which extended through to Row 27 in the nineteenth century'. I mention this as Midsummer's husband, William Calf, was noted as a maltster when his son, Robert Calf, remarried. Perhaps this trade was the source of their property portfolio.


Of the children of William and Midsummer Calf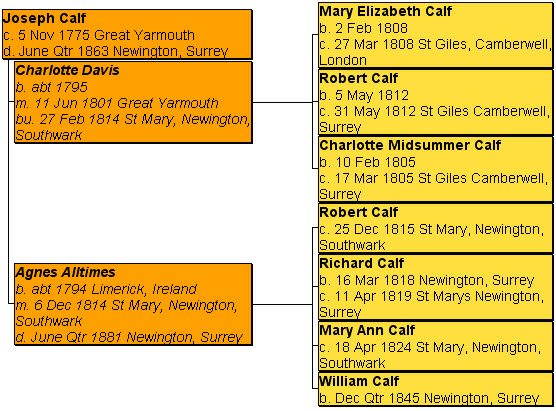 Notes: Marriage to Charlotte: both marked. Witnesses: Joems (?) Reppenhagen and Hannah Harmar. Also, marked at second marriage.
Living at Locksfields, Newington, Surrey in 1814.
Of Poplar Row, Locksfields in 1818 - a labourer.
C1851 Dustman of 5 Wood Buildings, Newington
C1861 Dust contractor of 4 Wood Buildings, Newington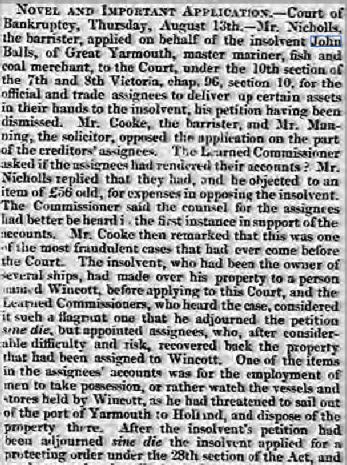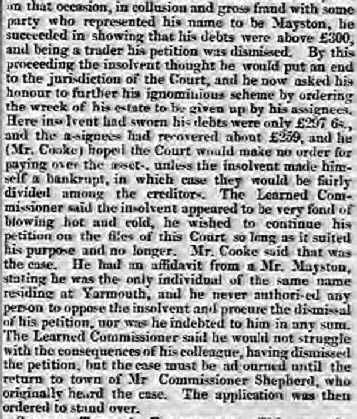 John and Sarah's first-born daughter, Sarah Ann Balls married Robert Martins. When he died in 1863, he owned two houses at Row 18, Great Yarmouth which he bequeathed in his will.
William Calf married Maria Barchard at St Nicholas, Great Yarmouth on 19 November 1811. Maria signed, William marked. Witnesses: Richard and Mary Calf.
William died in 1817 and Maria remarried on 8 December 1817 (see below)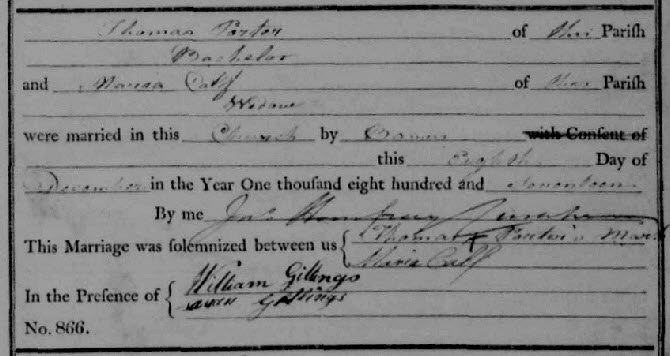 Sarah Calf married John Balls at Great Yarmouth in 1798. The couple had ten known children between 1799 and 1820, including eight sons. Sarah died at Great Yarmouth in the summer of 1841 and John remarried Betsey Kerridge (who was almost forty years his junior) at Mutford in late 1853.
John's occupations are noted as a fisherman, a fish curer, a coal and fish merchant and a master mariner. Not surprisingly four of his sons worked as a fish dealer, a fish merchant, a mariner and a smack owner.
In June 1848, John was in Surrey gaol awaiting trial as an insolvent. His case was first heard in court in August 1846 (see report below). He was declared insolvent in August 1848.
Mary Ann Calf married James Hall in 1813 at Great Yarmouth and died in the summer of 1837. She inherited the majority of her father's estate and was selected as his executor ahead of his sons.

Richard Francis Calf married Mary. They were my greatx4 grandparents and produced three children before his death probably in 1818. He was a fisherman. (Link: Mary Ann Calf)
Robert Calf married thrice: to Martha Harding in the summer of 1817; to the widow Ann Jeffries in the summer of 1848 and to Eliza Page in the summer of 1855. He and Martha had six known children. From 1841 until 1871, Robert lived at Row 1, Great Yarmouth. In 1832, he described himself as a labourer and later as a fisherman. From 1841 - 1871 he said he was a mariner. Robert died in early 1876.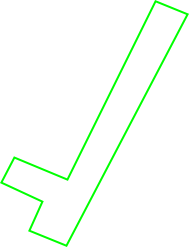 The houses adjoining to the west
and the yard





(I am grateful to another descendant of William and Midsummer Calf, George Balls,
for the information he has kindly supplied)
For an overview of the town of Great Yarmouth see this link: Great Yarmouth
The parish chest of Great Yarmouth was damaged during World War Two so that many of its records have been lost or obliterated. As a result, research of my Calf ancestors begins with my greatrx6 ancestor, William Calf who was probably born early in the eighteenth century.
The will of his daughter-in-law, the delightfully named Midsummer Calf (nee Brockhall) provides much of the detail of the early days of this family.