Most of the articles on this web site begin with the earliest discovered ancestor and work forwards in time. In the case of the Houghton family, I have reversed this method, working backwards. This approach is used to illustrate the process of discovery of forefathers that were untraceable for several years.
My greatx3 grandmother was Jane Houghton who married John Green at St Clements Dane, Westminster on Xmas Day 1828. Link: John Green
For several years, all I knew about her was that she had been born at Horsley Down, Surrey, (on the Thames) in around 1799. Details of her family were unobtainable from on-line sources. Then, in 2011, Ancestry made several London parish records browsable and I quickly found details of Jane's parents. She had indeed been born on 21 January 1799 and baptised in the parish of St John, Horsley Down on 7 February 1799. Her parents were revealed as Richard and Ann Houghton.
Richard's name is fairly uncommon and I decided to download the will of a Richard Houghton from the National Archives. From its terms, it was clear that this man was my ancestor and that he was my greatx4 grandfather. The will abounded with satisfying family details.
Synopsis of Richard Houghtons will:
Will of Richard Houghton, Gentleman of Salisbury Place, Bermondsey dated 6 December 1831.
Richard held £600 of Bank of England Bonds paying interest at 3½ %.
The dividends were to be paid to his wife, Ann.
On her death, the bonds were to be distributed equally between their children: Jane Green (married to John Green), Richard Houghton, Thomas Houghton, Mary Ann Houghton.
The residue of his estate was bequeathed to his wife Ann.
Proved 7 April 1832.
Primed with this information, Richard's burial was found - 4 April 1832 at St Mary Magdalen, Bermondsey. He was aged 57 when he died, so Richard was born in around 1774.
Richard married Ann Hardy on 15 April 1795 at St Clements Dane, Westminster (which explains why his daughter, Jane Houghton, also married John Green at this Church). Ann died and was buried also at St Mary Magdalen on 26 February 1837, aged 63.
Richard's son-in-law, John Green, stipulated in his will that a portrait of Richard was left to my great grandmother, Anne Dee (nee Dear). Frustratingly, I have no knowledge of its whereabouts. Six silver teaspoons marled 'RAH' were also bequeathed to Emily Green, whose estate was handled by John Dear.
After a visit to Southwark Archives, I was able locate where Richard lived - Salisbury Place, Bermondsey. (The Green family lived in Salisbury Street). I also found details of the birth of his other children. It was time to create his tree:

Tracing Richard Houghton's father
Once again, the usual resources for finding the baptism of Richard in around 1774 were unhelpful. However, it is possible to establish his father's identity, using another primary source.
In January 2012, Ancestry again came up trumps by publishing details of people who had been granted the Freedom of the City of London. Included among them was a Richard Houghton, stationer (ie printer or bookseller). Clinging to my theory that my ancestor was in the leather trade, I almost dismissed this Richard as a potential forefather, until I noticed his sons had also been made Freemen of London. Included in their details were the year in which they were born: Richard, (admitted in 1822) born 1800 and Thomas (admitted 1825) born 1803. These details tallied exactly with my Richard's family tree shown above - I was certain that they referred to my ancestor. More importantly they noted his father as Richard Houghton of Shoe Lane, victualler, deceased (before 1789). Richard Houghton (born 1774c) was apprenticed to Charles Treadgold on 5 May 1789.
In October 2010, when at the National Archives, I copied (for no charge!) all the wills they held for Houghton. Included was Richard Houghton's testament which is summarised below:
This honourable man was clearly my greatx5 grandfather - he was a victualler, owned annuities of £600 and had a son, Richard, who was aged under twenty-one and hadn't begun an apprenticeship in 1781.
Thus, a impression is given of a man of some worldly means being struck down by a life threatening illness at the age of 44. He is consumed with concern for the continued well-being of his wife and his only child, Richard jnr, aged about seven. As a bonus, his immediate circle of friends is described.
Richard jnr had married Elizabeth Newton at St Saviour's, Southwark on 29 July 1773. Two of the individuals mentioned in his will were witnesses to their marriage: Martha Dunbar and William Newton who was either Elizabeth's father or brother.








Richard Houghton
born 1774c
died 4 April 1832
Ann Hardy
born 1774c
burd 26 February 1837
Details of Richard's occupation remained elusive. On all the parish records, as with his will, he was described as 'Gentleman'. I speculated that perhaps he was in the leather trade - his son, Richard gave currier and leather seller as his occupation in censuses; Bermondsey (where Richard snr settled) was the heart of the leather industry and a R. Houghton was found in a 1826 London Directory. He was described as a 'leather seller'.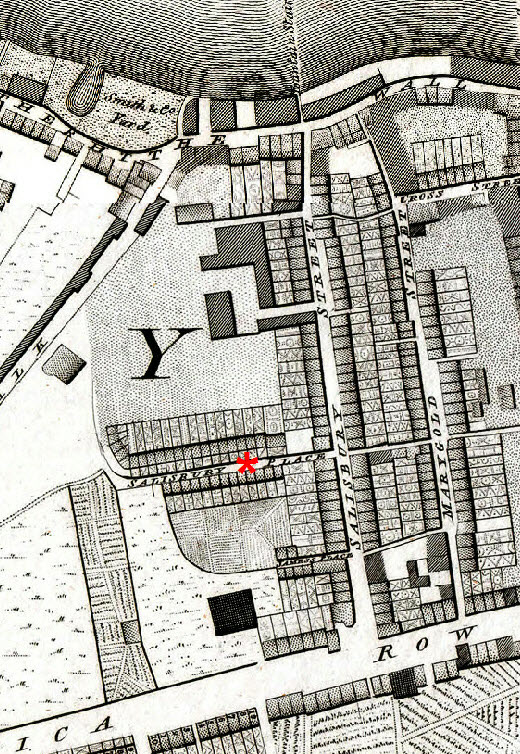 Synopsis of Richard Houghtons snr's will:
Will of Richard Houghton, victualler of New Street, St Brides, London dated 18 November 1781.
Richard owned £600 of annuities paying 4% interest and £200 of Consolidated Annuities of the Bank of England paying 3% interest.
The interest was to be paid to his wife Elizabeth to 'support, maintain and bring up' his son, Richard until he was aged 21 when he was to inherit the principal amount.
If Elizabeth died, or Richard (before he was 21) a half share of the annuities were to be given to Richard's sister-in-law, Martha Dunbar and a half to his loyal representatives.
Richard also owned leasehold 'messuages' including the house where he lived and adjoining property which he had bought by an Indenture of Lease dated 1 September 1777 from John Dawes. This was given to Elizabeth and then Richard. If they died, then a half share was given to Martha Dunbar and another half to his loyal representatives.
Each of the following were given a guinea which he hoped they would accept 'in remembrance of me': my brother Thomas Houghton; Martha Dunbar, my friend William Newton the elder (Richard's father-in-law) and his wife; Thomas Bennett and Richard Waterman or Goldring.
The residue of his estate was bequeathed to his wife Elizabeth, 'subject to the payment of a sum not exceeding £50 for the placing out of my son Richard' as an apprentice to 'such business or profession that shall best suit his ability and inclination'.
Elizabeth was appointed as his executor. The will was proved on 15 December 1781.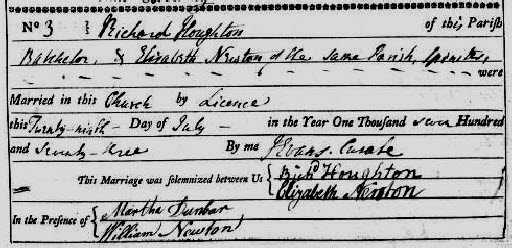 The map shown above pinpoints some of the places mentioned in the narrative. Shoe Lane is less than a quarter of a mile long and runs north-south between Fleet Street and High Holborn. St Andrews lies at the northern end of Shoe Lane, while New Street joins it on its east side. Note the location of St Brides Church yard to the south of Fleet Street, which will feature later.

Jane Houghton
brn 21 Jan 1799
bapt 7 Feb 1799
St John Horsley Down
Richard Houghton
brn 14 Dec 1800
bapt 11 Jan 1801
St John Horsley Down
Thomas Houghton
bapt 27 Nov 1803
St Olave Bermondsey
Mary Ann Houghton
bapt 27 Nov 1803
St Mary Lambeth

Richard's widow, Elizabeth Houghton, remarried at St Bride's, Fleet Street on 16 October 1784. Her new husband was the widower, John Pratt. The couple had at least one daughter - Sophia Pratt, born 2 August 1785 and baptised at St Bride's on 13 August 1785.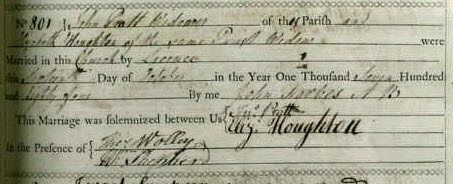 Earlier Houghton ancestors
Now the trail becomes less distinct. The only certain information available is that my greatx5 grandfather was Richard Houghton who was born in around 1737, who lived around Holborn after his marriage and who had a brother, Thomas Houghton.
Trawling through the parish registers, I note that is a record of Houghtons living at Grays Inn Lane (now Grays Inn Road) which is less than mile north-west of Shoe Lane. These details are of baptisms noted in the parish of St Andrew's, Holborn - which was situated on the corner of Shoe Lane and Holborn.
To a Richard and Mary Houghton were born George Houghton (born 1740), William Houghton (1741) and Thomas Houghton (1742).
It is possible that Richard also had a son christened Richard whose baptism was not recorded in the parish register. But even with this glimmer of hope, a marriage of Richard and Mary cannot be found, nor a baptism of Richard in around 1710. For the moment, this seems to be the end of my ancestral line.


Hover cursor on images below to see document.
Richd Houghton's apprenticeship (1789)
Richard Houghton's freedom doc.(1822)
Thomas Houghton's freedom doc. (1825)