James and Harriet Mills were my greatx2 grandparents.
They both lived near the waters of Portsmouth Harbour all their lives.
James was the third Pafford/Mills known to have joined the Royal Navy.
We have naval records to thank for the information that James was born on 28 July 1819 to James and Mary Pafford. James snr changed his surname to Mills and served onboard hulks in Portsmouth Harbour before becoming the Camber Bridge Keeper at Portsmouth.
When James jnr was baptised at St Mary's, Portsea on 5 November 1820, his family were living at Sharps Building, Dockyard New Buildings (see New Buildings). By 1824, the family had moved to Strong's Buildings, which were situated almost on the shore line of Portsmouth Harbour.
On 6 September 1833, James aged 14, joined the Royal Navy as a 'Boy'. For 17 months he served with his father on the hulk-in-the-harbour, Pembroke - a 74-gun ship, third-rate, built in 1812, but now in mothballs with a skeleton crew. He earned half the wages his father drew. He was later described as 5' 7½ " tall with a dark complexion, dark eyes and black hair.
15 April 1835 was a red letter day for young James. He joined Sapphire (28 guns, sixth rate - launched in 1827) which was being repaired by artificers in the Dockyard Basin. A week later, Sapphire was warped out to an anchorage at Spithead and after a further seven days, she sailed. She was to spend more than three years in the Mediteranean before paying off on 14 August 1838.
I now know all the ships on which James served and have a copy of every page of those ships' logs. Over a period of almost twenty years, I can read precisely where he was, how his ship was engaged and even the weather he was experiencing! One day, I will go through these logs in detail and write a summary of his naval career.
On 20 August 1838, James joined Actaeon (28 guns, sixth rate - launched in 1827 and similar to the ship shown right). Over the next four years, Actaeon visited Rio Janeiro, Buenos Ayres and Valparaiso in South America. On 6 June 1841, James was made an Ordinary Seaman, before being paid off on 22 July 1842.
His next ship was Tyne (28 guns, sixth rate - launched in 1826) which James joined on 26 April 1843, and was promoted the following day to Able-bodied Seaman.
Tyne was dispatched to the Levant. James served on her until 15 January 1847 when he was 27 years old.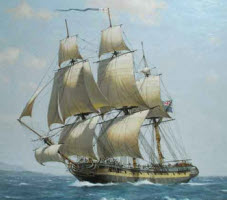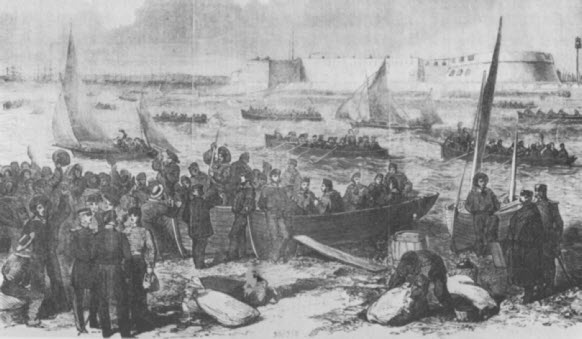 Sailors leaving Portsmouth for the Baltic Fleet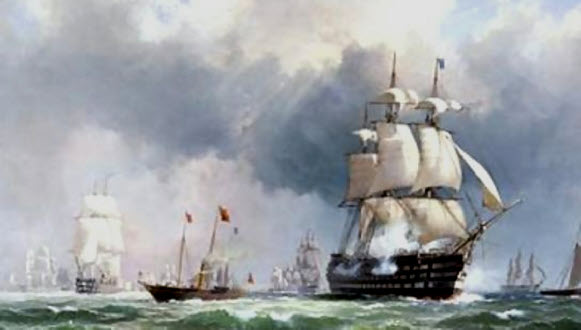 The Baltic Fleet anchored at Spithead.
The Russians refused battle, retreating to enjoy the protection of their land fortresses but as a result their forces were tied up and this had an important strategic effect. The Baltic Fleet was swelled by reinforcements and soon began one of the longest ship against shore actions in naval history - the bombardment of Sveaborg.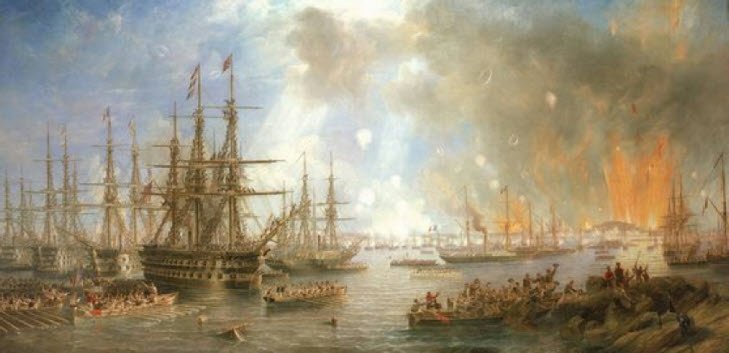 The bombardment of Sveaborg. Dragon is shown in the centre, to the right of the foremost fourth ship of the line.
James was paid off from Dragon on 11 May 1856 and joined Tribune (corvette - frigate, 31 guns, launched 1853, propelled by sail and screw, as distinct from paddles) a month later, on 12 June 1856.
Meanwhile at Portsmouth, on 27 August 1856, Harriet gave birth to their second child, Henry Richard Pafford Mills.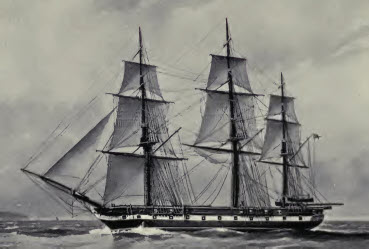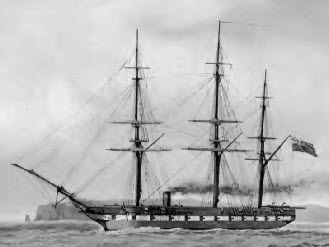 Tribune: left , under sail; right, under steam
Tribune was then ordered to cross the Pacific to China. Here she saw boat actions at Escape, Sawshi and Fatshan Creeks during the Second Chinese War. This was fought to help British trading aims - to legalise the opium trade, expand the coolie market , open all of China to British merchants, and to exempt foreign imports from internal transit duties.
Fighting the Chinese was testing. They withdrew their forces to inland waterways and creeks, protected by shoal water, booms and fire rafts. Chinese junks drew a draft of only three feet and the British could only attack using open boats crossing unprotected water (see below). The junks had 32-pounder cannon in their bows and 'stink pots' at their of their mastheads which showered down burning sulphur on boarders. The air was filled with the sound of a thousand gongs beaten to instil fear in the heart of the attackers.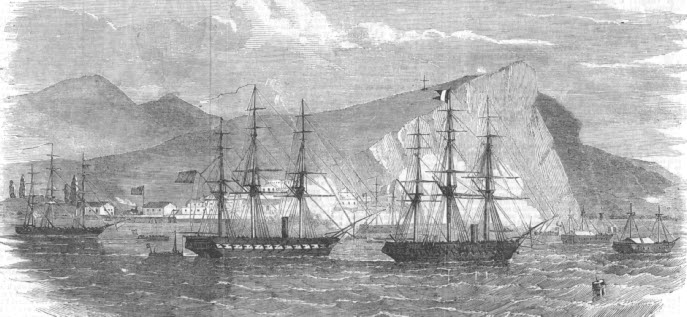 A book describing Tribune's voyages during 1856 to 1860 was written by one of her Lieutenants, Francis Martin Norman. They first sailed to the Magellan Straits, Valpairaso and Peru in South America.
At Arica, Peru, Tribune was attacked by a squadron led by General Viranco. The illustration shown below, is of Tribune, second ship from the left, and to her right a Peruvian frigate with Peruvian store ships on the extreme right.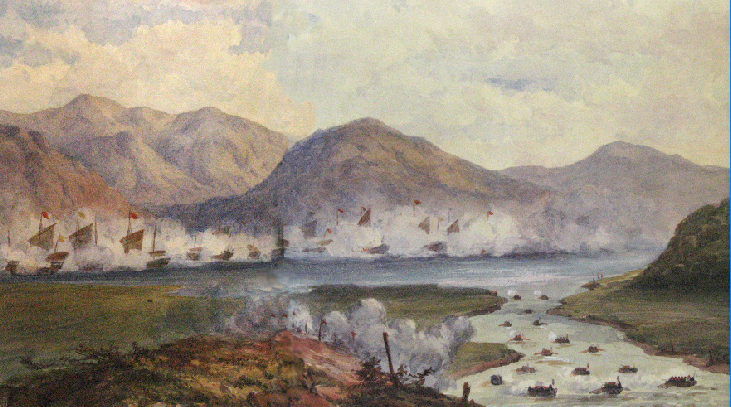 Was James wounded during the battles? Although his naval record does not include service on Calcutta, he was transferred to this ship on 7 November 1858. Was he brought home to Portsmouth suffering from his injuries? In 1859, he was described as a seaman pensioner, which may also indicate he was incapacitated. On 21 June 1859, he began working on HMS Asia, a barracks ship permanently anchored in Portsmouth Harbour (see below) which was stripped of her guns and masts and where sailors were accommodated and trained.

In the late spring of 1860, with James at last permanently at home, his and Harriet's third son was born, John Pafford Mills. The family were living at East Street, Point. The following year, they were living at nearby 3 Blakes Yard and John was working as a dock labourer. Another son, Albert Thomas Pafford Mills, was born in early 1862.
So Harriet must have been heavily pregnant when she was involved in a shoplifting case in November 1861. Martha Holt was accused of stealing ten yards of Baltic shirting, valued at 25/-, from the outfitter, John Baker, of Commercial Road, Landport. Mrs Kitchener of East Street (whose daughter, Martha Elizabeth was to marry Harriet's son, Henry Mills) testified that Martha had knocked at her door at twenty to eight on Monday night, offering to exchange the flannel (which could be made into a 'stuff dress') for bread. The offer was refused and the bolt was taken to a Mrs White who offered to send the flannel to pledge. Mrs White took the cloth to Harriet Mills at East Street who pledged it at Mr Whitcombe's pawnbroker shop, St Mary's Street, for 6/11d. It was pledged in the name of White. Martha was sentenced to one month's imprisonment with hard labour.
Five years later, in 1866, James and Harriet were presented with a daughter, Harriet Pafford Mills. The family was at 25 East Street. James was a seaman in the merchant navy. Some detail of his employment is provided by a news report dated 23 May 1868. Robert Merritt was charged with stealing rope from the deck of the schooner Ellen which was in the Camber harbour. The Captain of Ellen was Robert Batchelor who had married Harriet's sister, Sarah Jane Lemmon. Giving evidence, the mate of the schooner, James Mills, identified the rope and added that it had been in continuous use for about six months.
James was paid at a rate of 10/- a week - farm workers received a weekly wage of between 7/- and 9/-. His duties included giving young gentlemen tuition. This employment lasted until 30 November 1861, when he was 'beached. Thus ended a career in the Royal Navy spanning twenty-eight years during which James saw action in two of the most important naval campaigns of the mid-nineteenth century.
His service records always note that James conduct was 'V good' - while on Dragon, he was awarded two badges. James was given minor positions of authority over small groups of men - on Dragon he was Captain of the Mainmast and on Tribune he was Captain of the Afterguard, which was the middle section of the ship, around the main mast. As he was a tutor of cadets and midshipmen it is likely that he was skilled and articulate.
In 1871, it appears that James had quit the sea. He and his family were sharing 21 East Street with Robert and Sarah Batchelor. There were six adults in the house, including John (74) and Susanna Lemmon who James, 'late seaman', was supporting and eleven children. Next door, at 20 East Street, was Susannah Lemmon, wife of John Kerlich (Harriet's brother)
Ten years later, in 1881, James and Harriet were still sharing 21 East Street with the Batchelors and James continued to draw his naval pension. By 1891, they had moved across the road to 44 East Street and were living with their daughter Harriet and her husband, George Woodnutt and their young daughter, Ethel. They occupied four rooms.
Harriet died in late 1894, aged 64, and was buried at Highland Road Cemetery, Portsmouth. On Christmas Day 1899, after a bout of influenza, James died aged 79. By then, he was living with his daughter Harriet Woodnutt at 305 Twyford Avenue, Portsmouth. He was buried with Harriet at Highland Road - J Plot Row 28 Grave 27.







Life for James and Harriett after 1860

James John Pafford Mills
brn 14 March 1852
Henry Richard
Pafford Mills
brn 27 Aug 1856
John
Pafford Mills
brn June Qtr 1860
Albert Thomas
Pafford Mills
brn March Qtr 1863
Harriet
Pafford Mills
brn 12 Dec 1866




James and Harriet's second son was Henry. He was a labourer in 1871 and a little more information can be gleaned about his early life from a report of an extraordinary incident in July 1873.
An inquest was held at The Isle of Wight Tavern, Bath Square, Portsmouth Point following the death of a nine-year-old lad, John Nield. John's father, Edward Nield, of 8 Bath Square was a captain's cook on board the training ship, St Vincent (which was permanently moored in Portsmouth Harbour). He said that at about five o'clock in the evening, he had just written to his wife to say that everything was all right, when his son went out into the street to play. Minutes later, he was told that John had met with an accident. He went outside and found his son insensible and lying on his back on the pavement of Bath Square. He was not bleeding but there was a dark-coloured mark around and beneath his left eye. A doctor was immediately summoned.
Henry Mills, aged 17, said that he was employed by Mr Cook, a fish saleman of Bath Square. On that Thursday, he was taking two small carts (one tied behind the other which was being drawn by a pony) from The Blue Posts yard in Broad Street to the fish market in the square to wash them out. Two empty fish barrels were in the first cart and the second cart was empty. When Henry was rolling the carts along Broad Street, John and two other small boys climbed onto the rear cart and sat on the shafts. Henry told them to get down, but they took no notice at first. Then, the two others jumped down leaving John on the shafts.
As Henry turned the corner at the end of Broad Street by the Floating Bridge, he noticed that John had got down and was walking between the shafts of the second cart. One of Pickford's vans obstructed the way into Bath Square and Henry 'steadily' stopped the pony. As a result, the hind cart ran up against the back of the first cart and Henry heard John call out, 'Oh my, Oh my' and saw him put his hands to his sides. He went to investigate and saw John crawling between the wheels of the cart. He thought John had been caught between the tail of the first cart and the edge of the footboard of the other. Henry pulled him out and put him on the pavement and ran to tell John's father what had happened.
The Coroner asked Henry whether he had knocked him down or struck him with his whip to make him get down. Reply, 'No, I had no whip with me'. It also transpired that Henry was unable to write and so had not been able to sign a deposition.
The doctor reported that he found John in a state of insensibility and collapse. His face was blue but there were no marks of wounds or contusions. From the way in which the accident was described to him, he concluded that some of John's internal organs had been ruptured or seriously injured. He did not rally and died in a quarter of an hour or twenty minutes. He thought death arose from a shock to the nervous system caused by an injury to one of the important vital organs.
Summing up, the Coroner concluded that there appeared to be no blame attaching to anyone and said of Henry that there was 'no reflection whatever on him'. The jury returned a verdict of 'Accidental death'.
Eighteen years later, in October 1891, Henry had an opportunity to put this sad episode behind him. By then, he had married (Matilda) Elizabeth Kitchener (who was from a well-known Point family) and the couple had produced three of their four children. The family had been living at 27 East Street for at least ten years. From being a carman in 1881, ten years later Henry was a beerhouse keeper at Point.
At quarter past ten one dark night at the Camber Docks, an on-duty constable heard the cry, 'Man overboard!' from the direction of the Camber Bridge. He ran to the spot and saw a man in the water drifting out with the tide under the bridge and called for help. Henry and Simeon Cottrell jumped into a boat and went afloat but were unable to see the man. However, he surfaced near the boat and was caught and carried to the quay in 'an insensible condition'. There, three constables were able to successfully revive him and he was taken to hospital where he made a full recovery.
It transpired that the man, whose life Henry had helped to save, was James McDonald, a private in the Royal Inniskilling Fusiliers who were stationed at Victoria Barracks. It was found that he had accidentally fallen over the quay into the water.
The children of James and Harriet Mills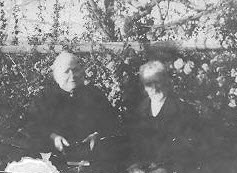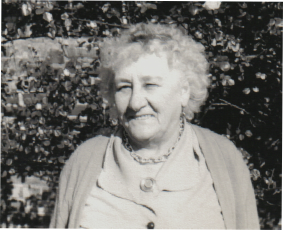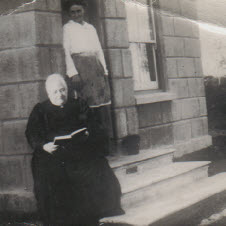 (Above) Henry and Elizabeth Mills. (Right) The wedding of Elizabeth Mills and Cecil Lea (1911): Aunt Bessie, Grandpa Lea, Grandma Lea, 2nd Aunt, Cousin, Edith Corbin, Grandpa Mills, Cecil Lea (groom), Elizabeth Mills (bride) Norman Corbin cousin) Tilly McCready nee Mills, Mabel Brooks nee Mills.

(Left and middle) Elizabeth Lea, nee Mills. (Right)

Elizabeth Matilda Mills and 'Tillie' at Billy McCready's house, St Peters Avenue, Haylng.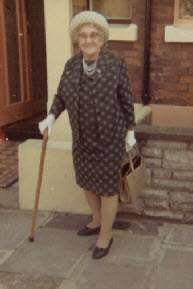 (I am grateful to Carole for providing these photographs and this information)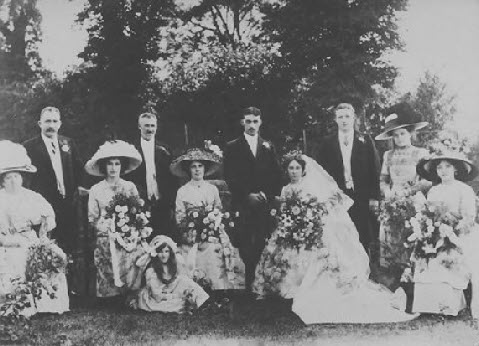 Postscript: There is a note from Molly Brooks about Henry and Elizabeth: 'I was always told that my grandfather rowed my grandma from Old Portsmouth across the water of Portsmouth Harbour to Alverstoke. Why, I will never know, my mother always told me they eloped…… (Grandfather Mills was) a kind, hardworking man and a wonderful grandfather."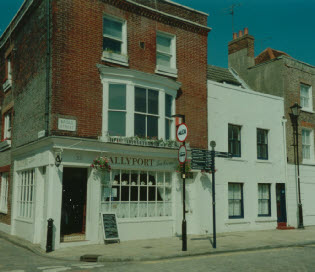 The stark details of John's life are noted in the censuses. He was one of two Mills brothers to marry Cottrell sisters. But his wife, Alice Rebecca, died in 1899. Link: Cottrells
Census 1881, a dockyard labourer; 1891 at 14 Waterloo Street, an iron driller in Portsmouth Dockyard with his wife and two daughters. 1 Aug 1899 - still living at Waterloo Street when his wife died (her obituary was in the local newspaper).
1901, a widower, living at 37 Broad Street (shown right - the white house) and working as a hand driller in the Dockyard. No children present.
John was living at 65 Village Road, Alverstoke, Gosport when he died, intestate. Effects of £883 10s 5d were divided between his daughters Ethel and Lily.

Like his brother John, Albert married one of the Cottrell sisters, Jane Elizabeth (Link: Cottrells) – he also continued the sea-faring traditions of the Mills family. In 1881, he was described as a 'coasting mariner' and as a merchant seaman in 1901.
In November 1893, Albert was involved in the following news story: George Julian Maby, a boatman was charged with breaking and entering the yacht, Trixie, which anchored in Haslar Creek, off Gosport and stealing items including a telescope and watch. Albert was the captain of the yacht and was rowed ashore by Maby who was fishing in the creek. When he returned the next morning, he found the lockers damaged and open and articles missing. The prisoner was remanded.
In 1901, Albert was living next door to his brother, John, at 12 Waterloo Street and was still there in 1937. Jane's home was bombed during World War Two and she moved to Osbourne Street (off Somers Road) and when that was also bombed, she moved to Lyndhurst Road.
When he died in 1937, Albert was buried at Highland Road Cemetery, E 481 to be joined by his wife, Jane, ten years later.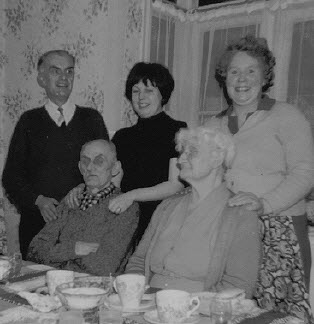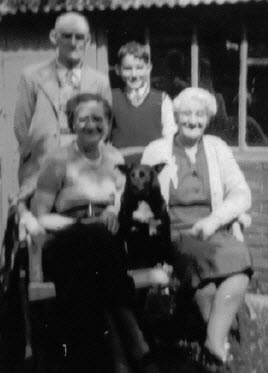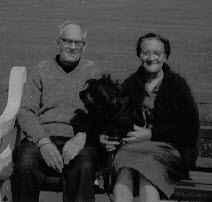 (Top, left) Alexander and Elizabeth Mill's golden wedding, with son, Albert Mills, his wife, Joan and daughter standing. (Top,right) Standing, left: Alexander Mills. Seated l to r: Naomi and Elizabeth Mills. (Bottom, left) Albert and Joan Mills. (Bottom right) Arthur and Naomi Mills.
Henry's homes and occupations may be traced: he was at 19 Bath Square, Point in 1888. 1881, a carman. 1891, a beerhouse keeper at 27 East Street with family and brother-in- law, Alfred Kitchener. 1901, a publican's labourer, casual, at 27 East Street; 1911 (from marriage certificate), publican.
Harriet married George Henry Woodnutt. In 1881, he was a Boy - Second Class on board HMS Vincent, a training ship permanently anchored in Portsmouth Harbour - and a familiar sight.
In 1891, the couple were staying with Harriet's parents at 44 East Street. George was now a seaman in the Royal Navy. Ten years later, the family had moved to 305 Twyford Avenue, Portsmouth and George was still in the navy, serving as a boatswain.
In 1902, Harriet died, aged only 36. George was left with five small children. He remarried in 1906 and had a further two children by his second wife, who was known as 'Gus'.
In 1911, George was at Weymouth in a military establishment. He was serving as a boatswain
At home in Esperanya, (a seven-roomed house at Lower St Johns Road, Ryde on the Isle of Wight) was George's second wife, Elizabeth, together with her parents and five children: Archibold, Caroline, George (all by Harriet) and Harold and Victor (by Elizabeth). Ethel Maud Woodnutt was a house-maid at a boarding house in Southsea, Portsmouth and Frederick James was being cared for by my great grandparents, James and Rosina Mills.
One of George's grand-daughters has written saying that her grandfather, ' was away at sea for months at a time' and that his second wife 'was not a very nice – or good – stepmother to his children. She then had two boys of her own – Harold and Victor....my father and my uncle George disliked her so much that they ran away and joined the navy.' Perhaps this background explains why James and Harriet Mills 'adopted' Frederick.
Ethel Woodnutt's husband, Ernest Finch was Captain of a liner that sailed to America.
Archibold Woodnutt was a deck officer. His family moved to Belfast in 1919 and lost touch with the other Woodnutts.
George Woodnutt kept a grocery store on the Isle of Wight.
Frederick James Woodnutt was brought up by my grandparents after Harriet's death and lost touch with the Woodnutts. Somewhat surprisingly (in view of my ancestors' sons being teachers) it is believed that Frederick was not well educated and had a 'lovely childhood, playing football by himself all day'. Around 1920, he moved to London and lived in a council house at Kingsbury, NW9 (north of Wembley). He worked at Peter Robinsons of Regent Street, London and then at Harrods in the sports department. He was a keen sportsman - in 1924, he was part of the North London rowing team. He was also a choirster.
Frederick was 'called-up' for the Second World War and commanded a 6" gun in South Wales and the Orkneys. His wife, Minnie, made barrage balloons.
The couple move to Canada to be near their sons who had emigrated. Frederick was a commissionaire until he retired, aged 75. When Frederick and Minnie died, their son took their ashes to a cemetery near Golders Green and scattered their ashes around rose bushes.
Alan Woodnutt married Pearl S White in early 1948 at Willesden, Middlesex. The couple had two children. Alan worked in the dry-cleaning industry. He also smoked. His health was affected and decided to emigrate to Canada at his brother, Geoffrey's suggestion.
Geoffrey Woodnutt described himself as uneducated and deaf. He lived with his brother, Alan, after 1946. He was in the Navy as he wanted to be a seaman - but became a 'flunkey' - a steward at the Royal Naval College, London.
He then started an apprenticeship with De Havillands which he completed in 1951. He helped build the ill-fated Comet One which had fuselage faults. 'Piece-work was killing me', so Geoffrey moved with his brother to Canada where he worked in the bush as an aircraft engineer.
Geoffrey recalls going to Southsea and meeting my grand parents, Charlie and Eadie Mills, and Charlie's brother, Archie. They went on a car ride for a picnic on the South Downs. He also recalls going to Esperanya, 8 St Johns Road, Ryde which he describes as, 'a palace compared to our council house in London@.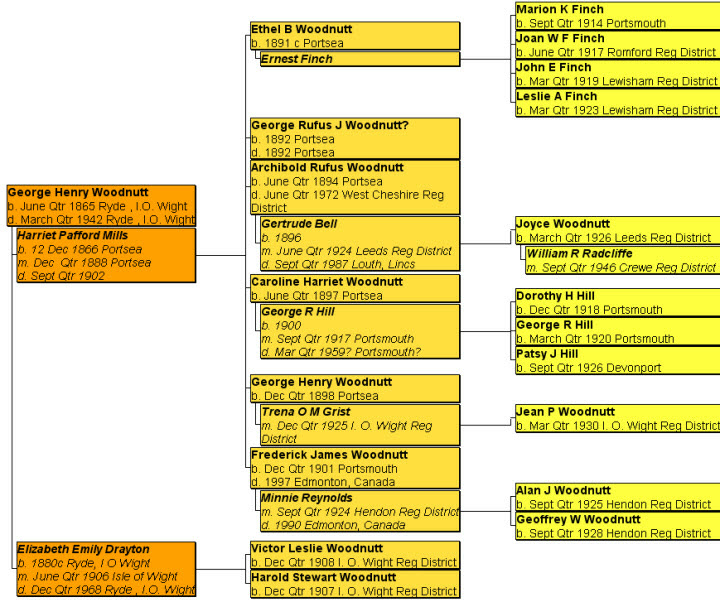 Joan Mills recalls the strong feelings in her family when she and her husband wondered whether to omit 'Pafford' from her daughter's name.
She also says that in the 1920s, a native of Pitcairn visited Albert Mills claiming that they had common ancestors. That is work in progress....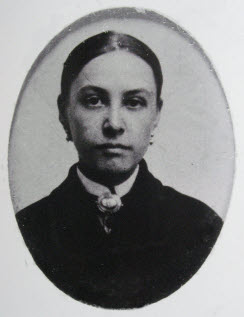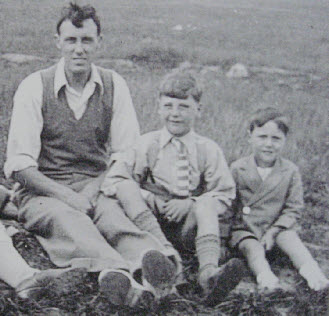 Harriet Woodnutt, nee Mills and Frederick James Woodnutt with his two sons
Why did the couple cross Portsmouth Harbour and travel almost a mile to Alverstoke to be married - especially as Harriet was heavily pregnant? The simple answer probably is that Harriet's parents had married there. However, the couple gave their places of residence as 'Gosport', which indicates subterfuge. Maybe the curate at Alverstoke was more prepared to marry a man and a woman who was obviously about to be fruitful - a fortnight later, on 14 March 1852, their first child, James John Pafford Mills was born. All of their children were given the family's former surname, Pafford, as a middle Christian name. James and Harriet were living at St Mary's Street, near St Thomas' Church.
On 15 February 1854, James joined Dragon (a second class frigate - sloop, built in 1845, with six guns. As well as its sails, Dragon was propelled by paddles, driven by an engine fed with coal and sporting a funnel). One month later, on 11 March 1854, James went to war against the Russians in the Baltic.
In 1853, Russia coveted Constantinople and invaded Turkey. Britain and France sailed to support the Turks and so began the Crimean War. In an arena far away, the Russians had a fleet of 27 ships of the line as well as frigates and smaller craft in the Gulf of Finland. As the Royal Navy had been run down during peacetime, riff raff and criminals were recruited to serve alongside seasoned sailors in a scraped-together 'fleet' comprised of eight ships of the line, four screw frigates and three paddle sloops, including Dragon, that sailed to deal with this threat.
James then worked for the Navy at Portsmouth Dockyard for almost seven years until 13 February 1854. This was a period of relative peace when the Navy was being rundown and fewer sailors were being employed. It was an opportunity for James to marry and have a family.
His parents had moved from Dockyard New Buildings to Portsmouth Point by 1841 and on 30 March 1851, the census significantly recorded James (a seaman rigger) living with his mother and father at East Street, Point. In the next household in the census (possibly sharing the same house) were his aunt and her husband, Susannah (nee Hambley) and John Lemmon together with their daughter, Harriet (25), who was James' first cousin and a straw bonnet maker.
Less than eleven months later, James and Harriet married at Alverstoke Church on 26 February 1852 (see below). Both signed the register and a witness was Harriet's younger sister Johanna Lemmon.

James Mills' service record.
To read, hover cursor on images.


John James Pafford Mills (1852 - 1936) - Link: JJP Mills

Henry Richard Pafford Mills (1856 - 1946)


Albert Thomas Pafford Mills (1862 - 1937)

Harriet Pafford Woodnutt, nee Mills (1866 - 1902)