William Brown
(1766 - 1849)
William Brown was my greatx3 grandfather.
A portrait of him existed in 1847. It would be satisfying to fill the frame shown above sometime.
The first evidence of his family was found in an Assignment of Trustees document dated 1872. His seven-page will furnished more information of a fascinating life in London.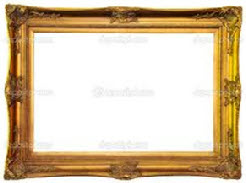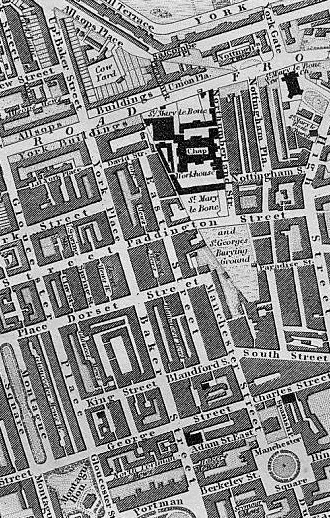 William Brown was baptised on 15 May 1766 at Oakham, the county town of Rutland, near Leicestershire. He was the third son of John and Mary (nee Maydwell) Brown who were both from gentry farming stock - their fathers were distinguished as 'Mr' in the parish records.
William had married and moved to London in his early twenties. We know this because when John Brown snr made his will in 1812, he left £5 to his grandson, John Brown - whose father was William. John jnr was born on 4 April 1790 and baptised at St Mary le Bone.
William's will, dated, 1844, mentions four surviving children - Sarah (Stimson), James, Richard and Emma Dear (my greatx2 grandmother). By following the lives of these children and checking parish records, details of William's early life in London emerge.
In the census of 1861, Sarah Brown (66) said she was born at Hampstead Road, Middlesex. This provides an address for William in 1794 and a clue to his wife's identity. A Sarah Brown was baptised at nearby St Mary le Bone on 5 October 1794, having been born on 19 September. Her parents were William and Ann Brown.
James Brown was also baptised at St Mary le Bone on 24 June 1807, having been born a month earlier on 24 May. However, his parents were William and SARAH Brown. Further details about William at this time are provided by a deed dated 1809 which establishes that William was a builder, living at Baker Street.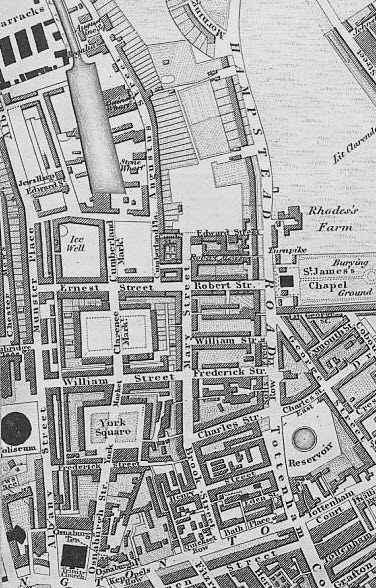 Hampstead Road is about a mile north-east of Baker Street and to the east of Regent Park
Richard Brown was born to William and Sarah on 7 November 1710 and christened at St Mary le Bone on 30 November - which was confirmed when he declared at his marriage in 1845 that he was thirty-four years old.
Finally, Emma Brown was born on 22 July 1813 and was baptised on 3 August also at St Mary le Bone when her parents were also recorded as William and Sarah.
From these established facts it may be inferred that William had other children between the gaps of baptisms in the known record. However, there were more than one William and Ann and William and Sarah couples having children baptised in this parish around the time and so it is impossible to tell which progeny were born to my ancestors. Naming patterns are of no help. But it seems certain that William's wife, Ann, died - probably in the early 1800's - but again several Ann Browns died locally then and in the absence of other information, it cannot be determined when Ann died
Because William Brown (and also Sarah and Ann) are common names and as the venue of his marriages cannot be discovered - whether at Oakham or in the sprawl of London, or indeed elsewhere - I have not been able to discover his wives' maiden names or details of the marriages. Sarah Brown probably died before the 1841 census as she is not recorded in it. Because William moved around London and because Sarah Brown is such a common name, it is impossible to pinpoint where and when she died. (But see below)











John Brown
bn 4 April 1790
Sarah Brown
bn 19 Sept 1794
James Brown
bn 24 May 1807
Richard Brown
bn 7 Nov 1810
Emma Brown
bn 22 July 1813

From parish records of baptisms, deeds of property transactions and William's will, it is possible to track his movements around London.
As already noted, William was at Hampstead Road in 1794 and at Baker Street in 1809. By 1825, he had moved to Hoxton Fields, to the south of Hackney and that same year he had moved again to Felix Street, Bethnal Green (see later). In 1833, William took the lease of a property at Lea Bridge, Clapton.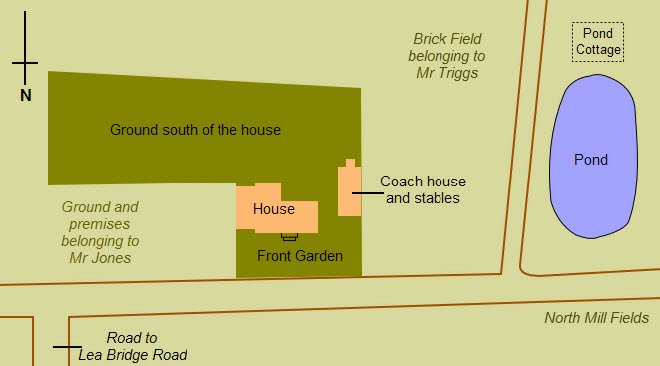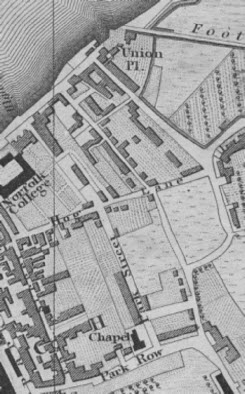 William's signature in 1809, 1821 and 1825

William Brown's financial dealings
In his will, William alluded to his purchase of a piece of 'freehold and hereditaments situate on the south side and abutting north on the Commercial Road in the hamlet of Ratcliff in the parish of Saint Dunstan, Stepney....which I purchased in 1805 from the Commissioners of the road'. He leased this property to Richard Ward for 999 years at £2 pa. The approximate location was somewhere along the red line shown below. It was about a quarter of a mile north of the Thames, and just west of Limehouse.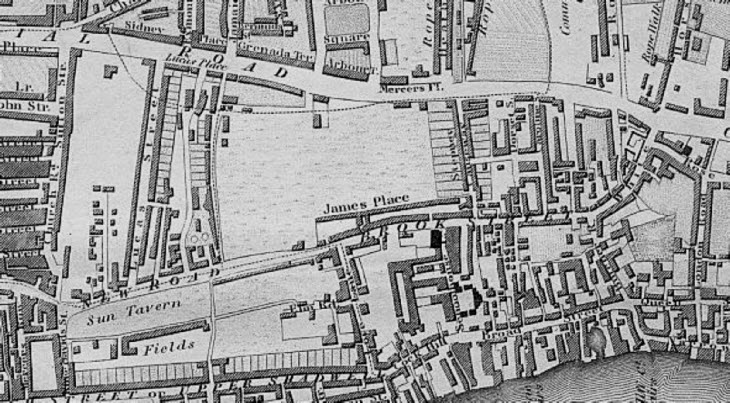 Four years later, on 30 June 1809, William bought a lease for 94¼ years from the Duke of Bedford at £6 12/- per annum, payable in four equal instalments per year. The property was a coach house and stable measuring twenty-four feet by thirty feet at 4 Gower Mews, St George in Bloomsbury - which was located between Tottenham Court Road and the British Museum and was about a mile east of his home at Baker Street.
As the clipping below illustrates, William still used the stables in 1817.

William's father, John Brown, died at Oakham in 1814 and left William £100 in his will. By 1825, he had amassed a large sum of money because he purchased a triangle of land at the junction of Felix Street and Cambridge Circus, Hackney Road, Bethnal Green that included the newly-erected Duke of Cambridge tavern (at 25 Felix Street) which was 'being built in December 1823'. The lease cost £2,200.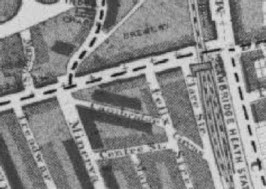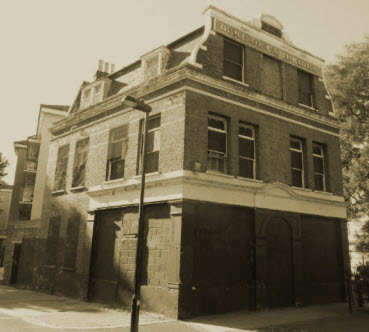 The plot of land was described as being 'at the north-east extremity of a field commonly called Mr Brown's field (not William Brown!) being at the corner of Cambridge Circus and Felix Street which Felix Street runs down on the south side of the Hackney Road at the eastern extremity thereof near the Cambridge Heath turnpike running 114 feet on the east and west sides thereof'.
After acquiring the lease to the Duke of Cambridge for almost 58 years (the original lease was for 60 years from 1823), William immediately sold it on - to John Field for 25 years on 15 August 1825; to the victualler Frederick Crawley for 21 years from 1850 on 26 May 1846 and to victualler John Smith for 11¾ years from 1871 on 30 June 1848.
He and his heirs received £52 10/- rent each year for the pub or around £3,045 in total. In addition to this, the surrounding land also had some value.
William's next piece of business, on 30 August 1833, was to buy a sixty-year lease for to the land and newly built house near Lea Bridge Road (see diagram above). The annual rent was £38.
There were other pieces of business dealings - but it is only William's will that discloses some of their details: three more pubs were leased: the Bridport Arms, Bridport Place, New North Road, Hoxton; The Globe, Chart Street, East Road, St Leonard, Shoreditch and the Three Cups tavern at Bow.

The will of William Brown
William's will was originally drawn up on 17 April 1844 when he was still living at Lea Bridge. His executors were his son, James Brown and his friend, Charles Coley.
The will contains considerable information about William's family and property, as follows:
The property at Commercial Road, Ratcliffe (see above) to son James Brown and heirs.
The Bridport Arms to son James Brown
The Glob, Shoreditch to son Richard Brown
The Three Cups, Bow - income from this to be paid to daughter Sarah Stimson (wife of Sherman) and then to her children on her death.
The Duke of Cambridge, Bethnal Green - income from this to be paid to daughter Emma Dear (wife of Frederick) and then to her children on her death.
£100 was to be invested by his executors in public funds and the dividends to be paid to sister Sarah Rawlings, wife of Richard of Oakham, 'for her sole and separate use free from the debts of her present or any future husband'. On her death, the dividends were to be paid to her children.
Nineteen guineas were to be paid to William's executors 'for their trouble'.
Sarah Stimson and Emma Dear were to be given £20 'for their mourning'.
Each of William's four children - James, Richard, Sarah and Emma - were to have two of his eight tablespoons.
Sarah Stimson was to have six teaspoons and sugar tongs.
Emma Dear was to have four teaspoons and sugar tongs.
James Brown was bequeathed a metal cased watch.
James and Richard Brown were left William's wearing apparel.
The residue of his estate was to be divided equally between his children, James, Richard, Sarah and Emma.
In a codicil dated 20 December 1847, William noted that his proposed executor, Charles Coley had died and stated that Sarah Stimson, now a widow, should replace him. Sarah was also to have William's portrait.

If one can tell the man by the company he keeps, some information about Charles Coley may be pertinent.
Charles was about eight years younger than William. He died and was buried at St James, St Pancras on 14 August, 1847.
In his will (wherein William is not mentioned), Charles is described as formerly a wine and brandy merchant of Tuffnell Place, Holloway, North London - formerly of Islington Green.
He held the leasehold tavern, The Fox, Old Paradise Row, Islington. He also owned the houses at 10-12 Upper Street, Islington, 4 Tuffnell Place, Holloway, 26 and 27 Hunningford Terrace, Islington, 4 Church Row and 2 Allsop Place, Marylebone.

James Brown was born on 24 May 1807 and was living with his father at Lea Bridge in 1851. He returned to his family's roots, marrying Mary Ann Royce (born 1815, Oakham, Rutland) at Oakham in 1850.
In 1861, the couple were living at Northgate Street, Oakham. James was described as a 'Proprietor of homes'. When James died and was buried in the town on 10 April 1871, his effects were valued at under £2,000.
Mary Ann continued to live in Northgate Street, receiving dividends until she also died and was buried at Oakham on 7 March 1896. Her effects were valued at £748.
Sarah Brown was born on 19 September 1794 and married Sherman Stimson (who was also born at Oakham) on 27 December 1821 at St Dunstan's, Stepney. The couple had two sons, Sherman Brown Stimson (born 1823 at Oakham) and William (born 1827 at Shoreditch).
In 1827, Sherman was described as a victualler of Great Chart Street, Shoreditch - and so he was also described in 1862.
In 1841, Sarah and Sherman were living at Jubilee Street, Mile End, Stepney where Sherman was a 'merchant'. He died in 1845. Sarah was living at 8 Seymour Crescent, Somers Town, St Pancras in 1851 and ten years later, at 2 Brunswick Place, Islington. On each occasion she was noted as a 'Proprietor of houses'.
Sarah died at Brighton in July 1870.
Sarah and Sherman's only known grand-daughter, Edith Ruddock (nee Stimson) was living at Portsmouth in 1901 with her mother.
Richard Brown was born on 7 November 1810 and married Elizabeth Herridge on 22 February 1845 at St Andrew, Holborn.


Then, an indenture, signed and dated 1 July 1872, was made between Mary Ann Brown, widow of Oakham and Emma (nee Brown) Dear's children - William Sidney, Frederick George, Matilda and Alfred Samuel Dear. It referred to the leases taken by William Brown on the Lea Bridge property in 1833 and the stables at Gower Mews in 1809.
Mary Ann Brown, James' widow drew attention to the fact that her husband had bequeathed his stables at Gower Mews to his sisters Sarah Stimson and and Emma Dear and also the house at Lea Bridge with its neighbouring Pond Cottage to Emma Dear.
As both Sarah Stimson and Emma Dear had died - Emma, being intestate and leaving leaving four children - their interest in the properties had passed to James Brown's widow, Mary Ann. She agreed to assign all the properties in equal shares to Emma's children as she believed this to be her husband's 'wish and intention'.
For me, the discovery of this document was exciting as it was the first sighting of the ancestors of my great grandfather, William Sidney Dear.


William was still living at Lea Bridge in 1841 with his son James and a servant, but five years later he moved south of the Thames to 26 Park Street, Trafalgar Road, Greenwich. (shown right). He was still residing at Greenwich in 1848, 'now of Union Place East' on the bank of the River Thames.
What follows is conjecture and is the result of some detective work. It was probable for the reasons mentioned earlier that William had married twice. The birth dates of two of his children born to different mothers suggested that his re-marriage took place between 1794 and 1807. I also knew that his second wife was Sarah.
Armed with this information, could I find William's second marriage? The obstacles were that William Brown and indeed Sarah are common names, London was a populous place and there is no certainty that they even married in the capital.
I therefore searched all recorded marriages of William Brown's to Sarah's in London - limiting the sweep to marriages that were conducted north of the Thames where William lived for most of his life.
I found nineteen possible marriages. It was surprisingly easy to eliminate many - although the taught script in those times meant that several of the signature were similar, only three showed William as a widower, as opposed to his being a bachelor. Of these three, one William 'marked' rather than signed the marriage certificate (and I knew my William was literate) and the other's handwriting was very obviously not that of my ancestor when compared with the three samples shown above.
The clincher was the little underlining of the 'm' in William found in each of the examples shown above. (None of the other nineteen William Brown's had underlined the 'm') One of these widowed William's had signed in like manner:
William Brown married Sarah Wilmot at St Botolph without Aldersgate on 29 February 1805. For a comparison, I have also shown William's signature from 1821 above.
There is the bonus of a family member, William Wilmot, who signed as one of the witnesses. My only reservation to the fact that this was my forefather's marriage is the location of the church - although, St Botolph was only about two miles from Marylebone, the area in which William was residing.

The death of William Brown
The following news clipping from the Leicester Mercury, August 1849 announced the death of William:
George Royce was a farmer of around 250 acres. He married Mary Ann Brown, William's niece by his brother James. George lived in the last house on the north side of Northgate Street, Oakham - a mere 100 metres from Oakham railway station which opened in 1847. Below is a photo of the junction of Northgate Street and
Station Road which was taken in 1860. George's house, where William died, is behind the wall to the extreme left.