Emma Jamieson, nee Dear (1861-1958)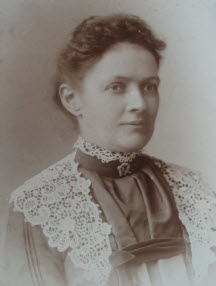 Emma was born on 22 November 1861 at Lea Bridge, Upper Clapton. She was William and Anne Dear's second daughter.
She married James Alexander Jamieson on 27 August 1881 at St Matthew's, Upper Clapton. Their witness were her father, William and A. Dear - possibly, Annie, her sister.
Like William Dear, who was a silversmith, James served an apprenticeship in the trade. His Master was John Barnard who was related to James' father's Master, William Barnard. He began his apprenticeship in 1870, aged 14, and received his Freedom on 5 December 1877.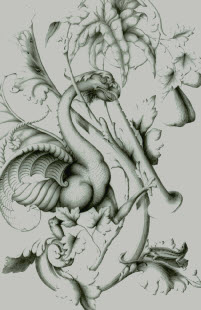 James was an accomplished draughtsman. Shown (above right) is one of his designs, a beautifully observed cockatrice. The silver sugar bowl (above left) is a sample of his work as an apprentice. It was a wedding present to Charles and Emily (nee Jamieson) Dear.
In 1891, James was a Drawer and Tester at the Assay Office, Goldsmiths' Hall.
James and his family were living at 70 Median Road, Hackney in 1891. Ten years later they had moved to 43 Glenarm Road, Hackney in which road, George Dee was living twenty years later.
By 1911, James and his family had moved to 18 Merlin Road, Manor Park, Essex. James was now working as a weigher at the Assay Office.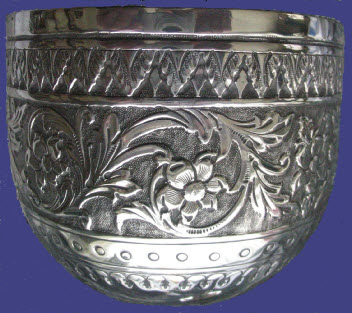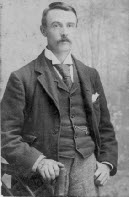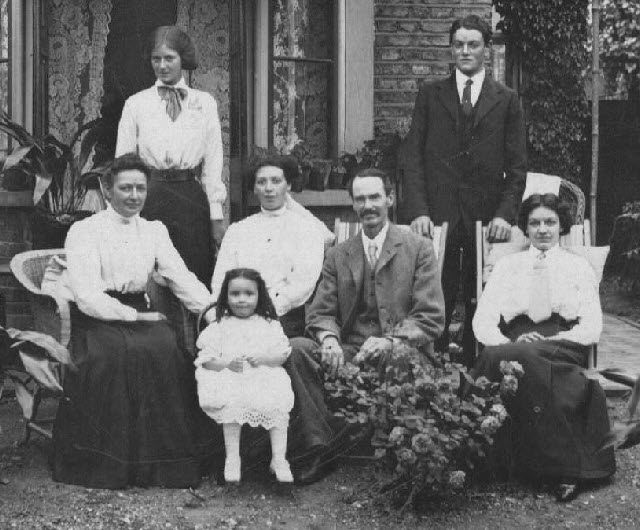 Left to right; standing - Gertrude and James Jamieson, seated - Emma, Ethel, James and Violet. Front - Kathleen Saunders (Ethel's daughter).
Ethel Jamieson was born on 6 June 1882 at 30 Dunlay Road, Hackney. She was a telegraphist in 1901.
She married Frederick Nicholas Saunders in the late spring of 1909. He was the brother of Edith Dee's husband, Harold. Frederick's father was an Assay Officer at Goldsmiths' Hall. The intricate filigree of these pedigrees would rival any silversmith pattern.
Frederick was killed in action during the Great War on 20 October 1917. He served in the Royal Field Artillery and it is believed he was killed in a tank.
Before his death, Ethel and Frederick had two children - their daughter was Kathleen Saunders, who married William Young. They had a farm in Somerset near Cheddar Gorge. She received a third share of Harold Saunders' not inconsiderable estate.
Frederick and Ethel's son was was a minister of religion in Scotland. He also received a third of Harold's estate.
Ethel converted to Roman Catholicism.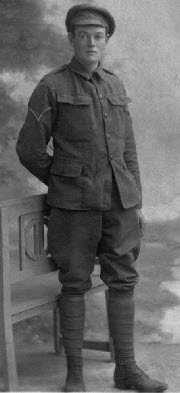 Violet Jamieson. James and Emma's second daughter was Violet who was also born at 136 Powerscroft Road, Hackney ion 26 October 1884. She was a clerk in 1901 and 1911.
My mother remembered that Violet married a german which set me on a wild goose chase looking for weddings with teutonic-sounding names. This lasted several months until I was informed that she had indeed married a german - Jim German. He was a "well set-up man"!
James Jamieson was James and Emma's only son. He was born ion 16 June 1889 at 70 Median Road, Hackney.
He received his Freedom as a silversmith by patrimony on 7 December 1910 when he was a clerk in the Assay Office. Judging from the photograph (right), he served in the army during World War One.
According to my mother, James "married late"
Gertrude Jamieson. James and Emma's last child was Gertrude who was born on 16 August 1893 at 43 Glenarm Road, Hackney.
She remained a spinster until her deathon 12 April 1936 at Whipps Hospital, Leytonstone. She left effects of £1,294 19s 5d.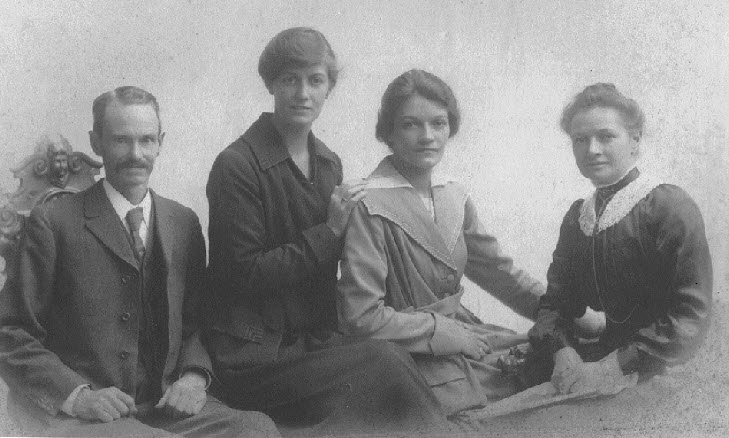 Left to right: James, Gertrude, Violet and Emma Jamieson.
James snr. died on 27 11 1932 at 18 Merlin Road, Essex. He left effects of £928 6s 10d. Emma dies in early 1958 in the East Ham, Essex area.
Emma was "a character". She was close to her brother Charles Dear and was "stately, upright and used an ivory cane and an ear trumpet - Ya, ya, ya!" She would make Yorkshire puddings with raisins. Aged about 90, she made tea, sat down and was gone. She was a "very regal person, but not the sort you would hug"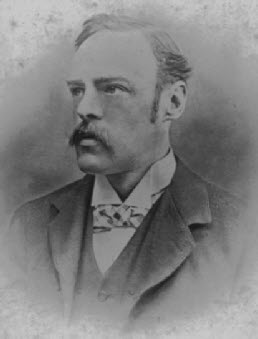 William (Will) Dear (1867 - 1953)
My impression is that Will was on the periphery of the Dear family - doing his own thing, going his own way.
He was born in the late spring of 1867 at Hackney, the first son of William and Ann Dear.
He married the cockney, Caroline Elizabeth Banks (Carrie) at Hackney in the summer of 1888. Their only daughter, Florence Maud was born on 1 August 1889 (Link: 'Maud' Dear) and almost immediately the family uprooted to Nottingham.
In 1891, William was working as a commercial traveller and he and his family, including his mother-in-law were living at 17 Rushworth Avenue, West Bridgeford, Nottingham. Ten years later, he was a furniture remover living at 294 Alfred St Cent, Nottingham.
By 1913, his family appear to be back in London as he received his Freedom as a silversmith by patrimony on the 3 September, together with his two younger brothers, John and Charles.
Sadly, in December 1917, his wife, Carrie, died aged 50 and was buried at Abney Park Cemetery. In 1919 and 1924, Will is recorded as a removal contractor living at 78 London Road, Hackney.
He became somewhat of a reclusive hermit, moving to South Woodham in Essex which is on the upper reaches of the River Crouch.
During the winter, he lived near the river in "an old shack" called, Restawhile which was a workman's hut near a creek on River Blackwater. In summer he would transfer to a houseboat which was lit by oil lamps. There he would play the violin.
He loved the open countryside and messing about in boats. He was described as "a lovely man" by someone who enjoyed her excursions to his home. "He used to row on the back waters and would take me out when the tides were right".
Will died in the spring of 1953, aged 85.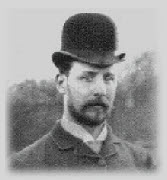 Charles Dear (1873 - 1950)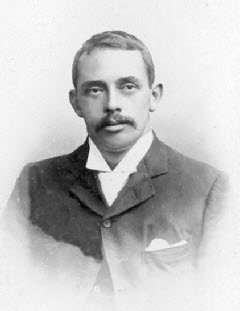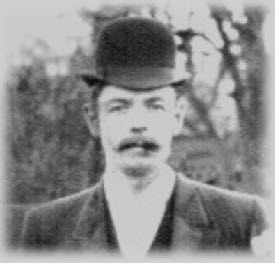 Charles Dear was born at Pleasant Cottage, Lea Bridge, Clapton on 8 August 1873. At the age of seventeen, he was a brokers clerk. The photo shown right was taken around this time.
On 18 March 1896, he became the second Dear to marry a Jamieson - Emily. By 1898, he had joined the family business and he and his family were living above the shop at 219 Lower Clapton Road. He was described as a corn dealer and an employer.
Seven years later, the family were at 31a Rendlesham Lane but by 1919 they were back at Lower Clapton Road, this time at number 156. In the meantime, Charles received his Freedom as a silversmith along with his brothers, Will and Jack on 3 December 1913.
Charles was called up to fight in The Great War conveniently on the day that hostilities were ended.
Around 1916/17, Charles and Jack embarked on their scheme to buy and renovate derelict properties in London. Regarding this, the following extract is of interest concerning Pear Tree Place (which was just off the Lower Clapton Road):
"This little court is reached by a narrow curved turning on the west side of the High Road near the lower Clapton Pond. It is one of the few picturesque spots left in the neighbourhood and probably one of the oldest for it seems to be marked on Roqui's map of Hackney dated 1745.
Some of the old timber cottages which stood on the south side have been pulled down, only one in the far corner remains and that is hardly habitable and may soon be condemned. (Re: it's next door neighbour)....its site is now occupied by Mr Dear's (the corn chandler's) yard, he being the owner of all this property now. (Authority was Mr Dear himself.)
The next oldest house...is probably the white one facing the road at the end perhaps built about the end of the eighteenth century...the rest of the cottages look a little later in date.....on the whole Pear Tree Place is merely a quiet and peaceful backwater with the fast flowing busy stream of the high road rushing past it within a few yards leaving it untouched, almost unknown"
Charles and Emily's children
The two Dear daughters, Elsie and Marie, were taken out of school to help with the family business - Marie was annoyed because she had a scholarship but was needed to look after her mother.
In the mid-1930's, The family moved to Chingford and later to Wickford in Essex where Charles opened a coal shop.
Charles died on 19 August 1950 and Emily on 2 February 1953.
Charles and Emily have been described as "very Victorian, very insistent on good manners". Charles would sing psalms as he ground corn. Indeed, music seems to have been a love of the family - like many of the age, they would sing songs around the piano when they gathered together.
They loved their family and were never happier than when everyone was assembled at their home. They made their family's friends welcome and Emily made a point of attending important occasions like confirmation. Charles loved sport and enjoyed listening to cricket commentaries on the wireless.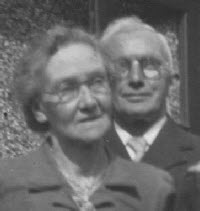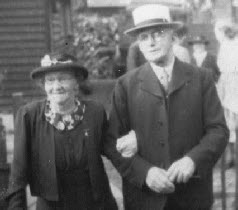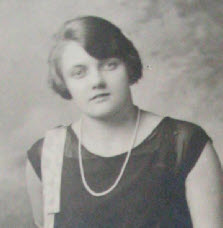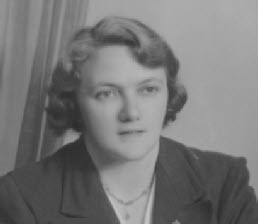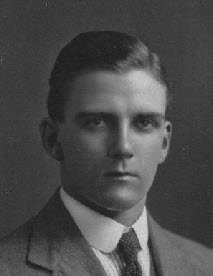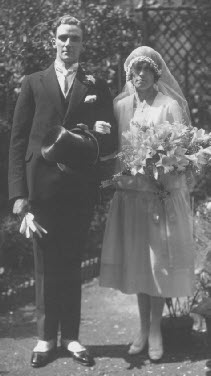 Charles William Dear. (Above: 1922) (Right) 1926 - with Jessie Cannell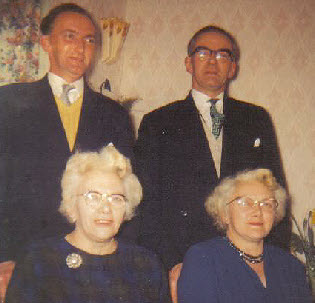 (Left to right) Clifford John Dear, Charles William Dear; Elsie Emily Dear and Marie Dear
(Above, right) Marie Dear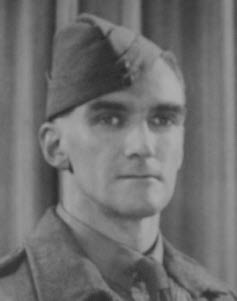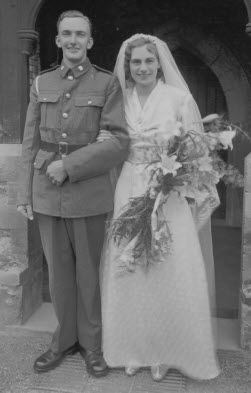 Clifford John Dear
(Right) with Kathleen Turpin - 1940
"Both Charles and Cliff commanded respect. They were tall, proud men and you knew it when they walked into a room. They knew how to do the right thing"
Elsie Dear was present when the Lord Mayor of London read the Armistace
Clifford was an organist, Elsie played piano and Marie was in a choir.
"My grandmother (Emily Dear) often walked four miles from Wickford to Nevendon to see us especially if I was ill. She was always there at my birthday and would come to important events such as my confirmation. She was a real darling and so brave with her illness. Hers, was always open house and any of us could call in with friends and be sure of a welcome. She enjoyed her whisky in bed" - Gillian Pain
Clifford employed a nephew in the coal yard for about ten years. Another relative worked part-time there for a few summers as a digger driver. Uncle Cliff ' was an incredibly hard task master and not easy to work for'.
Charles and Jessie Dear lived at 107 Forburg Road, Hackney for a time.
The Dear silversmith saga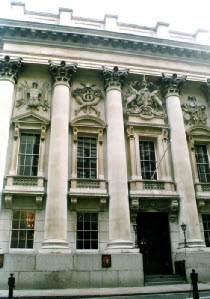 The Freedom of silversmiths can be acquired in two ways. Firstly, by serving an apprenticeship and then making and presenting a piece of silverware which is of an acceptable standard.
Freedom may also be passed on by what is known as patrimony. This means that sons and daughters of a Freeman can apply for their own Freedom simply because their parent's are free.
In the Dear family, William Sidney's surviving sons, although not silversmiths, were all granted their freedom on the basis of patrimony: Jack (on 2 Dec 1891), Will and Charles (3 Dec 1913). Then, Clifford, Charles' son received his Freedom (17 April 1946) and his children , Donald (21 March 1973) and Patricia were granted their Freedom - all by patrimony.
However, Clifford (born 1916) was the younger brother of Charles (b1903) and that neither Charles nor any of his children were able to become Freemen was a running sore in the Dear family. Salt was rubbed into the wound when Clifford attended functions at Goldsmiths' Hall (shown left).
Charles William Dear was said to be "quite unhappy about it all". His grandson said that he "always thought he should have been a Freeman rather than Uncle Cliff" and that Charles had tried for it, couldn't get it and appealed the decision to the referees. The issue was mentioned even when Charles' son Peter was in hospital towards the end of his life. So, why were Charles and his descendants not admitted as Freemen?
The answer lies in the rules of the Goldsmiths. A son or daughter can receive their Freedom provided they are born after the date of Freedom of their parent and that the parents are legally married.
So, because Charles Dear (b 1873) received his Freedom in 1913, his son Charles born in 1903 did not qualify - but Clifford, who was born in 1916, could successfully apply.
It also explains Clifford's haste to apply for his Freedom in 1946. He returned from the theatre of war - the birth of his son Donald was imminent (in the September Quarter, 1946) - so he successfully applied for his (Clifford's) Freedom on 17 July 1946.
Perhaps Charles's side of the family felt that as they didn't qualify, then the others should not apply for it. It is a case of the omission of the father affecting his children. Over such issues, families can be divided.

John (Jack) Dear (1870 - 1953)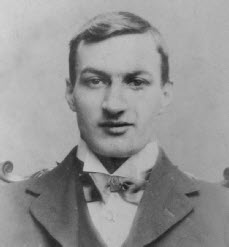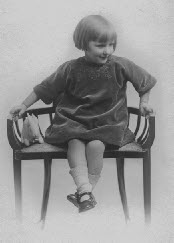 John, or Jack as we shall now refer to him, appears to have shouldered much of the responsibility of the Dear family. He was the third son of William and Ann Dear, born on 12 November 1870 at Hackney.
In 1891, Jack was a merchant's clerk and ten years later he was helping with the family business as a corn dealer. It was Jack who registered his father's death in 1912 and although he and his brother, Will were both appointed as executors of their father's will, it was Jack (corn chandler) who received probate. He also proved the estates of his mother, Ann Dear and his aunts, Emily Green and Matilda Mayston.
Jack continued to live with his mother at 17 Oakfield Road, Clapton until his marriage in the late spring of 1917 at Hackney to Amy Stroude, the daughter of a boot clicker. (He operated a machine that punched eyelets in boots for laces.) Jack was 47 when he married and was living at 83 Farleigh Road, Stoke Newington - Amy's home was 20 Lea Bridge Road, Clapton. One of their witnesses was my great grandmother Annie Dee (nee Dear) - Jack's aunt. Their only child, Dorothy A, was born on 8 October 1918.
Although the Dears had built a small chain of corn and coal shops, Dorothy was evidently reluctant to perhaps literally get her hands dirty and refused to have anything to do with the business.
The Dear brothers, Jack and Charles, had an entrepreneurial dream to buy up old and derelict property in the areas of Clapton and Hackney. For example, they "bought land all over" including property at Mount Pleasant for £500. They renovated their properties and created shops and flats - the driving idea being to "give something back to London".
I don't know whether or not these schemes were successful, but what we do know is that by the end of the 1930s, all three Dear sons had moved away from London.
In the autumn of 1940, Dorothy married Victor Woolliams at Hackney. Victor was an engineer who left school in 1927 and from the Ministry of Works entered the Department of the Environment from 1936 until his retirement in 1972. He then lived at Eastbourne.
I was pleasantly surprised to find two photographs of the wedding among my mother's collection which may indicate that she was a guest. Mum also kept the casual snap with it's inscription shown right. Perhaps she and Dorothy saw each other when Mum lived at Stoke Newington.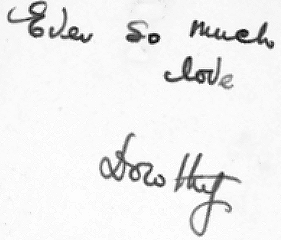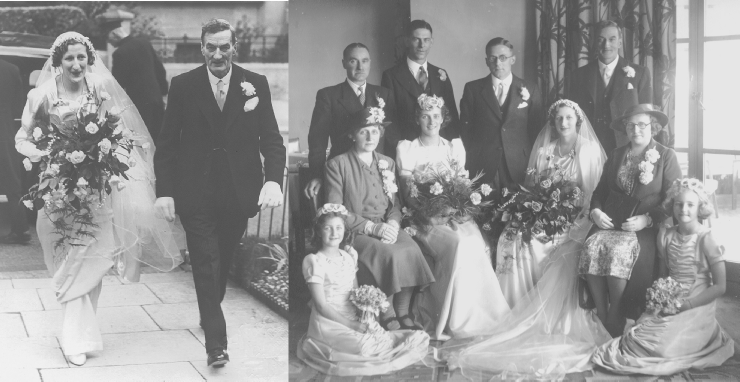 Left to right: Standing; Robert Woolliams, Clive Rayner, Victor Woolliams, Jack Dear. Seated; Clara Woolliams, Millie Lawrence, Dorothy and Amy Dear. Kneeling; Ann and Margaret Ryan.
Two relatives quite independently described Jack as 'the joker' and 'the funny man' in the family 'always great fun' and both referred to his antics at family Christmas gatherings when he would 'courageously swallow mouthfuls of flaming Christmas pudding', 'pull cotton from the pudding from his mouth' and set off fireworks.
Jack died at Eastbourne, aged 82, in the late spring of 1953 - the same year that his brother, Will died.
Amy passed away ten years later in the winter of 1963.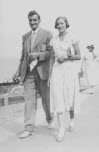 Eventually, the marriage of William and Carrie Dear's daughter has been found:
The witnesses were Elsie Emily Dear, William Dear and Marjorie Dee - evidence again of the closeness between the Dee, Dear and Jamieson families. Now, three entries for 'Harper' in Marjorie's 'Birthday Book' can be explained.


Postscript - Re: Jamiesons
Some years ago, I was given a wedding photograph by a grand-daughter of Charles and Emily (nee Jamieson) Dear - however, frustratingly, the identity of the couple was unknown.
By putting a name to one of the bridesmaids, it was possible to date to the wedding. Seated at the front on the far right, is Elsie Emily Dear, who was the mother of the person who owned the photograph - which helps to establish its provenance. Elsie Emily has a distinctive face and her identity is confirmed when comparing this photo with others of her as a child - notably at the wedding of my grand-parents in 1909 when she was also a bridesmaid. In the 'Mystery Wedding' photo, Elsie is clearly a few years younger than in 1909 which pinpoints this marriage as having taken place in around 1905/6.
Further comparisons of faces in the photograph with known relatives helped to establish that there were several Jamiesons at the wedding - all placed on the bride's side. It was therefore likely that this was the wedding of a female Jamieson in around 1905/6. One event fits the profile - the marriage of Rose Jamieson to John Fisher: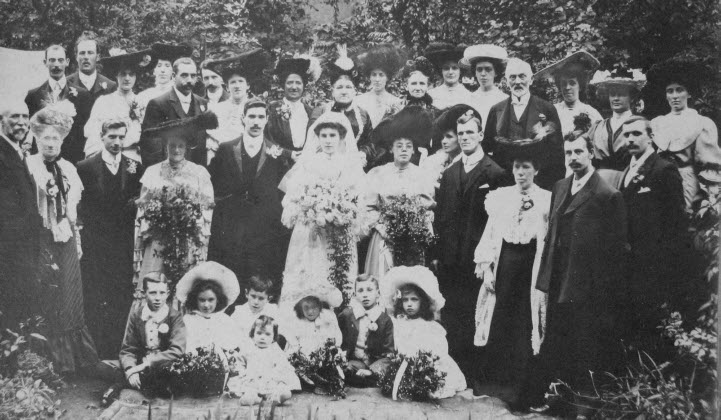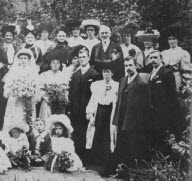 Violet Jamieson
Ethel Jamieson
Emma Jamieson (nee Dear)
Emily Dear (nee Jamieson)
Charles Dear
Elsie Emily Dear




It follows that other members of the Jamieson family in the photo may now be identified. The older man to the right of Ethel Jamieson, is surely John Jamieson (1831 - 1908). The young lady to the immediate right of the bride is her sister, Maud Catherine Jamieson (who was a witness to the marriage and therefore likely a bridesmaid) and to Maud's right, is probably Alfred Jamieson - who was described as Rose's stepfather in 1911. (There is an aura of 'Shhh - don't go there!' around Alfred!)
Maud Catherine Jamieson was born at Boston, USA in around 1881. I had been told that she had suffered a serious facial injury after being hit by a cricket ball at Lords. This story was confirmed by the Goldsmiths' Company, who provided some relief to Maud.
In their records, there is an entry dated 11 January 1931 for Maud of 32 Straight Road, Gidea Park, Surrey. She was the unmarried daughter of John Jamieson, tailor and freeman. Maud had lived with her mother and helped with her tailoring until her mother's death in 1920. She was then housekeeper to her uncle, Alfred Jamieson, at his Grocers Stores in Aylesbury, Bucks. Maud was now unable to work due to deafness and defective eyesight and being slightly affected mentally when a young girl from a blow from a cricket ball on the bridge of the nose. She had been treated as an outpatient at Metropolitan Hospital for twenty years prior to 1912. She had undergone an operation to remove a piece of bridge bone - but no more was taken out as it might have affected her brain. From 1930 until 1936, she received £20 annually from the Goldsmiths. She was then elected as a pensioner. Maud died at Braintree, Essex in early 1963.