My 3xgreat grandfather, John Lemmon, was baptised on 11 June 1798 at St Thomas', Portsea. He was the eldest child of Richard and Johanna Lemmon. Link: Richard Lemmon
Like his father, John was described as a master mariner or a merchant seaman.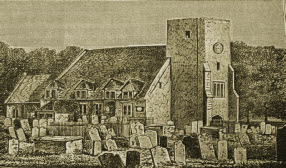 He married Susannah Hambley on 31 January 1825 at Alverstoke Parish Church (right) after they took the short voyage across Portsmouth Harbour in wintertime.
John signed. The witnesses were James Hambley and Mary Lemon, Susannah and John's brother and sister respectively.
Susannah's family were from Devonport – her sister, Mary Hambley married James Pafford/Mills. They were also my 3xgreat grand-parents.
The children of John and Susannah Lemmon
John and Susannah had eight children born between 1822 and 1841. Seven were baptised at St Thomas', Portsea, the eighth (John), at St Mary's, Portsea.







Jane Lemmon
bapt 22 Nov 1822
bur'd 13 May 1832
John Kerlich
Lemmon
bapt 19 June 1825
Harriet Lemmon
bapt 19 June 1825
Elizabeth Lemmon
bapt 7 April 1833
Sarah Jane
Lemmon
bapt 24 May 1835
Richard Kerslick
Lemmon
bapt 7 Jan 1838
Joanna Lemmon
bapt 24 Oct 1830
Samuel Kerlich
Lemmon
bapt 6 Dec 1841





Where John and Susannah lived
When their first daughter, Jane, was baptised in 1822 (more than two years before their marriage), their abode was St Mary's Street, Portsea. Maybe they (or just Susannah, as John was at sea) were living with Richard Lemmon.
In 1825, the family were living in Charlottes Row, Landport, but by 1828, they were back at St Mary's Street – and they were still there in 1833. Howard Hawkes said that Richard Lemmon had three married daughters and their children living with him in 1833 – perhaps Hawkes mistakenly included Richard's daughter-in-law, Susannah.
By 1841, they had moved to Portsmouth Point where they lived for the rest of their days. In 1841, they were at Seagers Court where they were caring for Susannah's mother, Frances Hambley (77); 1851, at East Street; 1861, at 1 Beals Yard, East Street (next door to James and Mary Pafford/Mills); 1871, at 21 East Street (they were in the household of their son-in-law, James Mills, who was supporting them).
The deaths of John and Susannah
John died on 27 April 1874 at 46 East Street. The cause of death was old age and dropsy (a collection of fluid in all or any of his body's cavities that is a symptom of heart or renal disease). His death was notified by his daughter, Sarah Batchelor.
Two years later, on 20 May 1876, Susannah died at 44 East Street from apoplexy (from which she had suffered for almost nine years), paralysis and general decay. The informant was their daughter, Harriet Mills, of 46 East Street.

What became of John and Susannah's children?
John Kerlich Lemmon (25) married Susannah Mary Alm (22) on 12 October 1853 at St Saviour's, Jersey. Susannah's father was Benjamin Arm, a seaman. When copied from the register, John's middle name was written as 'Hassellwick'.
The couple had eight sons and a daughter - the first two children being born at Grouville, a parish in Jersey. By 1861, the family was back at Portsmouth Point and living at 20 East Street where they lived for about twenty-five years. They then moved to 48 East Street.
John like his father, was also a master mariner gaining his certificate in 1845. He trawled the oyster beds at Jersey (see below) until the industry went into decline. In 1881, he was master of 'James', a collier owned by the Fry family which plied between Portsmouth and Berwick. James was de-registered in 1889.
Susannah died in 1892 from exhaustion and cancer of the liver from which she had suffered for some months. John died on 18 September 1905 in the imbecile ward of Portsmouth Infirmary which was attached to the Workhouse (to which he was admitted on 23 June 1905). The cause of death being servectus astheria - probably senile dementia.
Sarah Jane Lemmon married Robert Batchelor on 5 April 1857 at St Mary's, Portsea. The couple had six sons and a daughter.
Robert was a merchant seaman and the family were living at 21 East Street, Point in 1871 and 1881. Sarah died in 1888 and was buried at Kingston Cemetery. Robert remarried Mary Jane Cottrell in early 1891 and was living at 2 Harveys Court No 1. Ten years later, the family were at 80 Broad Street, Point.
Richard Kerslick Lemmon married Elizabeth Ann Smith at St Mary's, Portsea on 2 August 1870 - they had two sons. Following Elizabeth's death in the Spring of 1874, Richard then married Harriet Smith (probably Elizabeth's sister) on 27 September 1875 at Holy Trinity, Portsea. They had three surviving children.
Richard was a waterman/mariner and was in residence on the yacht, 'Fenella' in 1881.
Richard and Harriet were living at 13 Broad Street, Point in 1881, but had moved to 5 Munday Court, Portsea ten years later. Richard died in early 1899.
Samuel Kerlich Lemmon probably didn't marry and was living with James and Harriet Mills (my greatx2 grandparents) in 1871. He worked as a shipwright and as a merchant seaman.
Harriet Lemmon married James Mills. As they were my greatx2 grandparents, they have a separate page to themselves. Link: James and Harriet Mills

John's father, Richard Lemmon, sailed to and fro between Portsmouth and Jersey. John was a master mariner. John's son, John jnr, was also a master mariner and married a Jersey-born girl on the island. Their first two children were born there. Thus, it may well be that three generations of Lemmons were engaged in oyster fishing at Jersey.
The shallow waters between Jersey's Grouville Bay and the French Normandy coast, that bask in the warm Gulf Stream, create ideal conditions for oysters. In 1860, 76,000 tubs were crammed full with around a thousand molluscs to a tub. Between 1810 and 1871, billions of oysters were fished and sent to England where they were regarded as part of the common diet, not as a luxury.
Oysters were dredged from an open boat, a cutter, which was around twenty-five feet long with a single mast rigged fore and aft with a sprit, fore, top and mainsail, gaff-rigged and boomed. A cutter could be crewed by two men and were quick to respond to the wind. In 1822, there were 300 fishing smacks in Gorey Harbour, Jersey, crewed by 2,000 British seaman. Harassment by French armed vessels was frequently reported as issues of fishing rights were hotly disputed.
The oyster season is only four months long. In February and April, hundreds of local men, women and children toiled as basket fillers, carriers, lifters and washers and barrel packers. In 1819, 900 Jersey people were employed in the industry. Boat and net repairing also burgeoned on Gorey's foreshore.
After boats had harvested the oysters, they were taken to Jersey to be graded. The larger ones were exported by fast, larger schooners to English beds were they were fattened.
Portsmouth boats were involved in this trade. The inspector of the Jersey oyster fishery at Gorey reported in 1843 that there were eleven boats from Portsmouth in the local fishing fleet.
However, by 1866, oyster production had slumped to just 6,000 tubs because of either over-fishing or a drop in the ability of oysters to reproduce as seaweed flourished during the enforced close season.
(Acknowledgements - I am grateful to Julie Evrard and Philip Lemmon for their research and information)