On 30 April 2011, I opened an e-mail from Julie Evrard (nee Lemmon). She wrote, 'I think that I have just made an amazing discovery!''
While reading an article about John Pounds (a famous Portsmouth cobbler), she had found a reference to 'Lemmon' of St Mary's Street . This discovery led to an incredible avalanche of information about Richard Lemmon.....
In 2000, readers of The News, Portsmouth voted John Pounds as the city's Man of the Millenium – ahead of Charles Dickens and Isambard Kingdom Brunel. This is a brief story of a remarkable man who left his mark on English education.
John Pounds, the son of a sawyer in Portsmouth Dockyard, was born on 17 June 1766 at 3 St Mary's Street (now, Highbury Street), Old Portsmouth.
In 1788, aged twelve, he began an apprenticeship as a shipwright in the Dockyard. However, three years later he was crippled when a fall into a dry dock left him 'a heap of broken bones and all out of joint'. To earn a living 'they puts me 'prentice to a shoemaker'. Probably, he was not a skilled cobbler doing rough work - repairing, patching and stitching clumsy shoes and clogs.
Guthrie was so moved by what he read that he declared, ''That man's an honour to humanity and deserves the tallest monument ever raised within the shores of Britain'. It transpired that the monument was the Ragged Schools Union established in 1844 whereby tens of thousands of destitute children were rescued and educated to become respectable citizens.
In 1803, John (who never married) had to move to new premises along St Mary's Street. It was a small building – a weather-boarded frontage of just seven feet, sixteen feet from front to back and ceilings only six feet high. His home comprised two rooms - the shop/living room and above, a bedroom. The door was divided in two and was John's window on the passing world.
John befriended a young, crippled nephew whose deformity he corrected by designing and making crude orthopaedic boots. To provide his nephew with company, he encouraged local children to play with him. His 'school' grew out of his friendship with these tots who grew into the habit of going to his workshop. As he cobbled, he began to teach the youngsters how to read and write, using the Bible and scraps of newspapers and handbills.
Education for their children was simply beyond the means of most parents in the area and John's reputation as a 'teacher' grew. He taught them without asking for payment – indeed he rebuffed children from wealthier parents: 'He can afford to pay for your schooling; I want those who cannot pay'.
The criteria for admittance to John's classroom was a dirty face and poor rags of clothes. Sometimes he would search the alleys for pupils. His lure might be warm 'tatties' and the promise of more at his shop. And so, surrounded by birds in cages and John's cat, lessons were held daily for upwards of forty children amidst leather and old shoes as John toiled on his lap stone – 'They's rather thickish on the ground...they never wants to go, save at twelve an' four then they runs off like mad, the little rascals.
His teaching methods were unsophisticated – he knew no theory – but he was consumed by a passion to teach and had a fertile and inventive brain.
Field rambles to Portsdown Hill were part of the 'curriculum'. What an odd group they must have looked – a tall man, so bent forward that his back was almost parallel to the ground, with a hip that bulged out shockingly, surrounded by a rag-tag of urchins enthralled by their discoveries in the hedgerows!
A local artist and fellow shoemaker, HS Sheaf, painted the cobbler at his work. John's first exclamation on inspecting the portrait – 'that's my cat!' The painting was sold to a wealthy man who lived nearby in High Street.
John died on New Year's Day, 1839. When his body was taken to his shop, his 'poor little things' ran out screaming in all directions and soon the whole 'neighbourhood was in a state of confusion and lamentation'.
John was not alone in Britain during the nineteenth century as a man who recognised the lot of impoverished children and sought to improve it by rough and ready education. Yet, it is he who has been christened, 'The Founder of the Ragged School Movement'. How so?
In 1841, Dr Thomas Guthrie, a preacher and philanthropist who lived in Glasgow, spotted a picture above a chimney piece of an inn at Anstruther on the shores of the Firth of Forth. It had been transported there by a captain of a ship. It was an etching of the painting of John Pounds. Underneath was a brief description of his work.
Richard Lemmon - John Pound's 'oldest and most intimate friend'
In 1884, Henry Hawkes ( a Portsmouth Unitarian Minister) wrote, Recollections of John Pounds. Hawkes moved to Portsmouth in 1833 and knew both Pounds and Richard Lemmon. His book describes both men and their conversations in consummate detail......
Richard Lemmon's childhood
When Richard was a youth, he was employed in the foundry department at the Woolwich Arsenal. Here, he worked for some years, faithful in his duties, respected and trusted by those under whom he served. From Woolwich, he was honourably transferred to the Gunwharf at Portsmouth. His good conduct gained esteem and confidence and he worked there until near the end of the Napoleonic wars when he entered the merchant navy in which he had served nearly twenty years.
He worked his way until he became the master of a small trading vessel, the Elisabeth (sic). He plied his trade in Jersey, among other ports of call, and was master of several trading vessels, respected and trusted by all who had dealings with him. Going from port to port, he saw a good deal of various society, in a small way and gained considerable knowledge by it and practical experience.
Richard Lemmon was a square-shouldered man, about medium height, well proportioned, strong-looking, erect and firm on his feet, with a prepossessing ease. He had a pleasant manly voice.
There was something about his appearance and manner that pleased at once and left a very pleasing impression to dwell upon. Though there was evidently not much culture, and his living in the lower part of St Mary's Street implied that he was in but a lowly condition of life, there was a native dignity about him, a manly openness of countenance and expression, intelligent and expressive of good feeling, an ingenuous self possession that made it a delight to converse with him.
His eye was bright observant and penetrating. His dark ruddy complexion, sunburnt and weather-beaten, seemed to tell of years of faithful endurance in his sea-faring life. His manner was respectful and with a manly self respect somewhat elevated, but nothing assuming; no undue self-assertion. His conversation was ready and flowing, well expressed, with clear utterance. A pleasant propriety pervaded all he did and said imbued with a gentle urbanity.
Richard never abused a good constitution. He enjoyed life, but never gave in to those mad pranks that made a wreck of life – a misery and a disgrace.
Richard, in 1833, had been a widower for some years and lived with his grown-up daughters and some little grand-children. His daughters were industrious in a humble way and there was a prevailing good spirit in everything about them
He lived in the lower part of St Mary's Street, the third house from the Sally port (confirmed as No 3 in censuses), on the right hand side of the street going towards the walls. It was a small house that was entered directly from the street with three steps down from the street to the floor. It had only one room – the sitting room (which was also a kitchen) – that had an appearance of comfort, cheerfulness and propriety - go in when you might. In this home, John Pounds was born.
There was an armchair in a quiet corner beside the fire. The room was very bright, well-arranged and clean – the furniture being well dusted. On the window sill was a row of flower pots with healthy, well-managed plants - geraniums, fuschia, a rose tree and some mignionette.
Hawkes reported, 'St Mary's Street was thronged with revolting sights of intemperance and bloated degradation – women of the grossest appearance, sitting on doorsteps or lounging about, lazy and gossiping; their voices and language heart-rending to hear, and their loud laughs of utter self-abandonment. Men, haggard, dark looking, wretches – smoking as if from desperation. Children, scattered all about, in dirt and rags; some playing, but their very sports implying the saddest neglect and degradation.
This crowded neighbourhood abounded with dark alleys filled with dissolute, abandoned occupants. St Mary's Street was one of the principal thoroughfares between Portsmouth and Portsea for persons on foot.'
On 4 September 1869, a letter to the Hampshire Telegraph concerning St Mary's Street reported, 'There are in that street, seventy-four houses, seven are occupied by licensed victuallers, sixteen are beer houses, fourteen are licensed refreshment houses, five are private brothels, whilst nearly all the houses in the many courts and alleys adjoining are rented by beer housekeepers and let in rooms to the unfortunate wretches who frequent their vile dens....Perhaps, Sir, you will hardly believe that one scoundrel had the audacity to call his house the 'Infant School'.
Hawkes' meetings with Richard Lemmon
In his book, Hawkes recounts his meetings with Richard in considerable detail - the first was in 1833, the last, in around 1860. In particular, he describes Richard's recollections of a walk to Portsdown Hill with Pounds and several 'wagabonds'.
What follows are extracts from Hawkes' book:
Re: Pounds funeral: 'As the funeral came out of White Horse Street into High Street and turned left towards the Chapel, it seemed as if all St Mary's Street were passing after it. The Nephew and Mr Lemmon and his family and others of his near friends and relatives, walking after the coffin as mourners'.
A conversation between Hawkes and Mr Martell that compared Lemmon and Pounds: 'He and his friend Lemmon would go out on a fine summer's evening...and would walk hours together...Theirs was a beautiful friendship...in a humble way. They were like brothers...There could not have been a friendship more faithful or more affectionate - unclouded - to the last...strikingly different. Poor old Johnny had a rough outside. Not so, Lemmon. Johnny was coarse in appearance; sometimes, in manner and conduct. Lemmon, never. I have, from the first, looked upon our good friend Mr lemmon, as one of Nature's gentlemen!...there is a native propriety - we may almost say, graciousness, in everything he says and does...And the great charm is, he seems quite unconscious of it himself...(Pounds) was sadly deficient in cleanliness. It was never so with Lemmon...Lemmon never seemed in haste..he always seemed to be self-possessed and at ease; with a mild, manly dignity as if conscious that he had his time and actions entirely at his own control.
They were, both of them, incapable of an untruth,. They were, both of them, incapable of an ungenerous action...All through their life their spirit has been truly Christian..They were both constant in the House of God (the Unitarian Church in High Street)..Lemmon once said on a very wet, stormy Sunday, 'My Pastor will be there; and if my Pastor can be there, I can be there...It was very touching to see those two plain old men, homely as they looked, side by side, devoutly singing hymns, looking over the same book'
1855 at a Teachers' tea party: 'And now my friends...You see a place vacant to the right of the chair. This is for one, who as a little boy played with John Pounds himself a little boy' He then then went down to the end of the room and offered his arm to an old man of more than eighty and in the midst of the most enthusiastic cheering from all sides, led Mr Lemmon up to the seat of honour for the evening....Even good old Lemmon became so excited by the interest in the evening, that toward the close he rose somewhat tottering and said in a tremulous and faint voice that he had something he wished to say...(but) most of what he said was scarcely intelligible.
Around 1860, Hawkes came across Richard by the memorial to John Pounds: One beautiful Sunday evening, as I turned round the corner of the Chapel to go to the vestry, I saw Mr Lemmon standing before the monument of his friend (right). He stood with his back to me. As I touched him gently on the shoulder, 'Ah, Sir', he said, with deep feeling, his eyes glistening with tears, 'I was reading these inscriptions again. Johnny never thought it would come to this. Who'd have thought it? - The Founder of the Ragged Schools - and now they're springing up in all parts of the country.
A comment on Hawkes' recollections
There are some aspects of Hawkes timelines of Pounds' and Lemmon's childhood that cannot be reconciled. However, there are enough unflattering comments about Pounds' appearance to give one confidence in the accuracy of Hawkes' observations.
One example of his pursuit of truth are his paragraphs about the exactness of the details in the painting of Pounds. He noted, 'But the hair of the old cobbler was painted of a dark colour - not true to his grizzly gray head. And his hair was smooth; as if it had recently been combed and brushed, His face and hands looked clean. And he had his coat on. His shirt collar was fastened round his neck and his black stock fitted neatly to it. All which looked as if he had been carefully prepared for the occasion.
The old man's arms were long and very energetic....This was not well intimated in the picture....In the foreground, there was an ample proportion of clear space; which, while it showed the rest of the picture off to advantage, gave no idea of the old man's crowding benificence; for his scholars were close packed up to the very door. And the roomy appearance of the place made it look larger than his little shop - little more than two yards wide...Still for a general view of the old cobbler at work on his bench and teaching his scholars at the same time, it was happily hit off'
It is ironic that the picture that spawned John's reputation was so sanitized!
This detail about Richard Lemmon is manna from heaven for this descendant!
The only aspect missing is Lemmon himself in the painting of Pounds' workshop - yet there is the next best thing. John made no comment about the painting, except to exclaim about his cat. That is apart from an aside to a lady a few days later. The two little girls close beside him, one clasping the other round the neck were his 'two little queens' as he used to call them, Lizzy Lemmon (Richard's grand-daughter) and Georgiana Richmond.
What became of Richard and Johanna's children....
Two of Richard and Johanna's children died young and were buried at St Thomas: Henry, on 16 August 1816 - aged two; Joanna on 9 October 1826 - aged ten. I cannot trace Richard or Nellor after their baptism - perhaps the latter was aka Walter.
Elizabeth married Richard Gillett on 13 February 1829 at Alverstoke C; Samuel married Jane Stacey on 5 February 1834, also at Alverstoke E; while Mary probably married William Jones on 25 September 1825 at Alverstoke D. My direct ancestor was John Lemmon who will feature in a separate article. Link: John Lemmon
(Acknowledgement - I am grateful to Tim Backhouse for allowing me to use the photograph of John Pounds Monument featured in his web site, Portsmouth Memorials.
Source: 'Recollections of John Pounds' by Henry Hawkes)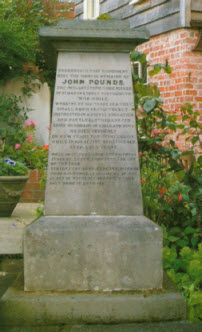 According to censuses, Richard was born at Erith, Kent - a parish which lay on the Thames, less that five miles from Woolwich to the west.
Unfortunately, when searching for his baptism in the Erith parish records, I found that the relevant register had been 'damaged by fire on 21 February 1877'. The Bishop's Transcripts for the period also don't exist, so the identity of Richard's parents is currently unknown.
Further details of his family emerged when he applied for a pension in 1850 (details of which were discovered by the eagle-eyed Julie Evrard). Although the parish records for Erith existed then, and were searched, it was noted that 'by some unfortunate omission, his baptism was not registered', 'through carelessness'.
However, in 1850 some information was provided by a Richard Lemmon, my ancestor's nephew, when he was fifty-two years old. He stated that my forefather, Richard, had a brother, Walter Lemmon, who was baptised at Erith on 17 March 1771 and who was two years older than my Richard. So, Richard was probably born in 1773 - which tallies with information he gave to census enumerators.
When Richard was a youth, he was employed in the foundry department at the Woolwich Arsenal. Here, he worked for some years until he was transferred to the Gunwharf at Portsmouth.
According to the notice of his death in the Hampshire Telegraph (10 Sept 1864), Richard had moved to Portsmouth by 1786/7 and was living in St Mary's Street (now Highbury Street). This street is off High Street and lies to the north of the present-day Cathedral. St Mary's Street was a main thorough-fare between Portsmouth Town to Portsea and Portsmouth Dockyard. Richard lived in St Mary's Street for seventy-seven years.

Richard Lemmon's marriage and children
Richard married Johanna Slade on 12 December 1796 at St Mary's, Portsea B (below). Both Richard and Johanna were apparently illiterate, marking rather than signing the register (though near the end of his life, Richard was able to sign his name and read an inscription on a monument). Their witnesses were Thomas Wood and Mary Christie.
From 1798 to 1816, the couple probably had eight children. All known baptisms were conducted at nearby St Thomas' Church. The family lived at 3 St Mary's Street, Portsea - the street numbers ran consecutively.

By May 2011, I had found a reasonable amount of information about my greatx4 grandfather,
Richard Lemmon.
However, I was not prepared for some further thrilling revelations about him...

Confirming Richard Lemmon as my direct ancestor.
For some time I believed that my 4xgreat grandfather was a John Lemmon. However, when another direct ancestor in Portsmouth, James Pafford, died, the informant of his death was a 'niece', Harriet Seal, of 15, Havant Street, Portsea. Examining her life answered the question of which Lemmon was my ancestor.
In 1881, Harriet Seal was a widow (aged 36, born Portsea) living at Havant Street. I looked in vain for her marriage and therefore her maiden name. Then, I realised that although she was only thirty-six years old, poor Harriet had lost two husbands. She had first married Reuben Smith in 1865 and then, following Reuben's death, Harriet married Henry James Seal in 1871. Harriet's maiden name was Gillett. Gillett's had been living with Richard Lemmon of 3, St Mary's Street, Portsea in the censuses from 1841 - 1861.
I could now put it all together. Richard's daughter, Elizabeth Lemmon married Richard Gillett in 1829 at Alverstoke. The couple had five children, including Harriet Gillett. Her uncle, John Lemmon, married the sister of James Pafford's wife - there was therefore a loose family relationship between Harriet and James - and 'niece' is often used in censuses as a catch-all expression to indicate such a family tie.
The point of this exercise is to prove that Harriet's ancestor was Richard Lemmon.
Thus, conclusive evidence that Richard, and not John, was my ancestor had been found on the basis of the information provided by a name on one death certificate,
In 1855, my greatx2 grand parents, James and Harriet Mills were living in Richard's home, at 3 St Marys Street, Portsea.
Frederick Joseph Proctor was born on 10 April 1854 - the son of Frederick Proctor and Eliza (nee Lemmon). Eliza was the daughter of John (a mariner of Old Portsmouth) and Harriet Ann (nee Tombs born Winchester, 1798c) Lemmon.
In around 1924, FJ Proctor wrote 'Reminiscences of Old Portsmouth', a series of articles that appeared in the Hampshire Telegraph and were later published in book form in 1931. In it the following claim was made:

Thus, Proctor claims John Lemmon as Pounds 'most intimate friend'. However, I believe he is probably mistaken for these reasons:
1) According to the Portsea Rate Books, John Lemmon lived in Tower Street, Point during the 1820s. In the 1841 census, Harriet Ann was still living there, as a victualler of the 'Ship Tigre'.
But, according to Hawkes' book, 'Lemmon' lived in St Mary's Street, Point. There is primary evidence that Richard Lemmon lived in St Mary's Street, as shown earlier.
2) Hawkes describes 'Lemmon' and John Pounds as contemporaries - Lemmon was 'six years' younger than Pounds, who was born in 1766.
In is improbable that John Lemmon was born in around 1772 - his wife was born in around 1798 and their youngest son, Alexander was born in 1835/6 when John would have been about sixty-three years old.
Richard Lemmon was born in around 1770.
3) In 1833, Hawkes describes 'Lemmon' as having 'several grown-up daughters and some little grandchildren'. John and Harriet's daughters were Charlotte (born 1821/2), Maria (1829/30) and Eliza (10 November 1831) - hardly 'grown-up' in 1833, and they clearly had no grandchildren.
Slater's Directory for 1851 records Maria Lemmon, John and Harriet's daughter, as a beer retailer at 5/6 St Mary's Street. So she was the next door-but-one neighbour of Richard Lemmon.
The positive that can be taken from Proctor's comments is the association of his family with John Pounds. This is compounded as his uncle, Alexander Lemmon, sailed in a ship called 'John Pounds' in about 1864. This may indicate a family relationship between John and Richard Lemmon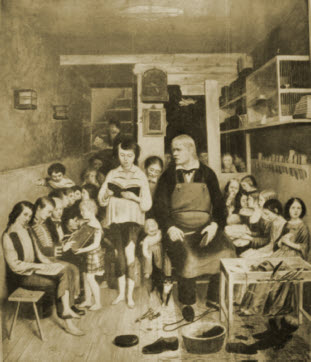 Richard's signature in 1850:

Johanna died when she was aged sixty-one and was buried at St Thomas', Portsmouth on 26 March 1830 A.
Richard had been a mariner in the merchant navy and retired in 1849, aged 77 years, due to 'old age and infirmity'. He received a small annual pension of £4 from the Merchant Seamans' Hospital Fund and applied for an additional pension from Trinity House, Deptford. Hence he described himself as a pensioner in 1861.
Following his death on 7 September 1864, he was buried four days later in Highland Road Cemetery, Portsmouth.
In 1787 and aged fifteen, Richard joined the Merchant Navy as an Ordinary Hand on board the 60-ton vessel, Richard. For the next sixty-two, he served as master on a succession of coasting vessels: 1800, Richard and Ann (42 tons); 1808, Louisa (32 tons); 1836, Elizabeth (47 tons); 1831, Ann (32 tons) and 1849, Union (50 tons).
Supporting original parish records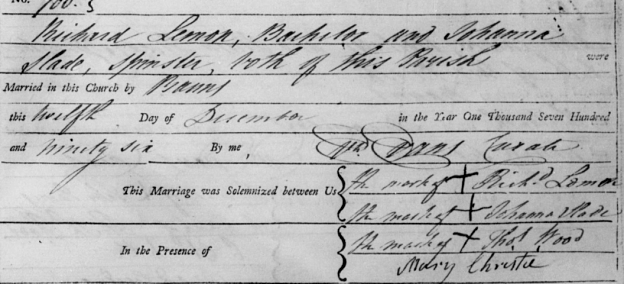 Richard and Johanna Lemmon - marriage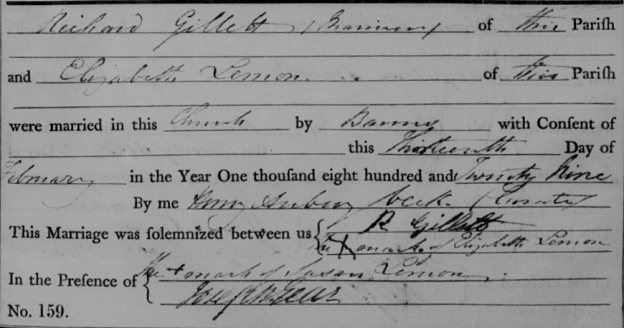 Elizabeth Lemmon - marriage (Susan Lemon a witness)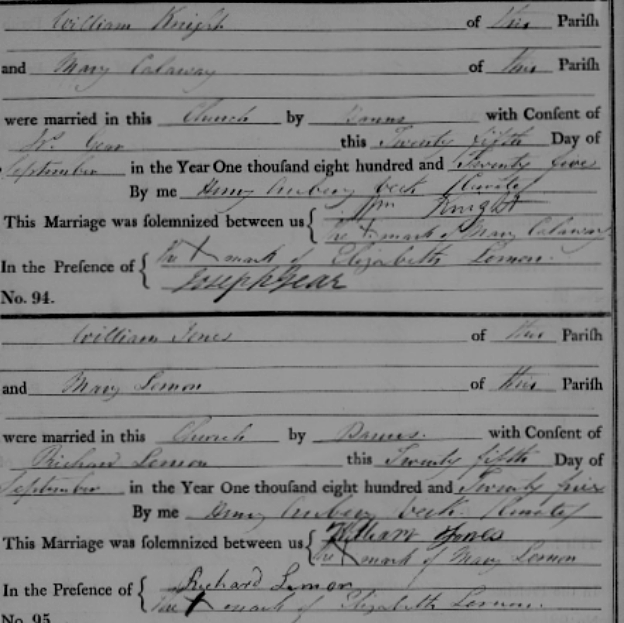 Mary Lemmon - marriage ? (Note: Richard gave his consent and Elizabeth Lemon was a witness in the earlier marriage on the same day)