Patrick Charles Mills, my uncle
On 15 March 2014, my uncle, Patrick Mills received a telegram from the Queen.
This is the story of his life.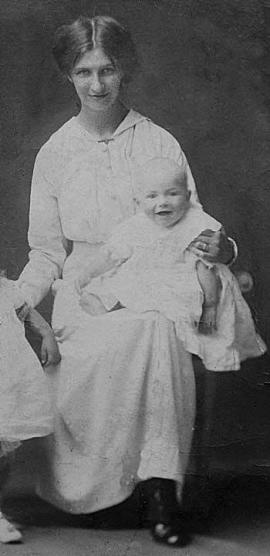 Patrick was the son of Charles Henry and Edith Annie (nee Dee) Mills. He was born at Southsea,
Hampshire on 15 March 1914.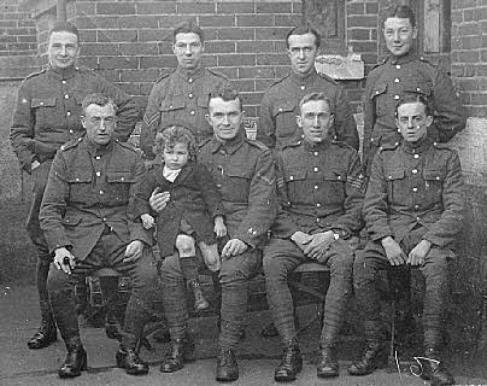 After The Great War was declared, the Mills family were billeted at Bognor on the Sussex
coast. Patrick was adopted as a mascot by a group of soldiers.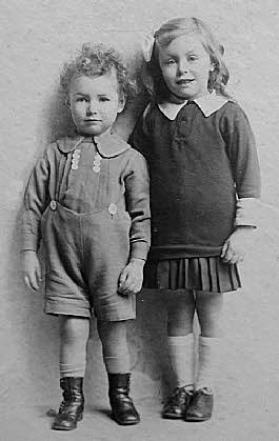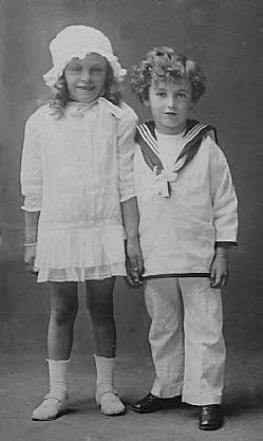 Patrick as a young boy - studio shots with his sister, Grace.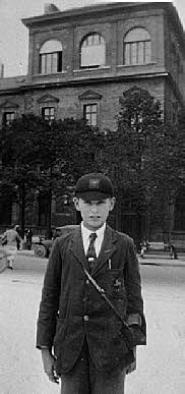 Patrick attended the prestigious Portsmouth Grammar School.
(Above right) Enjoying a holiday at Sandown, Isle of Wight with his father and sister.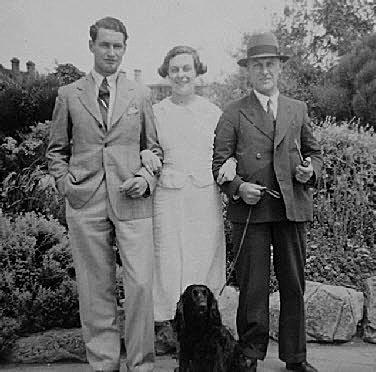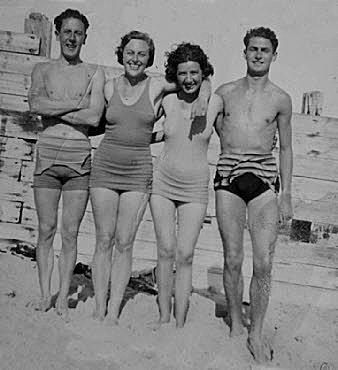 Patrick in the mid-1930s.
(Left) with his father and sister; (right) with Ben Bannerman, sister and another.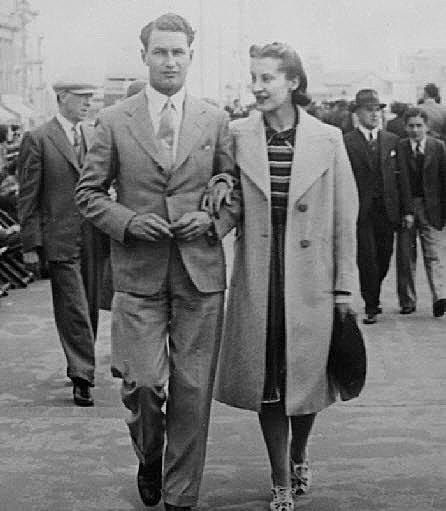 On 24 November 1938, Patrick's engagement to Mary Dorothy Barnes of Tonbridge, Kent
was announced.
Mary was born on 7 August 1918 and was the daughter of Mr and Mrs Bertram Barnes.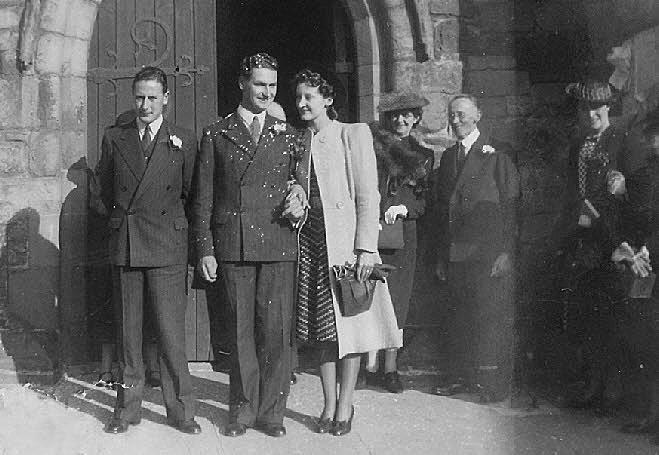 Patrick and Mary married on 30 September 1939 at Tonbridge Parish Church, Kent.
The best man (extreme left) was Ben Bannerman. Patrick's mother, Eadiie Mills and Mary's
father, Patrick Barnes are to the right of the couple. Patrick's sister, Grace Mills, is in the
chequered ensemble.
I like this photograph because it captures a typical ' Pat' pose.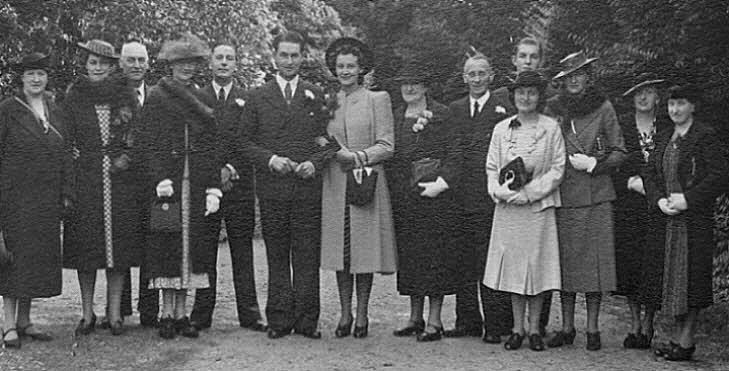 In the wedding photograph there is no hint that a world war had broken out less than a month
earlier. To the left of Pat are Ben Bannerman, Eadie and Charlie Mills and Grace Mills.
To the right of Mary are her parents.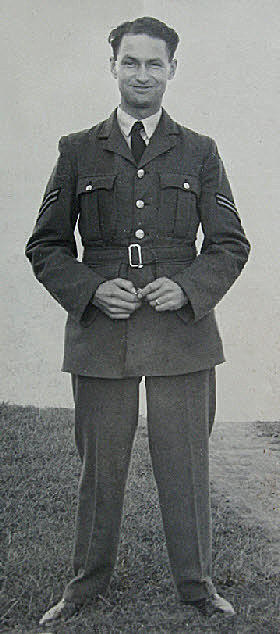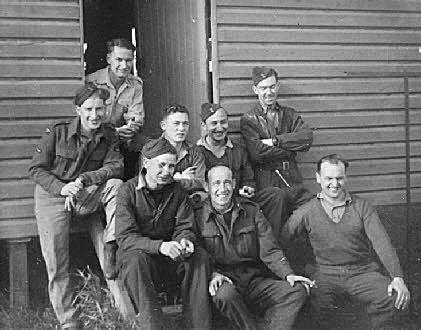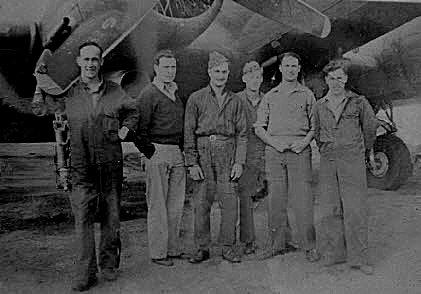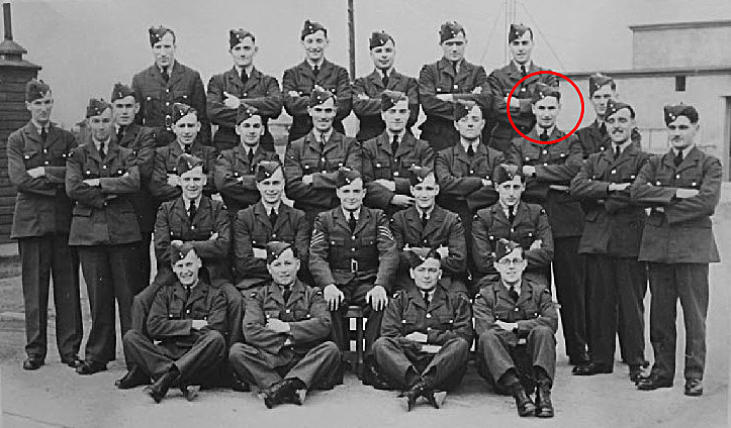 During World War Two, Patrick served in the Royal Air Force, evidently as part of a ground
servicing crew. The group photograph immediately above was taken at West Didsbury, near
Manchester. He wears the two stripes of a corporal (above left)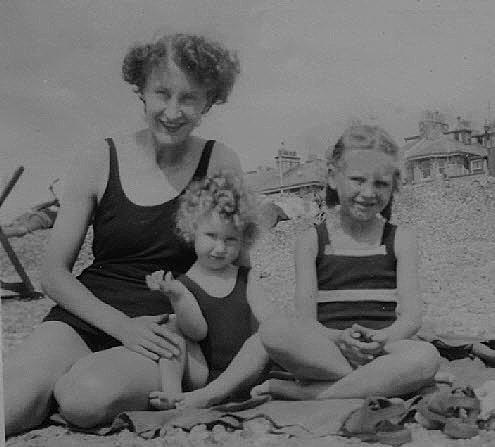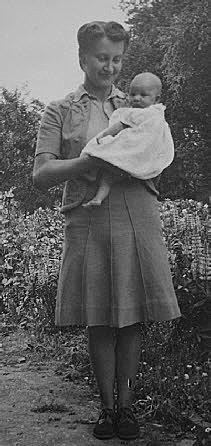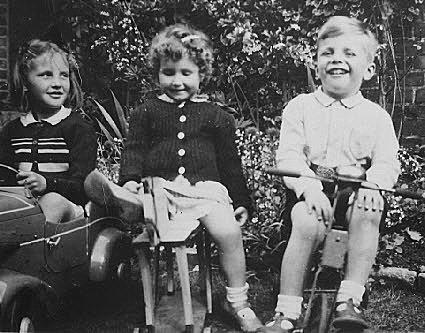 Patrick and Mary had two
children: Suzanne Mary (born 8
April 1942) and Celia Patricia
('Trish) (born in late 1946).
The girls were born at East
Grinstead, Sussex.
(Left) Suzanne, 'Trish and moi
Patrick worked as school master and an insurance agent.
He and his family were living at 17 Forest View Road, East Grinstead (early
1950s - shown, right) and 'Crosby', Moat Road, East Grinstead (mid-1950s).
By 1961, they had moved thirty-seven miles east of East Grinstead to 'Long
acre', Old Hadlow Road, Tonbridge.
In around 1963, Patrick and Mary were at Stubbington Avenue, Portsmouth.
They then moved to a village outside Torquay, Devon. My mother wrote of their
home, they 'now live in a bungalow' and have 'had a lot of improvements done
and have a nice big garden all round...Pat plays indoor bowls using Grandpa
Dee's woods...Mary does still-life oil painting'. In 1988, they settled in the town
where Patrick spent his early childhood, Bognor - at 34 Hook Lane (below).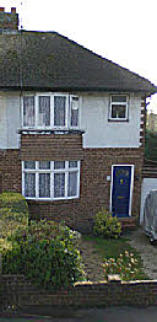 Mary died in December 2000. Patrick sold his bungalow and moved in with a new companion who
lived locally, Edna - 'a very charming lady and we were hopelessly in love with each other'. The
couple enjoyed dancing, walking and swimming. When Edna passed away, Patrick felt resigned to
living on his own.
By now, 'Tricia was living in the Dordogne, France. She invited Patrick to join her in 2009 when
Patrick was ninety-five years old. He describes their home as a four-hundred-year-old cottage with a
small garden. He adds, 'we are one thousand feet up among thousands of trees and steep rocky
cliffs...the air is so pure and the silence divine'.
My mother always called me 'Pat' - or rather Pat-er-Philip. When asked why, she said my presence
reminded her of her brother - whatever that means!
On 15 March 2014, Patrick received the congratulations of the Queen and the RAF on the occasion of
his hundredth birthday!