My grtx 2 grandfather: Jeremiah James Wright Tuck
Jeremiah James Wright Tuck was born around 1820 and baptised on 8 October 1820 - the son of
Samuel Tuck, a sailor, and Mary (nee Wright). His childhood home was Happisburgh (pronounced
Hazeber by the natives) which is located on the coast of Norfolk, seventeen miles north of Great
Yarmouth. Now and again Happisburgh features in news stories as yet another section of its land
succombs to the pounding of the North Sea.
As a young man, Jeremiah followed in his father's wake and became a sailor. Then, on 20 December
1845 he married Sarah Ann Barnaby at Gorleston (which is just to the south of Yarmouth). Both
husband and wife were literate as they signed the marriage register.

In late 1846, Jeremiah and Sarah Ann had their first child - Sarah Ann Maria Wright Tuck. When their
second daughter, Ellen Wright, was born, the family was living at North End, Yarmouth and Jeremiah
had left the sea and was making ends meet as a shoemaker.
Trying to trace the household in the middle of the eighteenth century is a little difficult. They moved to
London and were living at Whitecross Street, St Giles, Cripplegate in 1851. Jeremiah was a factory
engine (or machine) driver. About this time, it appears that he became passionately interested in
friendly societies. Nine years later, they had moved south of the Thames to Kings Court, Suffolk
Street, Southwark and Jeremiah described himself as an engine (machine) fitter. By 1861 they had
relocated again to 3 Williams Place, Lambeth and Jeremiah was still involved in industry as an
engineer.
It would be obvious to conclude that the family lived in London throughout this decade (and two
children, Rosina Amelia Wright and James Jeremiah Wright Tuck, were undoubtedly born there) yet,
in 1851 and 1855, two other children - Mary Ann Maria Wright and Maria Amelia - were born back in
Yarmouth. Probably, Sarah Ann simply returned to her home for the birth of these daughters – a
probability which becomes more of a certainty when we take into consideration that her mother was a
nurse.
In around the mid-1860s, the family moved from London to Portsmouth where the two youngest
children were born - William Thomas Wright Tuck (1869) and Thomas Samuel Wright Tuck (1870). In
1871, the family was settled at 3 Chapel Row (which was later called Admiralty Row - see map dated
1871 below) which was near the sea at Portsmouth Harbour and skirted the walls of the naval
Dockyard. Two of the Tuck daughters were to marry Dockyard shipwrights.
That Jeremiah had an attachment to his mother's family may be inferred from the christening of all of
his eight children with his maternal family name, Wright. While on the subject of names, he was also
inclined to inform census enumerators and others that his first name was James.


Sarah Ann was christened on 21 November 1825 at St Nicholas, Yarmouth. She was one of nine
children born to Thomas Barnaby (a baker) and Mary Ann (nee Calf). When Sarah Ann married, she
gave her maiden name as Calf. This may well show some antipathy towards her father who was also
blanked by Sarah Ann's sister when she married. The likely reason for this is that Thomas became a
bankrupt in 1839 and his family endured hard times as a result, culminating in his early death and his
widow's eventual descent into Yarmouth Workhouse.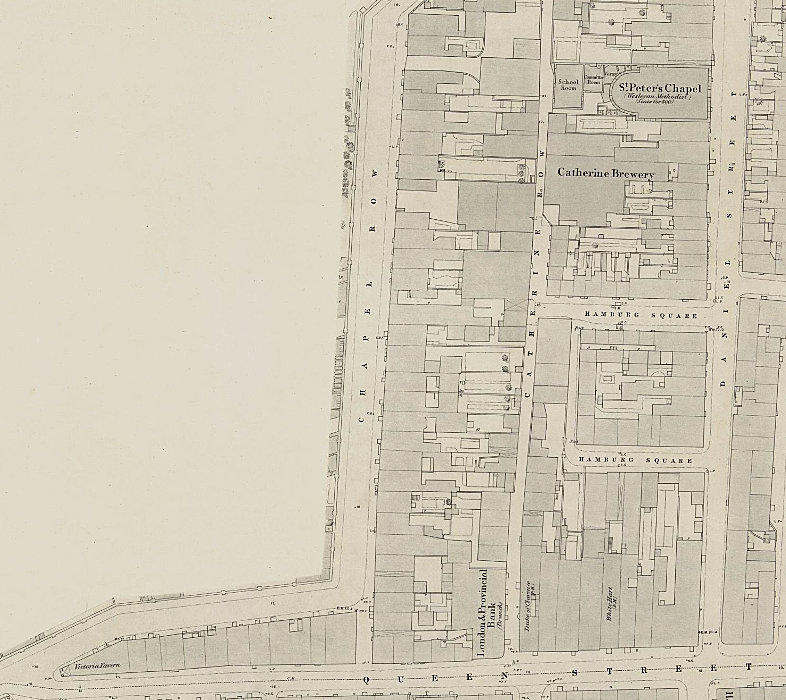 In 1871, Jeremiah was not at home on census night. He was lodging at Christchurch, Dorset where he
was on Friendly Society business (possibly recruiting new members) working as a life assurance agent
- a calling/occupation which was to last for a further thirty years.
On 23 November 1878 Sarah Ann died at Chapel Row from cancer of the uterus which had been
diagnosed twelve months earlier. She was buried at Highland Cemetery, Southsea - A Plot, 6th Row,
12th Grave.
The following advertisement appeared in the Portsmouth Times on 18 May 1867, which may have
been the piece seen by Jeremiah which resulted in his renting the property:

Three years after her death, Jeremiah had moved a little inland to the main thoroughfare of
Portsmouth at 31 Commercial Road where he was the beer retailer of the

The Gem

(which was a few
doors away from the Theatre Royal). Jeremiah was granted the license, previously held by Thomas
Haines, on 11 September 1880. In January 1882, he was found guilty of selling beer at an unlawful
hour on Sunday 1 January and fined 20/- including costs as it was his first offence. Later that same
month, Sarah Warren was found guilty of being on his licensed premises at an illegal hour and fined
15/-.
In February 1884, Jeremiah 'went surety' for Samuel Weycott who was the landlord of

The West
Country Home
at Bath Square, Portsmouth Point. Probably using a life preserver, Weycott had
'dangerously' wounded a butcher during a quarrel at

The Ship Worcester

, Broad Street, Point.
Jeremiah was described as a 'beer retailer and agent'.
Ten years later, he was still at

The Gem

, slaking thirsts, but in 1891 he was lodging at 28 York Street,
Portsmouth and, although now in his seventies, he continued an insurance agent. One suspects that
he had stayed in this career from the 1870s as beer retailers often had a second occupation.
The Gem
isn't shown on this postcard, but it was just to the left of the public house shown above.
Jeremiah died on 27 November 1906, yards from the sights and sounds of the sea at 38 Broad
Street, Portsmouth Point (which was the famous

The Blue Posts

inn). He was eighty-five years old
and died from fatty degeneration of the heart which resulted in a stroke. His son, William was present
and gave his father's occupation as 'formerly an Assurance Agent'. Jeremiah was buried at Highland
Road Cemetery, Southsea.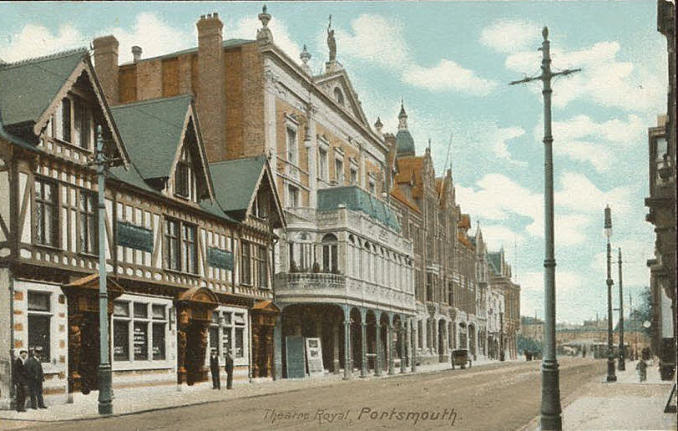 Following Jeremiah's death a brief obituary notice was posted in the Portsmouth Evening News:
'A member of Foresters and Odd Fellows for upwards of 54 years'.
Friendly Societies claim a beginning in Roman times - hence the name, 'The Ancient Order of
Foresters'. They were formed to provide financial help to their members in times of want.
Subscriptions of a few pence a week were paid into a communal pot and from it were drawn sick pay,
unemployment relief, doctor's fees, funeral expenses and widows pensions as needed. They were
self-managing mutual aid organisations.
The Societies varied in size from a few dozen members in small village clubs to giants such as the
Independent Order of Oddfellows which had four million subscribers in 1874. Many Friendly Societies
failed. If local work was seasonal, or there were times of mass unemployment or an epidemic, there
simply might not be sufficient funds to be distributed - another example of the greater security to be
enjoyed in numbers.
Meetings of Society 'lodges' or 'courts' were held every two or four weeks, often in public houses.
This arrangement was a sometimes a source of contention and resulted in the formation of the
Independent Order of Rechabites - their motto pointedly being, 'Truth and Temperance, Love and
Purity'.
At their gatherings, subscriptions were paid and the Secretary reported on visits and payments to
needy souls who had been helped. Elaborate rituals at these meetings evolved - initiation
ceremonies, secret passwords and flowing regalia were introduced which confirmed the sense of
brotherhood among the members.
Some might find the names of these organisations to be a little eccentric - but they were deliberately
coined. The Oddfellows were formed by people who were unable to join other trade guilds – and
hence were oddfellows. The Foresters' title is a reference to one's journey through the 'forest of the
world' wherein all manner of dangers lurked. The Rechabites were named after the Biblical tribe who
renounced alcohol.
The main recruits for the Friendly Societies came from the vast ranks of the insecure working classes
and extra impetus to the movement in the nineteenth century was given by the grim alternative of the
workhouse in times of hardship. By the end of this century, there were 18,000 Societies with around
ten million members.
Their raisin d'etre was diluted in 1911 by the National Insurance Act which levied compulsory
contributions on all workers in return for welfare benefits. The Societies were still used by central
government to collect contributions and pay benefits. The coup de grace came in 1948 when the
system of state benefits was gathered under one umbrella and the services of Friendly Societies
were no longer required. Jeremiah may then have turned in his grave.
His attachment to Friendly Societies may give us a clue to Jeremiah's character. He likely had a keen
sense of responsibility for the health and welfare of others. He appears to have been a sociable man
(remember, he had been a beer seller), perhaps revelling in the regular Society meetings and being
comfortable and persuasive when talking to strangers to convert them to the cause.
He would also have been literate and numerate, keeping records of subscriptions and payments. Of
course, he may have been an assurance agent simply as a means of making money! But the obituary
placed by his family surely speaks of fifty years devoted to the welfare of others - there is a certain
satisfaction to believe this of my great x2 grandfather.
One of my long-term goals is to trace a photograph of a great grandfather who died as relatively
recently as 1906.
Conclusions about Jeremiah
Of Jeremiah's eldest son, James Jeremiah Wright Tuck
James Jeremiah Wright Tuck, Jeremiah's first son, married Martha Robson in 1880 and followed his
father's profession as a commission and insurance agent. The couple lodged at 8 Green Road,
Portsea in 1881.
Ten years later they had moved to Cheriton, Kent. While there, in 1891, James, working as a brewery
agent, made several agreements with tradesmen to supply the Honourable Artillery Company with
rations during their stay at Shorncliffe, Kent. This enterprise failed and he was sued in the County
County when judgment with costs was made against him.
Following this, James took on the

Elm Brewery Tap

in Portsmouth but stayed only five months and
then tried other business ventures but made 'no headway in any'. As a result, he appeared at
Portsmouth Bankruptcy Court on 24 December 1892. He was an insurance agent living at 40 King
Street, Southsea and had a deficiency of £80.
Just before this episode, a twenty-year-old servant girl (with four aliases) was accused of stealing a
gold pencil case, valued at 30 shillings from James for whom she worked.
James and Martha had three surviving sons. In July 1899, there was an unfortunate court case
involving one of these. The family had a lodger who committed an act of gross indecency with him. It
was alleged that Martha Tuck approached the accused and offered to settle the case if he made a
payment to her.
As a result of James' business experiences, 1901 found him working as a Dockyard labourer and
living with his family at 15 Brougham Street, Southsea.
Ten years later, in 1911, Martha was living at 4 Church Street, Southsea and working as a lodging
house keeper. James was living with his relatives, William and Mary Ann Bartlett, and was working as
a drapery commercial traveller . It emerged from the census that the couple had had ten children of
whom seven had died.
James died in the Southampton area in the spring of 1926 and Martha died the following year at
Portsmouth.