Grtx 4 grandparents: George and Mary (nee Mills) Pafford
There is good news for Pafford family researchers - it is a relatively uncommon surname in England.
When the 1881 census was analysed, it was ranked the 25,627th most common surname in Britain.
There were just 66 examples, two in every million, and even more good news is that 63% of Paffords
were living in Hampshire: notably, Portsea (25), Portsmouth (12) and Alverstoke (which is just across
the waters of Portsmouth Harbour) (5). The remaining Paffords were living in the West Country:
Somerset (5), Gloucestershire (5) and Herefordshire (2). Add to this, that the International
Genealogical Index notes only 227 Pafford marriages in England since 1538 and the researcher might
be forgiven for thinking he is on a roll.
The euphoria is only pricked by the knowledge that the name, Pafford, has been corrupted by parish
clerks and transcribers which poses its own problems. So, the name may be rendered: Pasfoot,
Pufford, Putford, Pasford etc. Nobody said genealogy should be easy.
Introducing the Pafford family
My greatx4 grandparents were George and Mary Pafford. They had at least five children who were
baptised at Alverstoke or Holy Trinity, Gosport. However, although the family was probably living at
Alverstoke/Gosport between 1786 -1793, little else is known about them.
A likely birth-year for George Pafford is around 1760 but the Hampshire Indexes contain no baptism
details that relate to him. It is possible that Mary Pafford's maiden name was Mills. This may be
deduced because one of their children was given Mills as a second name and Mills was substituted
as the family name instead of Pafford (as we will see).
The Hampshire Burial Index does not record George's burial but a Mary Paffard (aged 56) was laid to
rest on 20 December 1818 at St Thomas, Portsmouth. As she would have been born in around 1762,
it is possible that she was my ancestor.
There is a record of a marriage between George Pafford and Mary Denett at St Faith's Havant on 2
April 1794. I have resisted the possibility of this being the wedding of my ancestors until now (2019)
because (1) it took place after the birth of their children; (2) it was at Havant, which is about nine miles
from Portsmouth and (3) because folk who are clearly lazy researchers have latched onto this as an
easy match (one has shown Mary Pafford as being buried at Holy Trinity, Gosport in 1849, when just
a little digging would show that she was Mary Ann Pafford and aged 52, thus being born some years
after the birth of George and Mary's children).


George and Mary's marriage record and Mary's burial record at St Thomas, Portsmouth in 1818
Mary left significant footprints in history just before she died in the 1818 Rate Books of Portsmouth.
She was the head of household at Oxford Street, Portsea. This street ran north-east from Commercial
Road (north of Lake Road) to Church Street. It is near the present-day main shopping centre of
Portsmouth and Charles Dickens' birthplace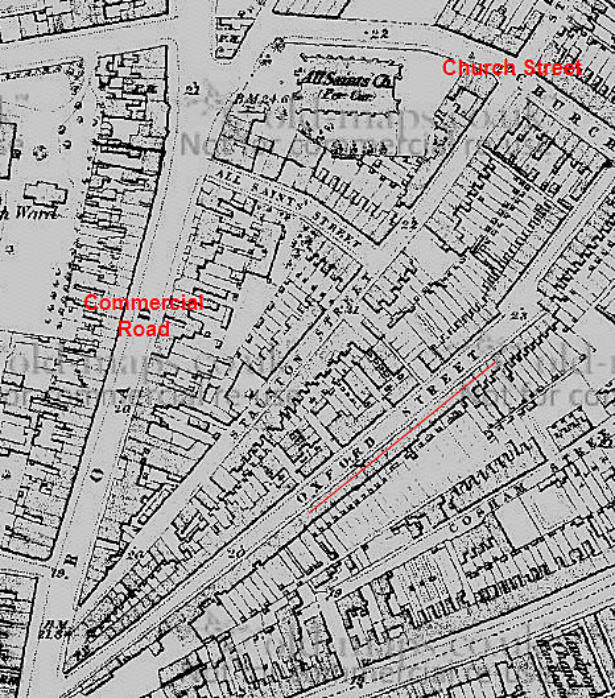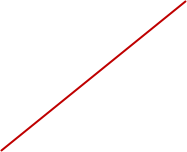 Although not mentioned when Mary married George, she was a widow, having married Benjamin
Denett (a widower) at Alverstoke on 16 September 1779. Benjamin was buried on 11 August 1782 at
Bishops Waltham, Hants.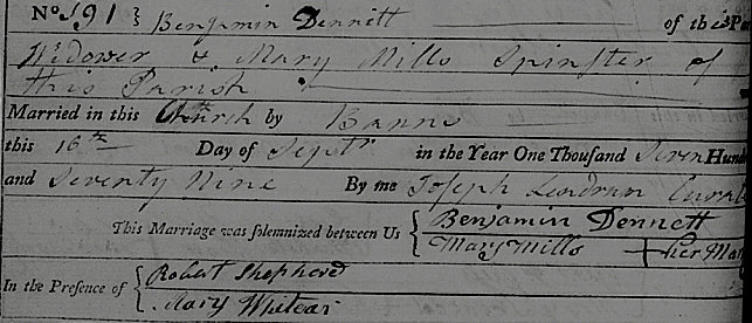 During their short married life, Mary and Benjamin produced two daughters, Elizabeth (born 1780) and
Mary (1782). Elizabeth married the labourer, John New, at St Thomas, Portsea in 1806. When their
daughter, Eliza, was baptised in 1817, the couple were noted as living at Oxford Street (!) - tacit
confirmation that Elizabeth nee Dennett and Mary Mills/Pafford were related. Further investigation of
the 1816 Portsmouth Rate Book reveals that Mary and John New were next-door neighbours at nos.
80 and 81 Oxford Street:

Another fact emerges as the life of Mary's daughters by her first marriage is traced: Mary married
John Souter at Alverstoke on 6 April 1801: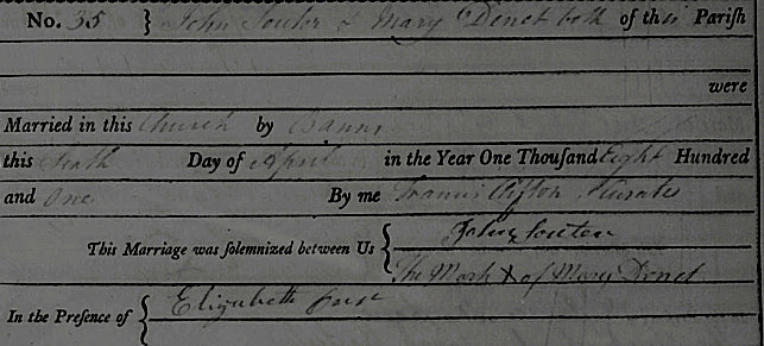 But their first child, John Alexander Souter was baptised two months earlier on 4 February 1801 (see
below) and was said to be the "son of John and Mary" ALTHOUGH THEY HAD NOT YET MARRIED.
This was exactly what Mary's mother, Mary Pafford had done when her and George's children were
baptised


So, despite my earlier reservations, there is now convincing proof that the marriage of Mary Mills and
George Pafford at Havant was that of my ancestors. Mills was the middle name of their daughter
Charlotte (see her marriage document below); Mary Pafford and Elizabeth New (nee Dennett) were
living in the same Portsea street in 1817/1818 and both Mary Mills and Mary Souter (nee Dennett)
had untruthfully represented that they were married when children were baptised.
We can now present a tree of Mary Mills and her husband and children:
Note the number of times St Marys Church is mentioned. This church is not near Portsmouth
Harbour (as is St Thomas) but in the middle of Portsea Island and not far from Oxford Street.
Despite this new information, George Pafford remains my Melchizedek, being 'without father,
without mother...having neither beginning of days, nor end of life' and with this ephemeral
person, my direct maternal ancestral trail ends - for the moment at least
Of George and Mary's children: James and Lydia May had five children and had probably
moved to Brighton by 1826. Charlotte Pafford was privately baptised, instead of a Church
ceremony - which is often a sign that there were fears about the survival of mother or daughter
when she was born. John and Charlotte Antrim had two sons who were baptised at Brighton. A
witness at their marriage was William May - probably a brother of James May who married
Lydia. Charlotte signed her marriage document. John and Maria Romane had two children who
were baptised at Alverstoke. However, John died before 1839.
There is a glimpse of George jnr in the books of Goliath, a hulk 'in ordinary' at Portsmouth Harbour
during the first half of 1800 - the first of three known generations of Paffords who found this type of
work. He worked for 4 months and 10 days and was paid a net amount of £3 2/- (see below). He was
discharged on 30 June 1800. He is described as an 'Ordinary Seaman'. This would seem to suggest
that he had not previously served in the Royal Navy as he surely would have been an 'Able-bodied
Seaman'.

Then, the following news report appeared on 16 January 1804: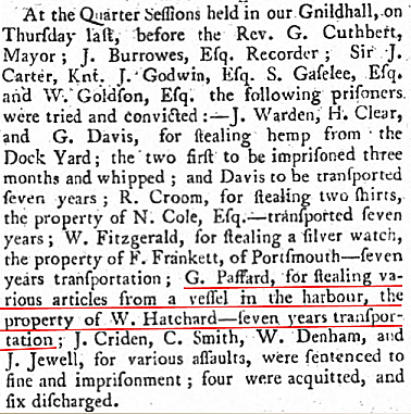 George (aged about seventeen) was initially consigned to a prison hulk in Portsmouth Dockyard (see
below) where he rotted until he received a pardon on 3 September 1806 - evidently because he re-
enlisted in the Royal Navy according to a note.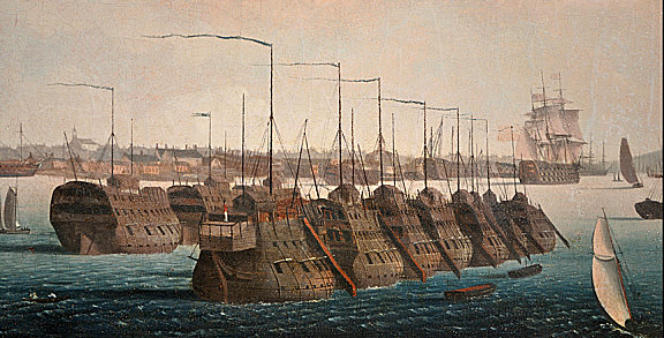 The Naval Act of 1795 allowed seamen to remit part of their wages to their mothers, wives or
families to sustain them while the man was at sea. The National Archives has a record of these
agreements covering the years 1795 to 1852. They show the name of the seaman, his rating,
the ship on which they were serving and the beneficiary.
The allotment record of George Pafford jnr (born 1786) indicates that he served on Lily until 1
November 1808. Then in 1810, he joined the newly-commissioned

Pyramus

(42-gun frigate). On
14 May 1810, he arranged to give his mother, Mary, the monthly amount of 10/6d (about a
quarter of his wages). The allotment finished/discharged on 20 November 1813 (George
married on 15 June 1813).
James Pafford also made an allotment to be paid to his mother, Mary. He had served on the
Royal William
(which was laid up 'in ordinary' at Portsmouth Harbour) until June 1809 when he
was assigned to

Ildefonso

which was also 'in ordinary'. (

Ildefonso

was formerly

San Ildefonso
which was the ship

Defence

captured at Trafalgar with the young James on board and which
was taken into the English Navy). James allotted the monthly sum of 11/8d to his mother Mary.
This was discharged on 19 July 1814.
So for a few years the two brothers, George and James Pafford, arranged some financial
support for their mother, Mary, which amounted to £1 2s 2d a month - at a time when a farm
labourer might take home about 10/6d a week to support his entire family. This appears to be an
act of responsible, filial kindness towards their mother.
Why was Mary in this situation? The likely reason is that she had been left without any means of
support by something that had happened to her husband, George. Perhaps he had died just
prior to May 1810, or been taken ill or injured - or simply separated from Mary. Another piece of
the jigsaw which was George's life may have been found.
Marriage documents of Mary and George's children
Elizabeth Dennett and John New 1806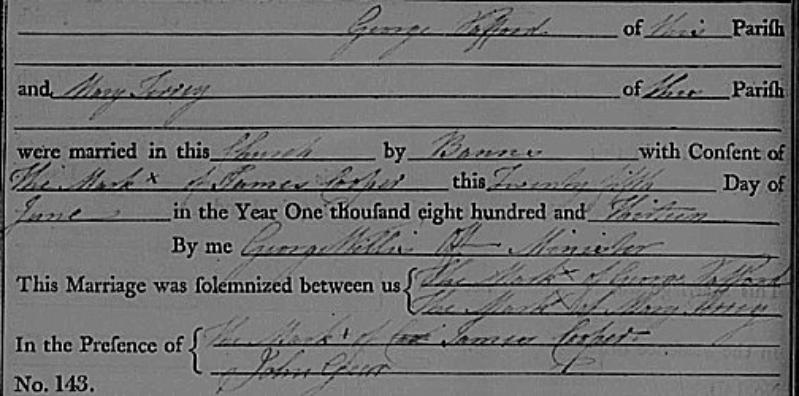 George Pafford jnr and Mary Terry 1825

Lydia Pafford and James May 1806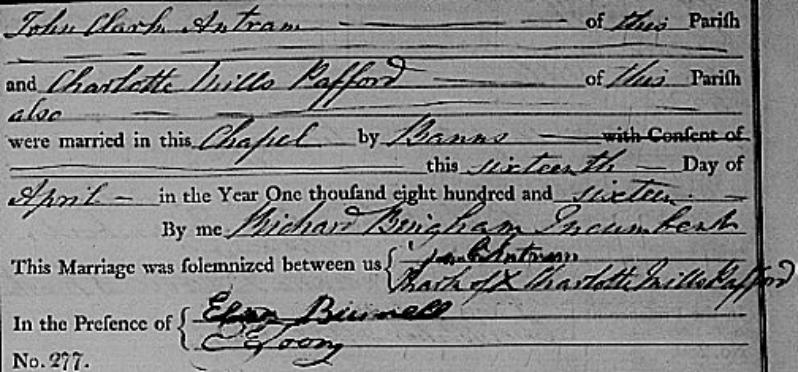 Charlotte Mills Pafford and John Clark Antram 1816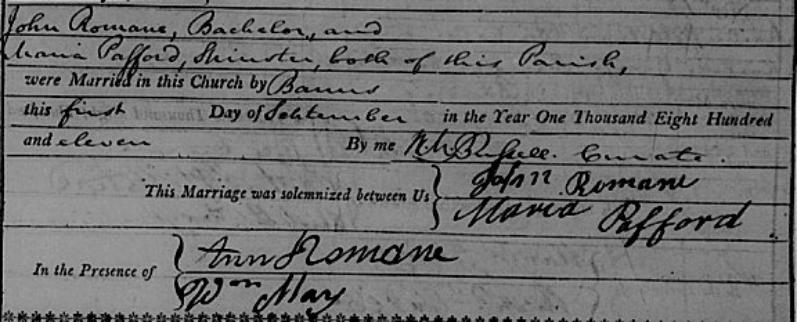 Maria Pafford and John Romane 1811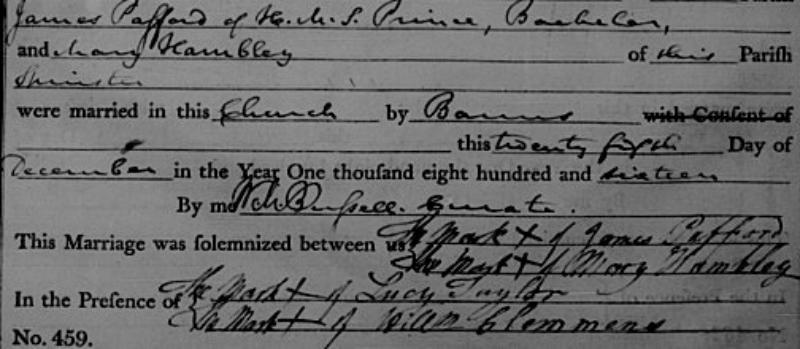 James Pafford and Mary Hambley 1816