My grtx3 grandparents: Frederick John
and Emma (nee Brown) Dear


My greatx3 grandfather, Frederick John Dear, was born on 13 March 1804 and baptised at St Giles
Cripplegate, London seventeen days later on 30 March. His baptism record notes that his father was
an 'Engr' or engraver.
His wife, Emma Brown, was born on 22 July 1913 and baptised at St Marylebone, Westminster,
London on 3 August 1813. Her father, William, was 'Trade' (ie a builder).
The only record of their marriage available is in Pallots Marriage Index. The couple married at
St Johns at Hampstead, Middlesex on 21 December 1828. Emma was fifteen years old (and nine
years younger than her husband) and the consent of her parents to the union was noted. A witness to
the wedding was Frederick's sister, Amelia Dear.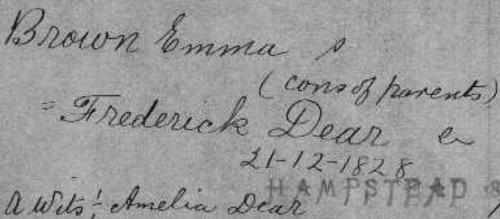 The couple had six known children. All but one were born at Shoreditch, Middlesex.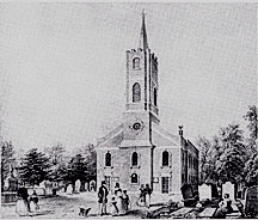 The first three children were baptised together on 6 April 1834 at St Johns, Hoxton, London - the
parish register helpfully notes their date of births. Frederick was noted as a silversmith (although there
is no record of his apprenticeship) and the family was living at Bacchus Walk.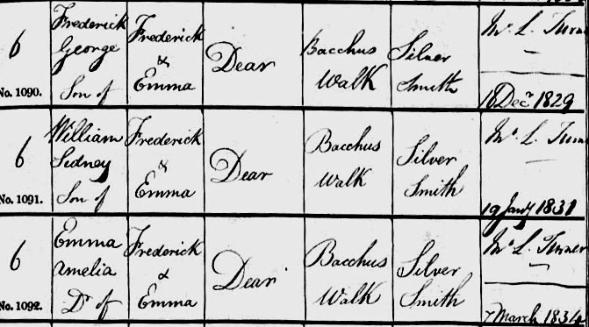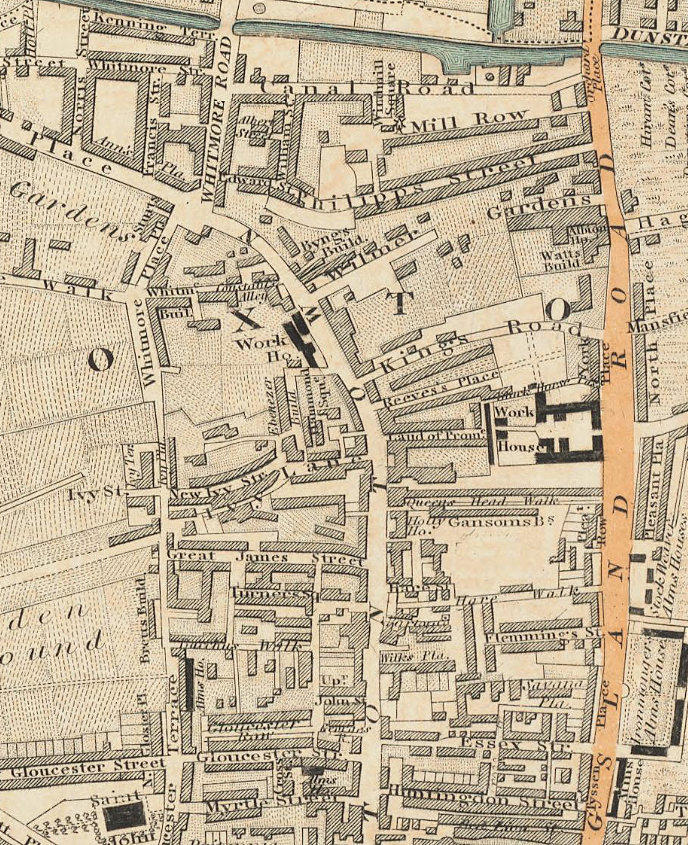 Greenwoods Map of London (ca 1826)
Frederick was a silver plate worker. His hallmark is shown right.
He traded from these addresses:
A
30 Phillips Street, Kingsland Road (1 Jan 1839)
B
3 Whitmore Row, Hoxton Fields (25 Mar 1840 and 6 June 1841)
C
8 Union Square, Chapel St, Pentonville (23 Oct 1843)
D
3 Kings Square, Goswell Street Road ( 12 Aug 1844)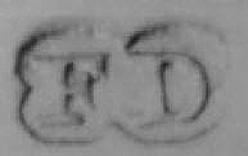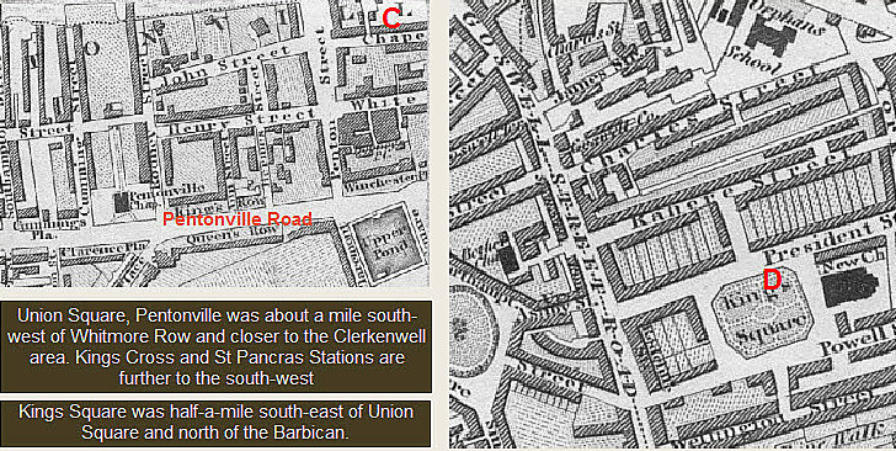 Union Square, Pentonville,
C
was around a
mile south-west if Whitmore Road.
Kings Square
D
was half a mile south-east of
Union Square and north of The Barbican
It was while Frederick was living at 3 Kings Square that he succumbed to phthisis pulmonalis (TB) on
27 December 1844. He was thirty-nine years old and left behind a thirty-one-year-old widow and four
children aged ten or under. The task of informing the registrar of his father's death fell to my greatx2
grandfather, William, who was fourteen.
Frederick was buried on 5 January 1845 in Bunhill Fields Burial Ground, City Road, London

(shown
below)
where Daniel Defoe and John Bunyan were also interred and the details of his burial were
interestingly entered in a Non-conformist, Non-parochial Register.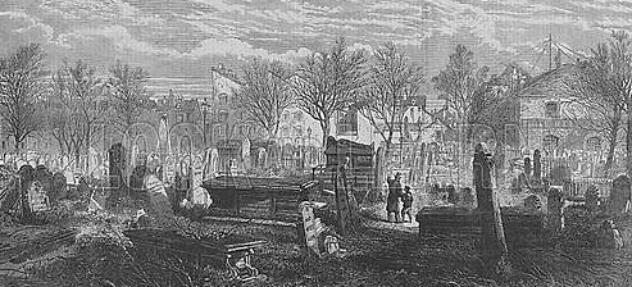 The composition of Frederick and Emma's family was captured by the census enumerator in 1841
when he visited their home at Whitmore Road, Hoxton: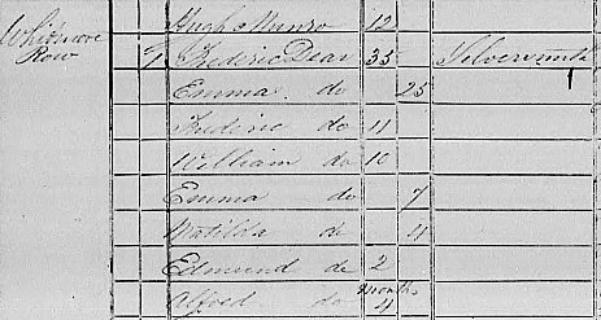 Bereft of her breadwinner, how could Emma support her family? Six month's after her husband's
demise, Emma began trading as a silversmith in her own right.
On 20 July 1845, she joined forces with Henry Dear (probably her brother-in-law) in a business that
operated from 48 (Great) James Street, Hoxton. Then, she moved and began to trade from
4 St James' Walk, Clerkenwell and registered her own hallmark.
Was Emma herself a silversmith ? It was not unknown for ladies to learn the craft, but the view of the
Goldsmith's librarian is that she probably ran the business rather than getting her hands dirty - literally
so, as silversmith's hands became stained. Indeed, in the censuses between 1841 and 1861, Emma
was not described as a silversmith.
Trail-blazing Women of the Georgian Era
(2018) spotlights the life of Hester Bateman (1708 - 1794).
She was married to a silversmith who also died of TB in 1760, leaving Hester with children to support.
Many of the following comments may well apply equally to Emma: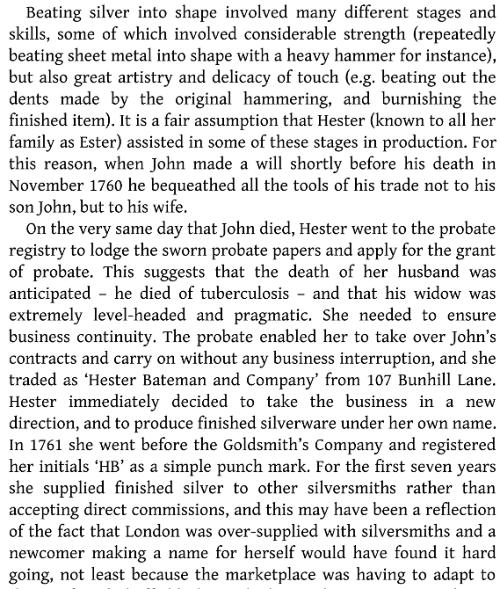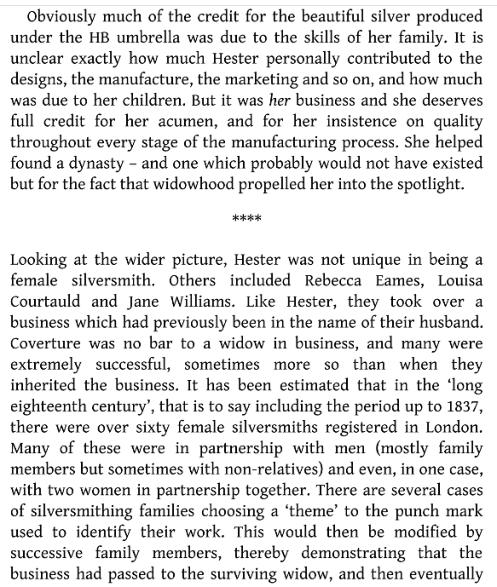 Pieces with Emma's hallmark sometimes become available in the market place. They reflect the level
of skill and variety of work that her workers attained: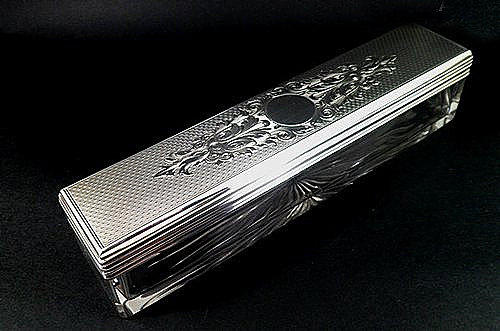 BEAUTIFUL SOLID SILVER TOPPED BOX BY FEMALE SILVERSMITH EMMA DEAR.
LONDON 1848. Beautifully designed Victorian Solid Silver Topped and cut glass box, which
is perfect as a pen box. Chased scrolled design on lid with vacant cartouche so could be
personalised. Hallmarked for London 1848 and made by scarce Female Silversmith Emma
Dear. Emma Dear Registered in 1845. It is rare to find one of her examples.
Measures 16.5 long, 3.5cm wide and 4cm high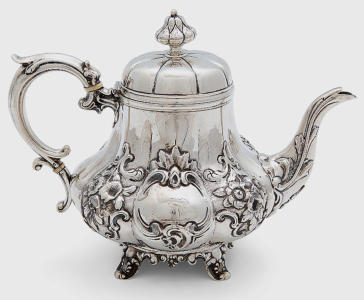 A VICTORIAN SILVER TEAPOT, London 1846, mark of Emma Dear, of lobed squashed
pear form, with scroll handle and artichoke finial, the body and spout chased and
embossed with foliate decoration containing a cartouche to either side, one crested,
raised on rocaille skirt above four splayed scroll and anthemion feet, (c.23.5 troy ozs).
21cm high, 27cm wide over handle and spout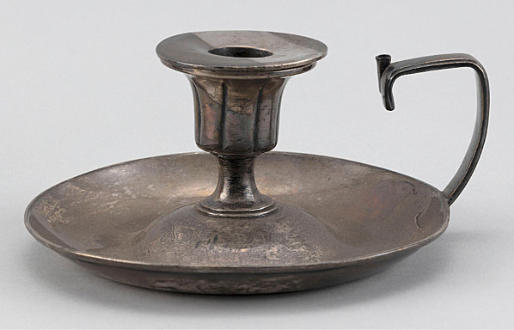 VICTORIAN STERLING SILVER CHAMBER STICK London, 1845
Bobèche with Emma Dear mark. Chamber stick unmarked.
Two armorial engravings. Diameter 5.5".
Approx. 10.0 troy oz.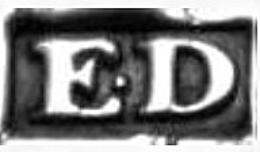 Emma's hallmark registered in July 1845: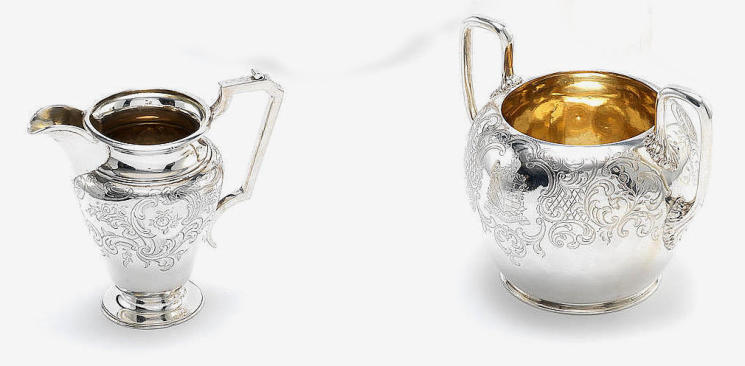 A sugar bowl and silver cream jug, by Emma Dear, London 1845
As no examples of pieces with Emma's hallmark after 1848 can be found, it is likely that she only
traded for about three years.
When I bought Emma's mustard pot, I corresponded with Christopher R W Wilson (who kindly alerted
me to the sale and forewent bidding as he wanted the pot to go to 'family). He made the following
comments: "I think a story about your own family would sell well. Mrs D widowed with 4 kids. She
goes down to the store, tells the apprentices to keep at it, she is the new master, get her stamp
registered and continues on in a distinctly male world for a decade. She will have met all the people
that today are legends in the silver business, may have even dated them, certainly will have done
business with them and their wives. Her dealings with the bulk sellers, the retail trade and her own
suppliers. There's a story there."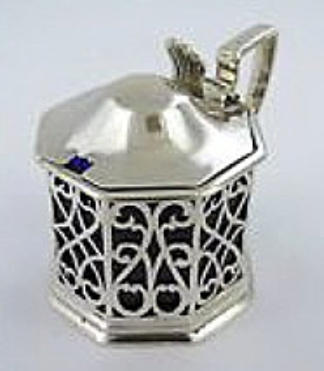 A mustard pot with Emma Dear's hallmark purchased in 2015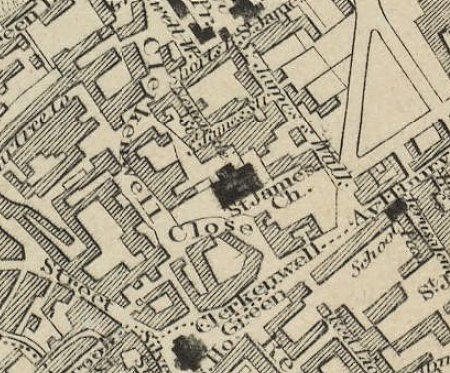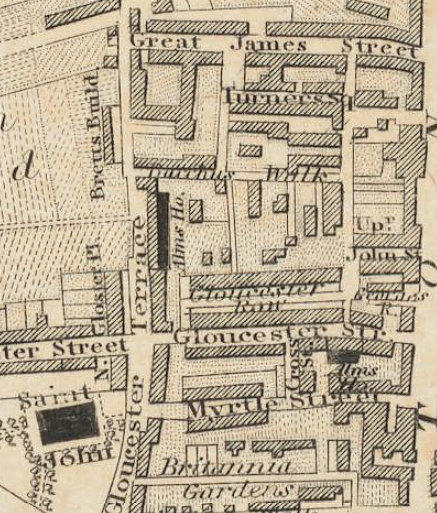 Places from which Emma traded:
48 (Great) James Street, Hoxton
A
4 St James' Walk, Clerkenwell
B

Emma probably quit the silver-smithing business after the death of her father, William Brown, and
because of receiving an inheritance from his estate.
In 1833, William had taken a fifty-seven-year lease on a house and some land off Lea Bridge Road,
Clapton, London. He was living in the house in 1841 and during the next ten years he likely built a
new dwelling,

Pond Cottage

, on land near his home. This cottage was to be inhabited by his
descendants for more than forty years.
By the terms of William's will, Emma received a bequest of £20, two silver tablespoons and four
teaspoons and the leasehold tavern,

The Duke of Cambridge

, Cambridge Heath, Bethnal Green was
placed in trust for her. 1851 found her living at

Pond Cottage

with five children - she was described as
a 'house proprietoress'.


Emma was living at

Pond Cottage

until her death on 7 April 1866. After an inquest, the coroner noted
the cause of her death as a sudden rupture of the aorta. Emma was fifty-two when she died.