Some years ago I wrote the article about my Dee ancestors which traced the line back to my greatx5
grandfather William Dee who was born in around 1715 and who was buried at Upper Clatford in North
Hampshire.
Despite sporadic searches, this voyage of discovery was becalmed.
Then, out of the blue, I received this e-mail: "

Hi, My name is Christine, I live in Germany and recently
found at a boot sale an Indenture dated 1773. Thomas Dowling and John Dee are the executors of the
late William Dee Horse Doctor of Upper Clatford. Also mentioned (are) Thomas and William Dee sons
of the said William Dee.....At the bottom John Dee, Thomas Dowling, Thomas Dee and William Dee
have all signed each with a wax seal. I have no idea how it reached Germany, but after searching on
Ancestry and the internet I found your internet page and thought you might like to have a photo of it.
Kind regards, Chris
."
The Dee document, contained this one, informative line:

I knew from William Dee's will that he had a brother, John Dee. This indenture described him as a
bricklayer living at Henley-on-Thames, which is fifty miles north-east of Clatford in Hampshire. Armed
with this information, it has been possible to take my Dee ancestors back into the sixteenth century - a
further four generations. This episode also illustrates the potential advantage of posting details of one's
ancestry on-line. Who knows when or where it may be found - and what may result!
Of Henley-on-Thames, Oxfordshire
Above, a painting of Henley-on-Thames by Jan Siberechts in the 1690s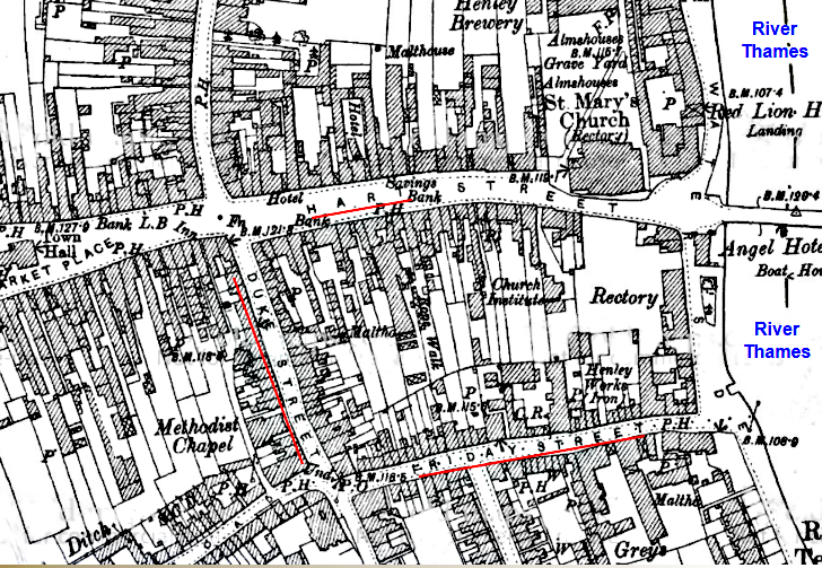 Above, a map of the centre of Henley from the late nineteenth century. Note Friday Street, Duke
Street (formerly known as Duck Street) and Hart Street which will feature in our story. The parish
boundary between Henley (to the north) and Rotherfield Greys (often simplified to

Greys

) ran down
the middle of Friday Street. The River Thames is the boundary between Oxfordshire and Berkshire
(to the east).
Less than a mile to the north of Henley is Buckinghamshire.
Henley sits at the foot of the Chiltern Hills, which add to the town's superb landscape setting as
captured in Siberechts' painting. It is eight miles from Reading and thirty-five miles from London. The
Thames was a natural conduit to London and, from the early fifteenth century, barges plied their trade
between the towns. From 1568 to 1573, about a third of London's grain was transported via Henley. A
wooden bridge built in around 1200 encouraged trade between Henley and its neighbours in
Berkshire - although the bridge gradually fell into disrepair and was replaced in 1786.
As many of the Dees were bricklayers and masons the history of Henley's houses is worth
mentioning. In the fifteenth and sixteenth centuries, houses were of wooden construction, inlaid with
wattle and daub. From the 1300s, good quality bricks were baked at nearby Nettlebed. During the
seventeenth century brick walls were constructed instead of timber which was in short supply due to
the demands of shipbuilding and the rebuilding of London after the Great Fire of 1666. The centre of
Henley today features many brick-built properties which date from the 1500s and 1600s.
Many of the Dee sons were recorded as bricklayers/masons who lived in relatively comfort and surely
left their mark on Henley, which survives to today:
Abel Dee - mason (1708)
John Dee - mason (1708)
John Dee - bricklayer (1736, the same man as above?)
William Dee - bricklayer (1736)
Abraham Dee - bricklayer (1676 - 1756)
John Dee - bricklayer (-1791)
Two events at Henley touched the lives of my Dee ancestors. The plague cast its shadow over the
town in 1581,1603 and 1625. It's victims were noted in the parish burial registers with a cross (as will
be shown later). There was cycle of fatalities which began in August and ended in winter-time - a
reflection of the life span of the fleas that carried the virus.
Then during the Civil War of 1642-44, the parish burial records have the following entries for January
and February 1643:

Henley was divided in it's support for King Charles I and Parliament. The deaths during the most
serious incident in the town referred to as the

Battle of Duck Street

(reported above) occurred when a
group of royalists from Reading were confronted by cannon manned by Parliamentarians at the
crossroads in the town centre. Eight soldiers were killed and the Royalists retreated.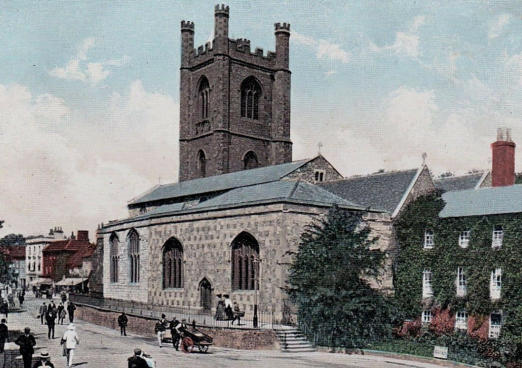 St Mary's, Henley-on-Thames
Early Dees at Henley-on-Thames
The parish registers for Henley survive from 1558 for Henley and from 1591 for Rotherfield
Greys.The first mention of Dees at Henley was on 12 September 1577 when Antony Dee's son,
Thomas, was baptised there. Then, on 10 August 1578, Richard Dee's son, also Thomas, was
baptised at St Mary's. Probably Antony and Richard were brothers and maybe one was my direct
ancestor, but the records do not provide a certain link.


The Henley parish registers also mention other events that feature the Dee family in October 1581:

Described above are the burials of Antony and Thomas who were killed by the Plague - note the
crosses in the record. Were they the father and son recorded earlier? The virus also took another
Dee, John. Adding poignancy to these tragic events was the baptism of Antony's daughter, Sarah,
less than a month later, on 13 November 1581.
My greatx9 grandparents, Richard and Sibill/Isabell Dee.


The marriage of Richard and Sibill (sic) on 12 December 1597
It is unclear when Richard and Isabell died. There is a burial of a Richard Dee at Rotherfield Greys on
30 April 1613, but we have already established there were likely at least two Richards alive at the
time. Similarly with Isabell - there is a burial of an Isabell Dee from the parish of (Rotherfield) Graies
(sic) in 1607 at Henley - but two Isabells were probably alive there then.
My greatx8 grandparents, William and Ann Dee



Above are the baptism and marriage records of William Dee. The Henley burial registers records the
burial of "William Dee's child" on 14 February 1645. This is probably Priscilla.
The Henley parish registers are fragmented in the seventeenth century, although Bishops Transcripts
survive. I have not found the burials of William or Ann. There are no baptisms or burials of Dees at
Henley between 1600 and 1650 apart from those in my line.
My greatx7 grandparents, William and Elizabeth Dee


Illustrating the ineptitude of transcribers, the entry for William jnr's baptism shown above is recorded
as Deeson.
My greatx6 grandparents, John and Elizabeth Dee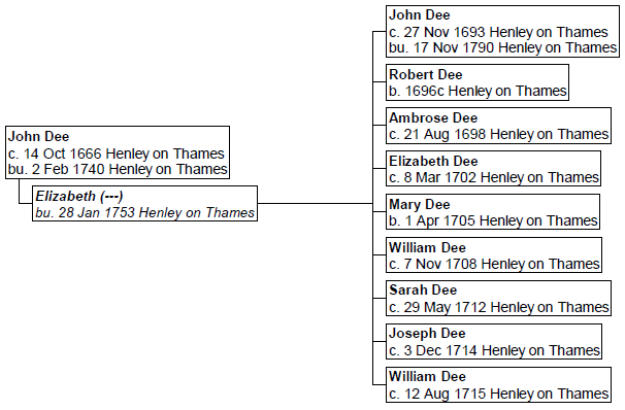 Baptisms of John (1666) and his sons, William (1708) and (1715)
Now, information about my ancestor, John Dee emerges. He was a (stone) mason. All of his children
were baptised at St Mary's, Henley - although he was living in the nearby parish of (Rotherfield) Grays
in 1715. As noted earlier, Rotherfield Grays stretched from the Chiltern Hills to the Thames very close
to the main street in Henley. It was probably far easier for John and his family to use the services of St
Marys rather than journey to the church of their parish, St Nicholas.
The imperfections of the transcribers of parish records are again illustrated as William Dee's baptism is
not recorded though clearly written in the register (as shown above).
Once again, we glean more information about John and his family from his will (dated 21 November
1639 and proved on 23 May 1640), than from any other source. Described as a bricklayer, he
bequeathed 20/- to his son, John Dee; 40/- to his son Robert; £10 to his daughter, Mary, wife of
Edward Taylor; to his wife Elizabeth Dee, his house in Duck Street (sic) and his two houses in Friday
Street on the Rotherfield Grays side occupied by William Gale and William Berris; to his son Ambrose,
his house in Duck Street and to his daughters Elizabeth Rakestraw and Sarah Dee, the houses in
Friday Street following his wife's death. His executors were named as Elizabeth and Ambrose Dee.
John's signature to his will is shown here:

My direct ancestor, William Dee, is a glaring omission from this list of beneficiaries. He was John's
youngest son and twenty-five years of age and single. Was this because there had been a falling-out
between father and his youngest son? William did not follow the family trade as a bricklayer and six
years later married in north Hampshire, fifty miles from Henley.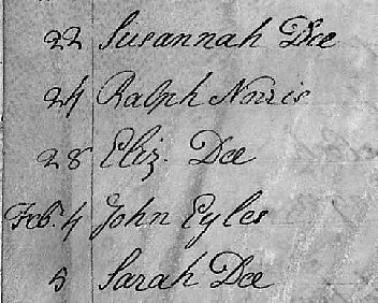 Above, the burials of John and Elizabeth in 1740 and 1752 respectively -
the latter being one of a trio of Dee deaths in quick succession.
Other Dees at Henley from 1650
After commenting that were no baptisms or burials of Dees at Henley between 1600 and 1650 apart
from those in my line, there was a flurry of mentions in the Henley parish registers from the mid-
seventeenth century. They included an Adam Dee (baptism unknown) who married Elizabeth Stirrup
in 1662. The couple produced six known children and many Dees descended from this union. One
was Abraham who was also a bricklayer and who evidently died childless. After his death in 1756 at
Henley, his will furnished extraordinary details of his immediate family - and illustrated the relative
wealth of local bricklayers:
To his cousin, Anne Winter - a house in Duck Street, Henley
To his cousin, Christopher Fennell - two houses in Duck Street, Henley
To his cousin, Mary Bath - a house in Duck Street, Henley
To his cousin Sarah Houes (sic) - the house adjoining the above house.
To his cousin, Sarah Kente (sic) - eight houses in Harte Street, Henley
To his cousin Abel Dee - four houses on the hill at Henley
To his cousin Ambrose Dee - two houses on the street next to the above.
Abraham wish was that his cousin, Elizabeth Dee, lived in one of these houses.
To his 'loving friends...the Quakers' - £3
To his cousin, Martha Burch (sic) -£3
To his cousin, Hannah Willab (sic) - £3
So, Abraham owned a total nineteen houses - thirteen of them in the centre of Henley at Duck Street
and Harte Street (which was the main road leading to the bridge). Again, it should be pointed out that
no mention was made of my ancestor, William Dee's children who would also have been his cousins.
A trawl of listed buildings at Henley today reveals that there are twenty-four in Hart Street; ten in
Duck/Duke Street and twenty-four in Friday Street. Not without reason does

Henley-on-Thames, a
History
state that 'The central part of town has many attractive buildings that range in date from the
1400s onwards'. One wonders which of these were owned by members of my family - and, indeed,
built by them.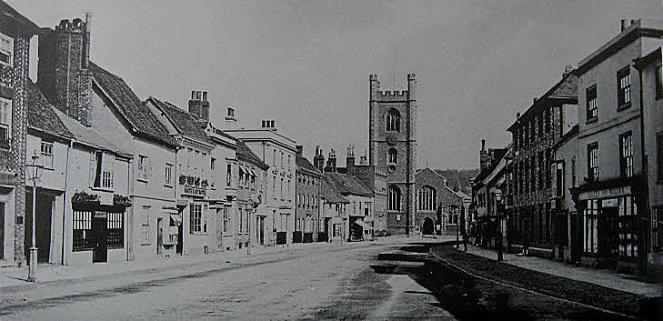 Hart Street, Henley in around 1872 - with St Mary's in the background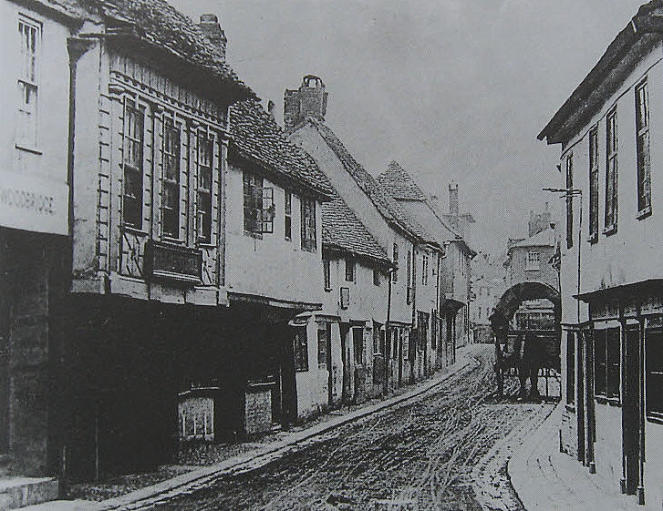 Duck/Duke Street, Henley in around 1860
Friday Street in around 1890 - viewed from the river, with the side in the
parish of Rotherfield Greys on the left
I was delighted that Christine contacted me with information which revealed so much about my direct
ancestors. I was even more thrilled on 29 September when I received the Dee document which she
was so kind to send.
Link to article featuring the next generations of Dees:

Dees of Clatford

, Hants

The Dees of Henley-on-Thames