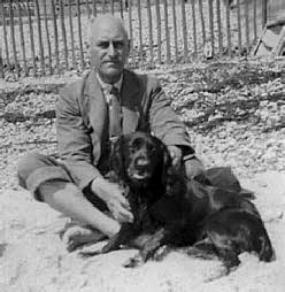 My grandparents: Charles and Edith "Eadie" (nee Dee) Mills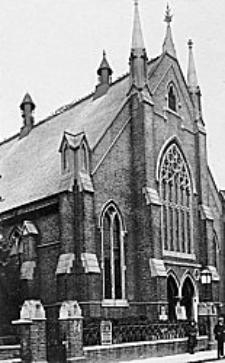 My grandfather, Charles Henry Mills ("Charlie"), was born on 19 July 1880
He was the second son of a skilled and qualified shipwright who was
employed at Portsmouth Dockyard. The Mills family were living at 7 Great
Southsea Street, Southsea which was part of a development of Georgian
and Victorian streets built to house dockyard craftsmen and workers.
Fifteen months later, Charlie was baptised along with his older brother,
James, at the Bible Christians church (later, a United Methodist church),
Broughham Road, Southsea (shown right) on 20 October 1881 (Possibly
this choice of church does not reflect his parent's religious convictions but
was simply a convenient religious building as it was situated just over a
quarter of a mile from their home. Charlie's younger brother, Archie, was
baptised at the Garrison Church - "The British Military Cathedral" - which is
near the seafront and about the same distance from Great Southsea
Street. It is notable because much of the bomb damage inflicted during
WW2 has not been repaired - it is now a roofless ruin)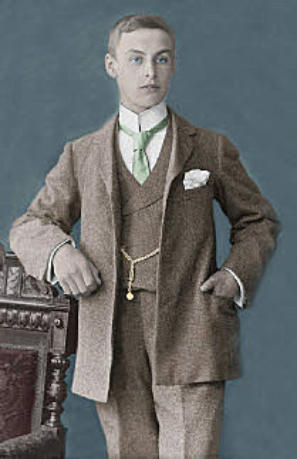 By the turn of the nineteenth century, the Mills family (probably
driven by Charlie's mother, Rose) had climbed a rung or two of
the social ladder and had had moved to 51 Lawrence Road,
Southsea.
Charlie was educated at St Lukes School, Landport, Portsmouth
which was near the City's Guildhall. He was to be a student or
teacher at this school for about fifty years. In December, 1891
Charlie gained a certificate for proficiency in shorthand at St
Lukes. Then, during successive years between 1892 and 1894,
Charlie was one of the principal characters in the school festivals
which were performed to capacity audiences in the Guildhall's
Great Hall. In 1892 he was the Beadle's attendant in the cantana,
Idle Ben. The following year he played Sancho Panza in Don
Quixote -sprinkling the play with witty comments and ironic
proverbs. In 1894, he was the policeman in

Dan, the Newsboy

.
Charlie had taken the first steps along his career path - he was a
monitor on probation at Albert Road, Southsea School in 1894
and an assistant schoolmaster from 1898 until 1903 at
Portsmouth's Beneficial School. His brother,Archie, was also a pupil teacher in 1901.
There had been some signs that part of the Mills persona was the ability to instruct: Charlie's
grandfather, James Mills, had given 'tuition for young gentlemen' on

HMS Asia

in Portsmouth Harbour
and Charlie's maternal great grandmother was a school mistress in London in 1851.
To improve his teaching qualifications from 1903 until 1905, Charlie attended Hartley University
College, Southampton from which he emerged with a first-class degree and a new fascination - he
was enthralled by a fellow student, Edith Annie Dee, who was affectionately known as 'Eadie' (a
name derived from her initials)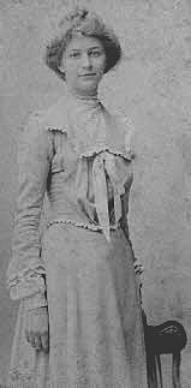 Eadie, however, was of a different social standing. Her father, George
Dee, was a business man at Stoke Newington, London who owned a
chain of small shops selling hardware products - what we would call DIY
goods.
George was also a local councillor who had been offered the mayorship of
Stoke Newington on more than one occasion.
Eadie was born on 17 June 1884 at Clapton, north London, the eldest of
four sisters. One of her sibling's husbands was later knighted and another
received the CBE – which is a taste of the circle in which the Dees moved.
Like many young, middle-class ladies, Eadie also entered the teaching
profession, being a pupil teacher in 1901.
She enrolled at Hartley College in 1903. Why Eadie went to Southampton
to continue her training when there were several similar colleges in
London is, perhaps, hard to understand.
Hartley University College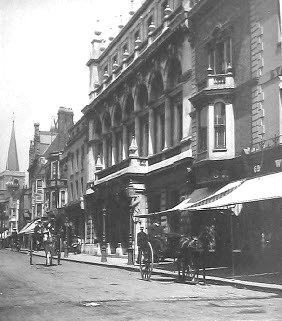 The Hartley Institution was founded at High Street, Southampton
(right)
by Henry Robinson Hartley in 1862. Today, it has evolved into
Southampton University but in the 1890s there was a serious need
for re-organisation of the institution. When Eadie and Charlie
attended the college, it had become a 'technical college of the first
rate' and had been renamed 'Hartley University College' on 23
November 1902. The college's motto was 'Strenuis ardua cedunt'
or, 'The heights yield to endeavour'.
As well as day and evening classes, from 1896 the College ran
courses to help pupil teachers to attain the certificate of teaching.
There were 130 pupil teachers in 1896-97 at the college and 200-
300 uncertified teachers in part-time attendance. Several of Eadie's
friends were pupil teachers in 1901. There was no corresponding
college at Portsmouth which was the reason that Charlie went twenty-six miles along the coast to
Southampton. Hartley attracted students from Southampton, Portsmouth, London and Wales. On St
David's Day, Common Room reeked with the smell of roasted leeks.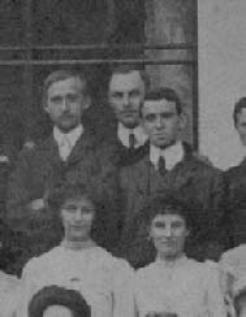 Eadie was living at 6 Carlton Crescent – in a 'dignified residential district'
of Georgian houses - together with nineteen other students under the
oversight of a supervisor who viewed them as 'cherished chicks'. Her
closest friends were "Bella' Jeffries and Jeannie Forrest. There were strict
limitations placed on the social interaction between male and female
students. Each term saw 'half-a-dozen functions (called soirees) that
included music, games and dancing'. Girls could only attend these if they
were chaperoned. They were not allowed out without permission after
6.00 pm in wintertime and 8.30 pm in the summer and had to be in bed by
10.00 pm. They were also forbidden to converse with male students
outside of the college precincts except when at recognised events.
Right
: Part of a group photograph of Hartley students. Charlie is at
the rear and Eadie is the girl on the left. 'Bella' Jeffries is next to her.
In the autumn of 1903, Edith was caught up in a controversy which centered on her digs at Carlton
Crescent.The matter was debated in two whole columns on a page of the

Hampshire Advertiser

. The
esrtablishment was evidently a hostel for Catholics, although Eadie's family were Anglicans. The Rev
Mother of the hostel wrote to Hartley College saying that if any of the students who were living in the
hostel were dissatisfied with the treatment they had received, or wished to leave for any reason,
though sorry, she would not object to their doing so - provided this was sanctioned by the Board of
Education and arrangements were made to re-imburse the hostel for the ensuing financial loss. She
added that all students had come to the hostel with the consent of their parents and the full knowledge
that it was under her control.On 20 October 1903 an open letter was written which avowed that, 'We all
wish to tell you we are exceedingly happy and comfortable at this hostel and have not the slightest
desire to reside elsewhere whilst pursuing our course of training at the Hartley University College'. It
was signed by all the residents including Edith A Dee and several students who appear in her
autograph book.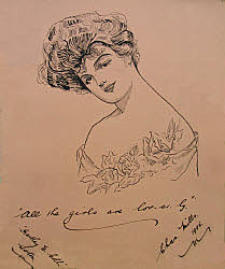 From 1901 until 1910, Eadie kept an autograph book in which her fellow-
students and friends contributed drawings, poems and other pieces. It
provides a fascinating insight into student life in the early twentieth
century.
The book also shows Charlie's evident interest: as well as a pencil
drawing of the bar-gate at Southampton, he also penned a portrait of an
anonymous young vamp with the caption: 'All the girls are lov-er-ly' (shown
right). This overt sentiment was quite different from the contributions of
other young men, although there may be an entry from Charlie's brother,
Archie Mills, in the book – the author signs him (or-herself) A M s – which
maybe indicates that Charlie had a rival for Eadie's affections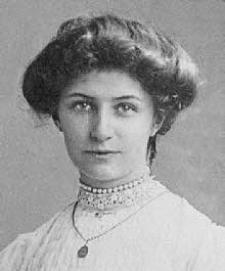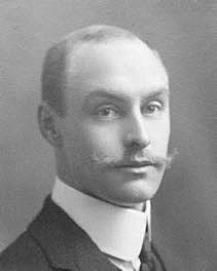 Charlie began teaching at St Lukes School,
Portsmouth on 28 August 1905 and also taught
at the school's Evening Institute. Eadie
returned to London where she probably taught
at Daniel Street School, Stoke Newington
(there is an entry in the autograph book which
reads Daniel Street School 1909).
Would Charlie's feelings for Eadie wither
because of the distance between them socially
and geographically – Stoke Newington being
about seventy-five miles from Portsmouth?
Charlie was an active man. He swam regularly, coached the school football team and cycled. It was
quite possible to pedal to London and back spurred on by the fuel of ardour. However, on his arrival,
probably dusty/muddy, flushed and unkempt, Charlie was turned away on more than one occasion by
Eadie's parents. This action may be somewhat hard to understand as Eadie's father was a keen
cyclist and the captain of a local cycling club. He would have known the effort that lay behind Charlie's
journey.
One senses therefore the hand of Eadie's mother in the rejection of the weary suitor. According to his
son, Charlie's social skills were lacking and his manner of speech might include the occasional
expl**tive. On the back of one photograph of himself, Charlie has plaintively written, 'Dear Edie (sic),
I've just come to wish you a Very Happy Xmas and for the New Year, every good wish for health and
happiness. Yours always, Charlie.' Was this card presented on an occasion when Charlie was not
allowed across the portals of the Dee home?
Charlie's love and persistence won through. Four years after leaving college the couple were married
at St Mary's Parish Church, Stoke Newington

(shown below)

on Saturday afternoon, 29 May 1909.
The local interest in the marriage of the daughter of a local councillor was reflected in the assigning of
three column inches to the wedding by the Hackney Recorder!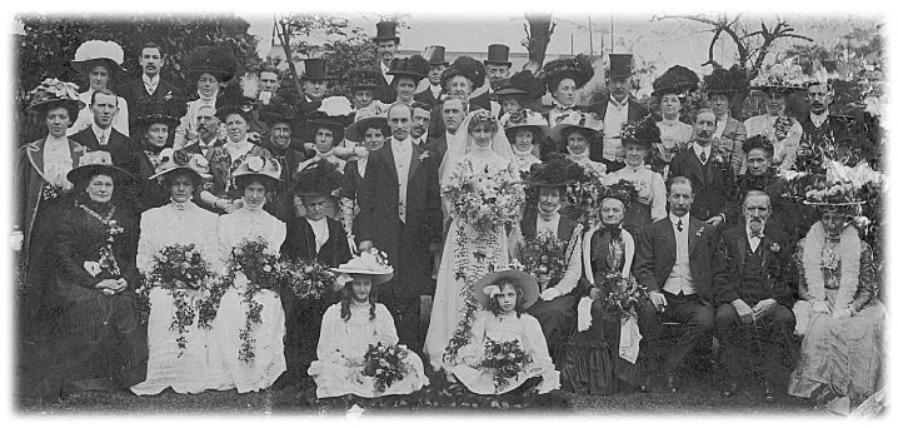 (From l to r)
: seated at the front, Marjorie Dee and Elsie Dear. Next row, bridesmaids - Violet
Jamieson and Dora Dee; Rose Mills; Annie Dear, Ann Dear, George Dee and William Dear. To
Charlie's left is Bella Jeffrey. and behind the bride is Archie Mills. Above him is Matilda Mayston.
To the bride's right are Gertie, Ethel and Eliza Dee with her husband

The ceremony was conducted by the Rector, Rev. E. B.
Salmon. Eadie was dressed in white silk with a pretty
lace veil and orange blossom wreath. She was attended
by six bridesmaids: her three sisters, Dora, Gertrude
and Marjorie Dee, and three cousins, Ethel Maude Dee,
Violet Jamieson and Elsie Dear. The bridesmaids wore
white muslin and silk dresses with rose trimmed,
leghorn hats. Archie Mills was the best man. Charlie's
presents to the maids were white satin, hand-painted
bags and scent bottles.
The wedding breakfast was served to more than fifty
guests at George Dee's home, Fairholt Road, Stoke
Newington. Ironically (in view of Charlie's travels and
travails), the presents included a case of silver salt
cellars from the Clapton Wanderers Cycling Club, of which George had been captain. Charlie and
Eadie left for their honeymoon at Bournemouth – the bride wearing a mole costume with Tuscan hat
trimmed with scarf.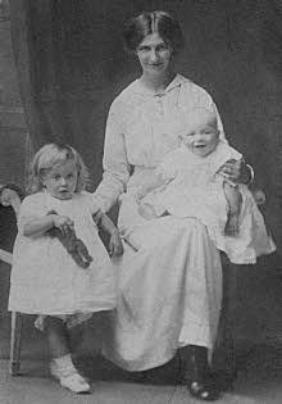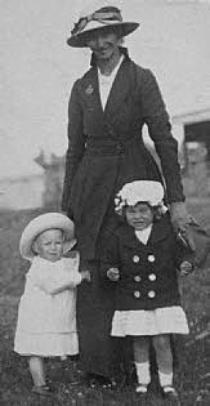 On census day, Charlie and Eadie were visiting their old friends from college at 162 Avenue Road
Itchen, Southampton.
Their children and early homes
A daughter, Grace Edith, (my mother) was born on 24 June 1912 and Patrick Mills was born on 15
March 1914.
After searching for more than a decade, that I have discovered where Charlie served in WWI - and
this was because I identified his cap badge in a photograph. This opened the door for more
information which was found in newspapers. The photo was of Charlie rowing a boat with his father-
in-law, George Dee: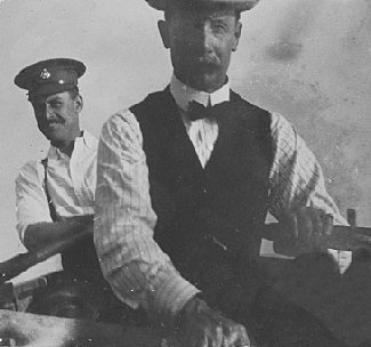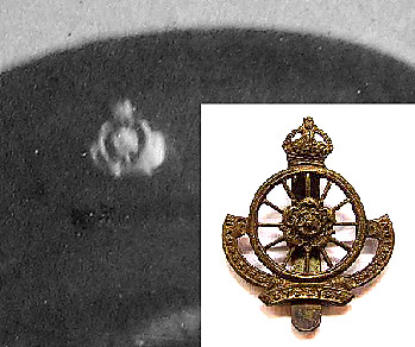 The badge was of the 9th Hants (Cyclists) Battalion. With the invention of the bicycle, horses
suddenly became redundant for many operations of war. Cycles could now be used for
reconnaissance and communications. They were lighter, quieter and logistically easier to support than
horses which needed to be fed, stabled and shoed. It was decided to form the Hampshire Cyclists
Battalion in 1911 and recruiting began in earnest in early 1912. Portsmouth was expected to provide
two divisions. Two sets of uniforms were provided free of charge and while recruits brought their own
cycles, they were paid a cycle allowance of 30s 6d, together with a boot allowance. They were to be
aged between 18 and 35, 'well educated men who are good cyclists' and who would 'do their best to
make themselves good and efficient soldiers'. Later recruitment posters decreed that they should be
a minimum of 5' 3'' tall.
Their assignment was to patrol the South Coast from Dorset to East Sussex, including Hampshire. It
was 'a special line of coast to defend' and the thinking was that such a Battalion would free the Navy
and the Army to do their duty elsewhere without fear of what was happening at home. The cyclists
were capable of quick mobilisation so as to throw a net around any possible invader. Their training
included rides of more than 100 miles and skirmishes with armed corps.
Some cyclists carried machine guns. By 1915, three Battalions, each of 700 to 800 men were
established. Charlie was in the 2/9th Battalion. This was formed at Louth, Lincolnshire in September
1914. It was moved to Chichester and thence Bognor (where Charlie found a home for his family).
Then, in October 1917, the Battalion was moved to Sandown on the Isle of Wight (Charlie was still
attached to the unit as I remember my mother saying he served at Sandown). In April 1918, they were
transferred to Herringfleet, Suffolk and then to billets at Lowestoft in October 1918. Shortly after this,
Charles received another posting.
The 9th Hants Cyclists began as a Territorial Force - this was created as a volunteer component of
the British Army to augment the force without resorting to conscription. They were part-time soldiers
who were liable to serve anywhere on the home front, but could not be compelled to go overseas
(although the 1/9th quickly agreed to serve in India and Russia early in WW1). However, the
Territorials had an identity which was separate to the regular army, to the extent that they didn't
receive the basic service medals during WW1.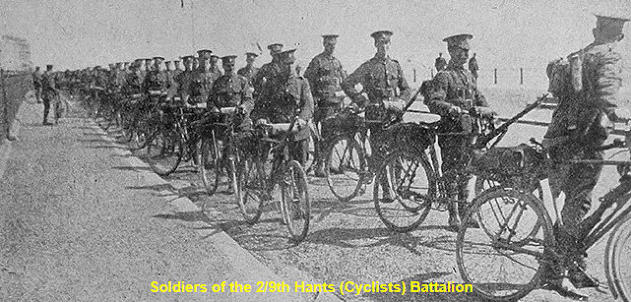 The inference of the news report (shown right) from November 1912 is that Charlie had joined the
Territorial Cyclists by then. The book,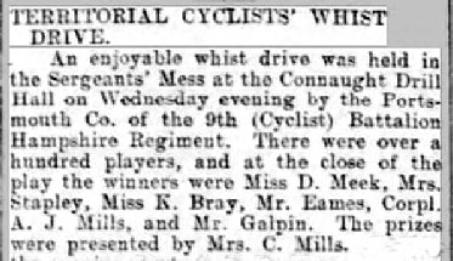 As his wife presented the prizes and his brother, A J Mills (a Corporal) was also present,
surely Charles himself must have been a Cyclist. It was fortuitous that Charlie could make the
transition to the 2/9th in August 1914 because it meant he was on home soil - and close to his
young family - although still being part of the war effort. We are indebted to St Lukes School
for details of when Charlie began and ended his military career: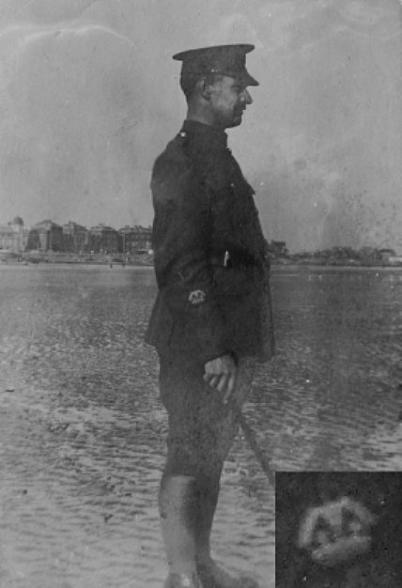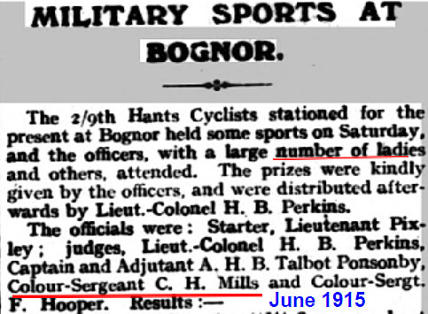 Further news items give details of his rank:
The photograph right, shows Charlie in his
Cyclists uniform with what appears to be a
Sergeant-Major's badge on his arm (inset). It
was taken at Bognor - the Theatre Royal in the
left background is unmistakable. He appears to
be gazing out to sea, single-handedly ready to
repel the Hun!
Now we move to the months at the end of the War. As the St Lukes School entry above indicates,
Charlie had joined the Regular Army - the 11th Battalion, Somerset Light Infantry, which he left shortly
before 19 May 1919, about six months after the War ended. He was a Quartermaster-Lieutenant, a
fairly senior rank.
The Battalion was formed in January 1918 and embarked to France in May of that year. Initially they
were employed digging trenches, but later in the year they moved nearer the Front, south of Arras. In
early October, the Battalion moved to the line at Bois Grenier - which was a strongly held enemy
position. An attempt to advance was met with heavy resistance and casualties resulted. A day-to-day
war diary of this regiment exists at Somerset Archives and it relates where Charlie was and what the
regiment was doing.

Note Charlie's Service No: NW/7/9988. His medal card can be seen below.
Charlie had been in a Relief Camp. He disembarked from England on 7 October 1918 and joined the
regiment on 13 October. The War may have been about to end less than a month later, on 11
November, but he was thrown into the thick of things. The Battalion was in reserve at Flerubaix but on
16 October, they were moved up to Bois Grenier, which is about fifty miles south-east of Calais

Six days later the Armistice was declared - and all that was left
was to gradually mop up, return home and be demobbed. On
many of the days Charlie was with the regiment, it was reported
that the 'enemy artillery was very active'. Men were wounded and
killed and at least one was killed by a sniper. Some change from
cycling around the coast line to being thrust into the din of war!
My uncle said that on one occasion the Quartermaster Stores
was hit by a shell, but fortunately Charlie was absent, reporting to
his commanding officer. On the 29 October, the Battalion was
inspected and those requiring new articles of clothing were re-
fitted at the Quartermaster's Stores. A little piece of action then
for Charlie!
The War had a sweeping impact on many families and coloured
Charlie's relationship with his brother Archie. Although they had
been close (Archie had been his best man) Archie was not
conscripted because of varicose veins. While the war was raging
and Charlie was abroad, Archie was appointed headmaster of the
Beneficial School at Portsmouth on 26 August 1907. When
Charlie returned from France, he found his younger brother
working as 'Head': a position he was never to fill. Archie was also
a freemason for whom Charlie had 'no time'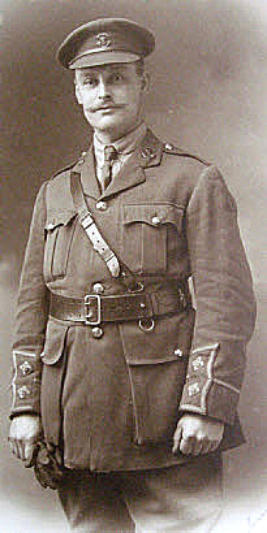 Charlie and Edith's homes at Portsmouth
Charlie and Eadie's first marital home was a typical small Portsmouth terraced house at 3 Tredegar
Street, Southsea (below far left). However, in 1912, when Grace was born, the family had moved a
few streets away and was living at the more substantial 26 Rochester Road, Southsea, Portsmouth
(below, second left). This home was about a kilometre from Southsea beach and Charlie bathed there
often throughout the year. Probably, it was a rented property. In 1921, another teacher from St Lukes,
Frederick J Pitchers, was renting the same house. He too had served in the army during The Great
War.
After the war, Charlie and Eadie lodged with Daisy Tuck (a relation of Charlie's mother) at 5 Playfair
Road, Portsmouth. They then bought 'Verona', 16 Ophir Road, North End, Portsmouth (below,
middle) which cost £640. A move to a newly-built home at 74 Chatsworth Avenue, Cosham followed.
Charlie rode to school on a Royal Enfield motor-cycle .
As Cosham became more 'built-up' Eadie wanted to move again so another new house, 86 Northern
Parade, Portsmouth (below, far right) was bought for £1,000 in 1937. It was christened, 'Fairholt'
(which was the name of the road where Eadie had been raised). This was to be their final move.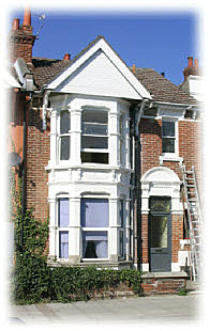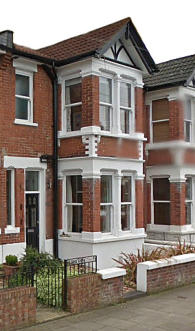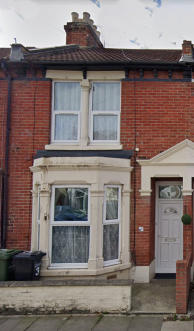 Charlie at St Luke's School


Entries re: Charlie in the school log book:
The census was taken on the 19 June 1921. Was Charlie an enumerator? When the census is
released, all may be revealed.

It was surprise to me because I don't recall Charlie kicking a football around with me in the nearby
Alexandra Park.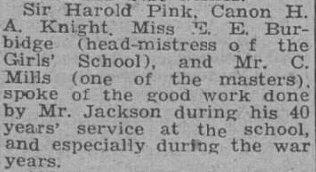 On the retirement of St Lukes
Headmaster in July 1944

When celebrating the School's swimming
achievements in January 1949
From the two news reports shown above, Charlie retired from teaching between 1944 and 1948. As
he was sixty-five in July 1946, he probably retired around that time.
After Charlie retired, on 7 March 1953 (shortly before his death), he participated in a ceremony of
planting grass seed at the new playing field at St Lukes, Hampton Street. Also shown is Mr A C
Maddick (far right) who once took me to Southampton on a train.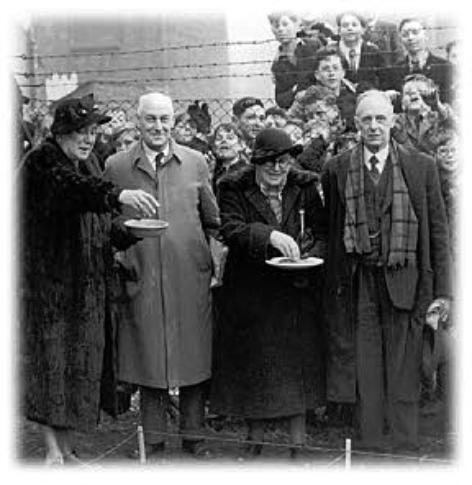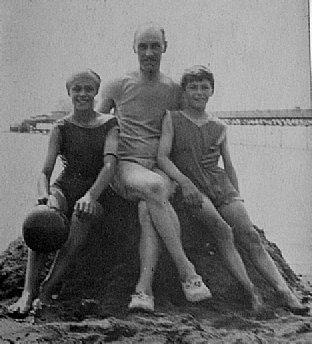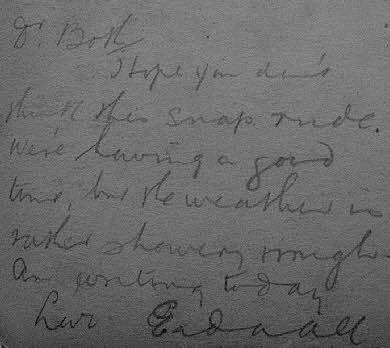 Meanwhile, Grace and Patrick were growing older. The postcard above was sent by Eadie to her
mother in around 1925 from Sandown, Isle of Wight which was a popular holiday destination for the
family. That Eadie hopes that her parents do not think the photograph to be too rude gives an
intriguing insight into the family's moral code. The holiday snaps which have been passed down show
that Charlie and Eadie enjoyed the seaside. Indeed, many of the Dee family spent time together at
various resorts which shows the close relationship between Eadie and her sisters.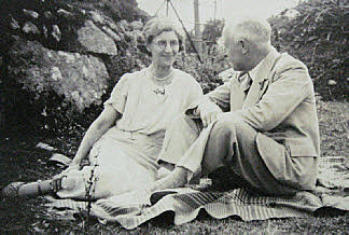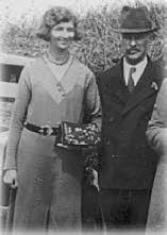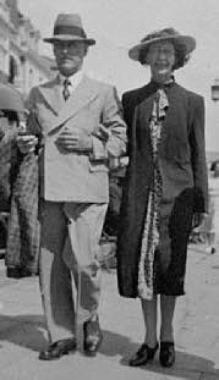 The mid-1940s were a stressful time for Charlie. His daughter, Grace,
married a farm labourer in 1945. Charlie and Eadie did not smile on this
match. Then, in probably 1946, Charlie retired from teaching. Earlier that
year, Grace returned to Portsmouth for the birth of her son - and stayed
with Charlie and Eadie for eighteen months. Eadie's widowed mother,
Annie was also in residence.
Charlie's beloved Eadie had not enjoyed the best of health. She appears slight in photographs. She
lost weight and her hands were deformed by arthritis. After a prolonged illness, she died (aged 65) at
3.00 pm on 26 October 1948 from a stroke and bronchitis brought on by "fibrosis of the lungs". If that
bereavement wasn't sufficient burden, Eadie's mother who was now living in a nursing home at
Southsea died less than three months later.
Charlie's time now was divided between his bowls
club, gardening and his newly-acquired family. He
had been a bowler for many years and had been
secretary of the Ophir Bowling Club which was
conveniently based across the road from his
home. When Eadie was alive, this was a source of
contention as she demanded that he spend more
time with her rather than his bowls. I remember
him writing in his club ledgers in the front bedroom.
In 1951, he organised the Southsea bowling
tournament. The photgraph tight shows him
watching the Lord Mayor bpwling (See addendum
for more information). He wrote about this
achievement: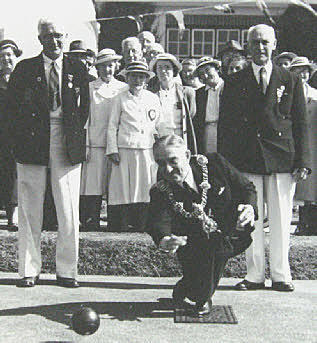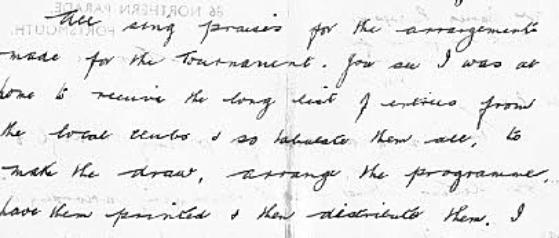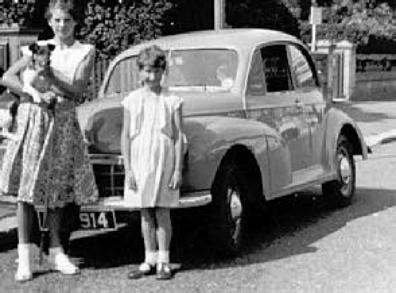 Charlie spent a lot of time with Grace and his two
grandchildren. He drove a Morris Minor (GTP 914 -
right) and in the summer we would sally forth to Slindon
Down, the Meon valley and Petersfield. I have sharp
memories of these jaunts, and so clearly enjoyed them.
In the summer, Charlie would hire a beach hut at
Eastney and every day we would all troop down to the
seaside. On one occasion while in hospital he wrote, 'I
wanted Saturday off to see Grace and the kiddies to
their (beach) hut. You can guess the amount of bits and
pieces that were wanted for the fortnight and I'm hoping
to be out in time to carry it all back home again'.
Mum also took us to a hotel at Ventnor, Isle of Wight, for
a summer holiday. I have no doubt that Charlie funded
this. I also fondly recall him teaching me arithmetic using
a small blackboard and chalk as I was perched on his
knee. The sum of my recollections is that he spent a lot
of happy and instructive time with us.
Charlie enjoyed gardening. He built a rockery at the end
of the garden. There were espaliered plum and apple
trees along a south-facing wall and the garden was
dominated by a beautiful copper beech tree. A heavy
garden roller was parked in the corner. He loved
canterbury bells, sweet williams and fuschias

Although he loved his pipe – and the convoluted operation to set it
alight – Charlie was fit and healthy. As a young man he would swim in
the sea in all seasons. His interest in swimming is also shown by his
attendance of a celebration of the winner of the 1947 cross-Solent
swim who was an old boy of St Luke's School as a former master of
the school. He thought nothing of cycling to London and back. The
school logbooks notes only two absences for illnesses when he had
flebitis and lymphangitis.
In 1951, he was in hospital for tests: 'this hall of beds and mixed
smells'. He wrote, 'the problem is I lose a quantity of blood through the
back passage and until the doctors find out why, there will not be
much progress'. He was diagnosed as having leukemia (like his
mother) and was treated at St Mary's hospital – where his father had
died. My mother was disturbed because he cried out for a transfusion
at the height of his discomfort. Near the end on around 14 August
1954, he was allowed out of hospital and typically took his family on a
trip. We were introduced to Jonah, a huge (and stinking) whale
carcass 66 feet long and weighing 69 tons which was displayed on a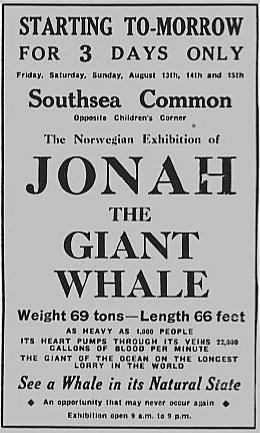 trailor at Southsea Common. Charlie died about a week later on 22 August 1954. I distinctly remember
Mum sitting on the side of my bed to tell me the sad news. The effects of his estate amounted to
£3797 5s 2d.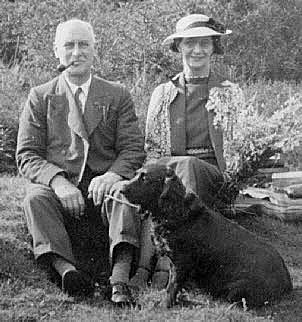 Eadie was 'vivacious, a loving, faithful wife and a good cook'. She clearly had middle-class standards.
Charlie appears stern and brusque – a man who didn't leave his school master's manner behind at
the school gates. His son was a little in awe of him and I clearly recall Charlie threatening to 'come
down on me like a ton of bricks' on several occasions. Few of the photographs show him smiling.
However, I have been taken to task about this description by a cousin who has pleasant memories of
a bright and breezy character.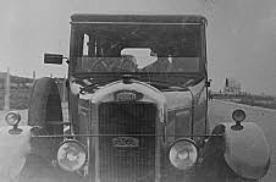 He was impatient. To have a deaf wife and daughter must have put a
strain on the family. His daughter remembered that he drew attention
to her left-handedness and unladylike feet. Archie was more outgoing
and made friends easily unlike Charlie who was inclined to speak his
mind and had few friends apart from his bowling cronies.
The family was comfortably-off and lived in homes of good quality.
Even in 1932, Charlie was driving a Singer car (right).
Charlie inherited a natural talent for working with his hands from his father,. He made well crafted
items of furniture such as a mahogany bureau in the living room. He was a competent artist (see the
example below) and had a flowing style of handwriting.
My last memory of grandpa is of him waving goodbye to us all from an upper window of St Mary's
Hospital, Milton, Portsmouth
Postscript - a glimpse of the artistic talents of Charlie and Eadie
In 1910, Eadie's sister, Dora Dee invited contributions to her autograph book. Below are the creations
of Charlie and Eadie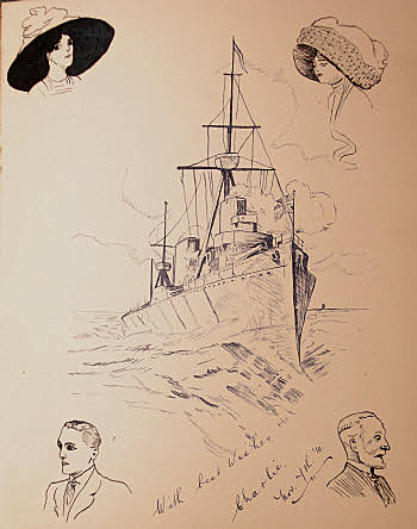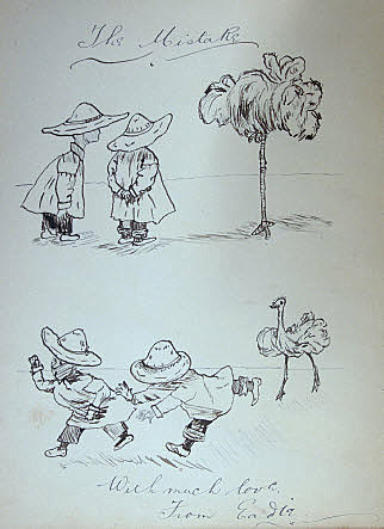 Charlie and Ophir Road Bowling Club, Northern Parade, Portsmouth
Examining news reports, Charlie was Secretary of the Ophir Bowling Club from 1947 - he worked
from a desk by his bedroom window from which he could see the bowling greens. However, as Eadie
died in 1948, I rather think that start date should be 1948.
In addition to these duties, he was also Secretary of the Southsea Open Bowls Tournament. This was
a prestigious event being opened by the Lord Mayor and reported each year by the local
newspapers. Among the contestants were Alex (a winner one year) and Jimmy Scholar (Portsmouth
FC and Scotland international footballer and later Cardiff City manager), together with Harry Ferrier
and Duggie Reid who were also Pompey footballers.
Hundreds of bowlers from all over Britain competed at the Southsea tournament, so many that as
well as the rinks at Southsea Common, those at Canoe Lake, Milton Park, Pembroke Gardens and
Southsea Castle had to be pressed into service. Charlie would have been responsible for the setting
up and smooth running of the event and was often publicly thanked for his efforts.
When his illness took its toll, he continued to work and in July 1954 his absence through illness was
commented on as was his work which was performed despite his indisposition. The following month,
these notices were carried by the Portsmouth Evening News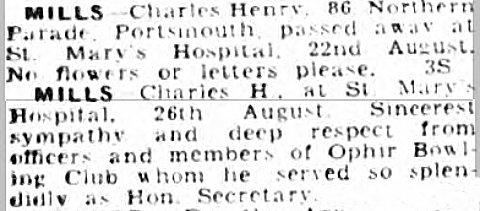 At the annual meeting of Ophir Bowling Club in November 1954 a 'silent tribute' was paid to Charlie.
A further reminder in the form of the Chas Mills memorial Trophy was set up. The Portsmouth
Evening News also ran this brief eulogy: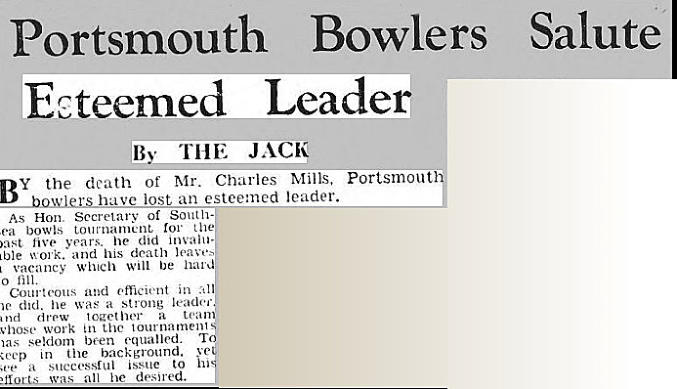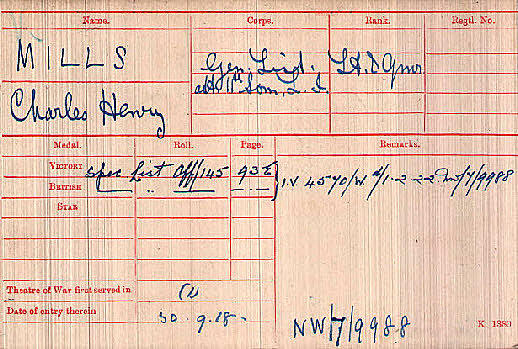 Note that Charlie applied for his medals about two years after
he was demobbed -and sent one back about a month later.
The two medals were the Victory Medal (awarded to all who
received the 1914 Star Medal or the 1914-15 Star Medal and
who served between 5 August 1914 and 11 November 1918)
and the British War Medal (awarded to all who served between
the two dates mentioned earlier). He didn't qualify for the
1914-1915 Star medal because he was part of the Territorial
Force then, not in the Regular Army. Evidently, he returned the
Victory Medal because he didn't qualify for this as he didn't
receive a Star Medal.
Charlie was back in uniform during WW2. The 1939 Register
reveals that he was an Air Raid Warden and the photo below
shows him as a Corporal in the Home Guard - complete with a
single medal ribbon. Worn with pride, I feel.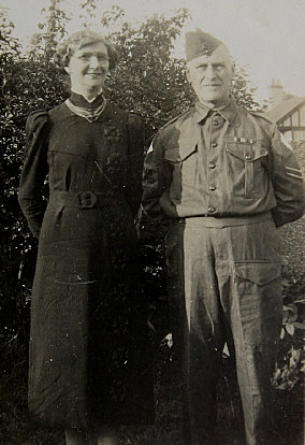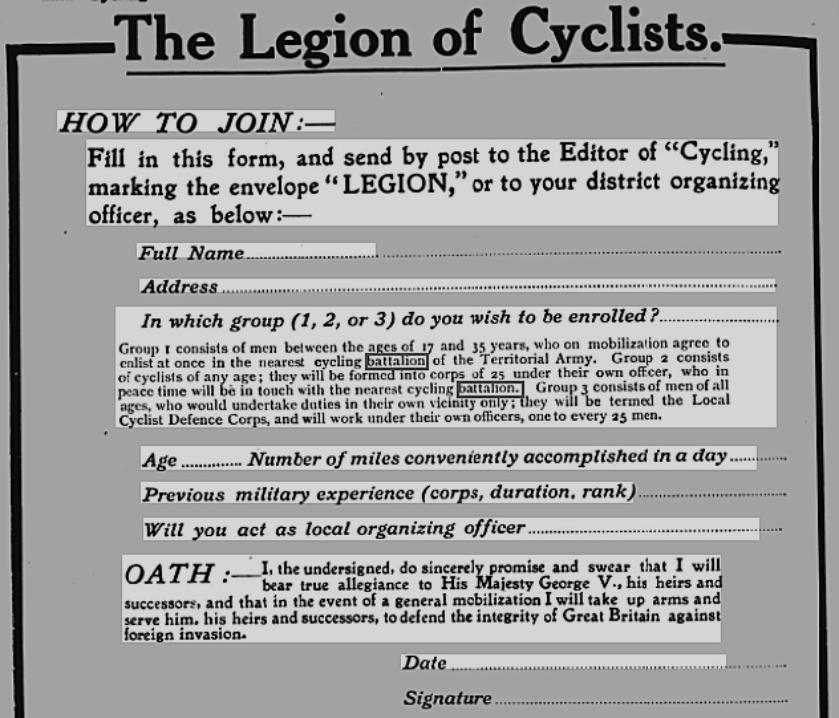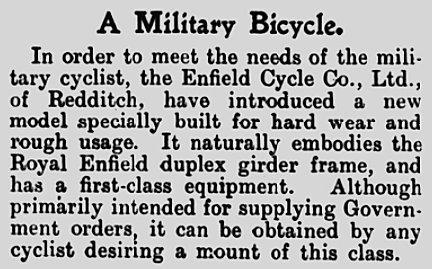 The form Charlie (31) and Archie would have signed to join the Cyclist Battalion in 1912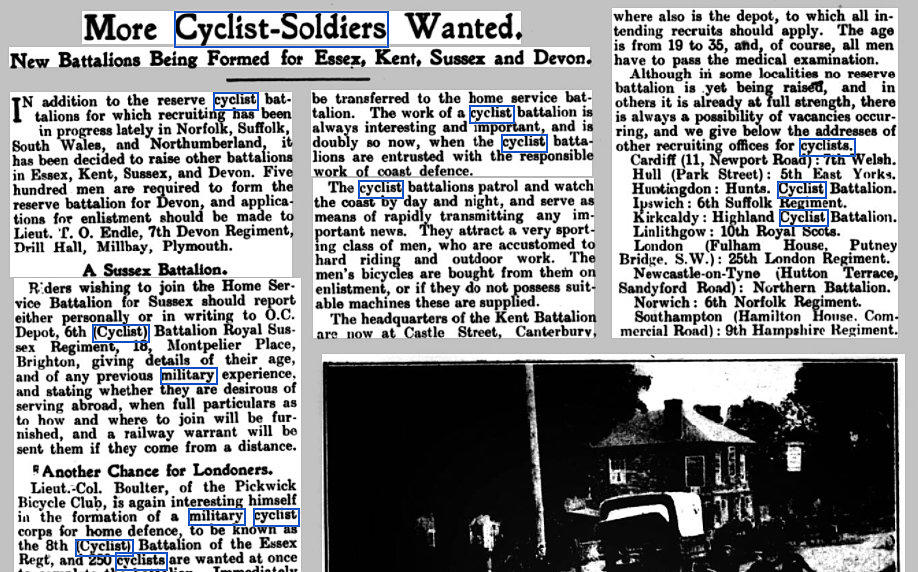 "Portsmouth in the Great War" notes that
the Drill Hall was the base of the Cyclists.
Edith had given birth to her daughter only
five months earlier.
Archie's varicose veins meant that he
wasn't accepted in the Battalion when
war broke out.
'Military Cyclists'/'Territorial Cyclists'