A Courtney family of North Devon
1600 to 1800
These pages lay out the ancestry of my wife, Susan Mary nee Courtney.
Most families can trace their ancestors back to around 1800 – but then it becomes increasingly
difficult to locate forefathers. Even if they are discovered, research often amounts to mere
'ancestor spotting' as only details of baptisms, marriages and burials are found with little
information about how they lived. This is particularly true of the poorer labouring classes.
Satisfyingly, the Courtney family (from whom my wife, Susan, has descended) can be traced
back with certainty more than 400 years to 1605! For two centuries, five generations of
Courtneys were yeoman farmers who meandered around the small rural parishes of North
Devon, near Barnstaple. Many of them had sufficient assets to justify leaving a will. They were
pillars of their small local communities and as such some left a 'footprint' in documents which
provide a glimpse into their lives.
Then, just after 1800, a branch of the Courtneys fell upon hard times. Four generations were
labourers in the Devon town of South Molton. Towards the end of the nineteenth century, five
brothers moved to Pontypool in South Wales to find work.
Here my wife, Sue, was born.
Of shared surnames
In the quest to find one's origins, the starting point is the very surname thrust upon us from
birth. As we grow older, perhaps we hear stories of famous people who also bore our name
and who were thought to be our ancestor. But because a historical figure shares our surname
(and maybe lived in a certain area) does this necessarily mean he is our forebear? Or is it a
case of wishful thinking – of believing (with absolutely no proof) that we are part of the family of
the mighty and good?
The genealogist Anthony Camp in his book,

Everyone Has Roots

, spent the first twenty pages
debunking the fanciful thinking that a shared surname is evidence of a shared genealogy. He
noted that the gullible were fair game for vendors of dubious family crests and coats of arms
and encouraged approaching "the subject with an open mind, eager to know the truth
whatever it may be....". He added that "traditions of descent from some famous person of the
same surname probably based solely on speculation about the subject two or three
generations ago will exist...in practically every family of that name you come across. That is
not evidence of a relationship to them...A pedigree goes as far as the evidence will take it, and
then it ends".
I have spoken to people who thought that they were related to a well-known footballer or an
intrepid aviator because they had a common surname, but when their tree has been compiled,
there was no substance to their belief. As Anthony Camp noted, stories passed down by
relatives have also muddied the pond. In my own family, my maternal grandmother was
christened 'Dee'. She had been told she descended from Doctor Dee (1527 – 1608/09) who
was an alchemist, mathematician, astrologer and occult philosopher in the court of Elizabeth I.
However, with the best will in the world, I can trace my Dee ancestors back only to a William
Dee who was born in around 1715 - about six generations away from the good Doctor. This
chain of pedigree is certainly not complete.
And so we come to the Courtney family – a well-known name of antiquity in Devon. There is a
family tree at http://www.powderham.co.uk/our-stories/family-tree which postulates that the
Courtenays descended from Athon (AD 1000) of Chateau Reynard in France. Sir Reginald de
Courtenay came to Britain in 1152 and his family settled in Devon, notably Powderham
Castle. A descendent, Sir Philip Courtenay (1430 –1489), was Sheriff of Devon in 1470. He
was the second son of Sir Philip Courtenay (1404–1463) of Powderham and lived at Molland,
a small village in Devon.
There are claims that Sue's family have descended from these Courtenays. Others have
asserted that because her great grandfather lived at Molland for a couple of decades, he was
therefore descended from the aforesaid Sir Philip Courtenay. One Courtney descendent also
wrote, 'I think also that our branch was sprung from an illegitimate line by what she (another
Courtney) said - Philip de Courtenay'. This may or may not be true – but where is the proof
that these theories are factually correct? It is significant that the given name, Philip, does not
appear in any of the trees that follow.
I have traced Sue's Courtney ancestors back to the parish of Landkey in around 1600. There
the trail stops.
May I illustrate how easy it is to construct a totally unsupported notion of the origin of the
Courtney family. Sue's Courtney ancestors in 1605 were living in the small Devon parish of
Landkey which lies near the sea, two and a half miles from Barnstaple. It is generally thought
that the surname 'Courtney' is of French origin. There was a strong Huguenot (French
Protestants) influence at Landkey. They crossed the English Channel to trade at Devon ports
such as Barnstaple. Likely Huguenot merchants met Landkey folk at the nearby Barnstaple
market. A sign of this Huguenot influence at Landkey is that it is renowned even today for its
mazzard cherry trees – in the early twentieth century there were more than 100 acres of cherry
orchards. These cherry trees were imported by the Huguenots. In addition, many of the field
names at Landkey have a Huguenot 'flavour'. Finally, the surname Courtney is the anglicised
version of the Huguenot Landkey name, 'de la Cour'.
So did the Courtneys descend from Huguenots? Maybe, maybe not - but I write this to
illustrate how a myth can arise, complete with historical facts to support it.
Map of parishes in which Sue's Courtney family lived from 1605 until 1900
Sue's Courtney kin can be traced back more than four
centuries to the Devon parish of Landkey. Landkey is
two and a half miles south-east of Barnstaple. It is
situated at the mouth of a valley which leads to South
Molton and is on a trade route between these two
towns. The soil is loamy and ideal for agriculture.
A wooden church was founded here by the Celt, St Cai
– indeed, 'Landkey' may mean 'the enclosure of St
Cai'. This church was replaced by the parish church of
St Paul's which was built in the fifteenth century
(shown right). Here, the Courtneys were christened,
married and buried.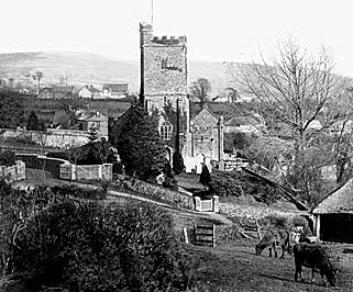 The original parish records for Landkey do not survive, but there are a transcriptions from the early
seventeenth century.
William and Mary (nee Lewes) Courtney - married 1605
The surviving transcriptions of the parish records of Landkey begin in 1602. Three years later, on 1
August 1605,
William Courtney (Susan's great x9 grandfather) married Mary Lewes at Landkey church. Probably
he was born in around 1587.
William and Mary had seven children, but Mary died in 1622 – a few months after the birth of their last
child. Two years later William married Jane Hutchings on 12 January 1624 at Landkey. The couple had
one child. William probably died when he was aged in his late sixties. He was buried in the graveyard
of Landkey church on 31 May 1646.
William was of sufficient means to leave a will which was proved at Exeter. Unfortunately this will, like
many Devon wills, was destroyed during World War II so that we do not know its contents. From the
location of the family and their relative apparent affluence, it can be inferred that William was a farmer
and not a labourer.
Although we do not know details of William's parents, the records show that there were other
Courtneys at Landkey and that the family was quite large. A Christian Courtney married there in 1622
and the following Courtneys (who were probably William's relatives – perhaps two were his parents)
were buried there between 1604 and 1629: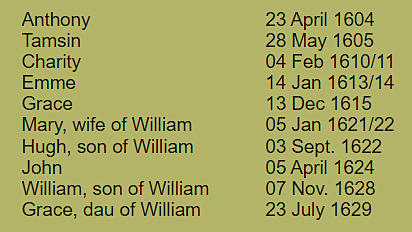 To discover so many burials of one family's members in twenty-five years indicates that it had a
sizeable presence in the parish by this time. However, although there are records from the sixteenth
century of taxes paid and militia lists at Landkey, few Courtneys are mentioned. The Muster Roll of
1569 lists only the archer, William Courtney jnr. Neither do Courtneys appear among the forty-eight
names in the Lay Subsidies (Tax) records of 1525, nor among the eighty-three names of the 1544
Lay Subsidies lists (although there is a William Colle? and a Richard Colle? whose names cannot be
read).
Perhaps a conclusion from the available facts is that the Courtneys were a farming family who moved
to Landkey in the latter part of the sixteenth century.
Although our focus moves now from Landkey, it is worth noting that the Courtney name has survived
there. There is a listing of monumental inscriptions at St Paul's church which includes fourteen
Courtneys from 1841 - the most recent is dated 1982. In 2006, there were two Courtneys still living in
the village.
James and Ann Courtney (married c1640)
Sue's line continues through William and Mary's fourth son, James, who was baptized at Landkey on
16 June 1613. He married Ann – although the date and place of the wedding are not known with
certainty. However, in 1640, there was a marriage of a James Courtney to Ann Stanbury at
Berrynabour, which is eight miles from Landkey.
James and Ann had four children. Accordingly to his will, James was a yeoman farmer in the parish of
Bratton Fleming. He was evidently more prosperous than the average 'husbandman' and certainly
was not a farm labourer.
Of Bratton Fleming, North Devon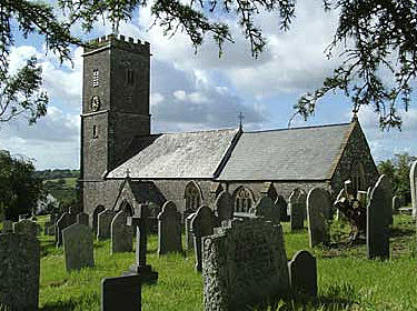 Bratton Fleming is a parish on the fringe of Exmoor
with a population of about 500 in 1800. It lies five
miles north-east of Landkey and seven miles east of
Barnstaple. The topography is 'lumpy' – the land level
rises from 70 to 320 metres – and there are several
local farms (twenty-six in 1780), woods, springs,
streams and valleys. Even today the lanes that
traverse the parish are narrow with high banks and
even higher hedges. To walk along the 'high lanes'
can be a claustrophobic experience. There has been
a church at Bratton Fleming since at least 1212. St
Peters (shown right) was built in the perpendicular
style with a tower, the base of which was built in the
fifteenth century.
The mobility of the Courtneys in North Devon
Now is an apt moment to comment on the mobility of the Courtney family. Members often moved from
parish to parish although they didn't stray very far from home. For instance, James although born at
Landkey settled at Bratton Fleming which is five miles away. One reason for their movements is that
the family home could only be left to one son. James, for example, left his home to his eldest son,
John. Other sons had to find suitable property elsewhere – perhaps in another parish.
Another factor was that the Courtneys of those days were some rungs above farm workers on the
social ladder and suitable marriage partners of the same status were not necessarily to be found in
the local parish. As a consequence, mates were sought in neighbouring districts. So, James' daughter
Mary married a man from the nearby parish of Charles.
It is helpful to know that the rural parishes of North Devon were generally small in area – a man could
walk from one parish to another (possibly through yet a different parish) in less than an hour
Returning to James and Ann Courtney
In the latter part of their lives, James and Ann were living in a house at Haxton which is to the south of
the village of Bratton Fleming. According to the Land Tax records of 1780 there was a property called,
'Courtney's Haxton' or later just 'Courtney' which was owned by David Tucker with a Land Tax rating
of £1 4/-. This is the first of two astonishing coincidences involving the Courtney and Tucker families -
members of which were to marry at Pontypool in the twentieth century, they being Sues grandparents.
James died, aged about sixty, on 6 June 1673 at Haxton, Bratton Fleming. Five years later, in 1678
there was a drive to rebuild St Pauls Cathedral in London. The parish return for contributors at Bratton
Fleming is held at the Guildhall Library, London and it shows a contribution of 4d by the 'widow
Courtney' (one of the smaller donations – the widow's mite?).
Ann Courtney died in 1683. Although the original documents have been destroyed there is an epitome
of both James' and Ann's wills which give details of their families and convey an idea of their worth:
James Courtney
– Will proved 5 June 1674. Residing at Bratton Fleming.
Bequests: to children: John, James, Charles, Lewes and Ann: £10 each –
to be paid within a year of my death. To daughter, Mary (wife of John
Hawle of Charles) - £3. Also, to children: James, Charles, Lewes and Ann:
20 shillings yearly 'out of my house'.
To: son John 'all estates and term which shall remain on my house in
Haxton wherein I now live after the death of my wife, Ann.'
Tenement bequeathed to wife Ann for her life.
Witnesses Thomas Allen and William Huxtable who also compiled the
inventory – chattel lease:£60, farm stock and household goods:
£204.1.6d.
Ann Courtney
– Will proved 1682/3
Bequests: To son, John – 5s; to John's children – 2/6d each; to daughter,
Mary (Hawle) - £3; to Mary's son, John – 2/6d; to son, Charles - £9; to son
Lewes - £25; to daughter, Ann - £25 and 'my spruce chest'; to daughters,
Mary and Ann – all my wearing apparel (sic).
Residue of the estate to son, James.
Mark and Seal (heart pierced by arrows).
Witnesses – John Barwick, Mary and Antony Tallyn.
Inventory by Thomas Allice of Stoke Rivers (gentleman) and William
Huxtable of Bratton (yeoman)
Farm stock and household goods - £87.16.3d.
Lewes and Thomasine (nee Huxtable) Courtney (married 1685)
Susan's line passes via James' son, Lewes Courtney. He married Thomasine Huxtable at Bratton
Fleming on 16 April 1686. His standing in the community can be gauged as his wife was the
daughter of William Huxtable (yeoman) who drew up the inventories of Lewes' parents estates (see
above). Lewes and Thomasine had eight children.
From the evidence of the parish registers, Lewes and Thomasine lived initially in the parish of
Bratton Fleming, moved to Charles about 1688 and thence to High Bray where they were buried on
20 August 1727 and 9 May 1733 respectively.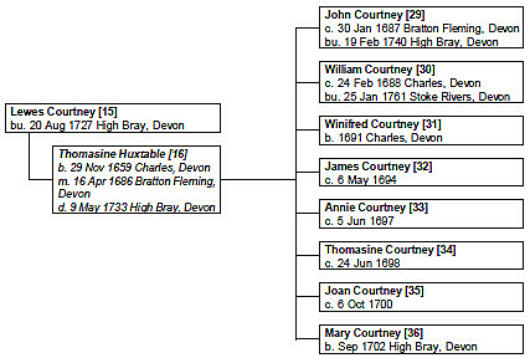 John and Mary (nee Lavercombe) Courtney (married 1727)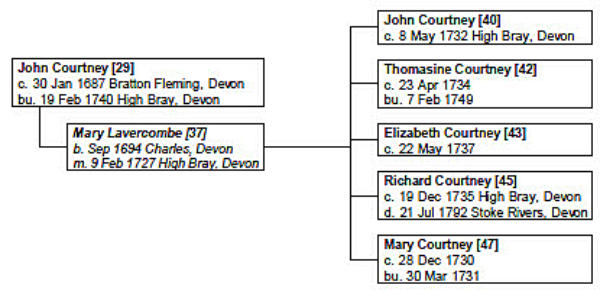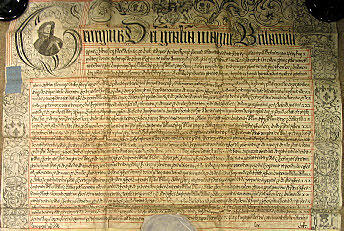 Susan's parentage passed through Lewes' first son, John.
He was baptized at Bratton Fleming on 30 January 1687.
He married Mary Lavercombe at High Bray on 9 February
1727.
There is an impressive document (see right) that features
John Courtney. It deals with the restoration of land
between the parishes of Bratton Fleming and Stoke Rivers.
It is elegantly written – in Latin! Its translation will have to
wait a while.
John and Mary had five children who were all baptized at High Bray between 1732 and 1737. John
died in 1740, aged 53.
Of William Courtney (baptd 1688) - church warden of Bratton Fleming
An indication of John's abilities is to be found in the records which have been left concerning his
younger brother, William. William was a leading member of the local community of Stoke Rivers,
often serving as a church warden. He regularly worked on the fabric of the church for which he was
paid (see example below from 1756).
He 'mended and righted the churchyard hedge', made up the wall, supplied a load of turves and, on
other occasions, provided a load of lime and sand and 2,000 stones. He 'stopped up the church' after
a storm and was paid for the ale he drank when he did this. He maintained the church bells using
leather and 'oyle' and supplied 'collar and keys for both bells'. He rode to Charles in 1730 to acquire a
sleeve to repair the bells. He often cleaned the church after the masons, took care of the cushions
and table cloths, washed the communion linen, cleaned the church plate and supplied the bread and
wine for communion. He 'mended the table bearing the church Bible' and repaired the binding of the
Bible. He even wrote up the churchwarden accounts (and the reports of the manorial court) so that
there is a record of his beautiful handwriting.
If William was thus educated the same was probably true of his older brother, John.
Richard and Ann (nee Bennett) Courtney (married 1768)
Sue's line passed through the second son of John, Richard, who was baptized on 19 December 1735
at High Bray, Devon. He married Ann Bennett of East Down, Devon on 18 April 1768 at Stoke Rivers
and the couple settled in this small village which had a mere 225 inhabitants in 1801.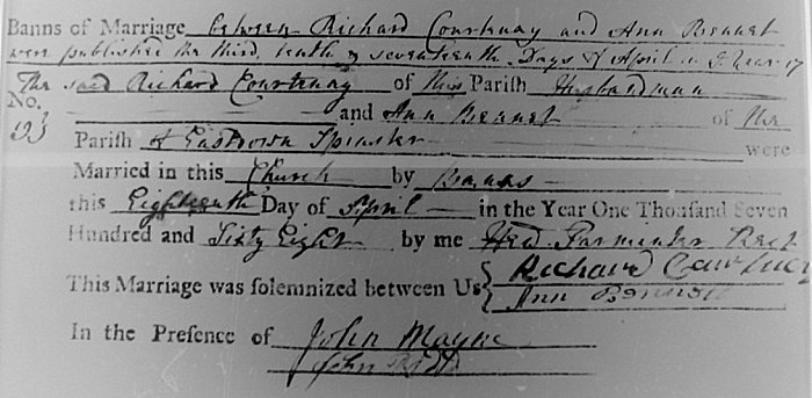 Like so many of his forefathers, Richard was a farmer – and a successful one, although he was a
mere 'husbandman' when he married. The Land Tax records of Stoke Rivers for 1780 show that
he was renting farms at Burch
A
(sic), which is just to the south of Haxton (owned by James
Hiern; tax £8.8/-) and Westgate
B
(owned by Philip Sydenham; tax £4.4/-). His farms occupied
the third largest acreage in a small parish.
In 1782 Richard increased his domain by renting a third farm – Higher Davies
C
(tax £5.40).The
churchwarden accounts for Stoke Rivers reveal that he supplied '40 sheeves of reed for the
church house' (roof?) in 1780 for eight shillings.
Outbuildings of Westgate today
Richard died at Stoke Rivers on 21 July 1792, aged 56. He was buried at St Bartholomew's,
Stoke Rivers D (shown below) and his grave still stands in the churchyard (see below). Richard
left a will which was proved on 3 August 1792 although its contents are unknown.