(Laurence) John Mills CBE BSc (Hons) C.Eng F.I.Min.E
C.I.M.E.M.M.E C.I.Mgt Royal Engineers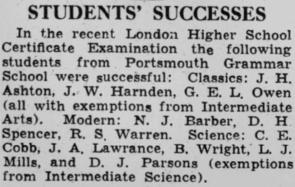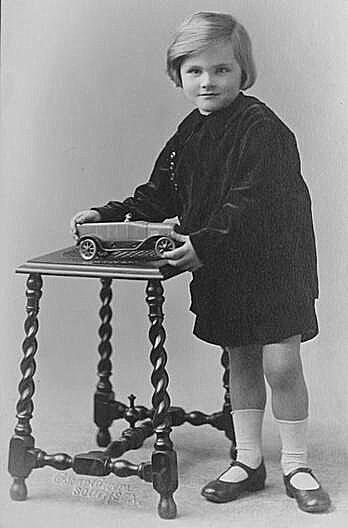 Laurence John Mills was born at Portsmouth, Hants on 1 October 1920, the first-born son of Archibold
and 'Nellie' Mills. The family home was 64 Lawrence Road, Southsea - a large but somewhat gloomy
terraced house.
His secondary education was at the elite
Portsmouth Grammar School

(right)

- the
premier school in the city. He excelled,
being a prize winner in 1932 and 1934
and having examination success in 1938.


In 1939, he was awarded a scholarship to Birmingham University to study coal mining - which was
perhaps an unexpected selection as Portsmouth, and indeed all of Hampshire, is not exactly
renowned for its coal mining industry.
The 1939 Register notes Laurence as being away from home at

Tresco,

London Road, Basingstoke.
This move to a country town was probably a reaction to the threat of the Blitz which hit Portsmouth
and its naval dockyard so grievously.
His parents had also relocated to Basingstoke. His father wrote to the

Portsmouth Evening News
from 6 Crossborough Hill, Basingstoke on 18 September 1939 to reassure the parents of Beneficial
School pupils that they were 'billeted in really good homes' and extolled 'the lovely surroundings and
country in which they are living'.
During WW2, Laurence enlisted as an Officer Cadet in the Royal
Engineers (which was perhaps significant in view of his later work), and
was commissioned as 2nd Lieutenant in May 1943. He was promoted to
Temporary Captain in October 1944, and then War Substantive Captain
and Temporary Major in August 1946. He was awarded the Defence and
War Medal 1939-45

(shown right).
In late 1944, Laurence married the nurse, Barbara May Warner, at Spilsbury RD, Lincs. (which
registration district included Skegness). Barbara was born on 19 May 1922 in the Nottingham area.
She played piano in a dance band. Some time later, in the late 1950's, the family was extended by
David John (born 7 December 1956) and Peter Richard (born October 1958).
Having trawled through several references to Laurence's (or John's, as he was later known) career
after the war, three aspects of his career stand out - firstly, his steady but significant progress through
the higher echelons of the coal industry, until he reached the position of Senior Deputy Chairman of
the National Coal Board (NCB); secondly, he was extremely competent in his specialist fields which
were grounded in his mining engineering training. He was a supporter of the Coal Industry (ie a 'Coal
Man' and didn't want to destroy it), but saw that the way forward was the use of mechanisation and
computers; thirdly, he was a talented communicator, able to express himself clearly. He was invited to
speak at many conventions and congresses, and was selected to face the ire of miners during the
bitter Coal Strike of 1984/85 (more about this later).
Significant steps in John's career path
Graduated from Birmingham University with a First Class Honours BSc in Mining Engineering.
1942 - entered the mining industry as a scholarship student at Houghton Main Colliery, Yorkshire.
1945 - becomes full member of the Institute of Mining Engineers.
1946 - returned to Houghton on the cessation of WW2
1949 - Manager of Hemsworth Colliery. Governor of the Hemsworth Mining and Technical Institute.
1951 - Manager of South Kirkby Collier (to September)
1951 - Agent of Frickley and South Emshall Collieries. President of the Frickley Colliery Athletics Club
and the Colliery Band.
1954 - Deputy Area Production Manager (Reconstruction and Development) of the Edwinstone Area
of the East Midlands Division.
1955 - Made a Fellow of the Institute of Mining Engineers
? - Area Production Manager in Leicestershire and South Derbyshire
1958 - President of the Midland Counties Institution of Engineers
1961 - President of the South Midland Branch, National Associtn of Colliery Managers
1962 - President of the Midland Counties Institution of Engineers
1964 - Assistant Area General Manager for North Staffordshire
? - Deputy Director (Operations) to the South Durham area.
1968 - Chief Mining Engineer at London Headquarters, Hobart House, Grosvenor Street of NCB
1970 - Area Director of the North Yorkshire NCB area
1973 - Director of the Doncaster NCB area
1974 - Full member of NCB in North-east.
1975 - President of the Institute of Mining Engineers
1977 - appointed as a Commander of the Most Excellent Order of the British Empire as a member of
the NCB.
1982 - Deputy Chairman of NCB; Chairman, Sir Norman Siddall
1985 - Replaced by Ian MacGreggor, incoming NCB Chairman
John received a number of medals for his work which are featured on Martin Harrison's Medal
Research website. They were sold in 2013 : Link:

Medals
c. 1945 - 21 Ash Grove, South Elmshall, Pontefract , Yorks
1963 -

Lake View

, Measham Road, Ashby de-la-Zouch, Leicestershire
1994 -

Silver Birches

, 33 Dove Park, Chorleywood, Rickmansworth, Hertfordshire
John, Deputy Chairman of the NCB and the events leading to the Miner's Strike of 1984/85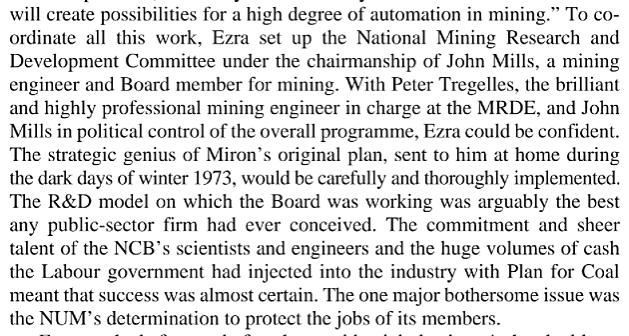 Although the Miners Strike is not the subject under discussion, Laurence was prominently involved
with it, and events leading up to it. The background to this strike was the decline of the British Coal
Industry. From being 'King Coal' at the turn of the century, in 1984 only 173 mines were in operation
and employment had dropped from one million in 1922 to 231,000 in 1982. Coal seams were being
exhausted and coal production was becoming increasingly expensive. Mechanisation of production
was the answer - though this meant miners being put out of work.
In December 1973, Derek Ezra, the NCB Chairman, received a plan of action from a former
Chairman of the East Midlands NCB Division, Wilfred Mirion, which 1) proposed automation to
replace miners at the coalface; 2) changing shift patterns; 3) an attempt at gasification of coal in
seam to eliminate the need for any underground work-force and 4) a pit incentive scheme to
politically divide the area Unions. This last prong was because Miron had identified that the executive
of the National Union of Mineworkers (NUM) would become increasingly politically oriented towards
the left, rather than peopled by moderate men. The plan was adopted - John Mills was one of two
men at its helm: (

Britain's Civil War over Coal: An Insider's View

by David Feickert) :
Information about the part technology was to play in the future of coalmining seeped out gradually
and John spearheaded an attempt to staunch the flow - using a tactic Feikert asserted was a lie;
that the information had been obtained illegally and rubbishing some of the details.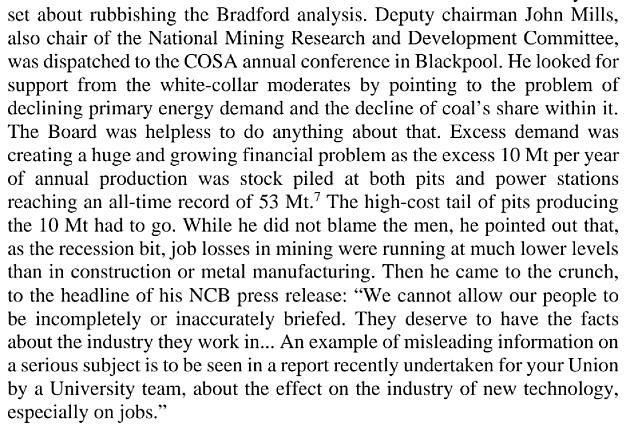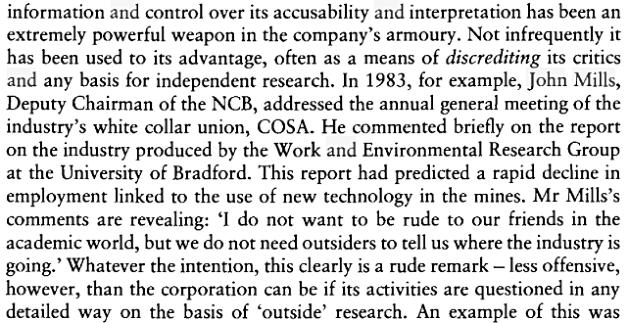 While not being convinced by this example, it does appear that John ruffled the feathers of his
opponents. When Ian MacGregor replaced him in March 1985, this comment may well have been
accurate:

So, an impression from a distance is that John was a very competent 'front man', with an enviable
grasp of his specialist subjects - but he could offend his antagonists and misrepresent information to
score 'party points'.

Note the remark that Mills struck him as 'arrogant'. Fiekert was part of the NUM industrial relations
team which had researched the impact of new technology on UK coal-mining industry and its
communities. Perhaps, his assessment of John was weighted - the NUM were at loggerheads with
the NCB. I never met John - but having watched footage of him talking,

(see below)

John comes
across as an educated, articulate, 'interested' man - with few airs and graces.
Strangely, it was around this time that John said something else which stuck in the craw of Huw
Beynon

(Doing Research in Organisations).

Beynon's point was that both industrial and trade union
organisations are capable of

regulating the information

they provide and can implement a discrediting
process aimed at research which is not to their liking:
In June of 1975, there was an explosion at Houghton Colliery, Yorks which killed five miners. Tony
Benn, a prominent Labour politician, went to the pithead where he was greeted by John. Benn
recorded the episode in his diaries: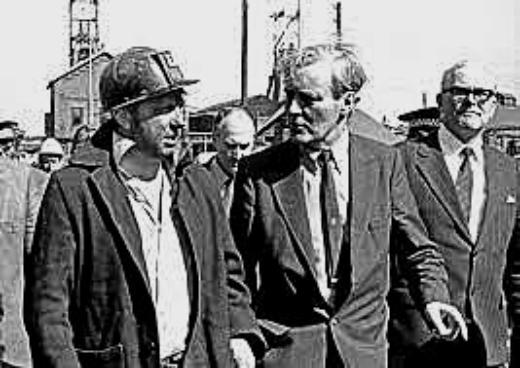 (r to l)
Scargill, Benn and John Mills at Houghton.
Behind them is possibly Derek Ezra
In the years leading up to the Miners strike of 1984/85, John was a
prominent spokesman for the NCB - being described as its '

senior
deputy'. For example, he was a keynote speaker at the AMC Coal
Show in 1967; presented the Robens Coal Science Lecture in
1981; gave the introductory, welcoming address at a conference
re: industrial minerals in 1983 and later that year, he closed the
NCB Bretby Staffs conference. Also in 1983, he was Chairman of a
pivotal meeting between the NCB and the NUM:
This role illustrates the regard with which John was viewed.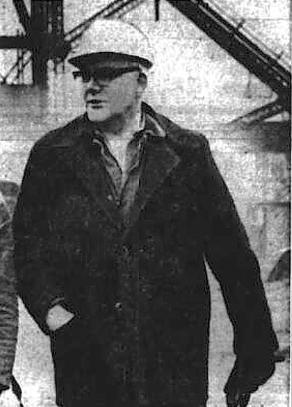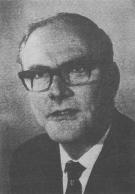 An American, Ian MacGregor, was appointed as Chairman of the NCB in 1983.
At his first meeting he referred to John as Miles, which was described as
'insulting'.
When the miners strike finished in 1985, John was replaced:
John probably retired around this time, when he was sixty-five years of age. His life and work had been
honoured by being given the privilege of delivering the Faraday Lecture in 1983.
While little is known about his life for the next decade, perhaps he sometimes indulged himself in his
hobbies, coastal and inland waterway cruising.
John died on 27th January 1994, aged seventy-three, leaving an estate of £170,175.00. He gave
legacies of £75,000 to David and Peter.
Between 1970 and 1980, John Mills was filmed exploring the coal mines of Durham. This ten-minute
film is viewable at this link:

Mills film
Below are some clips from the film: