My great grand-uncles, William and Robert Dee
Like his three brothers, he became an oilman. When he married Eliza Carver (Catharine's sister) on
15 December 1972 at St Marks Church, Myddleton Square, Islington, London, he was living at
Compton Street, Clerkenwell and working as an oilman. The witnesses at the wedding were Eliza's
siblings, Henry and Bertha Carver:
William John was the first son of William and Lucy Dee and was born at Upper Clatford, near
Andover, on 24 December 1848. Shortly after his birth, the young family exchanged the verdant
Hampshire countryside for the grime of Nine Elms, Battersea, London.
William and Catharine did not have any surviving children. However, there was some compensation
as in 1881 Catharine's niece, Annie Louisa Waldren was evidently staying with them. William was
trading as an oilman and living at 2 High Street, Upper Clapton, East London. There are several
photographs of this corner and the one shown below clearly shows William's shop front and the
stories above where he and Eliza lived.
Robert Henry Dee was William and Lucy Dee's second son. He was born on 11 December 1851 at
Battersea, south London and baptised on 14 March 1852 at St Marys, Battersea..



By 1871, William was lodging at 118 Boundary Road, St John, Hampstead (which curiously was his
brother, Thomas', address in 1891). William was an oil and colourman. On 3 October 1872, he
returned to Hampshire to marry Catharine Carver at St Mary's Church, Andover. He gave his
occupation as a warehouseman. The Carver family turned out in force for the wedding as unusually
there were five witnesses: Catharine's brothers, James and Samuel, together with their wives, Emily
and Selina and Catharine's brother-in-law, Frederick Waldren (who married her sister, Ann).
Catharine Carver's birth certificate
All four of William snr and Lucy Dee's sons were oilmen at some time and as the oldest, perhaps
William was the one who introduced his siblings to this business opportunity. He had several shops in
north London and in April 1895 he, together with his brothers, George and Thomas Dee, were
incorporated into a large company, Davies and Evans Ltd, becoming a director of that company -
which didn't prevent him from opening more shops. The repeat-business nature of the trade and the
need for its products were described in a prospectus: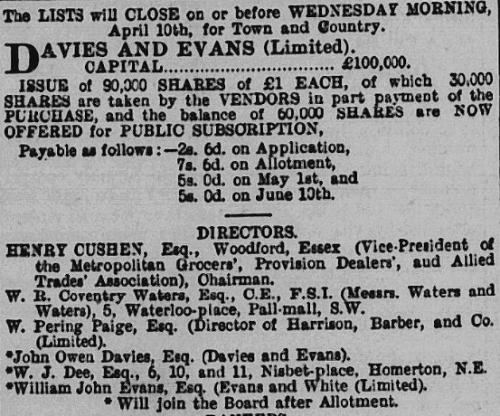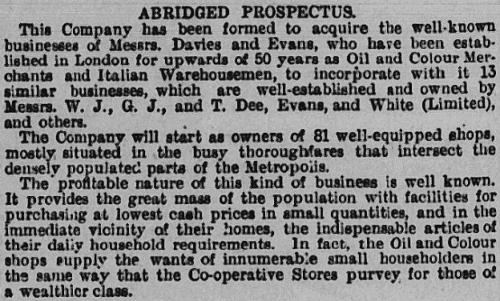 The following are addresses of the shops from which William traded together with an approximate
date of when he leased them:
19 Market Terrace, Chatsworth Road, Lower Clapton: 1880
2 High Street/Lea Bridge Corner, Upper Clapton: 1880 - 1896
142 High Street, Homerton: 1888
Nisbet Place (sic), High Street, Homerton (warehouse/6, 10 and 11): 1892 - 1895
(trading as WJ Dee Ltd, Essex Works)
73 Union Road, Rotherhithe, Surrey: 1890 - 1895
289 Hoxton Street, Hoxton (1905)
From around 1882 until 1894, it appears that William and Eliza were living at 36 Sidney Street,
Homerton (shown below):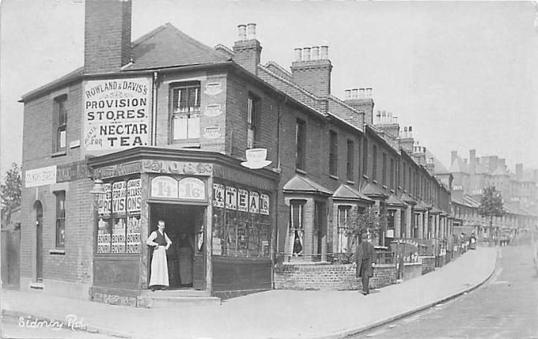 William's brother, Robert Henry Dee, died on 20 August 1898. By then, William's wife, Catharine, had
contracted TB and then died on 28 November 1898 after enduring eight months of chronic exhaustion:


By this time, William had left the oil and colour trade and was a licensed victualler, trading from 39
Leather Lane. Twelve weeks after his wife's death, William married his dead brother's wife, Eliza:
The marriage certificate, immediately reveals a discrepancy - Eliza stated that her father was Henry
Carver and that her maiden name was Eliza

Callow

. In fact, Callow was her maternal grand

mother's
maiden name. Why did she resort to this deliberate deception? This marriage was unlawful. Marriage
of in-laws was prohibited. This flouting of the law was with the connivance of some of her family as a
brother and sister, William Carver and Bertha Knowles (nee Carver), were witnesses.
One can imagine the shuffling of guilty feet when the clergyman intoned, '...if either of you know of
any impediment why ye may not be lawfully joined together in Matrimony, ye do now confess it' and
then, 'I, William John Dee, take thee, Eliza Callow, to my wedded wife'.
When he re-married, William stated that he was a grocer. Was this because there were potential
problems if he had given his present occupation as a licensed victualer? He certainly continued in this
trade for in 1900 he was the licensee of 'The Jolly Butchers' at 261 Old Street, Shoreditch (see
below).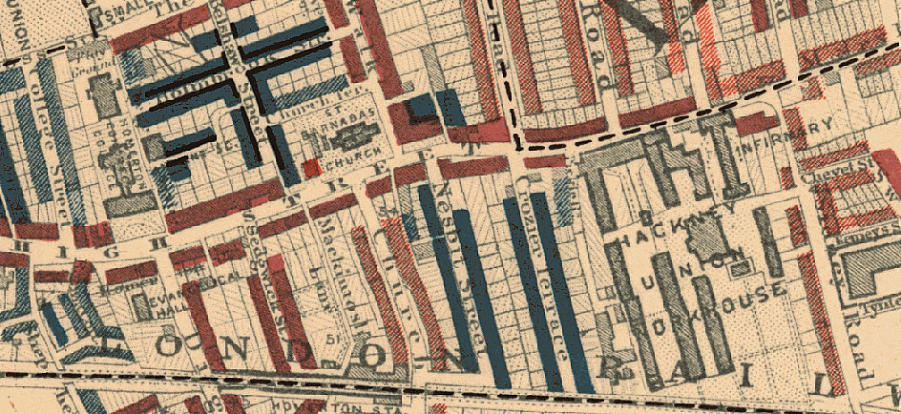 The area at Homerton where many of William's shops and his home were located. Dark blue
indicated "very poor, chronic want" while hatched pink (as at Sidney Road) depicted "fairly
comfortable, good ordinary earnings"
William's life then went into free-fall. On 2 April 1903, he was taken by the police into St Lukes
Workhouse, City Road, Holborn from where he was released by order of his wife on 20 May 1903. He
had been working as a stall holder. Then, a year later, on 27 May 1904 this order was made:
In 1901, William was a self-employed beer seller at 114 St Annes Road, Mile End Old Town:

It transpired that he had been taken into Holborn Workhouse the previous year because he was
considered to be a lunatic or of unsound mind. He had been unwell for two weeks because of 'worry'
and was a danger to others as he had struck his wife. No other near relative had been afflicted with
insanity. His address was 289 Hoxton Street, Hoxton. These were the results of his examination:
As a result, William was committed to Claybury (Lunatic) Aylum on 28 May 1904 and from thence to
Croydon Mental Hospital where he died on 9 October 1905. His personal effects amounted to £187
15s 0d.
Intriguingly, on his death certificate William's occupation was recorded as, 'oilman of 289 Hoxton
Street, London'. The cause of death was general paralysis (of the insane) - GPI. This condition is the
result of the sexually transmitted disease, syphilis.
William's affliction may explain his extraordinary behaviour six years earlier when he remarried.
Syphilis not only produces unsightly sores, eruptions and rashes in it's secondary stage but it also
affects the mental balance of it's victims. They may suffer sudden personality swings. Their previous
ethical and moral standards undergo a radical transformation. Moods can see-saw from extravagant
and grandiose behaviour to abject depression. All of this finally leads to madness, weakness and
death. It should also be noted that William had no children of whom I am aware.
His will makes unusual reading. His whole estate, including any interest in a Friendly Society, was left
to Eliza, "who was formerly the widow of my late brother Robert Henry Dee and sister of my first wife
and with whom I have gone through the ceremony of marriage".
As William's will was sworn in 17 January 1900, the couple clearly knew what they were doing when
they married.
The two women in his life both married within a few years of William's death:
Note that the 1911 census shown above that both Frederick and Eliza were described as oil and
colour men. I think this explains why William was noted in records as an oilman in 1905 when he was
clearly in no fit state to trade. There is a trade directory in 1905 that describes him as such at
289 Hoxton Street. I believe that Eliza was running the business in her husband's name.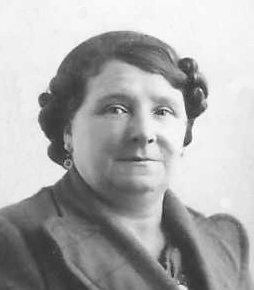 Robert and Eliza had a daughter, Eliza Lucy, who was born in 1878 but who died when aged five. In
October 1880 there was an incident which illustrated the potantial danger of working and living around
flammable materials:
In 1881, Robert, Eliza and Eliza Lucy were living at 89 Aldenham Street (near Euston Station):
A second daughter, Ada, was born in 1885. Six years later, in 1891, the family was living at
19 Stibbington Street, Somers Town, St Pancras: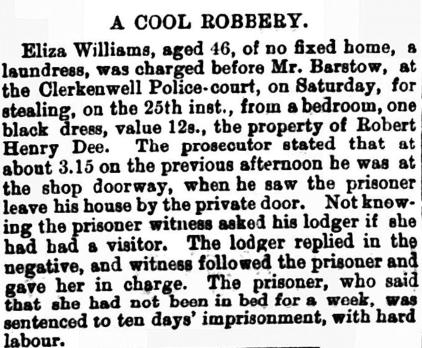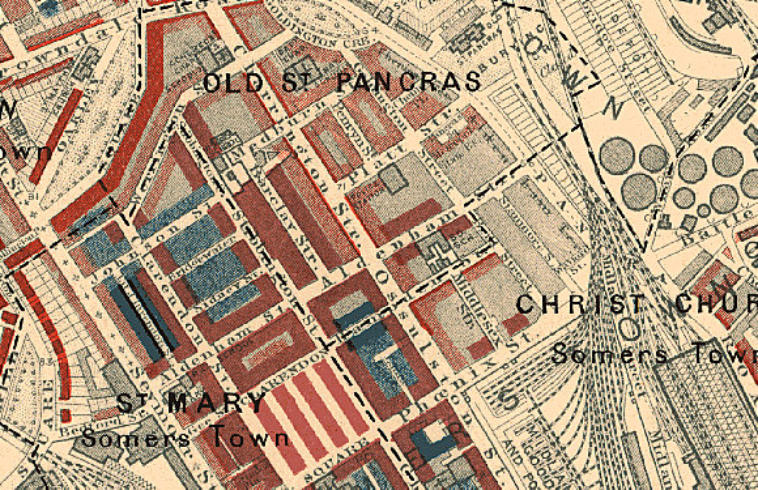 In 1898 the Booth Report noted about this area, "the small block bounded by Aldenham Street and
Stibbington Street is one of the worst areas in the whole of the subdivision. It has improved
somewhat and the police give it a fair character as regards criminality, but it remains a dark if not very
black corner of London….Stibbington Street comprises homes and a few shops, Aldenham Street is
more of a thoroughfare"
By August 1898, Robert had left the oil and colour trade and was working for the London and North
Western Railway.